Twitter: The Deal Is Dying, Long Live The Deal
Summary
CPE, an acronym for Twitter's problems.
Salesforce, Google or Disney?
The deal is dead.
Picking holes in the mainstream story.
CPE, An Acronym For Twitter's Problems
For the first time ever, Twitter (NYSE:TWTR) US revenues have declined for two successive quarters. They were down 7.6% in Q2 2016, the equivalent of a 27% annualized run rate. Seasonality is no longer an excuse as it was in the previous quarter.

The collapse is a consequence of a downwards adjustment in the historically high CPE (cost per engagement) Twitter charges to advertisers. Based on real campaign spending, Wells Fargo research confirms that Twitter's CPE is still several times higher than that of Facebook (FB) and Google (GOOGL) (GOOG) (see exhibit below). Twitter's competitive position is even worse than that of Yelp's (YELP), as the latter benefits from a customer base comprised largely by rather unsophisticated small local businesses.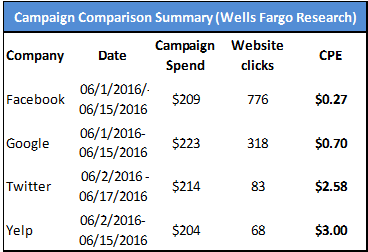 Twitter has been constantly reducing its rates to keep doing business with advertisers. In the second quarter of 2016, Twitter's CPE dropped by 21% q/q and 64% y/y.
"On CPE, the decline of 21% sequentially is due primarily to increasing mix of video, autoplay video, but also impacted by declines in like-for-like CPE for certain ad products…I think, overall, as we look at it, there certainly is increased competition for social marketing budgets, and we are effectively priced at a premium in terms of a CPE. We're doing a bunch of work to help bring both prices down and improve ROI for those advertisers". Anthony Noto, CFO, Q2 2016 earnings conference call.
In addition, Twitter has recently emphasized live streaming in an effort to rejuvenate user growth and engagement, stagnant for several quarters now. The pitch is that the live stream offerings will help cable companies extent their reach to attractive demographics (18-34) that do not have cable subscription. Yet, as Twitter is losing the Millennials to other digital platforms, this idea is tough to sell. Twitter has to pay full price even for fringe content given its lack of competitive advantage against competing digital platforms (Facebook) that also experiment with live streaming. While Twitter has already signed several live streaming deals, none besides 10 National Football League (NFL) games, has the potential to engage mainstream audience.
All things considered, the live streaming business is too small to move the needle. In the absence of other growth pillars and with engagement (Total Minutes/Unique Visitors) in constant decline (-9% y/y as of August 2016), Twitter can do very little to make up for the revenue shortfall that results from lower advertising rates.
"As we've penetrated the largest spenders, our oldest and longest relationship spenders in DSO U.S. advertising, we've transitioned more to revenue being driven by average revenue per advertiser, moving from two drivers of growth to one driver of growth. And so, that is one of the explanations behind the deceleration in owned and operated ad revenue." Anthony Noto, CFO, Q2 2016 earnings conference call.
As a result, Twitter's total revenues are poised to shrink next year. Analysts' consensus estimates have to come down further.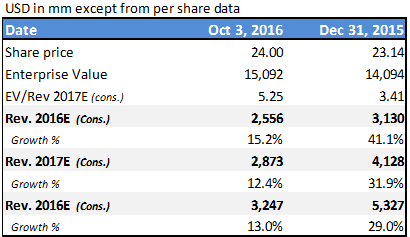 Salesforce, Google or Disney?
Given its vulnerable strategic position and its rapidly deteriorating financials, Twitter has often been at the epicenter of takeover rumors. As the story goes, Salesforce (NYSE:CRM), Google and Disney (NYSE:DIS) have shown this time serious interest in acquiring the company. According to Financial Times (FT), "Goldman has also contacted a number of global media companies to gauge their interest in a potential deal but none have expressed serious interest." Still, the purported interest was enough to make Twitter stock soar. In anticipation of a bidding war, it appreciated 27% in the first three trading days since the news broke out.
Salesforce's rationale for Twitter was the integration of users' data (tweets) with its CRM marketing software. Nonetheless, the vast majority of 310M users tweet rather infrequently. It is doubtful whether the data from the most active users alone - celebrities, politicians and journalists - are sufficient to make such a transformative acquisition worthwhile. In addition, Salesforce has demonstrated a rather poor track record with social media. Its last acquisition in this space (Buddy Media, a social marketing company) was a failure. While Salesforce has consummated nine acquisitions in the last 10 months, Twitter could be a bite too big to chew.
"Twitter shareholders should be cautious about taking even a modest portion of Salesforce shares. Since May, they have fallen 15 per cent. An organic growth rate above 20 per cent was still a mild disappointment. Integrating LinkedIn's trove of worker data into Salesforce's marketing software seemed plausible. The fit of Twitter's "social graph" and Salesforce is not obvious". FT Lex Column
With much deeper pockets than Salesforce, Google (Alphabet) has reportedly hired Lazard to consider a potential bid for Twitter. Nonetheless, such a move provides little indication about the true intentions of Google. Companies of the size of Google can afford to hire advisors on retainer to continuously keep them updated on marketplace developments.
Google could certainly buy Twitter to fully integrate tweets with its search engine results. Still, it is not clear why a strategic partnership, such as the one crafted last year, would not do the job. An acquisition would cause regulatory headaches in a period that the company faces intense scrutiny from EU authorities as it is held liable for at least three antitrust cases. In addition, Google's track record with social media networks has been a disaster, despite the immense resources it has put behind them. The most widely known, Google+ was ambitiously pitched as a social network aimed at competing with Facebook. There were also many other failures before; Orkut, Wave, Buzz, Google Health and Google Powermeter.
Under the leadership of its new CEO, Sundar Pichai, Google has clearly shied away from social media and has instead focused on artificial intelligence and cloud storage. Nick Bilton, an insider in the Twitter story and author of NY Times Bestseller "Hatching Twitter," confesses that "The late Bill Campbell, a confidant of Larry Page's, told me not long before his death (around early 2016) that he had tried to press Google to buy Twitter many times, but Page had " zero" interest in the social network." On top of that, Ruth Porat, the new Google CFO, has joined the company with the clear mandate to instill financial discipline and rein its spending on its most ambitious projects. She is not exactly the type of CFO that would participate in a bidding war.
The Walt Disney Company, owner of some great properties with exclusive rights to popular content (ESPN, Walt Disney studios), could in theory consider to buy Twitter for its value as a digital distribution platform. While vertical integration is not an end in itself for content creators such as Disney, a well-functioning (competitive) distribution market that maximizes their negotiating leverage is in their interest. For example, with the aim to drum up competition against Netflix (NFLX), Disney has taken a 33% passive stake in loss-making Hulu, an investment that would hardly make any sense from a narrow economic perspective.
Could Twitter acquisition fall into this investment rationale? Highly unlikely. For a company that does not surpass the status of a niche player in streaming media and video on demand, the price tag is too high and the execution risk too serious to make the acquisition worthwhile. While Disney has consummated a few smart acquisitions under the leadership of Bob Iger, (i.e. Pixar, Marvel Entertainment and Lucasfilm/Star Wars), all of them were in the business of content creation, an area that Disney excels in. In contrast, the track record of tech acquisitions from media companies is poor (e.g. News Corp/MySpace, AOL/Time Warner).

The Deal Is Dead
(A hypothetical scenario)
Shortly after losing LinkedIn to Microsoft, Marc Benioff, CEO of Salesforce, began working on the Twitter acquisition. Twitter was far from a good match, but Benioff needed a transformative deal to rejuvenate Salesforce's story. Organic growth was decelerating fast, despite the significant price increases across the board of CRM products. Microsoft's aggressive expansion in Salesforce's home turf made a dent in its business and Salesforce was increasingly relying on acquisitions to achieve its growth targets.
Benioff's plan for Twitter hit a wall very soon. Jack Dorsey, CEO of Twitter, outright rejected the idea of a Salesforce/Twitter merger and refused to discuss it any further. As Benioff subsequently approached several BOD members to gauge their interest, he woke up to the fact that they were mostly allegiant to Dorsey. That was evident from the very beginning; Twitter's BOD had even accommodated Dorsey's request to be a part-time CEO, unheard of for a company of that size in the middle of restructuring. Still, there were two notable exceptions to BOD's opinion on that matter; Bret Taylor and Evan Williams. Bret was founder and CEO of Quip, a company that was coincidentally purchased by Salesforce a few weeks ago at the extremely generous valuation of $750M (Quip had still to make any meaningful revenues). Evan was a Twitter co-founder that he had been quoted as publicly saying "we are in a strong position right now and as a board member we have to consider the right options." Benioff was unsure though, whether Evan was serious or he was just taking advantage of Salesforce's interest to increase his leverage within Twitter in an eternal struggle for power between him and Dorsey. Nick Bilton writes that "While Dorsey and his co-founder Williams don't always agree on everything, the two have been resolute in their determinations not to sell, and remain so."
While Benioff was trying to circumvent Twitter's management, Dorsey was building his defense. He was somehow eager to let the market know about any investor that would potentially consider a buyout. These news could keep Twitter stock price high and obstruct an unsolicited bid from Salesforce. In early August, Twitter stock rose almost 10% on the rumor that Steve Ballmer (a Dorsey supporter, who purchased a 4% Twitter stake soon after Dorsey became CEO) and Saudi Arabia's Prince Al-Waleed bin Talal, were teaming up for a bid to buy Twitter at a price between $22 and $26.
Judging by the outcome, Dorsey's plan was working. Despite the release of a disastrous Q2 report, Twitter stock was trading 35% higher than its all-time low of mid-June. However, Benioff was too persistent to quit. He gradually hardened his stance up to the point of delivering an ultimatum to the BOD, accompanied by the accusation of a fiduciary duty breach. Still, Twitter's BOD meeting of September 8th was business as usual. David Faber reported that day on CNBC that the BOD wouldn't discuss the sale of the company and no offers were on the table.
The game was far from over. With Jim Cramer, Benioff's friend, openly educating the investing public about the benefits of a Salesforce/Twitter deal, Dorsey realized that the enemy was circling around and asked Goldman Sachs to gauge the interest of potential white knights. Yet, Goldman Sachs came up with a rather poor list of suitors. None of the media companies were serious about Twitter and only Google showed some tepid interest. As Dorsey felt that Salesforce could launch an unsolicited bid any time soon, he responded unexpectedly. On Friday morning (Sep. 23th), David Faber reported on CNBC that Twitter would begin a sale process that would include Google, Salesforce among others. The expectations' game worked amazingly well. In anticipation of a bidding war, Twitter stock soared that day making prohibitively expensive for Salesforce to make an unsolicited offer at substantial premium. Most importantly though, Dorsey regained control of the situation. The news that the transaction would be consummated within a few weeks (30-45 days), lent credence to a sale process that hadn't even begun yet. Benioff could no longer circumvent it.
Still, Benioff was playing hardball to draw him into negotiations as it was evident from the WSJ story of that weekend: "Salesforce weighs Twitter bid to spur growth". A move of last resort, Dorsey turned to his mentor, Bob Iger (CEO of Disney) for advice and to Steve Ballmer (ex-CEO of Microsoft) for support. On Monday, Bloomberg and CNBC reported that Disney and Microsoft were too considering the acquisition of Twitter. Even though, Benioff suspected that Disney's and Microsoft's interest was not real (Salesforce and Microsoft were already embroiled in a bitter dispute over LinkedIn data rights), he felt he could take no chances. The market had already wiped out $3B from Salesforce's capitalization just at the prospect of the acquisition. At the very least, he had to wait for a better timing, maybe after the release of a couple of disappointing quarterly results.
Dorsey had managed to entangle Salesforce in a sale process influenced by him. He could either procrastinate and turn it into an attrition war or terminate it, on the grounds that the bids were not satisfactory enough. The bar was cleverly set absurdly high. Several stories pointed that Twitter was looking for $30B to sell ($45 per share), even though the company was already much more expensive at its current value (EV $15B) than LinkedIn at the time of its acquisition. The deal was dead.

Picking Holes in the Mainstream Story
The above story is only a speculative scenario of how Twitter drama has evolved behind the scenes in the last few weeks. The author has no access to the protagonists or to any other form of special intelligence. His narrative is based solely on Mosaic theory. Before dismissing the story, the reader is asked to think through the following:
1) Why would someone leak the interest of a potential bidder to the media?
While information leaks happen sometimes unintentionally, there are too many in Twitter's case to believe it's pure luck. They are certainly not a necessary component of a competitive bidding process as there are subtler ways to let bidders know about competitors' plans. After all, no management team is comfortable with the intense media scrutiny and the risk of being perceived as losing an acquisition target.
In this context, media stories should be considered part of a proxy war themselves. In Twitter's case, media reports led to a soaring stock price and made difficult for Salesforce to launch an unsolicited bid.
2) Why would someone set publicly the bar so high? ("what price for Twitter? A lot, which might be a big issue for many buyers").
Any BOD with a true intention to sell would rather set realistic, if not conservative expectations to make its job easier. Even when expectations are high, letting bidders know in advance discourages them from taking the process seriously (at least in its initial stages) and investing sufficient resources.
3) Why hasn't the BOD initiated a formal auction process and how does it reconcile with the urgency to conclude a deal within the next 30-45 days?
While discussions are reportedly held on an informal tone, an inexplicable urgency to conclude the deal as soon as possible has transpired. Once again, the author's take on this matter differs markedly from the consensus view; the BOD tries to avoid committing to a stiff sale process and even more so to a deal, but it still wants Salesforce to commit to the very same process that would prevent it from launching an unsolicited bid. Such a bid is highly undesirable, because it would constrain BOD's room for tactical maneuvers.
4) What has changed since the BOD meeting of Sep. 8th when the idea of a Twitter sale was reportedly rejected?
The argument that the BOD wasn't at the time aware of Google's, Disney's and Microsoft's interest doesn't stand to close scrutiny. It took just a few days for Goldman to come up with a list of suitors and there is no reason why the BOD couldn't have requested it earlier.
The only change since the last BOD meeting seems to be Salesforce's stance as Benioff has pursued Twitter much more aggressively since then. In this respect, BOD's change of course has been necessitated by the need to confront Salesforce on the appropriate legal basis and conform to its fiduciary duty.
All things considered, the author believes that no acquisition will happen any time soon and the sale process will drag on for weeks until the BOD judges that the offers are not satisfactory enough. Still, with structurally impaired fundamentals, Twitter may not survive for long as an independent company. It may be up for sale next year as insiders confess that there is no plan B if Dorsey fails.
The deal is dead, Long live the deal!
PS. If a bidding war breaks out in the following days (see for example Twitter: Bidding War Could Push It To $40), the author would certainly look ignorant. Still, he always puts his money where his mouth is.
This article was written by
Seasoned investment executive with a passion of mentoring young professionals. Harvard graduate and fellow, INSEAD and London Business School graduate.
Analyst's Disclosure: I am/we are short TWTR. I wrote this article myself, and it expresses my own opinions. I am not receiving compensation for it (other than from Seeking Alpha). I have no business relationship with any company whose stock is mentioned in this article.
Seeking Alpha's Disclosure: Past performance is no guarantee of future results. No recommendation or advice is being given as to whether any investment is suitable for a particular investor. Any views or opinions expressed above may not reflect those of Seeking Alpha as a whole. Seeking Alpha is not a licensed securities dealer, broker or US investment adviser or investment bank. Our analysts are third party authors that include both professional investors and individual investors who may not be licensed or certified by any institute or regulatory body.