In a recent SA article, Steven Saville correctly pointed out that the weekly American Association of Individual Investors (AAII) sentiment survey, which attempts to measure the sentiment of individual investors, is normally a contrarian indicator; maximally bullish near market tops, and minimally bullish near market bottoms.
He also correctly noted that, despite the lofty level of the S&P 500 (SPX), the AAII bull sentiment has remained at uncharacteristically low levels.
" According to the AAII sentiment survey, individual investors are only slightly more bullish now than they were at the crescendo of the Global Financial Crisis in November-2008."
While true, this is not as interesting, nor as meaningful, as the fact that the AAII bull sentiment was at a minimum a year earlier than that, in December 2007, just prior to the collapse (chart below).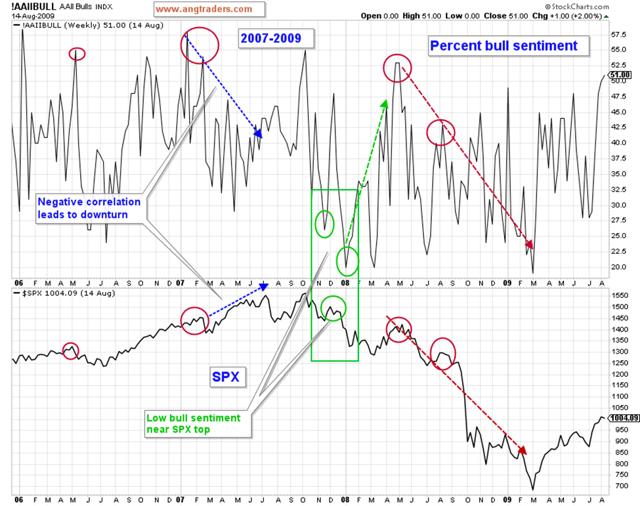 Could it be that the collective awareness of the "dumb money" is, at times, tuned-in to the dangerous reality of an extended market?
The chart below shows that this "counter-trend", of low bull sentiment and high bear sentiment at market maxima, has predicted market corrections several times since 2007. The red ellipses point-out the reverse counter-trend where high bear sentiment, and low bull sentiment materialized at a local market minimum in early 2008, and predicted the continued drop in the S&P. The correction of 2011 was, likewise, predicted by the appearance of the counter-trend in sentiment.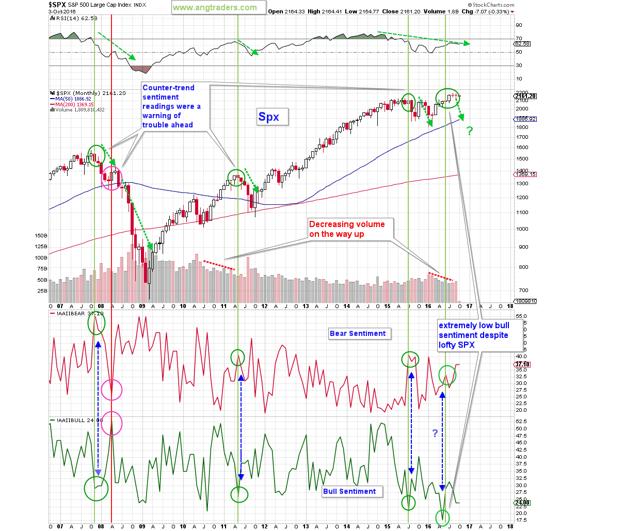 Looking closer at the counter-trend that materialized during the summer of 2015 (chart below), we can see that it predicted the double dip that occurred in the fourth quarter of last year. It appeared again in June of this year, and may yet prove predictive of another correction to come (red arrow with question mark).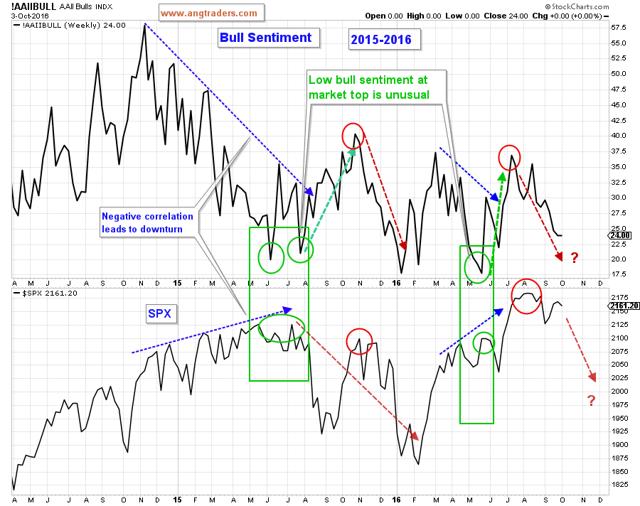 Interestingly, we found that this pattern also appeared back in June of 1998, during the tech bubble, when it predicted the 18% correction that occurred in the fall of that year. The market, however, went on to rally another 50% during the next year-and-a-half, before forming the low bull sentiment pattern once again, just prior to the tech bust of 2000-2001 (chart below).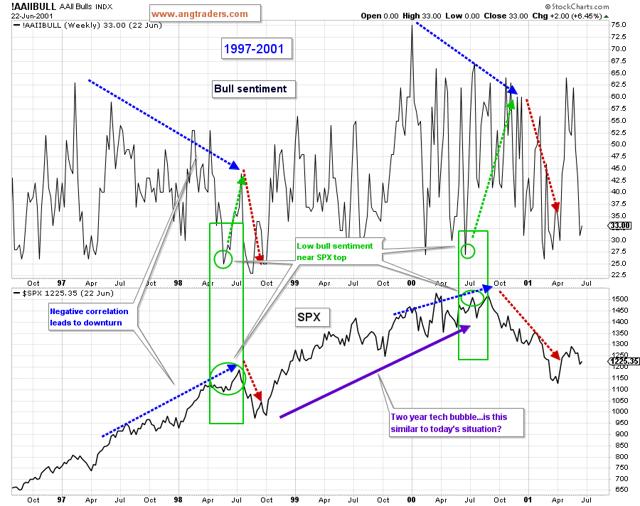 We think that there are some similarities between then and now which, if history was to repeat itself, would mean that today's market may correct (perhaps significantly), but recover and continue to inflate into 2017.
In conclusion, there is considerable historical evidence that the "dumb money" may, in fact, be smart when it counts--perhaps this is one of those times.