For most of this year US equity prices have been moving in the opposite direction of long-term yields, breaking down their traditional inverse relationship. It seems though the time has come for this old "love affair" between equity prices (NYSEARCA:SPY) and bond yields (NYSEARCA:TLT) to rekindle, making the two move in unison. On the one hand, the short end of the yield curve remains anchored to FED's "lower for longer" policy - dictated by the low-growth domestic equilibrium environment - and on the other, the long end of the yield curve increasingly aligns with global developments, where optimism for China could start driving yields upwards again (NYSEARCA:TBT). This bipolar situation will most certainly start to steepen the curve, and weigh on long-term bond prices at the same time that equity prices will continue to reap the benefits of ultra loose monetary conditions. Even in the case of an exogenous shock to the global economy, treasury yields and equity prices will be heading downwards in close correlation to each other. This makes the case for a positive correlation trade between equity prices and long-term yields potentially a win-win situation.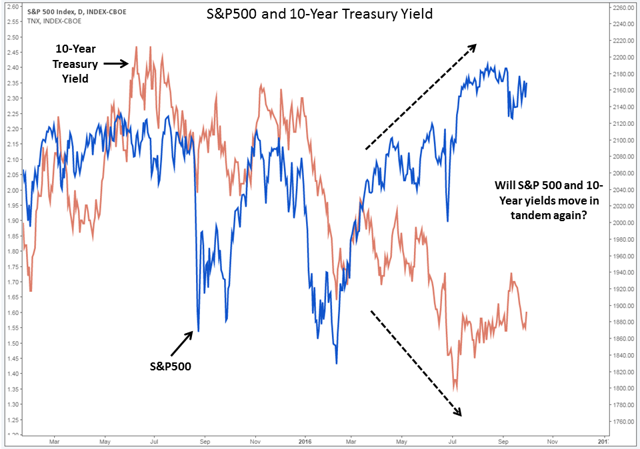 Source: tradingview.com
Optimism for China
China is the only country which could disrupt the current low-growth equilibrium in which the global economy is trapped in, and it brings us some good news on this front. Several macro indicators as well as commodity and shipping market trends, signify, directly and indirectly, that the Chinese economy is accelerating again. September's manufacturing PMI remained expansionary at 50.4, the highest level in the last two years, while the non-manufacturing PMI for the same month exhibited a healthy increase, reaching 53.7 from 53.4 in August. This trend was also confirmed by the marginally expansionary reading of Caixin manufacturing PMI at 50.1. Beyond these survey- based indices, there is a new generation of high-tech gauges of macroeconomic activity, which can more accurately and timely track major shifts. China Satellite Manufacturing Index of SpaceKnow Inc. belongs in this new generation of indices, and analyzes satellite imagery from thousands of manufacturing plants across the country in order to depict trends in the industry. Its latest price at 50.2 for September was its first expansionary reading since November 2014, signaling that a long-awaited reversal of the previous contractionary cycle of Chinese manufacturing has begun.
Except from the positive consensus among those macro indices, there are a number of indirect market signals which provide an even bigger picture, confirming this optimism. The LME Index, which tracks the prices of six basic commodities - aluminum, copper, zinc, lead, nickel, and tin - has reaffirmed the bull market trend by managing to climb to new year highs at 2.459.10. China is the biggest consumer of all these commodities with a global share of over 40% in each one of them, making a strong correlation between the LME Index and the Chinese demand.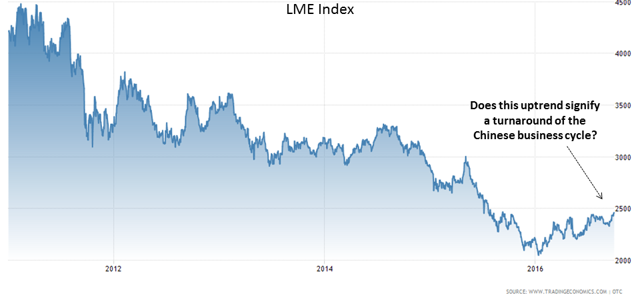 Source: tradingeconomics.com
In another industry, the Baltic Dry Index, a gauge of shipping rates for dry bulk materials like coal, Iron Ore, grain, etc. exhibits a pretty steady uptrend this year, currently standing at 875, much higher than its trough level of 290 back in February. Considering the amount of direct and indirect signals about China's business cycle, it is rather difficult to refute the possibility of its resurgence.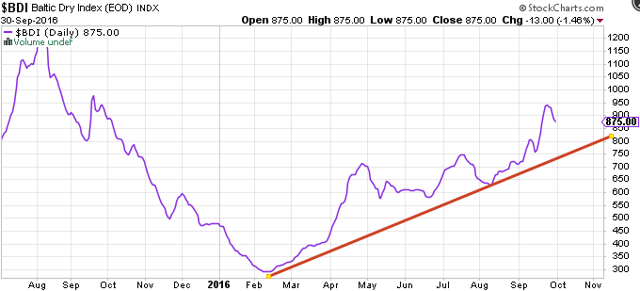 Source: stockcharts.com
China and Long Term Treasuries
This revitalization of the Chinese economy, based on domestic rather than external forces, can actually bring much selling pressure to long-term US bonds through two channels. Firstly, Chinese trade surpluses might shrink as the country's demand for imports rises faster than its foreign demand for exports. This in turn will leave less available money for Treasury investments, removing buying support for their prices. Secondly, expectations about the Chinese monetary policy are starting to shift from loosening to tightening. This tightening can very well push long-term US yields higher as global fixed income markets are highly interconnected, not to mention that such a development would create new inflationary expectations. These expectations may have already started to materialize as is evident from the recent 10-year breakeven inflation rate uptrend. This metric is often used by investors to gauge the long-term inflation expectations as dictated by the US Treasuries market. Irrespective of the source, long-term yields will ultimately be affected positively in such a Chinese rebound scenario.
Bond Yields Align With Stock Prices
As the two ends of the US yield curve increasingly start to look towards different directions, the old positive correlation between equity prices and bond yields will be brought to the forefront. While US equities might continue to benefit from the ambivalent Fed and its indecisiveness of how to handle rate normalization, long-term yields will react positively to the Chinese rebound, especially if it is a prolonged one.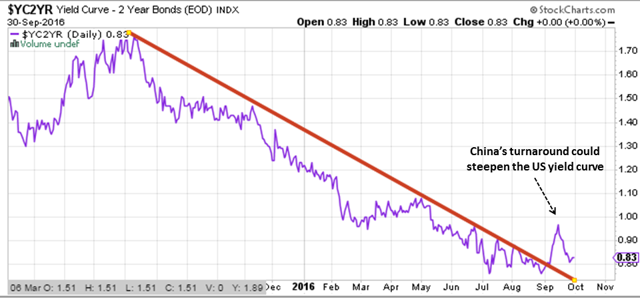 Source: stockcharts.com
This rebound might also have some positive reverberations to China's biggest trading partners, with Japan being the one that can reap the immediate benefits. Japanese exports to China amount to almost 17.5% of Japan's total exports, and they could get a boost if the Chinese rebound causes some positive income effects as well. Since income elasticity of demand is much higher than exchange rate elasticity, a domestic Chinese boost could counteract the strong yen effects and bring some sought after relief to Japanese exporters. This in turn could remove some pressure from the BOJ and the JGB market, essentially pushing the 10-year yields back to their announced targeted cap. If the Chinese rebound proves more broad based, along the way, then it could even force the BOJ to start unloading some of its bond holdings back to the market in order to keep the yields around the zero percent target.
All these first and second order positive effects, stemming from a Chinese rebound, are capable of re-establishing the strong positive correlation between equity prices and bond yields in the US. This link between the two can remain strong even in the case of an abrupt global crisis. It will be very interesting to see, after all, if this old "love affair" between bonds and stocks will manage to rekindle amidst one of the most challenging and erratic times for the global economy.
Disclosure: I/we have no positions in any stocks mentioned, and no plans to initiate any positions within the next 72 hours.
I wrote this article myself, and it expresses my own opinions. I am not receiving compensation for it (other than from Seeking Alpha). I have no business relationship with any company whose stock is mentioned in this article.
Additional disclosure: The views expressed in this article are solely those of the author, provided solely for informative purposes and in no case constitute investment advice.