One of the most important concepts in finance is the weighted average cost of capital (OTC:WACC). The WACC determines how cheaply a firm can obtain the capital needed to run. This is a key metric in financial management.
Another important concept is the ROI and the ROE. These metrics determine how well a firm uses the money it obtains to create value.
This paper plane has a negative ROI.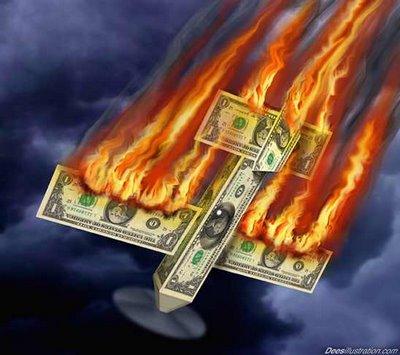 Valeant's (VRX) WACC
The WACC is made up of three components: the cost of debt, the cost of equity (preferred and common) and the opportunity cost of retained earnings. When a company has a low WACC, it is easier to obtain capital and post a positive ROI. However, posting a positive ROI is much harder when the WACC is high because the return of the investment must defray the WACC.
I calculated Valeant's WACC using a beta of 1.05, a risk-free rate of 0.30% and a 10% risk premium. According to this calculation, debt costs Valeant around 2.2% and equity costs 10.80%. Valeant is not allowed to issue more debt, so its capital will have to come from equity and retained earnings.
Retained earnings.
Retained earnings represent income retained from a companies operations; net income makes it go up, net losses make it go down. It can also be reduced by noncash expenses like depreciation and amortization. Valeant's retained earnings are currently negative -2.7 billion according to GAAP.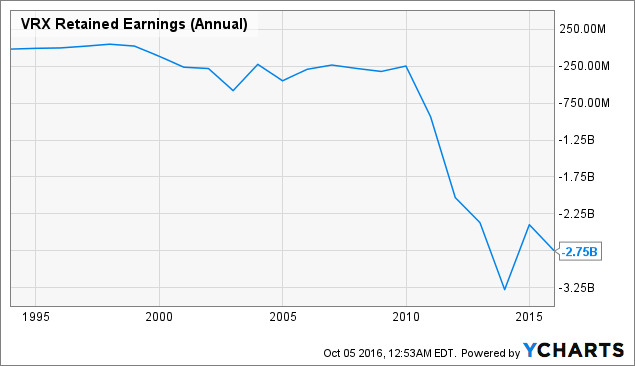 VRX Retained Earnings (Annual) data by YCharts
Free cash flow totals around $1.90 billion, mainly due to accounting adjustments to amortization on its intangible assets.
Valeant earns around $10 billion in revenue; however by the time COGS, operating expense, and interest expense are subtracted there nothing left over (290 million loss).
Equity.
Valeant will need to issue significant amounts of equity to raise the capital it needs to pay down its debts. Issuing further debt is off the table and Valeant has no retained earnings as per GAAP.
According to our previous calculation, Valeant's cost of equity is 10.8% - this is high; a problem compounded by the company's low ROI and ROE - both of which are negative.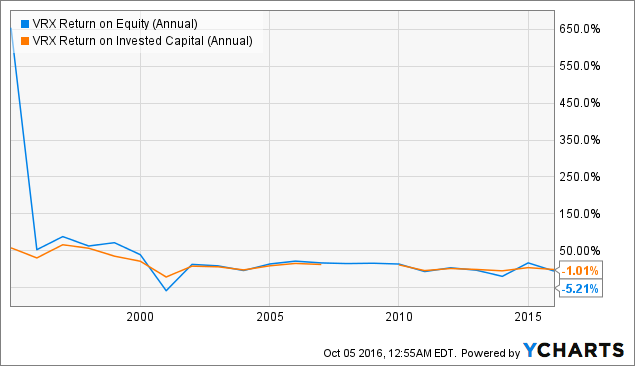 VRX Return on Equity (Annual) data by YCharts
Valeant's equity issuance has a negative return; it is taking value away from shareholders every time it issues more stock.
The problem.
When Valeant was trading for over $200 a share issuing more equity wouldn't have been much of a problem. Now that the stock is worth $25 things are more complicated.
Valeant has $8.2 billion of debt/interest payments due over 2017-18. Let us assume the company can pay down $4 billion of this with its FCF; the remaining 4 billion will be paid with equity.
Valeant's current equity value is around $8.5 billion, and there are around 347 million shares currently outstanding.
To raise $4 billion dollars, Valeant would have to issue 160 million more shares at $25; raising the current 347 million to 507 million shares outstanding - a 46% increase.
Assuming the market cap of Valeant stays the same, this would drop the price of the stock to $16.77 per share. This 32% downside all other factors being held constant.
Conclusion.
Valeant's WACC is too high; the company is unable to obtain debt financing and has no retained earnings. Consequently, Valeant will be forced to obtain capital through the issuance of equity.
Equity issuance will be deleterious to shareholder value because Valeant's cost of capital is so high. Both its ROE and ROI are negative.
Even when considering FCF Valeant will struggle to pay down its debts.
In a scenario where Valeant had to pay down its 2017-2018 debt with nothing but current FCF numbers and equity, the impact on shareholder value would be catastrophic.
Follow international perspective