Exxon Mobil (NYSE:XOM) quieted skeptics after reporting the Liza field 120 miles off the coast of Guyana was a "world-class discovery" that could hold as much as 1.4 billion barrels of crude equivalent. The region off the coast of Guyana known as the Stabroek block has been stingy with its treasures for explorers over the previous 20 years. Well holes were drilled by various companies over the years that produced nothing, other than the hole. The Liza field changed all this; the Liza-1 well proved there was a viable oil deposit at the location. The Liza-2 well upped the field's game significantly, making the oil field the largest discovery of 2015 (over half of all oil found in the world in 2015 could lie at the Liza discovery)(Source: FuelFix.com) with its estimated 800mm to 1.4 billion barrels of oil equivalents (Source: Hess.com). The Liza-3 well is being drilled currently, and although we will have to wait for more information from this well, some industry experts believe the estimated size of the field could rise by another 50 to 100%. This increase is the catalyst we are targeting in this article. Hess Corporation (NYSE:NYSE:HES) has a 30% interest in this field through its Hess Guyana Exploration Ltd 100% owned affiliate. So with Exxon Mobil leading the charge why might Hess Corp. benefit more than Exxon with its 45% share of this exciting discovery? With the inclusion of the Liza-2 findings Exxon Mobil's total resource base inched over 91 billion barrels of BOE (barrel of oil equivalent). So although this is a very exciting find, it only increases Exxon Mobil's reserves by about 70 basis points assuming the high-end of the well's oil estimate. Exxon Mobil's share of the oil would be worth 30 Billion USD at current oil prices, It's a fantastic find, fortunately, or unfortunately with Exxon's Market Cap at 357Bn USD, it's just not a massive needle mover. Hess Corporation's share using the high estimate would increase their reserves by 420mm BOE which at current prices would be worth over 20Bn USD. That moves the needle for Hess as their market cap sits at a more modest 16.7Bn USD. Hess reported 2015 year-end proven reserves of 1,086mm BOE. At the high end, the Liza reserve would increase Hess's proven reserves by nearly 40%. That kind of bump in reserves is a game changer for a company of Hess's size.
Wells:
Liza-1:
Liza-1, the well that ignited the excitement in the Stabroek block and offshore Guyana oil fields in general. The well was SPUD (definition of SPUD courtesy of Investopedia.com) on March 5th, 2015 with Exxon reporting the finding of this well in May of 2015. This well was the most exciting discovery of 2015 and a huge boon for Guyana a country with a population just north of 750k. Initial estimates for this well indicated it likely held 700mm barrels of oil, worth over 40bn dollars at 2015 oil prices. To give some context to how big a find this is for Guyana that would equal over 50k USD in oil for every resident of the country. With the now full blessing of the Guyanese government more drilling was ordered to determine just how much oil this field was hiding.
Liza-2:
Liza-2 was the motherlode, increasing the resource estimates to 800mm - 1.4bn from 700mm (source: exxonmobil.com). Liza-2 was SPUD in late February of 2016 with official news of the finding making its way to the market on June 30th, 2016. This finding was enough to fast-track the start of hydrocarbon production at the Liza site with an FPSO vessel. An FPSO vessel or floating production storage and offloading is typically a ship that is used in the production and processing of hydrocarbons (Source: Wikipedia.org). Being they're usually a ship and not a platform, these can move quicker and reach more remote locations. It's amazing to think how fast the technology has moved, this well was discovered in 2015 and could be producing hydrocarbons by 2018.
Skipjack:
The next well to be drilled was in a new location entirely approximately 40 kilometers from the Liza wells.
You can see on this map where these wells are off the coast of Guyana and relation to each other: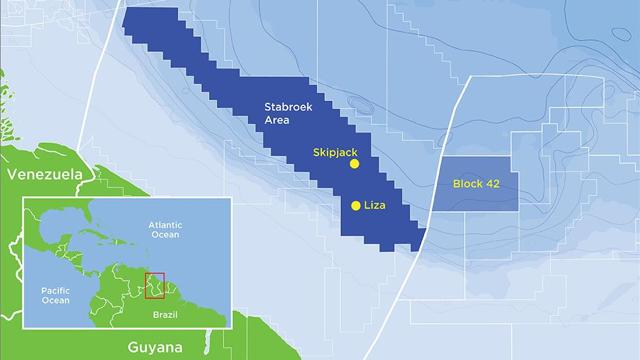 (Source: Hess.com)
Skipjack was exciting because the 3D seismic data looked incredibly similar to that of the Liza wells data. If this well contained producible hydrocarbons, it would mean Exxon, Hess and Nexen (the other 25% holder of rights to the claim) would have a multi-field monster on their hands. It would drastically affect how they would need to plan to produce oil as there would be two fields, not just the one. The Skipjack well was SPUD on July 17th of 2016. Unfortunately for all interested parties on August 29th, 2016 ExxonMobil advised Guyana the well has turned up dry. You can look at all of the computer models until your eyes bleed, but you have to drill to be certain, such is the reality of oil exploration.
Liza-3:
Liza-3 was SPUD on September 4th, 2016 and will focus on an area to the north of Liza 1 and 2 to look at the flank of the well to determine just how constant the reservoir is. The finding at this well will be the catalyst that we believe will propel Hess Corporations stock higher. It took six weeks for Exxon/Hess to drill and subsequently determine the Skipjack well did not have recoverable hydrocarbons. The Liza-2 well took four months from SPUD in late Feb. to the PR on June 30th highlighting how the well had added to the recoverable oil estimate. Liza-1 took three months from SPUD on March 15' to the announcement on May 15' that they had discovered a world-class resource.
Liza-3 Catalyst:
We can see by the interval between SPUD and then the press releases how long it takes to drill a well and then figure out if there's anything down there. In the case of Skipjack, it was easy, they drilled to where they thought oil was, none came up, told interest parties nothing came up and moved on to the next one. When they find oil it becomes more complex; they need to determine what kind of hydrocarbons are down there, whether it's crude, gas or a bit of both, the type of crude and the quality of the crude and most importantly quantity of BOE. The Liza field is so exciting and potentially lucrative due to it being mostly a crude field; liquid crude-rich fields have been hard to find in size in recent years. Only five fields containing over 500mm of BOE have been discovered in the last five years. When they find crude they need to make estimates about the size of the field, they do this a variety of different ways that shouldn't concern us in respect to this article, what's important is these tests take some time. The objective of Liza-3 is to prove the oil reserve is consistent throughout the entire field; proving this consistency will allow them to increase their size estimates. That's what I'm trying to get exposure to; I want to make a bet that the well is bigger than it was estimated to be after Liza-2. It took four months from SPUD to PR on Liza-2, and I think this is about near the top end of the time range that Liza-3 results might take. That would mean we should have results on Liza-3 by December of this year at an absolute maximum. I think it likely takes less time than that as they are more familiar with the field, the layers of strata and rock they are drilling through, etc. Hess Corp also has its Q3 earnings on October 26th so we could get some information on how the Liza-3 well is going on that call, we might get some information about the dud well Skipjack, but this empty well has been disseminated by the market already. Liza-3 wasn't meant to be a new find like Skipjack; it was just to fill in the reserve, Liza-1 and 2 had already proved the reserve. I have reasons to think this well might end up being quite a bit bigger than the current estimates. Doug Leggate at Merrill Lynch just put out a research note on HESS stating based on their research it wouldn't be a stretch that the field could end up being 50-100% larger. It's pretty common for wells holding estimates to grow over time as the companies drill more wells and get a better sense of the size and scope of the reserve. Also, executives at ExxonMobil who usually try and temper expectations said the Stabroek field might end up being on par with fields off the coast of Angola. Angola is the second-largest oil producer in Africa after Nigeria. Offshore Angola has an estimated recoverable reserves of more than 20bn BOE offshore, for Exxon executives to believe that Guyana could be the size of Angola is expressive. The Liza wells might never be a 20Bn BOE resource but the entire field might eventually produce estimates of that magnitude. Exxon executives stated "its a huge field" adding "could be a second Angola" (Source: Kaiteurnewsonline.com). These wells are going to be a very important development to the people of Guyana who live in the third poorest country in South America. If Exxon executives are right about the Guyana fields, the oil value per capita could be on par with that of Saudi Arabia. There was more or less no producible oil in Guyana as early as 2014, to wake up to your country sitting on one of the biggest recent oil discoveries is a boon for citizens of this tiny country.
Trade:
For a conservative player I would say one could simply buy Hess Corp stock ticker HES. Hess has a market cap of 16.7bn USD, 3.1Bn in cash on the balance sheet, nearly 2% dividend yield and relatively low debt vs. the industry. Hess has just 6.6Bn in total debt making their Debt/Assets level 19% and Debt/Equity ratio of just .32. HESS's debt to equity ratio isn't that much higher than ExxonMobil's at .26 whose equity is seen one of the least risky vs. its peers. Its Book Value per Share is $65 meaning its current share price is 20% lower than its BV. I would propose a less aggressive player could buy the stock here and simply wait for an update on Liza-3 to hit the market. ML estimated the Liza well should add anywhere from 7 to 14 dollars per share in value when that news was made public on May 16'. I tend to agree with this proposed increase in value, very little of that value in the share price has been realized. One of the reasons HES stock sits 62% below ML's $85 PPS target. If Liza-3 fills in reserves and estimated recoverable reserves go up an additional 50%, I think this could add another 4 to 7 of share value to HESS Corps' stock. If the reservoir is found to be as deep as Liza-1 and 2 throughout the formation when the Liza-3 data comes out, the recoverable reserves estimated could go up two-fold. This finding would mean another 7 to 14 dollars per share of value from HESS Corps' portion of the Guyana field. By building a simple probability matrix we can form an expectation for the Liza-3 well: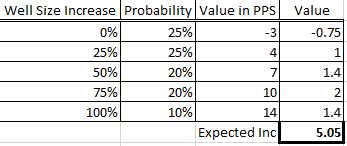 Using those probabilities gives us an expected value of $5PPS for the Liza-3 well. If we assume an investor will have this news by the end of December and buys the shares today at 53.70, they will realize a holding period return of 9.3%. I still am in the camp that it is likely this field will be found to be at LEAST 50% larger and I think the field estimates being 75% larger also has a good chance.
A more aggressive player could buy the Dec 2016 55 or 57.50 call option for $3.10 or $2.15 respectively. Applying the probability matrix above with these options, the 55 options would only return 40 cents, and the 57.50 would LOSE 60 cents with the 5.05 expected value added. The option bet would be more geared to someone who thought oil prices have bottomed and an ever increasing Guyana field might entice the markets to get more excited about HESS Corps' Guyana fields and potential.
Conclusion:
The Liza wells and Guyana oil fields are a game changer for Hess Corporation. Its size and the fact it's a mostly liquid crude oil field of which have been incredibly hard to come by in recent years make it even more of a game changer. I believe a long investment in Hess Corp. could suit either a more opportunistic investor or one that is looking to add or gain some exposure to a cheap vs. peers oil play, which has some catalysts as well. It's not every day a company the size of Hess has their reserves increased by nearly 40% overnight and subsequently doesn't see much in the form of equity appreciation. The baby has been thrown out with the bath water in the oil space and it's a good time to look for the companies that didn't deserve to be thrown out. Hess has nearly zero chance of going bankrupt; it was prudent with debt throughout the entire cycle unlike some of its more aggressive peers who have paid the price for that decision dearly. I also believe we could look back in 5 years and isolate this as the time in history a tiny country called Guyana started becoming a prosperous petroleum exporting nation. It could be a game changer for Guyana and just as much as a game changer for Hess Corporation.