Drug company Valeant Pharmaceuticals International, Inc. (VRX) was the most exciting story in the stock market of 2015/6 if you ask me. Unfortunately, shareholders of Valeant Pharmaceuticals that bought into the acquisition model a year ago are now sitting on devastating losses. I can only say congrats to all those investors that jumped off the sinking ship in time last year, and those investors that actually shorted the drug company.
Valeant Pharmaceuticals has, in fact, been a highly devastating investment. The drug company's shares have collapsed a whopping ~86 percent in the last year. Year-to-date, it is not looking much better: Valeant Pharmaceuticals' valuation has cratered ~77 percent, and most recently shares have moved sharply lower again.
The drug company reaffirmed its revenue guidance as part of its 2nd quarter earnings release, and guided for significant debt reductions on the back of asset sales and free cash flow. Further, Valeant Pharmaceuticals' new Chief Executive Officer Joe Papa put $8 billion of non core asset sales on the table in order to pay down the drug company's debt.
After Valeant Pharmaceuticals' 2nd quarter earnings release stunned investors, shares quickly surged to ~$33, before falling back, and surrendering most of the gains of the latest surge. Today, a piece of Valeant Pharmaceuticals' business can be bought for $23.68, or 28 percent below the latest high.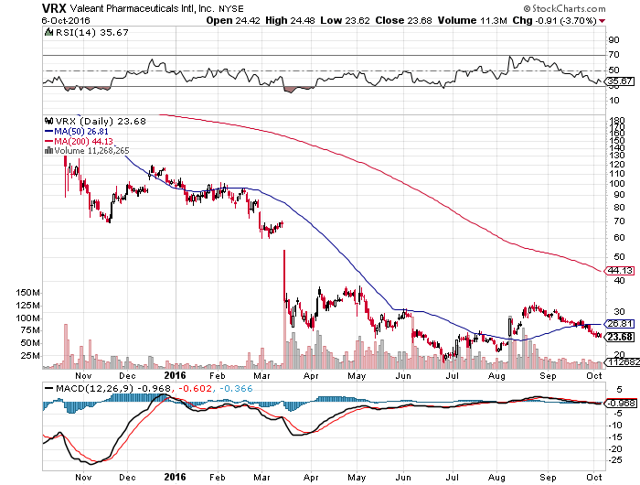 Source: StockCharts.com
The consolidation, however, did not come as a big surprise to me, because 1. Valeant Pharmaceuticals' shares were overbought after the Q2-16 earnings release; and 2. Investor optimism was shifting too dramatically, so profit taking needed to be expected.
The 2nd reason was also the reason why I penned another article on the troubled drug company at the end of September, "Valeant Pharmaceuticals: How Much Downside?", in which I contended that shareholders in the drug company were facing some more downside on the back of stock downgrades. In particular, I suggested that Valeant's shares could fall back to $25, which seemed unlikely at the time.
Overrated Bankruptcy Risk...Buying Opportunity
Valeant Pharmaceuticals, as far as I am concerned, is unlikely to go out business because of past pricing scandals and specialty pharma controversy. The company pulls in enough money in free cash flow, and should be able to raise more than enough cash from asset sales in order to reduce debt to a more manageable level. If worse comes to worst, Valeant Pharmaceuticals could even sell off core assets such as Bausch & Lomb, and use the cash to repay acquisition-driven debt. In any case, I judge the probability of a Valeant bankruptcy to be very low.
Your Takeaway
Valeant Pharmaceuticals' looks appealing at ~$23, largely because investors greatly exaggerate the drug company's bankruptcy risk. I think it is highly unlikely for Valeant Pharmaceuticals to go out of business given that it has a filled drug pipeline, pulls in a decent amount of cash flow on a recurring basis, and moves forward with asset sales. Granted, Valeant Pharmaceuticals has surrendered most of its latest gains, and is far from being an investor favorite, but that doesn't mean investors can't make a bunch of money in this name. Buy for capital appreciation.
If you like to read more of my articles, and like to be kept up to date with the companies I cover, I kindly ask you that you scroll to the top of this page and click 'follow'. I am largely investing in dividend paying stocks, but also venture out occasionally and cover special situations that offer appealing reward-to-risk ratios and have potential for significant capital appreciation. Above all, my immediate investment goal is to achieve financial independence.