Oil (USO) is finally showing some signs of life. After plunging to $27 per barrel at the 2016 low, crude oil is back above $50 per barrel. While this is still a very difficult environment for Big Oil, it's a welcome sign of recovery. And, actions taken by OPEC to limit output may provide a further boost to the price of oil moving forward.
This is all great news for Exxon Mobil Corporation (NYSE:XOM) and its shareholders. Exxon will be a major beneficiary of the OPEC freeze and any resulting increase in oil prices, because the company has a number of huge upstream projects recently placed into service or set to ramp up soon. These projects are coming on-line just at the right time, and the fact that they will start generating cash for the company would be huge.
Exxon had a terrible year last year, and this year is not going much better.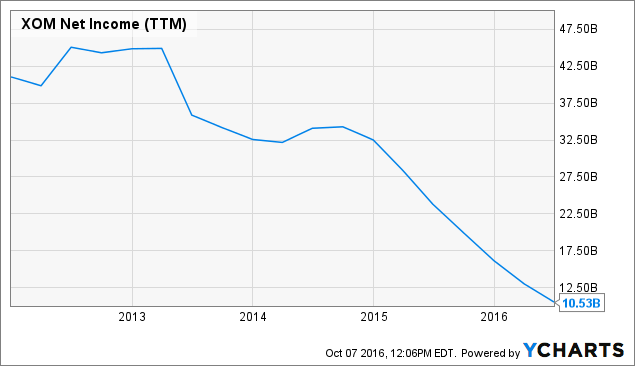 If Exxon can return to earnings growth in 2017 and beyond, it will go a long way toward protecting the company's dividend and allowing Exxon to maintain its annual dividend increases without further stressing the balance sheet.
A Tough 2015, But Better Days are Ahead
Exxon deserves a lot of credit for continuing to perform at or near the top of its peer group. In 2015, the company still managed to produce a 7.9% return on average capital employed, which was much higher than most of its integrated competitors.
Still, Exxon struggled to generate earnings above its capital allocation requirements last year. The company earned $16.2 billion in net profit in 2015, which only slightly covered its $15.1 billion in combined dividends and share repurchases. Plus, Exxon has a balance sheet to worry about. It already lost its 'AAA' credit rating this year, and does not want to suffer further deterioration because that will negatively impact its cost of capital. As a result, between its debt holders, shareholders, and capital expenditure needs, Exxon has a lot of mouths to feed.
Exxon was put in a very difficult position in 2016. As a Dividend Aristocrat, investors have come to expect annual dividend increases from Exxon. But in one of the worst climates for oil and gas companies in decades, hiking the dividend came at a steep cost to the balance sheet.
Things have not gotten much better so far in 2016. Net profit fell 59% in the second quarter, due primarily to a $1.7 billion year-over-year decline in upstream earnings. Net profits are down 62% in the first half of the year. Clearly, the upstream business is suffering the most due to lower commodity prices, which is why Exxon's new projects are so critical going forward. The good news is that once Exxon's lineup of upstream projects come on-line, it will be a great relief to the company's financial position.
New Projects Will Provide a Big Boost in 2017 and Beyond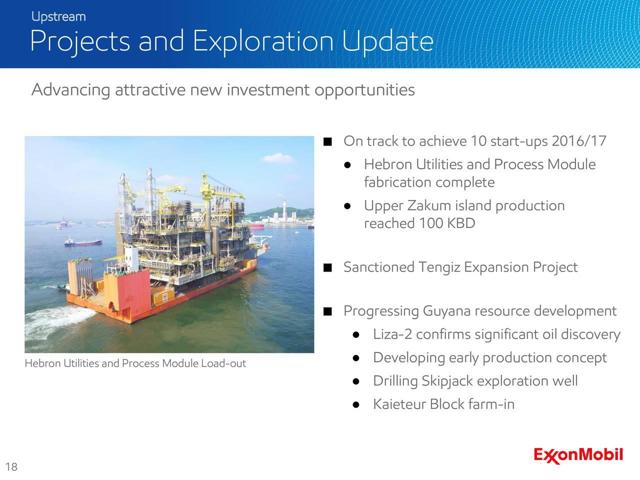 In all, Exxon has 10 projects set to start-up this year and next year. The most promising projects to come on-line for Exxon recently are the liquefied natural gas project in Papua New Guinea, and its massive Kearl project in the Canadian Oil Sands. The LNG field in Papua New Guinea is expected to produce approximately 6.9 million tons of LNG per year, and is perfectly situated geographically to serve the booming energy demand in Asia, including major customers like China Petroleum & Chemicals Corp. (SNP). Over the life of the Papua New Guinea LNG project, Exxon anticipates more than 9 trillion cubic feet of gas will be produced.
Separately, the Kearl oil field is expected to produce nearly 500,000 barrels per day of diluted bitumen at full capacity, which would represent one in every eight barrels used in Canada. Exxon estimates the field has 4.6 billion recoverable barrels, which is expected to last more than 40 years.
The reason why these projects represent a positive catalyst is that once completed, they will no longer be a drain on the company's cash flow. Exxon will be able to significantly reduce the amount of money it has been spending to build and develop these projects. Plus, a secondary benefit is that these projects will begin generating cash flow. Even at low commodity prices, this cash flow will be a boost for Exxon. These projects will essentially go from a use of cash to a source of cash.
Implications For Exxon's Dividend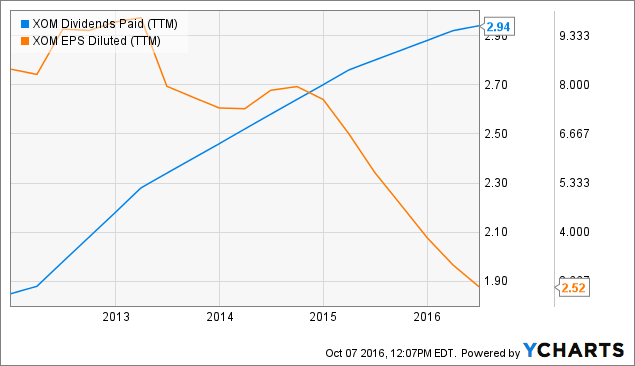 Exxon Mobil has a very long history of paying dividends. The company has paid uninterrupted dividends for more than 100 years. The 2.7% dividend increase in 2016 made 34 years in a row of consecutive annual payout increases.
But Exxon's dividend growth has stalled in recent years, and future dividend increases are questionable given the company's tight payout ratios this year. Paying out more in dividends than a company takes in each year in profits is unsustainable over the long term. That is why it is imperative for Exxon to return to growth, and the good news is its major projects could do just that.
Disclaimer: This article represents the opinion of the author, who is not a licensed financial advisor. This article is intended for informational and educational purposes only, and should not be construed as investment advice to any particular individual. Readers should perform their own due diligence before making any investment decisions.