Chevron (NYSE:CVX) has done well on the stock market this year, recording year-to-date gains of almost 14%. What's surprising is that the increase in the share price is despite Chevron reporting weak results for the first half of 2016. In fact, Chevron had reported a net loss of $2.1 billion in the first six months of 2016 as compared to earnings of $3.1 billion in the first half of 2015.
At the same time, its revenue came in at $50 billion for the first six months of the year, representing a drop of 26% as compared to revenue of $69.14 billion in the same period last year.
This massive decline in Chevron's top and bottom lines is because of a significant drop in crude oil and natural gas price realizations. Its average price per barrel of crude oil and natural gas was $39 and $1.21 per thousand cubic feet in the second quarter of 2016, illustrating a decline of 39% and 59%, respectively, from the prior-year period.
However, the recent uptick in crude oil prices due to positive supply actions expected to be put in place by the likes of OPEC has been a boon for Chevron. In my opinion, Chevron is well-placed to take advantage of any improvement in the upstream oil scenario. Let's see why.
New projects will become accretive to margins
Chevron has started benefiting from start-up of new projects. In fact, the new projects that have come online this year have increased its production by 37,000 barrels per day due to production ramp-ups at Jack/St. Malo, Chuandongbei, and Angola LNG.
In fact, Chevron has seen its shale and tight oil production increasing by 50,000 barrels a day, driven by production ramps in the Midland and Delaware Basins in the Permian. Also, Chevron's production from Gorgon LNG, which is slated to begin in the second half of 2016, will be adding more than 200,000 barrels of oil equivalent per day of production at peak levels.
As a result of the new production coming online and expected production from the new projects that are scheduled to start in the second half of 2016, Chevron's production will grow approximately 20% to nearly 3.1 million barrels of oil equivalent per day from the current production of 2.6 million barrels of oil equivalent per day. The following chart shows Chevron's expected volume growth in the upstream segment going forward: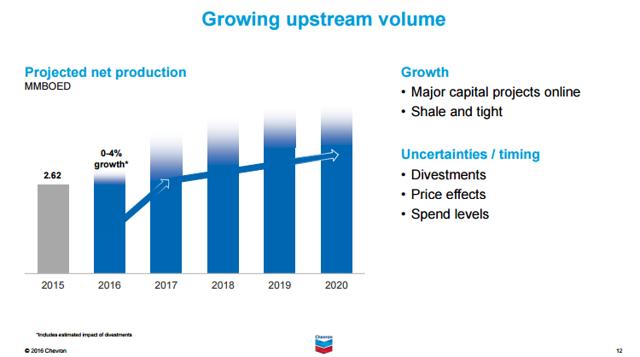 Source: Chevron
The point to note here is that these new projects will not only increase Chevron's production, but also improve its bottom line performance due to their ability to generate higher cash margins as compared to the existing portfolio even at current oil prices.
Lower costs will aid margin growth
A key reason for the improvement in the cash margin will be a continued reduction in the development costs. For instance, Chevron has lowered the unit development costs by more than 30% across its assets in the Permian Basin since the second quarter of last year, as shown below.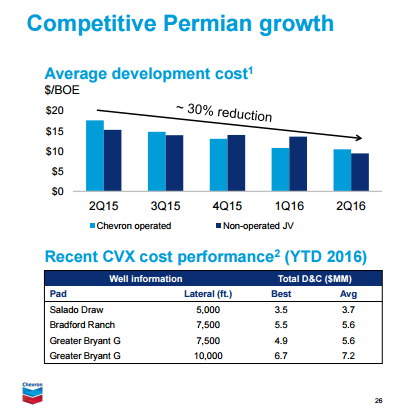 Source: Chevron
Looking ahead, Chevron expects a significant decline in development costs because the company has increased its drilling efficiency. As such, the company now has 30% faster drilling rates in the deepwater than last year. These faster drilling rates are due to its efforts of improving the efficiency.
For instance, Chevron's new well stimulation method has reduced its costs by over 70%, while debottlenecking has increased the production capacity by 16 million barrels of oil equivalent per day in Tengiz. Also, the 7,500-foot laterals in the Midland Basin have an average well cost of $5.6 million, representing a reduction of 25% in a span of just three months due to longer laterals, as shown in the above chart.
Moreover, most of Chevron's new projects are close to its existing infrastructure, which should lower its costs and enhance margins. The following chart clearly indicates the increase in cash margin by 2017 at constant crude oil prices due to efforts undertaken by Chevron as mentioned above.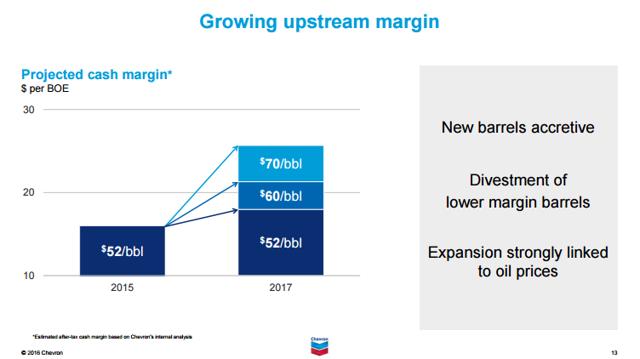 Source: Chevron
On account of such efforts to streamline its portfolio, BMO Capital recently initiated Chevron with an outperform rating and a price target of a $120 per share, representing an upside potential of 17%. The most important thing is that this bullish view of BMO regarding Chevron is driven by the company's ability to generate positive organic free cash flow that can cover its cash dividends at the crude oil price of $50 per barrel in 2017.
Chevron is focused on increasing its upstream production in a profitable manner. For instance, its upstream production costs are now averaging less than $15 per BOE, which is 50% lower than its upstream production costs of $30 per barrel of oil equivalent in 2013. This steep decline in Chevron's production cost is a result of lower reducing costs across various segments such as transportation and logistics, as shown below: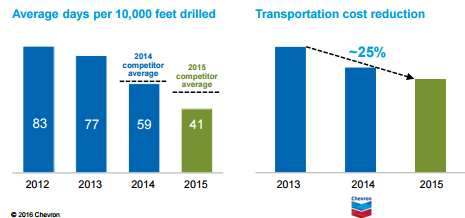 Source: Chevron
Conclusion
Chevron is looking to improve the returns from its current assets by reducing its drilling and completion expenses, production costs, and transportation costs as discussed above. Also, the company is making the right move by looking to ramp up new production that will have higher cash margins. So, in my opinion, Chevron is well-placed to take advantage of a rise in oil prices in light of the points discussed above, so investors should continue holding the stock going forward.
Disclosure: I/we have no positions in any stocks mentioned, and no plans to initiate any positions within the next 72 hours.
I wrote this article myself, and it expresses my own opinions. I am not receiving compensation for it (other than from Seeking Alpha). I have no business relationship with any company whose stock is mentioned in this article.