I began covering New Senior Investment Group (NYSE:SNR) back in June 2015, and I became a shareholder a few months ago. I consider this REIT to be one of the more speculative holdings in my portfolio, and that's also the reason that I have maintained a modest ownership stake.
Keep in mind, a speculative stock has a high degree of risk, and because of its high-reward characteristics, investors should always be prepared for the possibility of loss, adhering to the investor's overall tolerance for risk.
Today, I decided that I would take a closer look at SNR, especially the risks and returns.
For disclosure, my speculative REIT positions account for a fraction of my durable income portfolio, as my goal is to improve total return prospects without adding too much risk. In the future, I plan to incorporate speculative ratings in my research, and at some point, I will likely create a new portfolio called "The Speculative REIT Portfolio".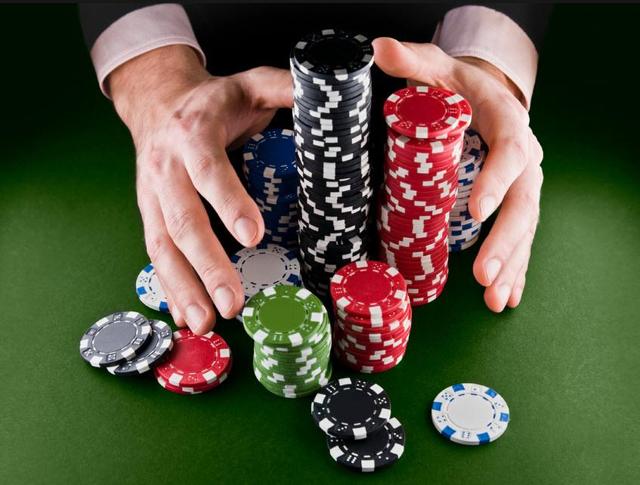 The Pure Play
New Senior Investment is the only pure-play senior housing REIT with around 91% private pay independent living assets. Approximately 70% of its portfolio is comprised of stable independent living assets. Accordingly, SNR is the largest owner of senior housing, with a portfolio value of around $3.1 billion that has grown to 154 properties since inception in 2012 (~19,000 beds across 37 states). 51% of NOI is from managed operators and 49% is triple net leased.

The majority of SNR's portfolio is private pay, and around 69% of the portfolio (105 properties) is stable independent living. There is less new independent living supply coming into the market as compared to assisted living/memory care, so that means less new competition.
The results clearly demonstrate the benefits of owning private pay independent living assets. While the rest of the industry has experienced occupancy declines this quarter, SNR responded favorably with significant growth.
Although it is less vulnerable to government pay risks, the company does have outsized risks related to its concentration with Holiday. As you can see below, SNR derives around 75% of its revenue from Holiday and around 12% of revenue from Blue Harbor. (Disclosure: My direct relative is employed at Blue Harbor.)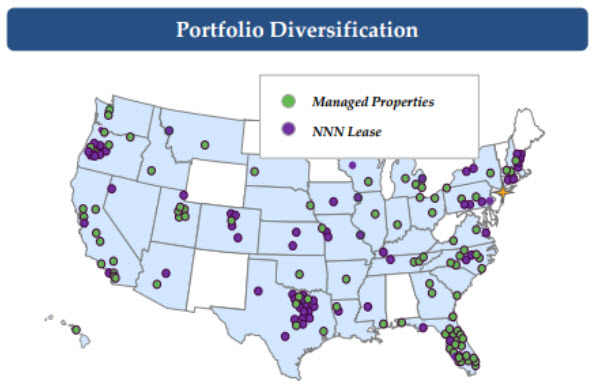 Holiday was formed in 1971 by William Colson and sold to Fortress in 2007. SNR owns both net leased and managed buildings leased to Holiday, and the outsized concentration risks have been a well-known overhang for SNR investors. (Holiday operates around 308 properties, and SNR is landlord to 118 Holiday properties.)

The Managed Portfolio
SNR's managed portfolio consists of 96 properties (11,453 beds across 33 states) that include 53 Independent Living buildings and 43 Assisted Living and Memory Care buildings.

In Q2-16, the average occupancy across the entire managed portfolio increased 210 bps from 86.2% in Q2-15 to 88.3%. On a same-store basis, occupancy was up 120 bps from 86.1% to 87.3% and NOI was down 3.7% year over year. On a sequential quarter basis, same-store occupancy was flat and NOI was up 2.1%.
SNR's same-store portfolio continues to represent a relatively small portion of the overall portfolio and is currently heavily weighted towards AL Memory Care. Specifically, the same-store managed portfolio includes 64 assets, which represents 66% of the total managed portfolio and 34% of the total company portfolio.
The Net Leased Portfolio
The company's Net Lease portfolio includes 58 properties (7,539 beds) across 24 states. The vast majority of triple net assets are independent living, and nearly 80% of NOI comes from these stable, high-quality assets.

New Senior's Net Lease portfolio performance is solid, with coverage for the total portfolio of 1.24x, down a little from Q1-16, and average occupancy of 88.8% for the trailing 12-month period ended March 31 (up 60 bps over the same period last year). On a same-store basis, coverage was at 1.22x and occupancy was 88.8% (also up 60 basis points year over year).
Anchored By Stable Independent Living
In terms of new investments, New Senior has actively sought to improve the overall quality, stability and growth profile of the portfolio. Results are now beginning to reflect the benefits of these efforts. New Senior's portfolio is differentiated in that 100% of NOI is private pay, which means the portfolio is incredibly stable and less vulnerable to economic or regulatory changes.
Also, approximately 70% of NOI comes from independent living assets, and as noted above, margins are better in the IL space.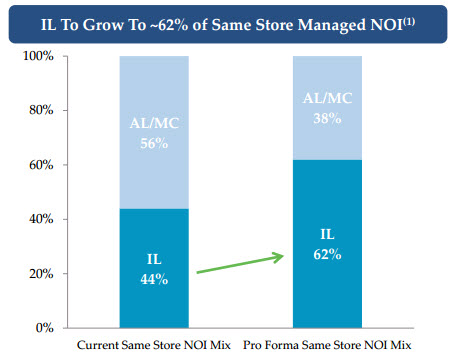 Taking a look at the chart (below) on the lower right-hand side of the page, you can see that NOI from IL assets in SNR's same-store portfolio grew 1.6% year over year. In addition to those IL assets, the company has 28 IL assets in the managed portfolio that were acquired last August. These assets should produce NOI growth of around 2.6% year over year.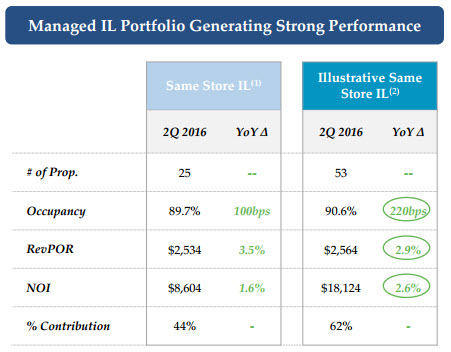 Fundamentals Are Strong
As you can see below, there are strong demand fundamentals both near term and long term in the senior housing industry - SNR's target demographic (75+) is the fastest-growing cohort in the US and is expected to double over the next 20 years.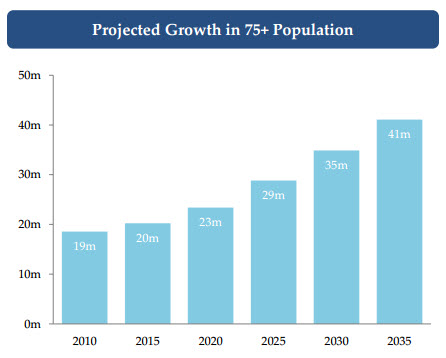 Over the next 10 years, the annual growth rate in the 75+ population is also expected to double from an annual growth rate of 1.8% today to 4.3% by 2025.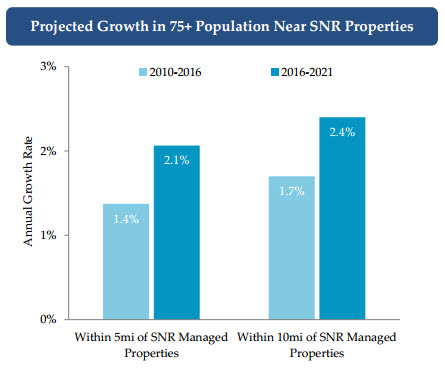 Risk #1: The Balance Sheet
SNR employs leverage as part of its investment strategy. The company does not have a predetermined target debt-to-equity ratio, and it has relied primarily on non-recourse mortgage notes to finance a portion of its real estate investments.
As of Q2-16, SNR has $3.3 billion in assets and $2.1 billion of debt. Its Total Debt to Total Capitalization is ~71%. Also, the company's debt is 100% secured. As of Q2-16, SNR had $84 million in cash on hand.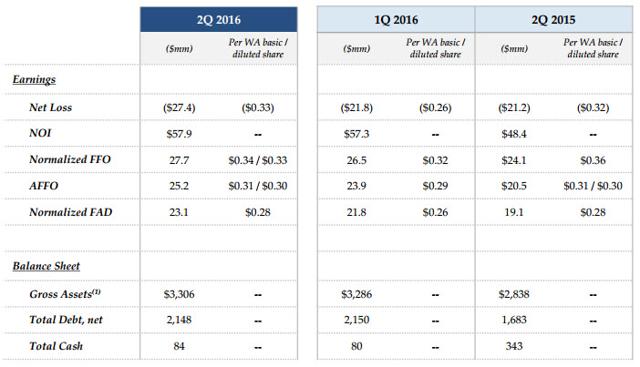 Last year, as cap rates began to compress for senior housing assets, New Senior decided to shift its focus away from acquisitions and into buying back stock. These repurchases were completed earlier this year at a nearly 25% discount to the current stock price. In hindsight, this was a good step validating the company understands how to manage risk. Also, New Senior has said it planned a few dispositions later this year.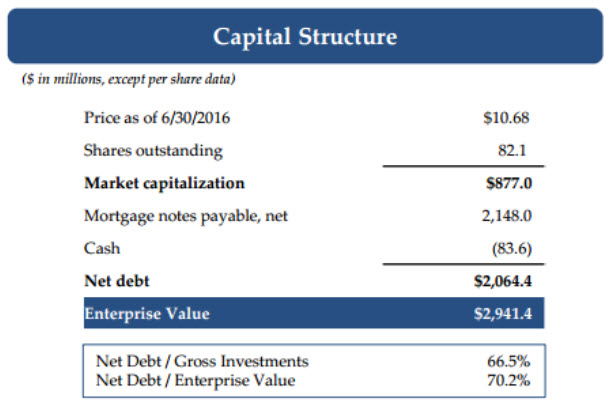 Around 41% of the REIT's debt is variable and 59% is fixed.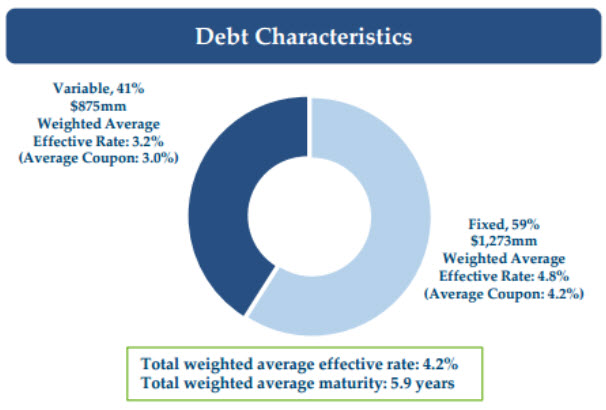 The total weighted maturities is 5.9 years and the weighted average interest rate is 4.2%. Here's a snapshot of its debt maturities.

When market interest rates rise, the market price of SNR's common stock could decrease, as potential investors may require a higher distribution yield on the common stock or seek other securities paying higher distributions or interest. Also, rising interest rates could result in increased interest expense on SNR's floating rate debt, thereby adversely affecting cash flow and the company's ability to service its indebtedness and pay dividends.
SNR is at the higher end of the peer group in terms of leverage, and this makes this particular REIT a more speculative alternative.
Risk #2: External Management
SNR is externally managed by a Fortress affiliate, and because of the relationship, the company has the ability to tap into the vast resources of Fortress ($70 billion in AUM), capitalizing on the experience within the senior housing sector (i.e., Brookdale and Holiday). This provides SNR with a competitive advantage with sourcing new deals and potential sale/leaseback opportunities.
Also, the external fee structure appears to be aligned with investors, as the base management fee is 1.5% of invested equity and the incentive fees must be earned (25% above 10% return on "invested" (cumulative test) equity. In other words, Fortress is not paid on just AUM (growth), nor can it acquire expensive properties because of the built-in performance thresholds.
It's important to note that this is a cumulative test from the date SNR spun (i.e., it doesn't reset every quarter), so the company must continually generate strong returns for this fee to be earned. If earned, it would be a positive for shareholders, as it would mean management is generating strong returns for them.
Furthermore, SNR is a dedicated REIT, and so, Fortress is not competing with it (to source assets). SNR also benefits from the economies of scale in which Fortress can exploit its purchasing power to lower costs (i.e., food, utilities, maintenance, etc.).
However, there are conflicts of interest with SNR's manager insofar as Fortress and its affiliates - including investment funds, private investment funds, or businesses managed by the manager - invest in senior housing properties and whose investment objectives overlap with SNR's investment objectives.
Although the company has the same manager, it may compete with entities affiliated with the manager or Fortress for certain target assets. Fortress has raised two funds primarily focused on investing in senior housing properties. The first, raised in 2006 with $650 million in commitments at closing, had its final liquidation in December 2014.
The second, also raised in 2006, had $1.6 billion in capital commitments as of December 31, 2015, and is in the process of selling its investments, including its investments in Holiday.
Certain of Fortress's other funds also hold significant investments in senior housing. All of these funds are outside their respective investment periods, although one of them has approximately $120 million in unfunded commitments, which may be drawn for follow-on investments.
Risk #3: Tenant Concentration
As referenced above, SNR's largest operator is Holiday, representing around 75% of overall revenue.
Other REITs have exposure with Holiday: namely, Ventas Inc. (NYSE:VTR) has 2% exposure (26 properties) and National Healthcare Investors (NYSE:NHI) has over 15% exposure.
Because Holiday is private, it's hard to assess the financial performance of the company. However, we suspect that the best path for SNR to create value will be a merger that will reduce overhang related to: (1) high leverage, (2) external management, and (3) operator concentration levels.
What About the Returns?
Now that I've weighed in on the risks for SNR, let's analyze the returns.
First, let's take a look at the company's dividend yield versus the peer group:

Source: S&P Global Market Intelligence
Now let's take a look at the P/FFO multiple:
Source: S&P Global Market Intelligence
Let's compare the performance over the last 12 months (2nd worst):

Source: S&P Global Market Intelligence
Now let's compare the performance year to date:

Source: S&P Global Market Intelligence
Let's compare the last 30 days:

Source: S&P Global Market Intelligence
In Q2-16, SNR's Total NOI was approximately $58 million. Normalized FFO for the quarter was approximately $28 million, or $0.34 per basic share, and AFFO was approximately $25 million, or $0.31 per basic share, all up over last quarter.
At the same time, the REIT's return on invested equity stands at around 11%, which speaks to the quality of the investments made and the strong returns that the portfolio continues to generate. SNR's Board of Directors declared a $0.26 dividend, which represents an 87% payout ratio on AFFO and 93% payout ratio on Normalized FAD.
In summary, I am maintaining a BUY on SNR, and we will be adding it to our new speculative REIT portfolio.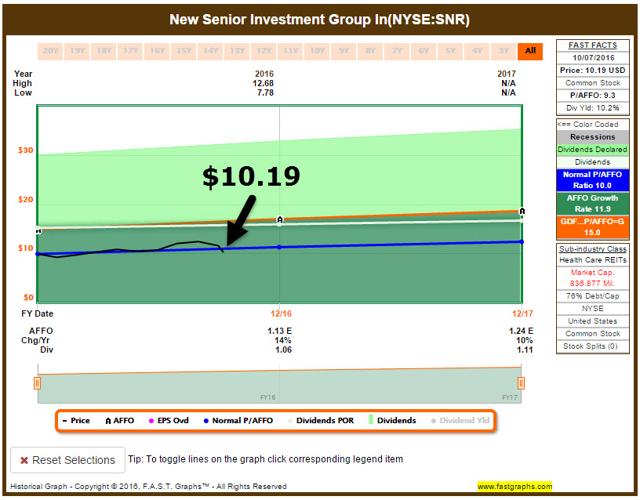 Author's Note: Brad Thomas is a Wall Street writer and that means that he is not always right with his predictions or recommendations. That also applies to his grammar. Please excuse any typos, and I assure you that he will do his best to correct any errors if they are overlooked.
Finally, this article is free, and the sole purpose for writing it is to assist with research (Thomas is the editor of a newsletter, Forbes Real Estate Investor) while also providing a forum for second-level thinking. If you have not followed him, please take five seconds and click his name above (top of the page).
Sources: S&P Global Market Intelligence, F.A.S.T. Graphs, and SNR Filings.
REITs mentioned: Healthcare Trust of America (NYSE:HTA), Welltower, Inc. (HCN), CareTrust REIT (NASDAQ:CTRE), Healthcare Realty Trust Inc. (NYSE:HR), Universal Health Realty Income Trust (NYSE:UHT), Sabra Healthcare REIT (NASDAQ:SBRA), Physicians Realty Trust (NYSE:DOC), HCP, Inc. (NYSE:HCP), Omega Healthcare Investors, Inc. (NYSE:OHI), Medical Properties Trust, Inc. (NYSE:MPW), Senior Housing Properties Trust (NYSE:SNH), Community Healthcare Trust (NYSE:CHCT), and Care Capital Properties Inc. (CCP).
Disclaimer: This article is intended to provide information to interested parties. As I have no knowledge of individual investor circumstances, goals, and/or portfolio concentration or diversification, readers are expected to complete their own due diligence before purchasing any stocks mentioned or recommended.
Disclosure: I am/we are long O, DLR, VTR, HTA , STAG, GPT, ROIC, HCN, OHI, LXP, KIM, WPC, DOC, EXR, MYCC, TCO, SKT, UBA, STWD, CONE, BRX, CLDT, HST, APTS, FPI, CORR, NHI, CCP, CTRE, WPG, KRG, SNR, LADR, PEB, BXMT, IRM, CIO, LTC, DEA, NSA, HASI, LTC.
I wrote this article myself, and it expresses my own opinions. I am not receiving compensation for it (other than from Seeking Alpha). I have no business relationship with any company whose stock is mentioned in this article.