WTI (NYSEARCA:USO) finished the week up 3.12%.

In our last week's "Weekly Oil Markets Recap", we thought the short covering rally will continue. That certainly turned out to be the case this week as short covered 41 million bbls and longs raised positions by 32 million bbls.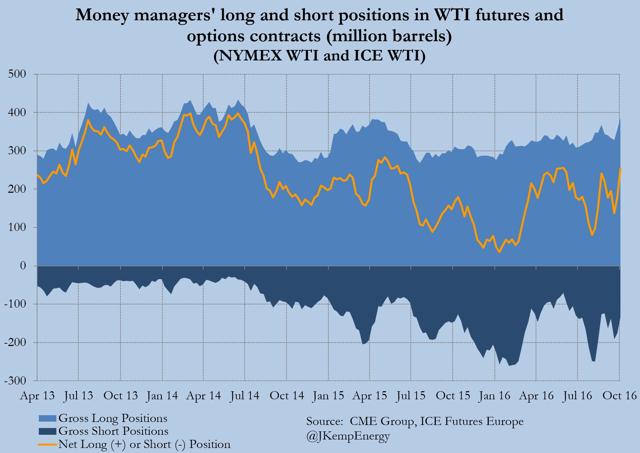 Source:John Kemp
This week saw very little news flow out of OPEC, but the positive price action followed after the OPEC deal announcement. We highlighted earlier in the week that the consensus remains very skeptical of the OPEC deal. The interesting dynamic that's currently playing out in the market is that as everyone continues to focus on "actual" supply and demand, HFI Research is paying more attention to geopolitical events. We know looking at storage data that the oil market is "already" in deficit territory, and Rystad's data agrees with our thesis. While everyone else focuses on the branches, we are looking at the forest.
There are a few geopolitical events that we are paying close attention to before the OPEC meeting at the end of November. Current conflicts in Syria presents an early sign of whether further collaborations between Saudi and Russia will take place. Some might point to Iran conflicts with Saudi being the main conflict, but we think that tensions between Russia and Saudi are more evident of any future deal collaborations. Further, we see any resolutions in Syria leading to much higher oil prices as Saudi steps back from using oil prices as an economic weapon. All of this coincides with lower non-OPEC supplies in 2017, and with incentives aligned for Saudi to IPO Aramco in 2018, we believe oil prices will be materially higher by 2018.
Looking ahead, we see more positive momentum stemming from short-sellers covering their positions. There is another 50 million bbls to go before this current short cycle finishes. We continue to believe that oil prices will end 2016 at $60.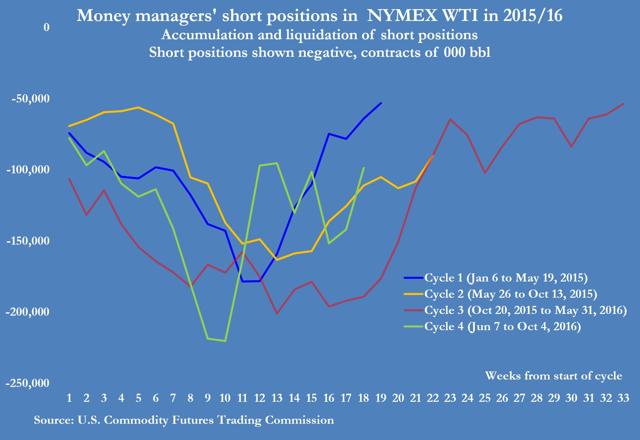 Source:John Kemp
We will be writing a new weekly outlook to premium subscribers this weekend detailing our thoughts on the geopolitical tensions that are currently taking place and what we think the short to medium-term outlook for oil prices will be. If you are interested, please consider signing up here.
Disclosure: I/we have no positions in any stocks mentioned, and no plans to initiate any positions within the next 72 hours.
I wrote this article myself, and it expresses my own opinions. I am not receiving compensation for it (other than from Seeking Alpha). I have no business relationship with any company whose stock is mentioned in this article.