Financials equities were up 1.27% on the week with strength in Japanese financials (>3%) and better performance (1.8%) coming from European and Emerging Market financials. World equity was down 80bps.
The week was bookended by improved US ISM readings, (51.5 manufacturing from 49.5 prior and a very strong 57.1 in non-manufacturing ISM from the surprisingly weak 51.5 prior) and a solid payrolls report. This supported a further move up in the five year forwards and strengthened probability of a Fed hike in December. While somewhat better data over the last month is helpful, one reason that prospects for a hike remains unclear is the the ongoing stasis in the unemployment rate. The dovish majority in the Fed will want this to improve by December before hiking.
When thinking of the Fed, investors also have to take the uncertainties towards an array of global political factors into account: US elections, Brexit rhetoric (this turned strident in the UK this week) and the Italian referendum on 4 December are all critical. I also think Chinese data looks insipid and after some recent CNY weakness also needs to be monitored closely. While fears have receded, China's credit mechanism grows more dysfunctional all the time.
European Banks
Citigroup made a bold call in favour of European banks, saying they are a strong contrarian play and offer value vs. the US. I have not been able to read the Citi report but thought the proposition that European banks offer value is too important to ignore.
The table below presents some data on some key European banking stocks. For comparison it also features a few US Bank stocks of widely different operational scale and market value.
There have of course been extensive downgrades to European banks over the last twelve months, and the approaching 3Q results season will mark the anniversary of when the impact of QE on spreads first showed up in European bank results.
Where this has left European banks is not what I would call particularly cheap. Some of the single digit PE banks in the chart below (using 2017 consensus EPS estimates) do have decent dividend yields (for instance BBVA) but are lighter on the data in the two right hand columns of the table - Core Equity Tier 1 capital adequacy (Basel III fully phased in) and Texas, which divides a bank's nonperforming assets by its combined tangible equity and loan loss reserves. The US banks really stand out with low Texas ratios, which helps explain their invigorated lending appetite (US Bank credit is growing around 9% YoY) and certainly should justify paying a higher PE for a US Banks over a European one, all else equal.
An interesting rumour during the week was the idea that the ECB might taper purchases under its QE scheme. I do not think this is going to occur any time soon, but the idea raises the conflict between the generally positive implications of such a move for the interest margins of European banks on the one hand, and the less supportive implications for sovereign risk premia for the states of the Eurozone periphery.
Assuming investors are not confronted with a change in the ECB monetary stance in the short term, I find ING, Nordea, Swedbank and Intesa in Italy pretty attractive from a yield perspective and like their strong capital ratios. ING is also procuring some growth in loan volumes that in its case yield materially more than its Netherlands mortgage book, one of its core asset bases.
Investors will also pick out Bankia: <10x EPS and with good capital strength. I think it will get to a 14% CET1 (BIII) by 2018, which look overcapitalised for a bank of its size. I would think about how to build a position in Bankia, although investors need to be aware that there is a high level of deferred tax credits in its regulatory capital, which the bank pays down with retained profit. This will take years to work through, though eventually all the DTC capital will be replaced with simple cash equity and therefore I think Bankia's high capital adequacy will be of value to us in the future. As I am already suggesting a small long in Deutsche is reasonable for investors who have not been burned YTD, I will hold back from fully recommending Bankia at this stage, although the stock is interesting given its PE.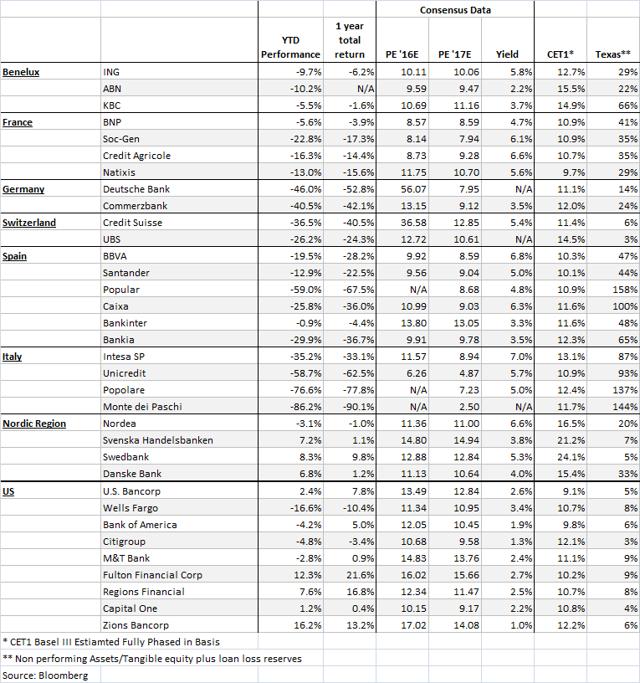 I respect the forthright nature of the Citi call and, as I said above, I have not had the chance to read the note as yet. I don't see a universally compelling case for European banks on a value basis, even if some are attractive. Part of this is relative to the US, where I think 3Q will provide further evidence of revenue growth off the back of expanding loan books, and part of it is in respect of the emerging toughened stance towards Brexit negotiations on the part of EU leaders in response to the adoption of a strident nationalis tone by the ruling UK Conservative Party at its annual conference last week. Rocky political noise is never helpful for banks going in to events, and I am also aware of the recent weakening of the Eurozone composite PMI, which for September was at the lowest level for two years though still expansionary - see the chart below.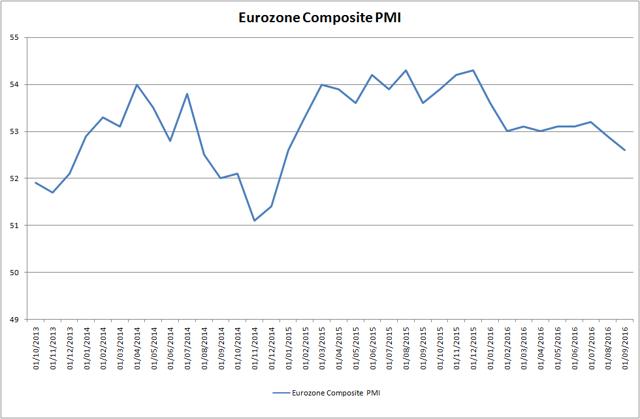 Source: Markit
Housekeeping
There was marginally less dramatic news flow from Deutsche Bank this week. However it was still significant with reports of DBK considering an IPO of its Asset Management business. I recently joked about ING putting in a bid, and it is not surprising that and IPO is a possibility. There have also been reports about German industry taking a stake across a number of firms, and I would link the discussion of a potential asset management IPO to this idea of cross shareholding support as scenarios under discussion for if Deutsche has to deal with a higher than expected resolution to the RMBS settlement demand from the US DoJ, which presently stands at $14bn. We will have to judge any measures like these on the extent of dilution to EPS when they are announced. My central expectation remains a ~€5.4bn settlement which DBK can just about "afford".
Nordea (OTCPK:NRBAY) had its CET1 capital requirement set at 17.3%, which comprises an 85bps add-on from the Swedish FSA. There has been market concern that the capital requirement, when announced, might make it difficult for Nordea to meet its aim of increasing the dividend every year. In my recent article on Nordea I questioned whether individual investors should worry too much about the progressive dividend as the yield (then 6.5%) was attractive anyway. As it is, with Nordea able to reduce corporate RWA further and upstream a dividend from its life insurance operation the dividend level and strategy appear to me to be in good shape.
Chubb (NYSE:CB) is attractive here and note it has pulled back ~5% from its YTD peak in June. I expect good news on synergies from the ACE-Chubb merger over the next twelve months and would buy on any further weakness as assessments come through on losses related to Hurricane Matthew. While similar in combined ratios, the merged entity of Chubb probably has a slightly higher exposure to cat risk than legacy ACE, which is neither here or there long term. To me, most any dip should be used for adding to Chubb.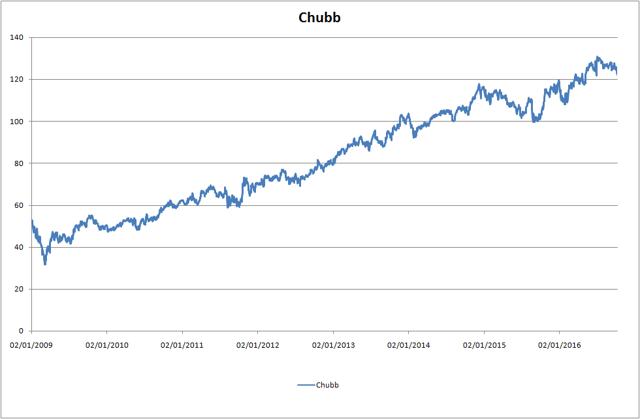 Source: Bloomberg
Disclosure: I/we have no positions in any stocks mentioned, and no plans to initiate any positions within the next 72 hours.
I wrote this article myself, and it expresses my own opinions. I am not receiving compensation for it (other than from Seeking Alpha). I have no business relationship with any company whose stock is mentioned in this article.
Editor's Note: This article discusses one or more securities that do not trade on a major U.S. exchange. Please be aware of the risks associated with these stocks.