I already asked my bank, Banco De Oro, last year. They told me that they are not getting any share of PayPal's (NASDAQ:PYPL) "currency conversion fee" whenever I withdraw U.S. dollar money to my Philippine peso account. Currency conversion fees could add up to a hefty annual sum after PayPal starts getting adopted as a tool for migrant remittances.
Aside from the usual 4.4% fee plus fixed fee that PayPal charges its customers, currency conversion fee is another way that the company can benefit from the fast-growing international mobile remittance industry. Juniper Research estimates that mobile international remittances will grow from $15 billion in 2015 to $25 billion by 2018.
Other people call PayPal's currency conversion fee as plain stealing. However, I believe the company is simply exercising its right to make more money from its users. Anything that legitimately helps pad PayPal's revenue stream is fair trade practice. It does not charge any fee when withdrawing funds to another currency.
I just withdrew $500 to my Philippine bank account. The screenshot of my Activity tab below shows PayPal did not charge me any fee. However, the current U.S. dollar to Philippine peso exchange rate is 48.237. The company used a 1 US dollar = 47.06 Philippine peso exchange rate.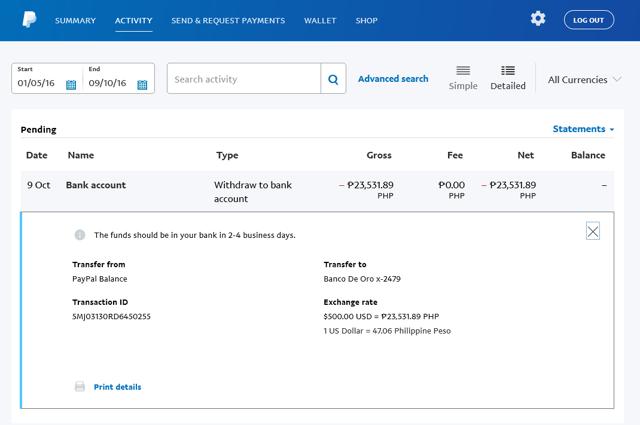 (Source: Motek Moyen)
Prior to agreeing to withdraw the $500, PayPal's Review Page did clearly state that it includes a currency conversion fee. It is the reason why it is converting my dollars at a notably lower exchange rate. PayPal made 558.50 pesos ($11.58) on my withdrawal. This is an effective rate of 2.31%, and it represents the company's take from its currency conversion fee scheme.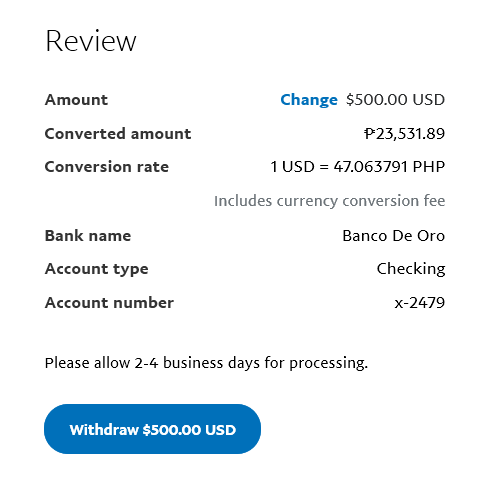 (Source: Motek Moyen)
PayPal Still Offers Cheaper Fees On International Money Transfer
PayPal charges me 4.47% fee when my Israeli employer I Know First sends me my salary. It therefore gets $6.78 for every $100 that I Know First pays me - which, in turn, gets withdrawn to the Philippines. Even with the added cost of the currency conversion fee, PayPal's rate is still much lower than Western Union's (NYSE:WU) fees. Western Union charges $14 on $100 sent and $37 on $500 sent.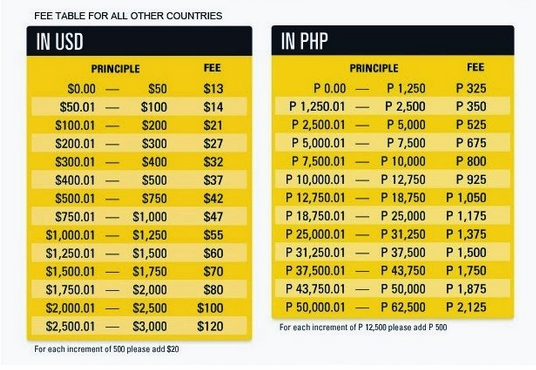 (Source: Western Union Philippines)
PayPal's international money transfer fee is also lower than MoneyGram's (NYSE:MGI). MoneyGram charges $11.99 when sending $500 from the U.S. to the Philippines and $19.99 if sending $900. PayPal's notably lower fees on international money transfer could help it disrupt the core businesses of Western Union and MoneyGram.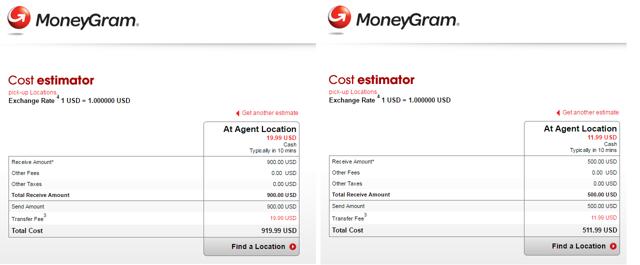 (Source: MoneyGram)
Based on SaveonSend.com's analysis, Western Union continues to dominate the global money remittance industry. PayPal's subsidiary, Xoom, is still a far fifth-ranked player in the international remittance business.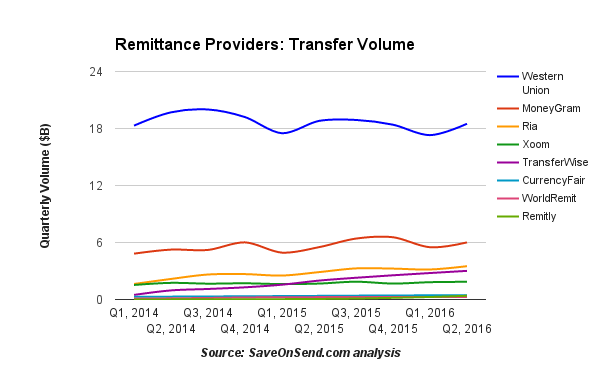 PayPal Needs To Educate Overseas Workers About Its Lower Fees
Going forward, I hope PayPal starts marketing itself as a cheaper alternative to Western Union and MoneyGram. In my country alone, millions of overseas Filipino workers still continue to rely on Western Union and MoneyGram to send their hard-earned dollars back home.
PayPal is already a world-famous brand. Unfortunately, majority of overseas workers still do not take advantage of digital money transfer services like PayPal. Most Filipinos still queue up on Western Union- or MoneyGram-authorized agent outlets to send or receive money.
I am sure citizens of other countries also do the same. In spite of its success in digital e-commerce, PayPal's money transfer service is still less popular than Western Union's decades-old method of sending money. The company needs to educate more people about its services and make it more convenient. The fees on processing billions of dollars in remittance money is something that PayPal needs to improve its long-term growth prospects.
The $75.9 billion annual remittance money being sent from the United States to other countries is mostly benefiting Western Union and MoneyGram.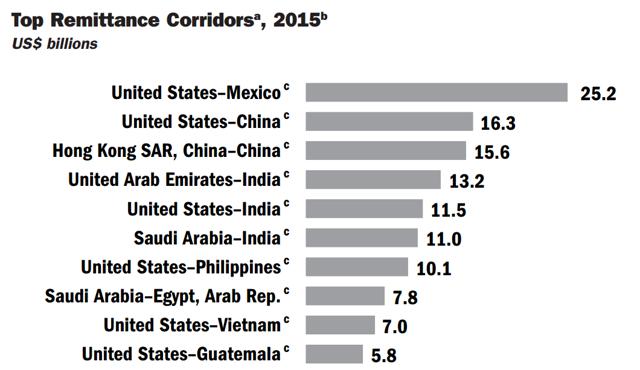 The World Bank estimated that migrant remittance industry will process $610 billion this year. PayPal getting 10% of that business (and charging a 6% fee) could produce new revenue of $3.66 billion. The company's 2015 revenue was $9.25 billion. Expanding its business to include international remittances, therefore, could substantially accelerate PayPal's top line growth.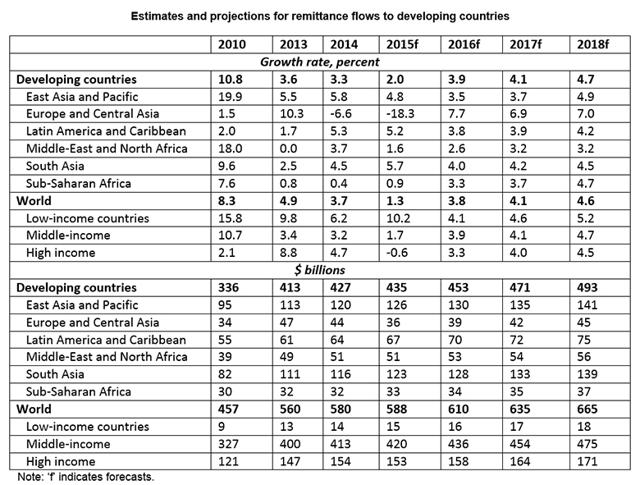 (Source: World Bank)
Conclusion
PayPal needs to compete more against Western Union and MoneyGram. It is time for it to grow beyond its digital-only business model. If it wants to benefit from the international remittance industry, the company has to build its own retail network of partner outlets where people can send/receive money.
Xoom, Western Union, and MoneyGram have thousands of partner agent shops where people can send/receive money in the Philippines. It is time PayPal starts advertising aggressively that it could use Xoom's 15k partner outlets in the Philippines where overseas workers and migrants can send money.
Three million overseas workers remitted $28.5 billion to the Philippines last year - making it the third-biggest country receiving international remittances. Most of the transfer fees likely went to Western Union and MoneyGram.
PayPal should spend some advertising money to attract the attention of migrant workers. Like the Philippines, India, which is top receiver of remittances ($72.2 billion), and China ($63.9 billion) have a large population of migrant citizens and workers.
Eroding Western Union and MoneyGram's market share in international remittances requires PayPal to first gain the support of migrants and overseas workers. As per the World Bank, there are 247 million people who live/work outside their home countries.
PayPal should try harder to monetize from these people's habit of making international money transfers. One universal way that people express their love/devotion to their relatives is to keep sending them money.
Disclosure: I am/we are long PYPL.
I wrote this article myself, and it expresses my own opinions. I am not receiving compensation for it (other than from Seeking Alpha). I have no business relationship with any company whose stock is mentioned in this article.