Google (NASDAQ:GOOG) (NASDAQ:GOOGL) finally is doing something that it should have done many years ago. And that is, to make a phone in which it has end-to-end control over both software and hardware.
After many months of speculation and rumors, several days ago Google finally announced the Pixel Phone.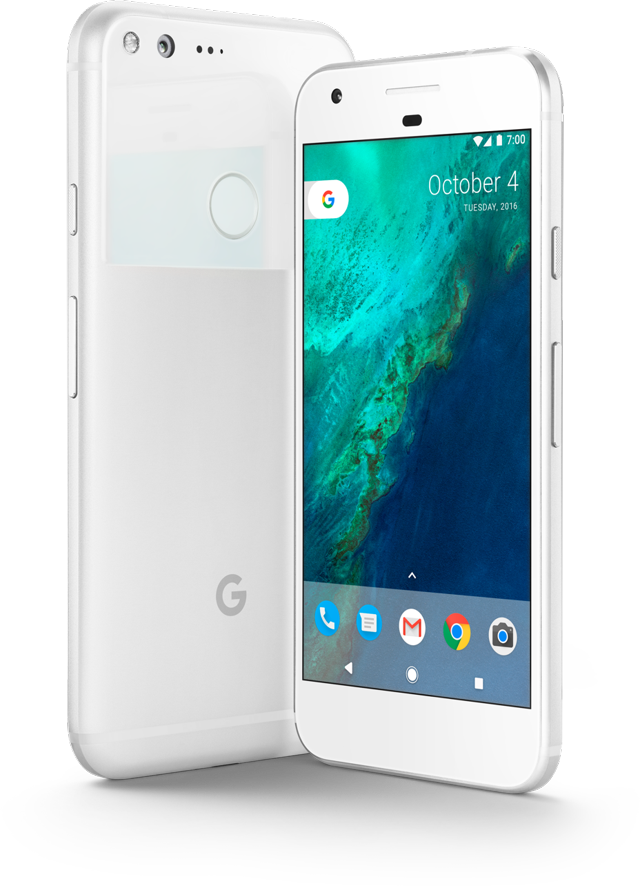 The Pixel comes in two sizes, 5" and 5.5". On the outside the phone seems like a regular Android device, however the body is an all aluminum unibody design with a high-definition AMOLED display screen.
Google has put a lot of emphasis on the Google Assistant, that comes preinstalled with the phone. The Google Assistant is the new artificial intelligent agent that can search anything that can be searched on the Google search engine. Google also claims it can answer questions and conduct complicated tasks.
Google also claims that the Pixel camera is "the best that's ever been installed on a smartphone", claiming that the camera has the fastest capture time of any smartphone camera on the planet. I am not an expert in cameras, but this statement alone is enough for me to think that the Pixel camera is one of the best around.
However what I think will be a big selling point is that Google offers unlimited storage on its cloud servers, as long as the pictures or the video uploaded were taken with a Pixel device. I don't know about you, but that alone is probably a very enticing reason to buy this phone.
And since the Pixel is a native Google phone that will always use the latest version of Android, updates will download fast as they become available on the Google store. That is also a good reason to buy this phone in my book.
100% pure Google
The Pixel is designed 100% by Google and manufactured by HTC, however Google has total control over the entire hardware design. In other words, HTC has done no R&D or contributed in any way towards the design of the hardware. HTC simply manufactures it according to Google's design and specification.
Why is this a good thing? Well for many years one of the problem with Android phones was that they had too many bugs in them, and that the hardware didn't always work well with the software.
There are hundreds of companies who manufacture parts for Android phones and in may instances, the parts don't always work harmoniously between them or with the software. Don't forget there are many versions of Android out there.
This is why Apple (NASDAQ:AAPL) has total control over both hardware and software. Apple designs the iPhone in such a way, that everything works great together. In fact, while many Android phones claim to have more horsepower than iPhones, in reality none perform as ergonomically and harmoniously as iPhones do.
This is why Google finally decided to take total control over every aspect of the design. So that users have fewer bugs as possible, and all the parts work together as they do on an iPhone. I am assuming the Pixel will be the most trouble-free Android phone ever.
The question is, will the Pixel make a dent in Google's stock?
Let's start by looking at some numbers to try to come to some conclusion. To begin with, the current running-rate of total dollar smartphones sales worldwide are about $400 billion per year: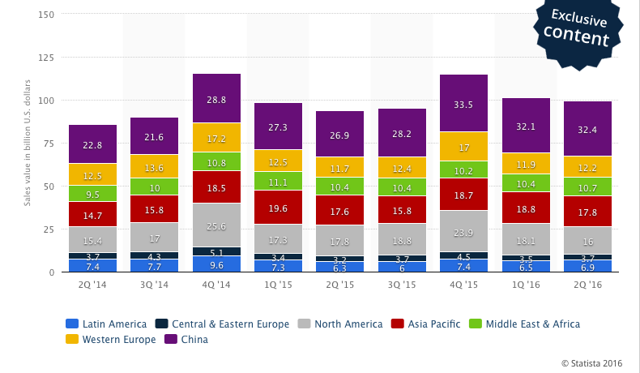 Also, if we look at smartphone vendors (chart below), Samsung (OTC:SSNLF) commands 22%, followed by Apple that had 13% of the global market as of Q2 2016. Also please note that Apple in the U.S. has about 40% of the market. Also note again that the Android OS was running in about 86% of all smartphones as of Q2 2016.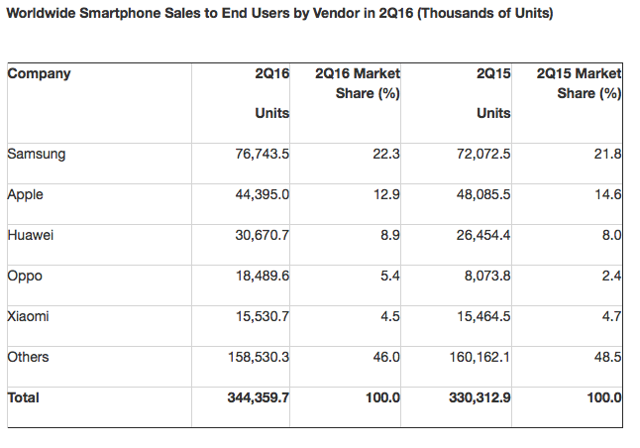 Given the recognition of the Google name -- and if the Pixel works the way I think it will -- it is not inconceivable for Google to be able to command 10% of global smartphone sales in several years from now.
And if Google does take such a chunk of the market, I think it will be exclusively from other Android markers like Samsung. Especially in the U.S., where Samsung has about 30% of the market and most of Samsung's sales are considered "high-end".
Having said all this, if the Pixel proves to be a winner, that alone will add tens of billions to Google's revenue in several years. However it's not only about smartphones. If the Pixel is well received, I am sure we will see Pixel tablets and a whole host of other "Google made" hardware along the way. In fact, I could envision Google doing as much in hardware revenue as Apple in several years.
Bottom line
I think Google is on the right track this time. I think the Pixel will prove to be a hit, and I also think it will probably be the best Android phone on the market.
In the near term I do not think the Pixel will do much for Google's stock, however over the longer term (several years), I think the Pixel could be the reason Google's market cap surpasses the $1 trillion mark.
I do not think Apple has much to fear from the Pixel. Samsung is the one that will have to worry, for Samsung commands 30% of the U.S. market, and that's the market Google will initially go after.
Disclosure: I/we have no positions in any stocks mentioned, and no plans to initiate any positions within the next 72 hours.
I wrote this article myself, and it expresses my own opinions. I am not receiving compensation for it (other than from Seeking Alpha). I have no business relationship with any company whose stock is mentioned in this article.
Editor's Note: This article discusses one or more securities that do not trade on a major U.S. exchange. Please be aware of the risks associated with these stocks.