Microsoft (NASDAQ: MSFT) has just announced its intention to open a new round of price cuts for Azure virtual machines by 11-50%, following Amazon's (NASDAQ:AMZN) announcement of a new AWS region in France a week ago. MSFT corporate vice president of cloud ops Takeshi Numoto said that effective Oct. 1, the company's Dv2 series virtual machines will see a price reduction of up to 15%, while A1 and A2 Basic VMs will see a hefty 50% price cut. A-series VMs are Microsoft's entry-level compute tier while Dv2 series VMs are the company's general-purpose tier. Numoto added that customers deploying Windows Server with Software Assurance will enjoy a 41% price reduction under the Microsoft Azure Hybrid Use Benefit program.
With 56% of Amazon's operating income now coming from AWS, can the company afford another price war with Microsoft without seriously compromising profits and margins?
Price war
The huge Azure price cuts are a 180-degree turnaround from Microsoft former plans to avoid competing with AWS on the basis of price. In fact, the cuts have come just a few weeks after Scott Guthrie, Microsoft executive of cloud and enterprise, insisted that the company's long-standing cloud price wars with Amazon were done and dusted. It's about three years since the last round of a fully-fledged cloud pricing war between Amazon, Microsoft, Alphabet (NASDAQ:GOOG), and IBM (NYSE:IBM) to a lesser extent, led to a radical reshaping of the cloud market, with several smaller players such as Canonical's Ubuntu One, going under.
The last major round of blanket price cuts by cloud players took place between October 2013 and July 2014. Amazon lowered cloud pricing by an average of 36%; Google matched it with a 35% price reduction while Microsoft countered with a 24% cut. IBM's (NYSE:) SoftLayer, which hitherto was considered a gilt-edged cloud player largely immune to price competition, was the last to join in with a 60% reduction of storage charges to just $0.04 per GB per month, just a shade above AWS' $0.03.
Back then, investors were already aware that AWS was quickly emerging as Amazon's cash cow. Our only source of AWS revenue figures, however, came almost exclusively from numerical navel gazers such as Synergy Research since Amazon itself started divulging AWS numbers only last year. By reconstructing the revenue trajectory for AWS over the past 10 or so quarters, it's clearly evident that the price war had a pretty dramatic effect on growth for the cloud. The huge price cuts led to AWS growth slowing down by close to 20-percentage points in early 2014.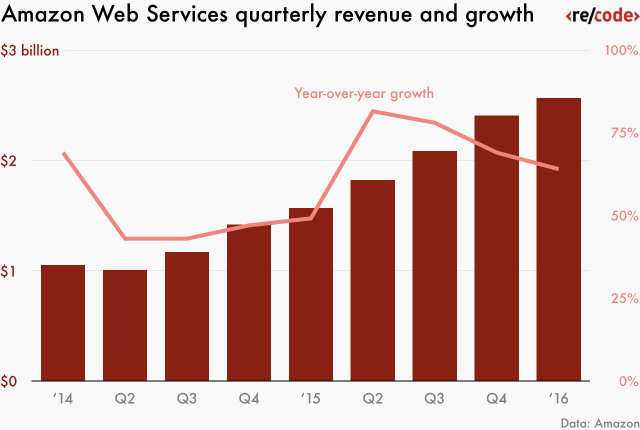 Source: Recode
The sharp slowdown coincided with a period when Amazon was engaging in heavy capex spending for its global data centers and IT infrastructure. Amazon has been spending very heavily building out its network of data centers--$5 billion in 2013; $8.9 billion in 2014 and more than $9 billion last year. Amazon has already indicated that it will fire up five new regional centers in the near future. Data center capex is therefore likely to remain elevated in the foreseeable future.
AWS property and equipment capital expenditure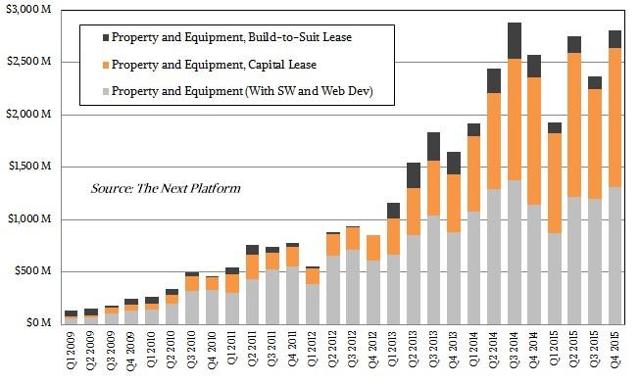 Source: The Next Platform
On the face of it, it appears as if AMZN stock risks getting seriously hurt if Amazon was to start another price war with Microsoft, especially now that the cloud is showing signs of cooling off a bit. The current AWS slowdown is partly due to intense competition from the likes of Azure and Google Cloud, both of which have lately been growing in triple-digits, and also partly because AWS has been growing too fast compared to the market average. According to estimates by Morgan Stanley, the global public cloud market is set to double in size in four years, growing from $70 billion in 2015 to $141 billion in 2019. That's good enough for 19.1% CAGR. But with more than 10% slice of the market, AWS might be hard-pressed to continue growing three times faster than the market over an extended period.
But that doesn't automatically means that AWS will get badly hurt in the event of another pricing war with Azure. Making that assumption would be ignoring the fact that AWS margins have been expanding rapidly since 2015. AWS margins have more than doubled from 12.5% in Q1 2015 to almost 30% last quarter. This impressive margin improvement is actually the payoff for years of heavy data center investments. Amazon is now enjoying the benefits and economies of scale on its AWS build-out. Since its inception in March 2009, it took the better part of ten years before AWS customers hit the 1 million mark. The next one million will probably take half as long. That, coupled with the ever widening array of services that Amazon has been adding to AWS (more than 450 new services so far this year) means that the next million customers will be much more valuable to Amazon than the first million, and probably bring in double the anmount of revenue.
Regarding high data centre capex, those costs are likely to amortize over the long haul. Throw in the fact that the Amazon has already spent a ton of money in AWS infrastructure build-out, and we can safely say that ongoing costs are likely to be more incremental than the heavy-lifting costs we have seen in the past. If push came to shove and Amazon decided to engage Microsoft in another race to the bottom, I estimate that AWS can comfortably withstand a 10-15% price cut for maybe up to 70% of its services with no major hit on revenue growth, margins, or profits. It would probably take a 20%+ blanket cut before some serious damage could be done, something I consider highly unlikely. AWS has already established itself as the de facto leader in the space, and price cuts of that magnitude would be a bad case of overkill.
Investor Takeaway
Wall Street recently rewarded AMZN stock with a flurry of upgrades, with several price targets of $1,000+ (more than 19% upside). Another big price war with cloud rivals such as Azure would definitely become a short-term risk for AMZN due to the company's heavy dependence on AWS for bottom line growth. But given the economies of scale that AWS has already started enjoying, the cloud can withstand those kinds of shocks much better than it did three years ago. It would take some rather deep price cuts for the AWS bull thesis to become endangered.
Disclosure: I/we have no positions in any stocks mentioned, and no plans to initiate any positions within the next 72 hours.
I wrote this article myself, and it expresses my own opinions. I am not receiving compensation for it (other than from Seeking Alpha). I have no business relationship with any company whose stock is mentioned in this article.