Crude futures prices surged $4.02/b (9%) higher in the week ending October 4th (to correspond to the data below), in the week following the OPEC decision to reverse strategy and limit their output. In addition, the nearby crude futures contract closed above $50 on Thursday for the first time since early June.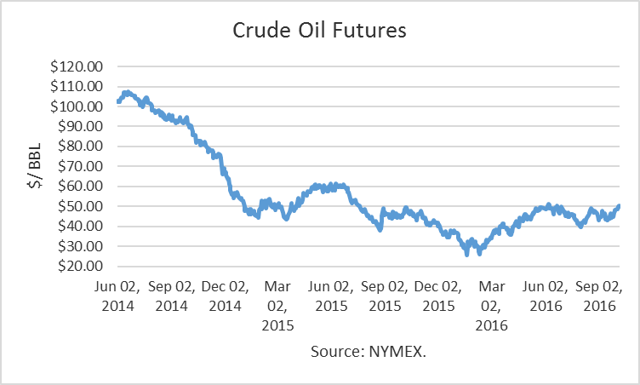 Commitments of Traders
Utilizing the Commodity Futures Trading Commission's (CFTC) Commitments of Traders (NYSE:COT) reports for crude oil, I was able to dissect how traders were re-positioning in the week ending October 4th.
The four groups I follow - Hedgers (Producer/Merchant/Processor/User) Longs and Shorts, and Speculators (Money Managers) Longs and Shorts - are defined below:
Hedgers: A "producer/merchant/processor/user" is an entity that predominantly engages in the production, processing, packing or handling of a physical commodity and uses the futures markets to manage or hedge risks associated with those activities.
Speculators: A "money manager," for the purpose of this report, is a registered commodity trading advisor (CTA), a registered commodity pool operator (CPO) or an unregistered fund identified by CFTC. These traders are engaged in managing and conducting organized futures trading on behalf of clients.
The latest data include data for both options and futures combined for the New York Mercantile Exchange (NYMEX). All comments below pertain to each group as a whole, on balance, noting there are exceptions among individuals.
Findings
Speculators bought the equivalent of over 66 million barrels in futures and options contracts in the week. The largest buyers were spec shorts, who covered (bought) over 43 million barrels. Their ending net short position was 98,659 lots. This is less than half of their short position in early August before all of the OPEC activity started. But near the previous top in prices in late May, they had a position around 50,000 lots, implying that there still may be more short-covering to go before prices peak.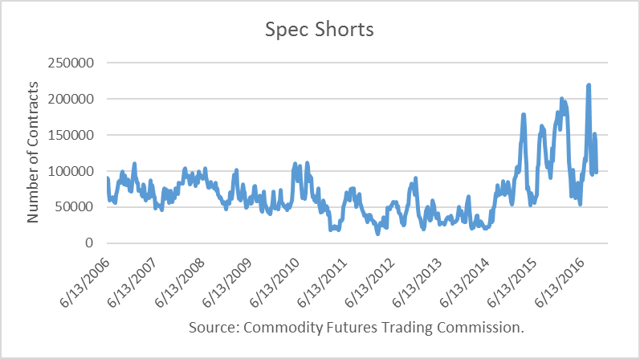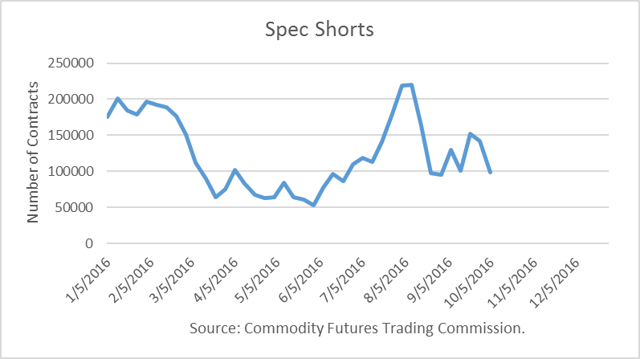 Spec longs increased positions by almost 30 million barrels, ending the week at 353 million barrels. This is their longest position in more than two years.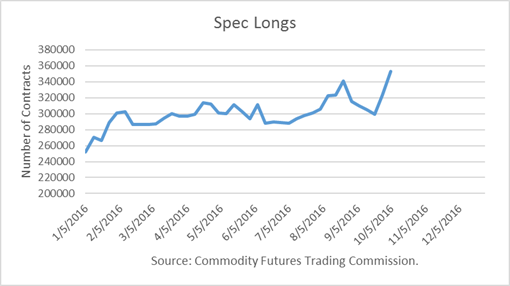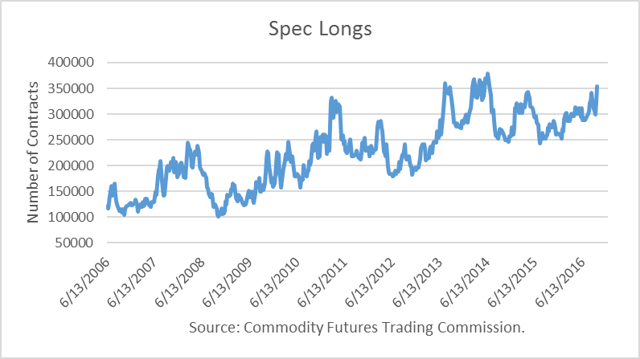 Hedge buyers increased length by just over 5 million barrels to 329 million barrels. This was their longest position in 2016.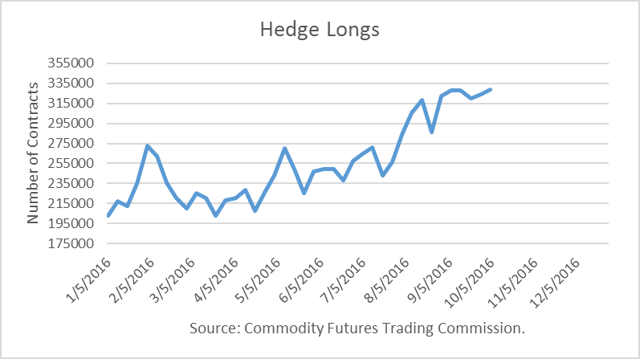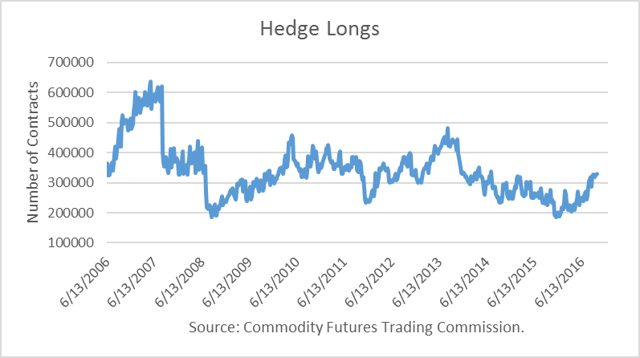 By contrast, short hedgers, primarily crude producers, increased (sold) the equivalent of 6 million barrels in hedges. As a result, their total hedge position increased to 592 million barrels, which is nearly their highest level since May 2011 when crude futures prices were $106/barrel.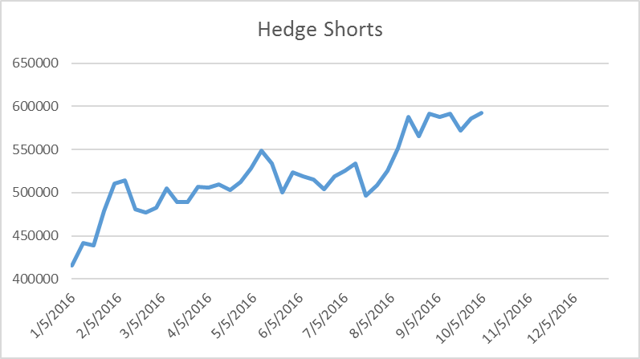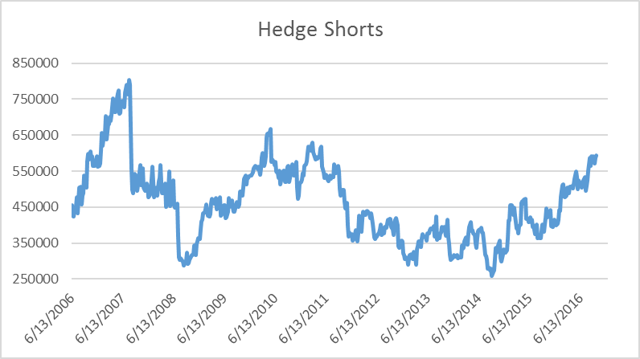 Baker Hughes reported a miniscule rise in the rig count, but active rigs are about 35% higher than at the bottom in late May. Recent data from the Energy Information Administration also showed that well completions have exceeded new wells drilled in the past several months.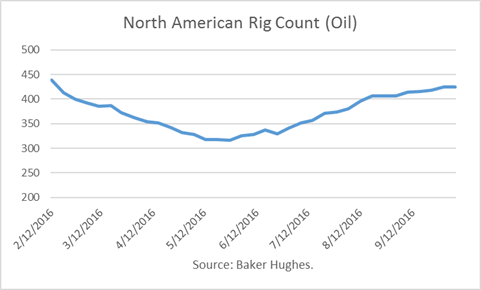 I netted the long and short positions of both these hedgers and speculators. Last week, there was a net purchase of 48 million barrels from these groups, which pushed prices higher.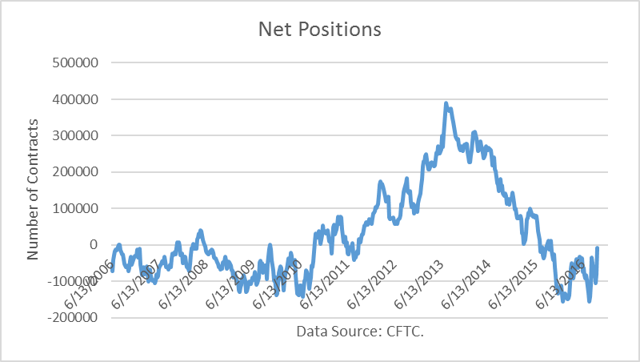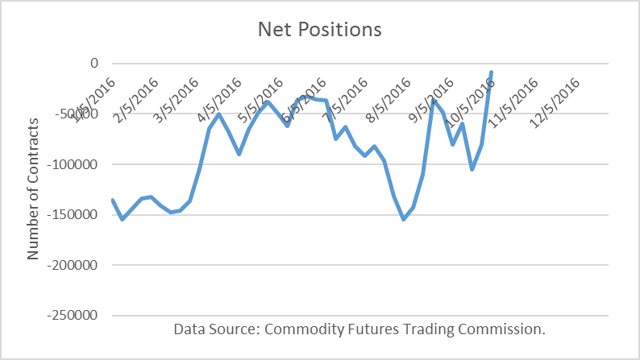 Conclusions
The unexpected OPEC decision, though not fully believed by the market, sparked a major buying binge by speculators. Short sellers especially folded. However, based on past experience, they may have more covering to do before prices peak for this cycle. The interesting thing to watch is whether short hedgers weigh in heavily with futures prices over $50 or sit back to see how high prices can go before increasing hedges further.
Disclosure: I/we have no positions in any stocks mentioned, and no plans to initiate any positions within the next 72 hours.
I wrote this article myself, and it expresses my own opinions. I am not receiving compensation for it (other than from Seeking Alpha). I have no business relationship with any company whose stock is mentioned in this article.