We wrote a report Thursday morning showing how the Federal Reserve board members were backing off from wanting to raise rates once again. Then the Friday jobs numbers came out which matched board member estimates to raise rates. Instead the Wall Street Journal ("WSJ") confirmed that the Fed is likely on hold maybe for the rest of this year. While there are many factors driving markets today, a lack of a rate hike would be a benefit to stocks.
The Jobs Number Was What The Fed Needed To Raise Rates
Here's Friday's report.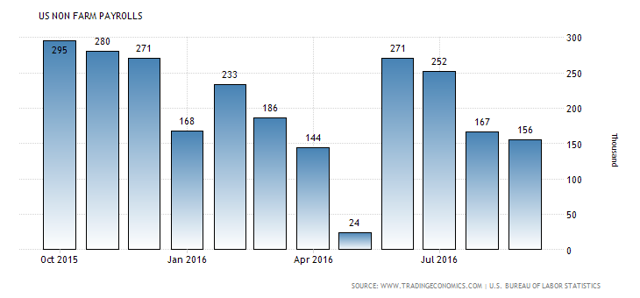 Source: Trading Economics
The report of 156,000 was at the high end of what Fed officials had said drives full employment.
Fed Vice Chair Stanley Fischer said the following on August 21st:
"Estimates of monthly job gains needed to keep the unemployment rate steady range widely, from around 75,000 per month to 150,000 per month, depending on what happens to labor force participation among other things."
He says here that anything in the range of 75,000-150,000 keeps unemployment steady. Friday's 156,000 is at the high end of that range.
In that same speech Fed Vice Chair Fischer said,
"So we are close to our targets."
These jobs numbers should support rate hikes but as we showed Thursday morning and we will show further on, the Fed is backing off rate hikes once again.
The Fed Chair Janet Yellen said the following on September 21st,
"Turning to employment, job gains averaged about 180,000 per month over the past four months, about the same solid pace recorded since the beginning of the year. In the longer run, that's well above the pace that we estimate is needed to provide work for new entrants in the job market."
That was the same press conference where she said a rate hike was on the table for 2016.
"Most participants do expect that one increase in the federal funds rate will be appropriate this year."
Friday's jobs numbers adjusted the annual average to 178,000 which is not far from Fed Chair Yellen's 180,000 average she mentioned above only two weeks ago. The four month average which is precisely what she mentioned jumped to about 211,000 which is higher than Fed Chair Yellen's above mentioned 180,000.
The Fed should be confirming a hike. Instead the Fed is getting dovish once again.
WSJ Says Now A December Hike Is In Question
At 9:25 am, after the jobs report on Friday, the WSJ had an article titled, "Jobs Data Ensures No Fed Rate Increase In November, A December rate increase is still the most likely scenario for the Fed, but it isn't a sure thing."
Over the years the WSJ has had a strong relationship with the Fed and acts as a "mouthpiece" for the Fed. Many on the street follow informed pieces like this one to understand what the Fed consensus is thinking.
This article says the Fed is moving to be on hold this year. That is much more dovish than Fed Chair Yellen's speech two weeks ago even though the jobs numbers were right inline with her's and the Fed Vice Chair's numbers.
The quote from the WSJ article that says it best is the following,
"If the jobless rate keeps rising, Fed officials might decide to forestall rate increases until next year."
That is more dovish.
This is that number.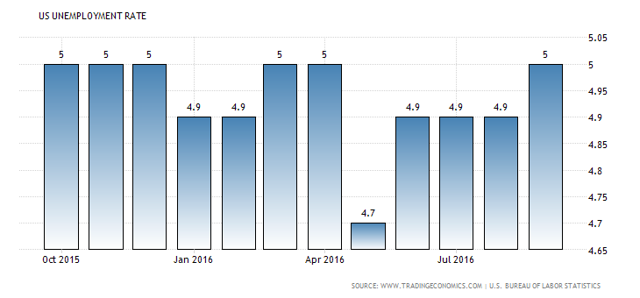 Source: Trading Economics
The tick up to 5% apparently has Fed officials spooked. They have an excuse to once again back off from hiking rates this year.
But Fed Presidents May Come Out Sounding Hawkish
The markets seem to move on Fed president comments.
We recently showed that there is a divide between Fed Board members and Fed Presidents. Generally board members are dovish and presidents are hawkish.
Board members get elected by the US President while Fed presidents get elected by business leaders many of whom are in the financial industry.
The bias split within the Fed does resemble what much press speculation has focused on that the Fed may be politically biased. Fed officials may be biased by who hired them.
Those Fed officials (board members) that were hired by the president want to avoid a crash so don't want to raise rates.
Those Fed officials (regional presidents) that were hired by business leaders many of which are financial institutions benefit from higher rates.
So now when you hear Fed presidents like Cleveland Fed President Loretta Mester on Friday say, "it makes sense to move up the rate another 25 basis points," you can frame the divide.
Presidents will likely come out hawkish while board members will come out dovish.
Board members outnumber presidents in the Fed decision process.
The WSJ confirms what we wrote Thursday morning where we detail the above thinking.
Conclusion
The Fed is looking for excuses to remain on hold. The non-farm payrolls number should have been enough to maintain the Fed's hawkish vision. It was not as we previewed on Thursday. The WSJ confirms that while Fed presidents may sound hawkish, Fed board members are lining up dovish. While there are many factors to consider to determine stock market (NYSEARCA:SPY) direction, less chance for a rate hike would be one to support markets.
Follow Us Real-Time On Seeking Alpha
If you want Elazar's analysis on Seeking Alpha, scroll to the top of the article and hit "Follow." Elazar also writes real-time pieces as news is reported. If you want to be among the first updated check the box for "Real-time alerts on this author" under "Follow."
Catch Multi Week Moves
Your Trading Team is an Elazar premium service on Seeking Alpha that helps catch multi-week moves in SPY, GLD, Oil, TLT and more. We developed a simple trading gameplan that instills discipline to trading. Working together also helps avoid many trading pitfalls. We look forward for the chance to work together.
Share
We're excited about the feedback we get from readers. If you like our work please consider sharing it. There is a ton of noise out there on the internet and we think we offer something that slices through that noise. If you agree please consider sharing our work. Thank you.
Disclaimer: All investments have many risks and can lose principal in the short and long term. This article is for information purposes only. By reading this you agree, understand and accept that you take upon yourself all responsibility for all of your investment decisions and to do your own work and hold Elazar Advisors, LLC and their related parties harmless.
Disclosure: I/we have no positions in any stocks mentioned, and no plans to initiate any positions within the next 72 hours.
I wrote this article myself, and it expresses my own opinions. I am not receiving compensation for it (other than from Seeking Alpha). I have no business relationship with any company whose stock is mentioned in this article.