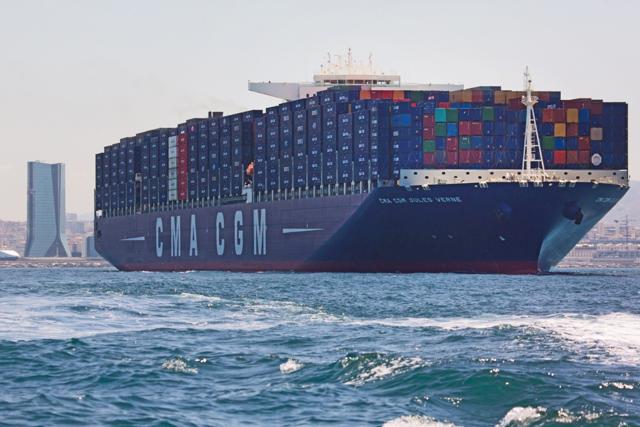 Source: Google Earth, CMA CGM Jules Verne
In April and May of 2016, CMA CGM received approval from both the European Commission and the Anti-Monopoly Bureau of the Chinese Ministry of Commerce, MOFCOM for the proposed acquisition of Neptune Orient Lines, NOL. At the end of May, CMA CGM announced the launch of a voluntary general cash offer in the amount of approximately $2.5 billion.
As of July 18, 2016, CMA CGM held 97.83 percent of NOL share capital. The company proceeded to notify minority shareholders of the company's intention to exercise its rights of compulsory acquisition for the shares in late July.
Obviously, CMA CGM's intent for the deal was to increase its competitive advantage and scale versus the top two players in the container shipping industry, Maersk and Mediterranean Shipping Company, MSC. Only Maersk, MSC, CMA CGM and COSCO Container Lines boast of twenty-foot equivalent container unit, TEU capacities greater than 1.5 million each.
As of October 9 th and per Alphaliner, Maersk had 3.2 million TEUs, MSC had 2.8 million TEUs, CMA CGM had 2.2 million TEUs and COSCO had 1.6 million TEUs. Consolidation in the container shipping industry has picked up for mega-mergers as COSCO merged with China's number two container shipping line, China Shipping Container Lines Asia, CSCL. Hapag-Lloyd has also recently made a couple deals including Chile's CSAV and more the more recent United Arab Shipping Company, UASC. This has moved Hapag-Lloyd to sixth in TEUs at just below 950,000.
Continued consolidation in the container shipping liner industry is expected as Maersk has been tied to potentially going after Hyundai Merchant Marine, HMM and/or K-Line. Likely, more deals will occur over the near-term, but the recent bankruptcy of Hanjin Shipping has left a sour taste in the industry's mouth. The fact that the seventh largest container shipping line at the time, has gone bankrupt should cause some pause from an investor perspective.
Recent mergers have necessitated increased leverage to complete the acquisition; thereafter, the consolidated entity has also taken on the acquired debt. CMA CGM is a good example of this as the company had net debt of $3 billion at year-end in 2015. After the deal with NOL, CMA CGM held $8 billion in net debt, an increase of nearly 170 percent.
The combined company held $11.3 billion property and equipment, so net debt reflected just over 70 percent of these assets of which the majority could be used as collateral. Prior to the deal this ratio was at 40 percent, so an increase of 75 percent was generated.
Additionally, the company's capital structure went from a debt to capital ratio of 49 percent to 65 percent, about one-third greater. Debt to EBITDA, which was around 3.8 times increased dramatically to 16.3 times as lower average spot market freight rates continued to impact transported container revenues and profits.
These factors largely contributed to the recent credit downgrade from the Standard & Poor's rating agency. Investors in the U.S. should consider the financial stability of the third largest container shipping line important as there are direct impacts to container lessor and charter owner companies. Fifty-five percent of CMA CGM's TEU capacity was chartered per Alphaliner. Through June, chartering, container rentals and other logistics expenses accounted for over 22 percent of operating expenses.
Both of these areas were in the minority for increases in cost during the first half of the year as overall operating expenses declined by nearly 6 percent, largely a result of bunker and consumable cost declines of 43 percent.
As a result of the challenging container freight rate environment from the chronic overcapacity issues, CMA CGM's container shipping revenues declined by 18 percent through June 2016. Both operating profit and net income were negative at -$90 million and -$230 million respectively. EBITDA declined by 76 percent.
These impacts directly affected operating cash flow and capex investments. Operating cash flow declined by 85 percent and investments in property and equipment declined by 32 percent. But the price tag for NOL was entered at a discount.
CMA CGM's current financials which were disclosed in June 2016 included only contributions from NOL from the acquisition date. When considering the proforma interim condensed consolidated statement of profit and loss, the NOL deal added nearly $2.2 billion in total net revenue.
But by the same token, when looking at profit/loss for the period, the nearly -$220 million loss would have been nearly -$590 million on a proforma interim condensed level. This potentially would have led to negative EBITDA and substantially lower operating cash flow. On the same note, working capital has decreased from -$535 million to -$1 billion.
The mentioning of working capital brings us back to CMA CGM's leverage. The company stated within its June 2016 financial disclosure that it was fully compliant with applicable covenants. But as can be customary, financial agreements could have had amendments made to relax previous covenants with a specified step-down mandate.
Again, CMA CGM has the assets and collateral to manage current debt levels, but the substantial decline in working capital and current macro challenges plaguing the container shipping industry do not offer a quick turnaround opportunity at the moment.
On this note, CMA CGM has current debt of $3.2 billion, followed by another $1.5 billion or so for 2017. There is a note mentioning that the NOL acquisition facility can be extended to August 2017, but this does not fundamentally change the fact that CMA CGM will need to refinance around $4.7 billion in debt within the next 15 months.
The company has been able to reduce its interest expense from $350 million to just below $280 million over the trailing twelve-month period as of June 2016. Getting a refinancing done sooner than later will be of benefit for the company to lock-in as low of interest rates as possible.
Maersk appears to be in a much stronger financial position versus CMA CGM, especially when compared leverage ratios and EBITDA. Even with the same impacts from declining container shipping revenues and negative profits, Maersk's debt to EBITDA ratio was at 1.75 times. Granted the company's current diversification of the energy division helps to some extent, the shipping division has been stronger as well.
At year-end 2015, Hanjin Shipping had a debt to property and equipment ratio at 98 percent. Based on the company's financial covenants, existing and other potential creditors were unwilling to infuse additional capital into the business during the current macro environment.
Investors should keep tabs on CMA CGM and Hapag-Lloyd once the next quarterly report is out and focus in on leverage. If GDP continues to remain in a low-growth environment, or an unforeseen event triggers a global recession, companies with higher exposure to debt may end up restructuring their business and in worst cases going bankrupt.
Some experts are anticipating further bankruptcies in the container shipping industry. Hanjin's recent collapse is a reminder than not only smaller players will become casualties. Due diligence should be performed on the exposure that container lessors and charter owners may have to certain global shipping lines.
Disclosure: I/we have no positions in any stocks mentioned, and no plans to initiate any positions within the next 72 hours.
I wrote this article myself, and it expresses my own opinions. I am not receiving compensation for it (other than from Seeking Alpha). I have no business relationship with any company whose stock is mentioned in this article.