Oil prices have continued to rise recently (but are seeing a slight pullback) after news broke from the EIA (Energy Information Administration) that the oil picture, from a supply perspective, continues to improve. In what follows, I will dig into the data provided by the EIA and give my thoughts on what it likely means investors in companies like Memorial Production Partners (NASDAQ:MEMP), Approach Resources (NASDAQ:AREX), and Legacy Reserves (NASDAQ:LGCY), as well as for the United States Oil ETF (NYSEARCA:USO) and other oil-related ETFs moving forward.
Inventories plummeted
According to the EIA, crude oil inventories for the week came in at 499.7 million barrels. This represents a nice decline of 3 million barrels from the 502.7 million barrels seen a week earlier. Though this drop was smaller than the 7.6 million barrel drop previously estimated by the API (American Petroleum Institute), it does represent an improvement over the 1.5 million barrel build estimated by analysts. In the graph below, you can see the trend that crude stocks have taken over the past 52 weeks.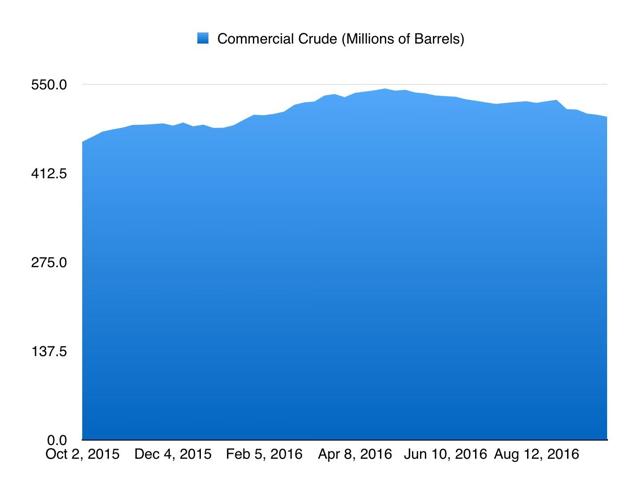 *Created by Author with EIA Data
In addition to seeing crude stocks fall, we also saw other categories show signs of improvement. For instance, the "other" category of petroleum products declined by 5.4 million barrels from 289.8 million barrels to 284.4 million barrels, while distillate fuel stocks fell 2.4 million barrels from 163.1 million barrels to 160.7 million barrels, and residual fuel stocks dropped 2.1 million barrels from 41.3 million barrels to 39.2 million barrels. The only other category to post an improvement during the week was fuel ethanol, which dropped by 0.4 million barrels from 20.6 million to 20.2 million.
Unfortunately, however, some areas did show increases. During the week, kerosene-type jet fuel rose by 0.9 million barrels from 43.1 million to 44 million and motor gasoline stocks ticked up by 0.2 million barrels from 227.2 million to 227.4 million. Propane/propylene managed to grow by 0.7 million barrels from 103.3 million to 104 million. However, even with these increases, total crude plus petroleum product stocks fell a very large 11.2 million barrels from 1.3909 billion barrels to 1.3797 billion barrels.
Production and demand are good
Besides inventory data, some other metrics came out that were positive. During the week, domestic oil production averaged 8.467 million barrels per day, a decrease of 30 thousand barrels per day (or 210 thousand for the week) compared to the prior week's production level of 8.497 million barrels per day. What's great about this is that, while Alaska showed an uptick in production, the lower 48 states reported a decrease of 38 thousand barrels per day for the week (or about 266 thousand barrels per day). In the graph below, you can see the trend that total domestic oil production has taken over the past 52 weeks.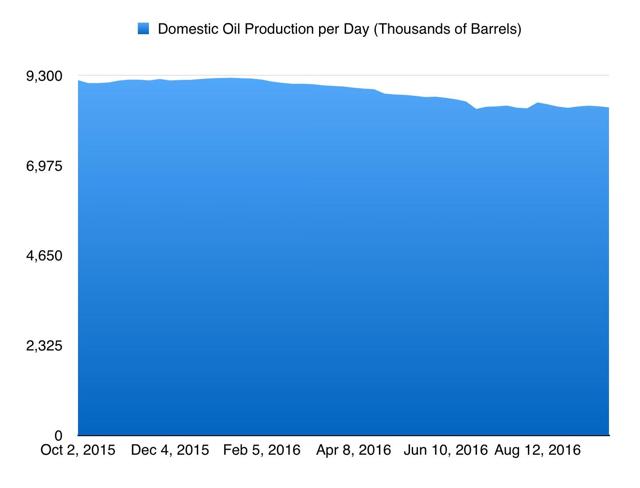 *Created by Author with EIA Data
In addition to production improving, demand was mostly strong. During the week, motor gasoline demand averaged 9.390 million barrels per day, up materially from the 8.880 million barrels per day seen a week earlier and up quite a bit (4.8%) from the 8.958 million barrels per day seen the same week last year. Using the four-week average demand figure, we averaged 9.332 million barrels per day, up 3.2% from the 9.044 million barrels per day seen the same period a year ago. Though distillate fuel demand also came in stronger for the week, demand was down year-over-year and was down a rather hefty 8.9% year-over-year when using the four-week average metric provided by the EIA (from 3.939 million barrels per day to 3.589 million barrels per day). This remains a weak metric that needs to see some strengthening.
The rig count ticked up a bit
One negative to consider for the week came from Baker Hughes (BHI). According to the company, the number of oil rigs during the week increased by 3 units, climbing to 428, meaning that 14 of the past 15 weeks have resulted in oil rig count increases. Though this is certainly a negative, it does still represent a decrease of 29.3% compared to the 605 units seen in operation the same time a year ago. Meanwhile, the oil rig count in Canada rose by 3 units as well, climbing to 87, an increase of 17.6% compared to the 74 units in operation this time last year.
Takeaway
Based on the data provided, not everything was great with this report but, as a whole, this was one of the most bullish reports I've seen in a very long time. I loved seeing the huge drop in supplies, as well as seeing the fall in production and the continued robust demand. I am a little discouraged by the distillate figure regarding demand but it's important to keep in mind that you can't always get everything you want and, even with this figure, the picture was undeniably bullish for the week.
Disclosure: I am/we are long AREX, MEMP, LGCY.
I wrote this article myself, and it expresses my own opinions. I am not receiving compensation for it (other than from Seeking Alpha). I have no business relationship with any company whose stock is mentioned in this article.
Additional disclosure: I own LGCYO, not LGCY
Editor's Note: This article covers one or more stocks trading at less than $1 per share and/or with less than a $100 million market cap. Please be aware of the risks associated with these stocks.