After the jobs report Friday the market likely needs to transition to unexpect a rate hike. That can be good. On the flip side though the market (NYSEARCA:SPY)(NASDAQ:QQQ) has risks that need to get resolved with elections, Deutsche Bank (NYSE:DB), and the British pound (NYSEARCA:FXB).
Major Events This Week
Sunday Night: Presidential Debate
Wednesday 2PM: Federal Reserve Minutes
Friday 1:30PM: Fed Chair Yellen Speech (Live)
Other Sagas To Follow This Week
*Deutsche Bank
*The British Pound
Let's go one by one.
Sunday Night's Presidential Debate
The debate Sunday was heavily watched for the spectacle probably more so than for political ramifications. That said, Hillary Clinton appeared to win the first debate which probably helped markets hold up. The jury is still out on the winner of round two (ding).
Clinton's lead in the presidential race is a relative market positive. As long as there is a perception she holds the lead the market can have an extra bid to it. If Donald Trump takes the lead the market will likely trade off.
We say that for two reasons.
Hedge Funds Tell Us Clinton Is Better For Markets
Hedge funds appear to mostly back Clinton (See here and here). Hedge funds prefer smoother markets. For that they want less volatility and less uncertainty.
Hedge funds have been spending heavily on a Clinton win in hopes for that. A Trump lead would increase uncertainty which hedge funds are spending against.
Moody's Tells Us Trump Is Worse For Markets
Moody's, one of the two largest rating agencies said the US and US companies would be on downgrade alert if Trump were elected. These type of hints tell us that markets could trade off with a Trump win and have a better chance to hold with Clinton.
Here's what Moody's said recently about the elections.
"Of the two candidates, Trump's proposals are more far reaching, including a stated intention to renegotiate trade agreements and impose heavy tariffs... Policies that result in meaningful and protracted disruptions to the flow of goods and services between the US and its key trading partners, or result in reduced market access, could impact the earnings and so would be credit negative for a range of rated issuers."
Moody's says here they would consider downgrading credit if Trump were elected. That debt probably includes the US debt and companies in the US. That would be a market negative by potentially raising interest rates.
Polling
There are many polls to track. While the general polls based on total country popularity appear close what ultimately matters is the electoral college. Even though Clinton has a lead on the electoral map, the race still appears wide open.
When polling for the electoral map shows a clear leader we will have more certainty in the outcome. Until then we can't know the ultimate outcome.
Much like Brexit was a surprise, anything is still possible.
In conclusion, as long as Clinton holds the lead the market likely has a better chance to hold up. If Trump grabs the lead there could be more volatility.
Wednesday's Federal Reserve Minutes
Even though latest news tells us that Fed board members have flipped dovish, the Fed Minutes will reflect Fed Chair Yellen's comments that,
"Most participants do expect that one increase in the federal funds rate will be appropriate this year."
Wednesday's minutes will reflect an expected rate hike in 2016. Those minutes were taken September 20th and 21st. Since then non-farm payrolls seemed to disappoint Fed officials. Immediately following Friday's jobs report the Wall Street Journal ("WSJ") said,
"If the jobless rate keeps rising, Fed officials might decide to forestall rate increases until next year."
The WSJ is known to be a "Fed mouthpiece" leaking Fed consensus.
Here's the unemployment rate that seems to worry the Fed.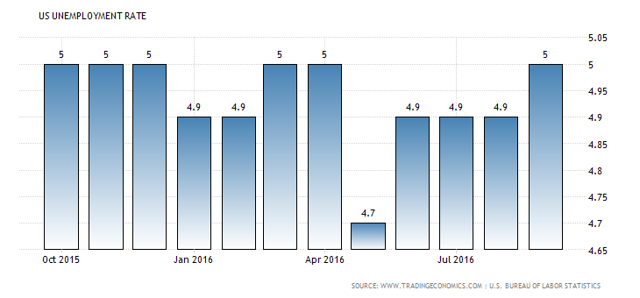 Source: Trading Economics
The recent tick up to 5% was the excuse the Fed now has to remain on hold. Of course, looking back on that same chart 5% shouldn't be a concern because they raised rates knee deep in 5% unemployment reports December 2015.
Nonetheless Fed board members have been coming out dovish.
The minutes are "old news." They reflect the Fed meeting on September 21st. For that reason they can sometimes confuse traders to think that is the Fed's current thinking. For that reason you may see some sell off based on the minutes.
Fed Chair Yellen's speech soon after this Friday though should resolve any confusion.
Friday's Speech By Fed Chair Janet Yellen
Fed Chair Yellen is heavily biased by her board members. We showed recently that the entire board is stacking up dovish again based on their public comments.
Ahead of Fed Chair Yellen's speech in August we expected her to sound hawkish based on the Fed Vice Chair coming out the week before hawkish. The Fed Chair in fact followed suit. That's why we expect this Friday's speech by the Fed Chair to be dovish, because the Fed Vice Chair came out a screaming dove last week.
Let's analyze the Fed Chair's recent comments to see where she may stand this coming Friday.
After the recent FOMC meeting she said the following on September 21st.
"Most participants do expect that one increase in the federal funds rate will be appropriate this year. And I would expect to see that if we continue on the current course of labor market improvement and there are no major new risks that develop and we simply stay on the current course."
The first sentence shows you she cares what everybody thinks. Her board has come out of late wanting to hold off from hiking rates. That leaves us to believe that she too will want to hold off from a rate hike.
The second sentence says that she wants to hike if 1. the labor market continues to improve and 2. if there are no other global risks.
For one the chart above shows that the Fed found an excuse that the unemployment rate did not show improvement.
Secondly, the IMF warned the US that a rate hike could risk Asian markets. While central banks are easing in Asia a US tightening could attract assets away from Asia sapping growth.
Also, The Fed has reason to hold on a rate hike to see how the Deutsche Bank fiasco concludes.
Deutsche Bank
If anybody remembers, back in June the IMF deemed Deutsche Bank the greatest threat to global financial stability. Now only a few months later that greatest threat was handed a $14B penalty by the US that they are scrambling to pay. We have a tail wagging the dog type event that needs to be watched.
In one company, according to the IMF, the entire global financial infrastructure hangs in the balance. Pretty comforting.
Here's a chart.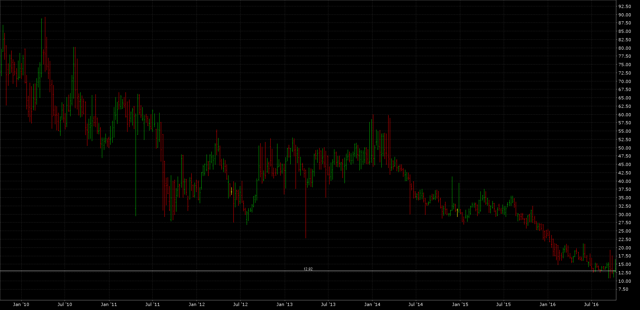 Source: Interactive Brokers
For now the Deutsche Bank price of $13 seems pretty important to the world. A break of this level technically we think creates further risk for DB and maybe for the market as a whole. If DB goes down further the market could worry about the recent IMF comments that DB risk is market risk.
Below $12-13 there is no reference point so investors could pile on to the downside. No reference point means that would-be buyers don't have a clear technical level of support to target buying.
This $13 could be the most important figure in the global stock market today and needs to be watched by all market participants regardless of what you're trading.
British Pound
The British pounds has also turned into a global disaster risk.
Here's the chart.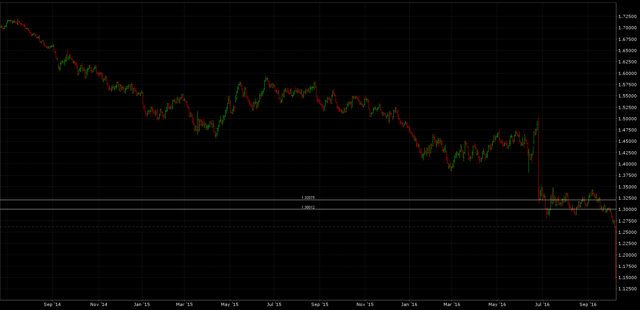 Source: Interactive Brokers
The British pound is not out of the woods based on recent action unless it were to work its way above 1.32. The break of 1.30 proved important. Here too, like Deutsche Bank, there is no reference point below which creates volatility for those trading it. There is no obvious support level for buyers to have confidence to come in and defend the pound.
For now markets seem able to absorb the pound volatility as central banks were prepared immediately following Brexit with liquidity.
The dollar has also been a beneficiary of strength which is associated with US stock market strength. Any global risk though, which the pound could turn into is a negative for global markets.
We want to see the pound level out, reduce volatility, and hopefully strengthen to have an extra layer of safety for global markets.
Conclusion
There is a lot at play this week. Elections could swing markets. We expect the minutes versus Friday's speech to have counter impacts to stocks. Deutsche Bank and the British pound issues also need to get resolved. There is a lot of up in the air this week to have a clear path of where markets can go.
Follow Us Real-Time On Seeking Alpha
If you want Elazar's analysis on Seeking Alpha, scroll to the top of the article and hit "Follow." Elazar also writes real-time pieces as news is reported. If you want to be among the first updated check the box for "Real-time alerts on this author" under "Follow."
Catch Multi Week Moves
Your Trading Team is an Elazar premium service on Seeking Alpha that helps catch multi-week moves in SPY, GLD, Oil, TLT and more. We developed a simple trading gameplan that instills discipline to trading. Working together also helps avoid many trading pitfalls. We look forward for the chance to work together.
Share
We're excited about the feedback we get from readers. If you like our work please consider sharing it. There is a ton of noise out there on the internet and we think we offer something that slices through that noise. If you agree please consider sharing our work. Thank you.
Disclaimer: All investments have many risks and can lose principal in the short and long term. This article is for information purposes only. By reading this you agree, understand and accept that you take upon yourself all responsibility for all of your investment decisions and to do your own work and hold Elazar Advisors, LLC and their related parties harmless.
Disclosure: I/we have no positions in any stocks mentioned, and no plans to initiate any positions within the next 72 hours.
I wrote this article myself, and it expresses my own opinions. I am not receiving compensation for it (other than from Seeking Alpha). I have no business relationship with any company whose stock is mentioned in this article.