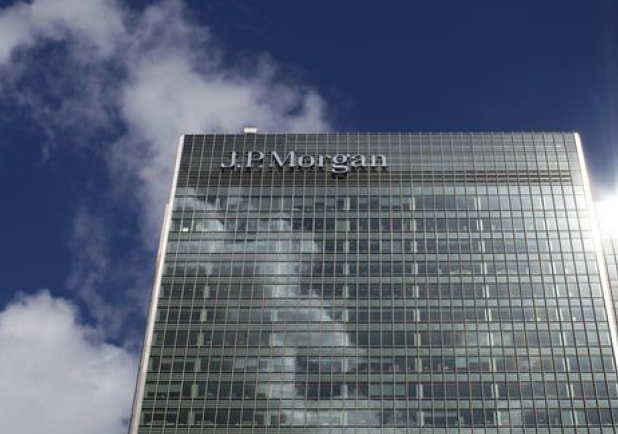 JPMorgan (NYSE:JPM), one of the largest banks in the world, will report Q3 earnings later this week and heading into the report, the stock is flying. The banks in general have been pretty strong of late on the hopes that the Fed may actually raise rates sometime in the near future. JPM is the strongest of the bunch, trading right at multi-year highs going into this week and while that's terrific, is it high enough to warrant some caution going into the report?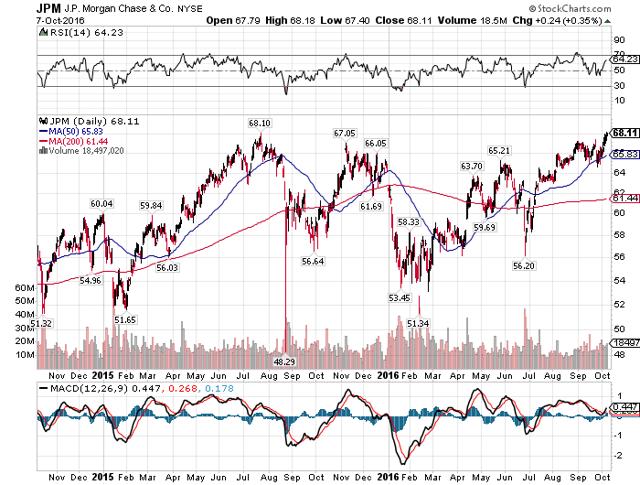 There are, of course, lots and lots of moving pieces when JPM reports earnings. However, there are a few things we can key in on during Q3 that can give us an idea of whether or not JPM has earned the huge rally we've seen in shares.
First and foremost, we need a read on the bank's use of deposits. JPM has done a terrific job of finally beginning to use the massive hoard of deposits it has collected over the past several years and it is paying off with much higher loan balances. Those loan balances generate fees and interest income for JPM but even with its great progress in the first half of the year, its deposit utilization is still very low. If I could only choose one thing for JPM to get right in Q3 it would be for its loan balances to continue their march higher. JPM has to do this in order to extend the rally it has produced heading into the report and I think it will, but we need that confirmation.
In addition to traditional lending growth, I want to see JPM continue to exhibit strength in its massive credit card business. The first half of this year was also very strong on this front and with JPM's enormous exposure here, continued good results are critical. This is a very important profit center for JPM so growth here will translate to the consolidated bottom line. Again, JPM just needs to keep doing what it is already doing so that is what we are all expecting; we just need to see the execution.
On the expense front, JPM is above average to be certain, with its overhead ratio in the mid-50s. The ratio will probably be slightly worse sequentially in Q3 as this quarter is seasonally weak for banks. I expect we'll see some slight deterioration in JPM's overhead ratio but so long as it is moderate, it shouldn't be a problem. Where JPM could run into some issues is if it sees a mid-single digit or higher increase in expenses but again, that is not the base case here. But given the fact that revenue is likely to be weak, any additional move higher in expenses will exacerbate the revenue problem.
On the credit front, if JPM does come through with robust loan growth again, it is going to have to take provisions against those new loans. That will lead to a very high provisions number but just as in the past, a high provision number is just indicative of high growth. That is certainly a trade off shareholders will make so I wouldn't be alarmed there. I would be alarmed if charge offs come in high because that would signal an actual deterioration of credit quality. JPM has been absolutely masterful at managing its credit risk so I expect charge offs will remain very low but watch for provisions as they are a strong indicator of what's to come in terms of growth.
Capital returns are obviously vital to JPM as it continues to pay its sizable dividend and buy back shares. JPM's CET1 ratio was 11.9% in Q2, representing a 20bps sequential gain but given that Q3 is seasonally weak, I expect the sequential number in Q3 to be flat or down. That's okay as long as the damage is minimal and it should be. JPM has plenty of additional capital so even a moderate draw down isn't of particular concern. Again, I'd just be looking for surprises here to the downside.
The thing is that despite the fact that I think JPM will come through with a strong report, the stock isn't cheap. JPM is now going for 12 times this year's earnings and while the multiple on next year's number is a more pedestrian 10.9, that is also still high by TBTF bank standards. JPM has proven it is the best of the best in terms of large banks but with that multiple, it is also more expensive than BAC and C, for instance. That JPM deserves a premium isn't a question; the question is just how much you're willing to pay for the right to own JPM over the others.
For me, as much as I continue to love JPM's model, it is getting to the point where expectations are very high. If JPM were to falter even the slightest bit, we could see a sizable move down. But even if it doesn't, how does JPM move higher from here? We are trading at multi-year highs already and while JPM has had a terrific year so far, at 12 times earnings I don't know what would drive additional multiple expansion. I can think of a lot of things that could lead to multiple contraction, however, and that's the problem. I'm still very bullish on JPM's business but I think it is time to ring the register before it reports Q3 earnings. It is my view that you'll be able to buy JPM at a lower price in the coming months so I don't see the point in taking the risk heading into Q3 earnings.
Disclosure: I/we have no positions in any stocks mentioned, and no plans to initiate any positions within the next 72 hours.
I wrote this article myself, and it expresses my own opinions. I am not receiving compensation for it (other than from Seeking Alpha). I have no business relationship with any company whose stock is mentioned in this article.