Stocks discussed on the in-depth session of Jim Cramer's Mad Money TV Program, Friday, October 7.
Friday was the last day of the Mad Money series in San Francisco. With Honeywell (NYSE:HON) and PPG (NYSE:PPG) estimates slashed, portfolio managers were caught unprepared. We have a busy week ahead of us that might just define how the rest of the year goes. Cramer's game plan for the week:
Tuesday
Alcoa (NYSE:AA) will kick off earnings season with its report. As industrial stocks see new worries, Alcoa might be impacted due to its aerospace business. Cramer considered weakness in the stock as a buying opportunity.
Yum Brands (NYSE:YUM) will hold its analyst meeting and Cramer is excited to hear about the upcoming breakup.
Wednesday
CSX Corp. (NYSE:CSX) will report on Wednesday. Will the industrial worry affect CSX? Cramer thinks the stock will go down if coal doesn't pick up.
Thursday
Delta Air Lines (NYSE:DAL) will report earnings on Thursday. Its stock is trading at 7 times earnings and has fallen 23% for the year. If the earnings report shows stability, then the stock will rise. Cramer will also watch Ulta Salon's (NASDAQ:ULTA) analyst meeting on Thursday.
Friday
Citigroup (NYSE:C), JPMorgan (NYSE:JPM) and Wells Fargo (NYSE:WFC) will report earnings on Friday.
"Citigroup is transforming from a regulatory nightmare to banker examiner's darling." Cramer's trust owns the stock as it's cheap compared to its book value.
Wells Fargo's (WFC) earnings will be controversial. "We have been stuck in this stock for my charitable trust and have no conviction that things can bounce back without multiple rate hikes, and there is nothing in the cards that suggests the Fed will be that aggressive," said Cramer.
JPMorgan still needs to figure out its move after Brexit.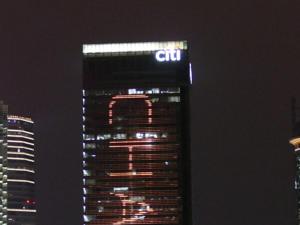 Old vs. new economy
Cramer continued explaining about the old vs. new economy that co-exist in the market. One is held hostage by global growth while the other is based solely on innovation.
The old economy names like Honeywell and PPG offered warnings on Friday even though they are the best of breed companies. It's time for investors to take notice. "The hideous declines in these two stocks left me astonished. That is what happens when companies with a long track record of beating the numbers suddenly pre-announce to the downside," said Cramer. This can have an impact on the S&P 500 as a measure of subdued global growth.
In the new economy, Silicon Valley continues to make tools and software for old economy companies to help them get efficient. The companies in Silicon Valley are investing in technology heavily and hence their stocks continue to rise.
CEO interview - Bank of America (NYSE:BAC)
The year has been tough for the banks as the Fed did not raise rates as expected earlier in the year. Cramer interviewed Bank of America Chairman, President and CEO Brian Moynihan to find out his take on Wells Fargo and the Fed's rate hikes.
"A rise in rates makes us seem a lot smarter to the world because we make more money. It's $4 billion-plus on a core-basis a year if rates go up 100 basis points, but we are not waiting for that," said Moynihan. The company is focused on growing based on volume and keeping expense down. Their deposits are up $60B Y/Y and loans are growing. "We can keep doing that. It would be easier if rates were a little bit higher, but that didn't happen and we are not waiting for it," he added.
The company has 4,700 retail centers and approximately 33M active user accounts. They have also embraced technology to attract younger people and make banking more efficient. The smart phone allows the bank to be with their customers all the time. He still emphasized the importance of physical branches and said that technology makes things easier and smart phone banking becomes an integrated model along with branch banking. He also said that cyber-security is important as the bank will have to build 700 new branches if all the customers stopped using mobile banking.
He also commented on Wells Fargo cross-selling by saying that Bank of America rewards balances and not accounts. They also work with regulators to prevent fraudulent accounts. He also commented on the economy and said that customers are spending less on things and more on experiences. There is also a rise in housing-related spending.
CEO interview - Adobe Systems (NASDAQ:ADBE)
Adobe Systems has been performing well as it has transformed itself to a cloud-based SAAS play. The company was upgraded recently by Goldman Sachs. Cramer interviewed President and CEO Shantanu Narayen to hear what lies ahead for the company.
"We process more content and more data than anybody else in terms of companies, and the magic you have in Photoshop and what people can do, we are actually looking into people's minds and figuring out how to translate that idea into reality," said Narayen. They have processed over 20 trillion digital media transactions last quarter and is using the data to make the process predictable.
Adobe was also driving the media streaming experience for the Olympics. It allowed users to create personalized channels to see what they wanted. They are also focusing on students and education by making digital tools and products accessible for them.
Viewer calls taken by Cramer
Bristol-Myers (NYSE:BMY): Cramer's trust has bought the stock for the long term and considers it a value play.
Sirius XM (NASDAQ:SIRI): The stock is cheap and their earnings are good. Hold it.
General Dynamics (NYSE:GD): The stock has been a good performer. See the October earnings, wait for elections to be over and then look at the stock.
Tractor Supply Co. (NASDAQ:TSCO): The company is undervalued indeed but the stock has led to losses for investors. Wait for next quarter's earnings as there will be a tax loss selling till then.
::::::::::::::::::::::::::::::::::::::::::::::::::::::::::::::::::::
Jim Cramer's Action Alerts PLUS: Check out Cramer's multi-million dollar charitable trust portfolio and uncover the stocks he thinks could be HUGE winners. Start your FREE 14-day trial now!
Get Cramer's Picks by email - it's free and takes only a few seconds to sign up.