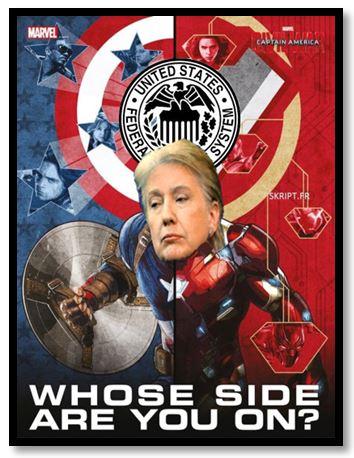 The last report observed the Fed getting caught up in the partisanship of the presidential campaign. Donald Trump took this to a new level in the first debate, so that the genie was officially out of the bottle. His party wasted little time following up on this attack, especially in light of Trump's shambolic performance in the debate, with demands for a formal inquiry into whether Fed Governor Lael Brainard is conflicted in her relationship with the Democrats. The invisible elephant in the room is the implied association between Chairman Yellen and the Democrats. Yellen already on shaky ground after her lackluster post FOMC meeting press conference, didn't exactly take the Fifth; however she did run for cover by consulting her legal counsel in relation to Brainard's position. The Fed has been rocked and is shaking. A divided FOMC in such an environment becomes a dangerously unpredictable animal.
Trying to appear non-partisan, whilst remaining committed to a global agenda that conflicts with Donald Trump's vision, the IMF's chief economist Maurice Obstfeld opined that there is no danger of the US economy overheating from low interest rates and that a "data dependent" tightening process is well in order. As we shall see later, the definition of "data dependent" is becoming the next conflict zone, so the IMF needs to tread carefully.
There are tangible signals that the internal division within the Fed is now following a Regional versus Washington divide, which has interesting structural implications for the cohesion of the central bank. The Fed now appears to be following the typical Regional versus Federal struggle that bedevils the political executive. Recent remarks from the regional presidents suggest that they are keen to press on with the rate hike process, whilst the globally aware in Washington wish to drag their feet. Philadelphia Fed President Patrick T Harker does not wish to fall behind the curve, whilst Washington based Governor Jerome Powell still sees no need for any urgency. Washington has the global perspective that sees economic weakness, whilst this has yet to be found in the regions with the exception of Texas perhaps. Could this internal Regional versus Washington cognitive dissonance be the systemic weakness that prevents the Fed from anticipating the next economic slowdown and/or responding with alacrity to it?
Short-timer Atlanta Fed President Dennis Lockhart personifies this Regional v Washington conflict. His carefully chosen words signal that he longs for a return to the orthodoxy and rules of thumb applied in the domestic economy pre-Crash, yet understands America's economic place in the stagnating global economy. Reflecting on the potential for inflation triggers from a tightening labour market, he opined that the Fed is close to lifting off again.
The dissenters seized the initiative through the agency of Boston Fed President Eric Rosengren in the unfolding clash of the dogmas within the Fed. Rosengren siganaled that he is an adherent to the Taylor Rule, which is the current proxy for war between the Hawks and the Doves, forecasting that the push from wage inflation will manifest itself as unemployment falls below the 4.5% level.
Richmond Fed President Jeffrey Lacker continues to demand an immediate hike; and stated that he would have voted for one at the last FOMC if he had been present. In his opinion the inflation risk signals are clear and present. His views on inflation were far less important than what he had to say about the can of worms opened by Donald Trump in relation to the Fed's alleged capture by the Democrats. Whilst not exactly endorsing Trump's view, he none-the-less gave it credibility. Framing his comments in terms of a defence of the Fed's independence, his warning was indirectly aimed at his colleagues as much as it was at lawmakers. He opined that the Fed's independence should remain sacrosanct, in order to deliver optimal monetary policy decisions, whilst acknowledging that in these times of populism Fed Governors have become less insulated from political agendas. By identifying Fed Governors directly, he was indirectly pointed the finger at Brainard, whilst directly indicating their physical proximity to the lawmakers in Washington. There must now be a growing question mark over her future role at the Fed.
Dissenting FOMC voter Loretta Mester provided greater clarity on her dissenting call at the last FOMC meeting. In her opinion, not hiking gradually now means that the Fed will have to hike more seriously later, so threatening the economy and asset prices even more. In a post - employment situation number interview with CNBC, she referred to the latest ostensibly softer numbers as "solid"; and was aggressively dismissive of John Williams's thesis behind the lower new natural rate of interest which allegedly gives the Fed more time to tighten. In her opinion the US economy has been at full employment for some time, so the risk of not tightening is great. If her combative style on TV is a good indicator of her performance in FOMC meetings, Janet Yellen has got her hands full.
Perhaps more interesting than Mester's dissent, is her view on Fed communication strategy. It should be understood that she is on the Fed's communication committee, so her views should be taken very seriously. In her opinion, the Fed is shooting itself in the foot by communicating that it is "data dependent" without setting a specific time frame over which this dependence occurs. Market observers effectively live from one Fed meeting to the next, so in fact data dependence specifically refers to the data since the last meeting. Often, conflicting data has given the impression that the Fed is getting whipsawed around in the short-term, thus undermining its credibility. Mester would like to see greater emphasis on the medium term, in the Fed's communications. This is all well and good, but when one looks at the debacle of the Dot Plots, which currently signal recession whilst the likes of the Mester argue for tightening, the Fed is just making another rod for its back if its emphasis on the medium term is inconsistent with its predictions.
Mester's analysis shot holes straight through the argument that Yellen tried to use for gradualism in front of the hostile House Financial Services Committee Q&A which included the Brainard interrogation. Yellen sees the same risk of overheating from tightening too late as the reason to be gradual. Yellen's credibility and visible discomfort, still evident from her last FOMC meeting press conference, was reinforced by the compare and contrast view of her analysis and Mester's. Both see the same problem, but address it from totally conflicting positions and conclusions. If there has not been one already, a confrontation between Mester and Yellen is going to occur with painful consequences for both.
Kansas City Fed President Esther George doesn't need any qualification of her dissenting opinion since it is both clear and long-standing. As she recently repeated "I think it's time" ….. enough said! The latest employment situation report simply confirms that the US economy is at full employment in her eyes. Evidently a Fed president with a hammer only sees nails.
Responding to the challenge presented by Rosengren, Dallas Fed Governor Robert Kaplan opined that Fed policy is not as easy as critics suggest. He used the domestic example of an aging population and the external global headwinds as mitigating factors which may require easy if not even easier policy. Despite this perceived tightness however, Kaplan has no real stomach for a confrontation ; so that he has copped out of the battle of the dogmas by saying that he would have been quite happy to go along with a rate hike at the last FOMC meeting.
Minnesota Fed president Neel Kashkari maintains his view that inflation remains benign enough for the Fed to take its time about hiking. Both Kashkari and Kaplan rotate into the voting seats in 2017; so their views are becoming critical to the debate.
St Louis Fed president James Bullard is happy to be one more rate hike this year and then done, possibly until the next easing phase commences. Bullard's baseline is attracting the interest of the Dove Chicago Fed President Charles Evans. Falling into line with the regional Hawkish view that a rate hike is needed, Evans opined that he would be happy to tighten in December. Using Bullard's baseline to provide conditionality however, he made it clear that further rate hikes will require a significant increase in inflation.
Fed Vice Chairman Stanley Fischer is far too seasoned a professional to get drawn into the clash of the dogmas. Instead he prefers to be a spectator and let his colleagues do the fighting, whilst keeping a close eye on market perceptions of the strength of each argument. Should any side take a lasting advantage he can be expected to come down on their side as if he had been alongside them all along. In the meantime, he adopts the Alan Greenspan guide to communication and talks in terms of maybes and perhapses. His latest maybe and perhaps seems obliquely aimed in support of the dogma that adheres to the Taylor Rule and the belief in inflation stimulus from tight labour markets. Without giving any guide as to rate hike timing, he recently opined that the employment and wage data suggest that the old correlation pre-Credit Crunch maybe reasserting its dogmatic iron rule.
Fischer then became elusive again by theorizing that low interest rates maybe here to stay as a result of the fall in the natural rate to a new level. Just to keep everyone guessing he then suggested that interest rates could however rise if the Federal government takes up some of the heavy lifting with a fiscal stimulus, if it was accompanied by structural economic reforms that remove bottlenecks and constraints. In short, he was everywhere and nowhere as usual. Just to totally confuse his audience, whilst maintaining flexibility on the timing of the next rate hike, he framed the latest employment situation data as consistent with a "Goldilocks" economy where inflation and growth are neither too hot nor too cold. He is thus in a position to tighten or do nothing, without being open to rebuke for not being clear in his guidance.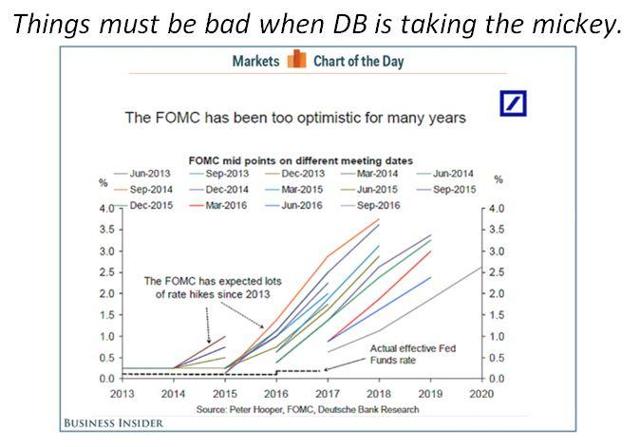 (Source: Business Insider)
After recent bruising encounters with FOMC colleagues and lawmakers, Janet Yellen moved her focus beyond the current scrap over tightening and its related political implications. Looking beyond the chaos, she began the process of filling the Fed's toolbox for the approaching economic downturn. Controversially she has taken a guide from the currently failing policies of the ECB and BOJ, by suggesting that equity and corporate bond purchases should be in the toolbox. QQE will thus follow QE. The lack of ambition and slavish adoption of monetary policy tools which are proving to have a biased impact on asset prices, rather than the real economy, may open her up to the criticism that she is out of real ideas. On the other hand, Wall Street and those Republicans who hate her alleged socialist bent will no doubt be seduced by her embrace of tools that will have a significant pecuniary effect on their portfolios. In fact it would seem that Yellen is reinventing herself as a true believer in private capital after the recent debacle over the alleged Democrat bias in her policy actions.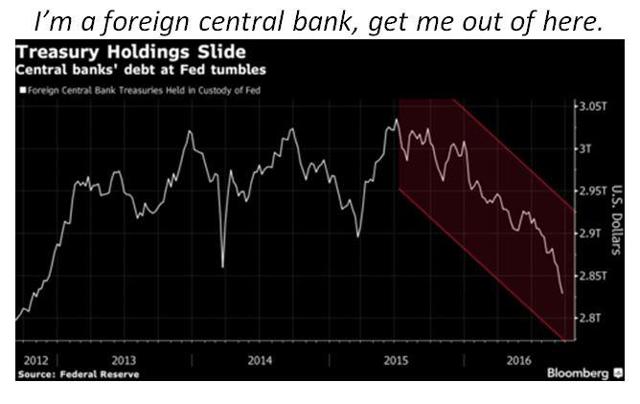 (Source: Bloomberg)
Foreign central banks are taking the dissenting FOMC Hawks' words, rather than the dovish trajectory of the Dot Plots, at face value. Central bank selling of US Treasuries continues to gain momentum and have a direct impact on yields. The acceleration in selling also seems to have picked up since Jackson Hole, where central bankers preached a return to orthodox conventional monetary policy. The ECB's recent signal that it will continue with its current QE programme with no hint of an expansion gave a little nudge to the sellers. This nudge was then reinforced by the BOJ's failure to do anything radical at its latest meeting. The rise in yields is therefore just a recalibration of values versus the latest unchanged global central bank policy stance for now. The sell-off in gold affirms this view. A deeper bond and gold sell-off from here would then be a tightening in global monetary conditions that would wreak havoc with the global economy and risk asset prices. This situation needs watching, because momentum players could push it out of control. The recent Sterling flash-crash illustrates how a currency or asset class, with perceived underlying monetary and fiscal policy weakness, can move versus tightening global monetary policy conditions. This kind of price action is now the norm rather than the exception.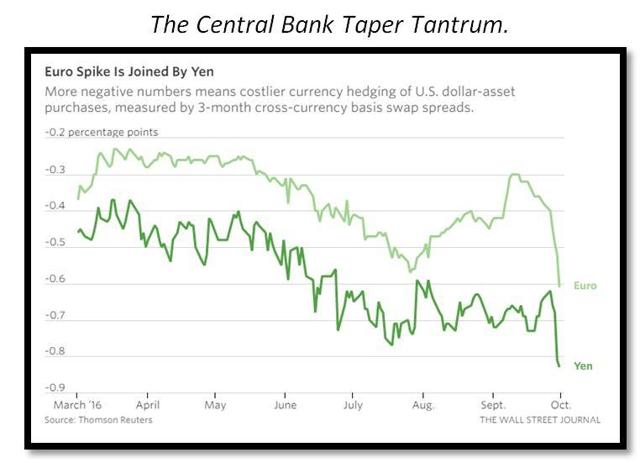 (Source: Wall Street Journal)
The action of foreign central banks may also be part of a self-fulfilling prophecy, of tightening monetary policy, that is running so far ahead of the Fed that it may have to actually ease next rather than follow suit. Dollar liquidity in capital markets is tightening for a confluence of reasons. Central banks may actually be dumping their Treasuries to create Dollar liquidity in their own capital markets. A curious situation is thus occurring in which rising US Treasury Bond yields tighten liquidity whilst providing cash for short term liquidity at the other end of the curve. The travails of the Eurozone banking system and Deutsche Bank in general have simply inflamed the issue with alarmist headlines. The Bank for International Settlements (BIS) has been opining on the subject of tighter US Dollar liquidity and its many causes since the summer. Bank of England Governor Carney recently mandated it to find whodunit in the recent Sterling flash-crash. It will be interesting to see if the BIS plays along and blames the Algos, rather than the central banks who are triggering the lack of US Dollar liquidity that opened the floor underneath Sterling.
Somewhere in the mix is the divergence of negative global interest rates versus rising positive US ones. The abundance of currencies like Yen and Euros that nobody wants, apart from the governments who need these currencies to monetize their debts through negative interest rate financing from their central banks, stands in stark contrast to a relatively fiscally conservative US government that pays to borrow rather than gets paid to do so. True capitalism, where the borrower promises to pay in the future rather than steals in the present, is evidently a stronger basis for a fiat currency in the opinion of the capital markets.
Disclosure: I/we have no positions in any stocks mentioned, and no plans to initiate any positions within the next 72 hours.
I wrote this article myself, and it expresses my own opinions. I am not receiving compensation for it (other than from Seeking Alpha). I have no business relationship with any company whose stock is mentioned in this article.