Overview:
On Oct. 4th, Micron (NASDAQ:MU) reported their 4th quarter 2016 results. During the analysts' meeting, Micron executives CEO Mark Durcan and CFO Ernie Maddock reported results near the high end of expectations and painted a positive picture for fiscal year 2017.
Coming from people who are by nature very conservative in their approach to business as well as making projections, I found the report to be positive and think 2017 will be a very good year for Micron.
In previous articles, I have recommended buying Micron based upon their low price and opportunity for positive outcomes as outlined in this presentation. My first recommendation was on January 23rd "Micron: At Under $10 A Share Even I Would Be A Buyer" and followed up by "10 Reasons Why Micron Will Be $25 By 2018" on Feb. 29 when Micron was still under $11. Today it is above $17.
In this article, I will explain why I think Micron is on schedule to deliver meaningful results next year.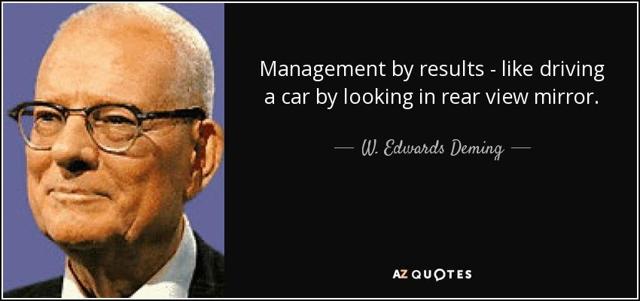 1. Industry inventory is very lean.
As Intel noted last month they are seeing an increase in desktop orders. This of course means component manufacturers like Micron stand to benefit from increased shipments and firmer pricing. Per Mark Durcan:
"Industry inventory appears lean and the current market outlook for both NAND and DRAM continues to be positive. Currently prices are increasing in number of segments, stabilizing in others and we're seeing fewer segments showing residual declines."
2. Micron's inventory is relatively high.
It's always a plus to convert inventory to sales especially in a firm pricing environment. And it looks like Micron will be liquidating built-up inventory throughout the year.
Per Ernie Maddock:
"we're cognizant of the inventory position, we'd like to think that we anticipated that and share that with you. And we're equally confident that the inventory will decline nearly every quarter in fiscal '17."
3. DRAM wafer output is declining and may result in allocation.
This could mean firmer prices until new capacity overtakes old. With supply growing at 17% and demand growing at 20-25%, prices may be higher than currently projected.
Per Durcan:
"Turning to the memory industry more generally, we've seen further evidence that DRAM wafer output is declining"
And how long has it been since memory was on allocation? That should certainly make for some good pricing and margins.
"In some cases, we may be looking at allocation of certain products in certain markets."
4. 3D Xpoint will begin to ship in 2017.
This is a good-news story though volumes will be low and initial costs will be high. This product is the sexiest thing Micron has ever produced since - well, forever.
"Relative to 3D Xpoint technology, we are working with market enablers on adoption of our QuantX solutions and continue to believe this innovative technology will be an important contributor to Micron's future success with initial revenue later in 2017."
5. It looks like the Inotera deal will close in December.
Whatever the hang ups were it looks like they are about to be overcome. Inotera brings with it $300-600 million in free cash flow and one would have to assume a not insignificant increase in profits especially if they pay cash i.e. do not dilute.
Maddock:
"On average, the Inotera transaction is going to add somewhere between $300 million and $600 million of cash flow on a free cash flow basis"
6. Changes in depreciation, intangibles and stock-based compensation and will add .60 per share to earnings.
Moving to a 7-year depreciation schedule from a 5-year will result in a $100 million per quarter reduction. Not including amortization of acquisition intangibles and stock-based compensation will up it another $50 million per quarter giving us $600 million per year. Of course, the argument continues on whether this is proper or not but the fact is earnings (GAAP and non-GAAP) are going to look a lot better next year than they do this year.
"This change will reduce depreciation by approximately 100 million per quarter on a going forward basis. Additionally, and to be consistent with the majority of semiconductor companies who report non-GAAP results, Micron will exclude stock-based compensation and the amortization of acquisition related intangibles from our non-GAAP reporting. These expenses on average are approximately $50 million per quarter."
7. If gross margin nears previous levels, profits will be way up.
The last few quarters have been very expensive with the ramping of both 20nm DRAM and 3D NAND and to some extent 3D Xpoint. Looking over the last 5 quarters, you can see that margins have shrunk by about 40%. As the year progresses and production efficiencies for 3D NAND and 20nm DRAM kick in, gross margins should approach historical levels. And that doesn't assume any significant increase in revenue.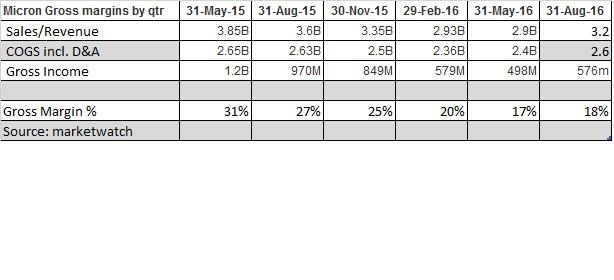 8. Pricing is firming and revenue may exceed projections for the coming year.
With customer inventory limited and production limited by transition and wafer declines, pricing (and margins) could very well be the best in years. Per Durcan:
"Certainly if we think about inventory in the marketplace, certainly channel inventory I think is very, very tight, maybe one to two weeks or less than a week. At the major customers, we have less precision relative to that but I'd say, it's certainly down and there is a sense of urgency at the large OEM customers as well. In some cases, we may be looking at allocation of certain products in certain markets. And certainly the customers are beginning to ask for longer-term price commitments, which is in my mind always a good thing."
9. OPEX will be dropping after the first quarter.
Some one-time expenses will be booked in the first quarter related to pre-qualification expenses that did not get booked in Q4. Per Maddock:
"So, those numbers would still exclude stock-based comp, but you would expect to see a pretty meaningful moderation of OpEx as we go forward throughout the year as a result of this pre-qual situation being resolved from the rollover."
10. With demand up 20-40% and costs down 20-25%, margin surprises likely to be to the upside.
Durcan and Maddock both seem confident that future bit growth rates will be substantial and that costs will fall significantly as new products ramp up. This combined with the stagnant wafer production and low customer inventory should lead to firmer pricing.
See slide pages 6 and 7 for more details.
Conclusion:
Micron has staggered along for the last 2 years or so without any significant good news. They always seemed to be behind the curve just a little bit and as a result, their stock price suffered dropping from over $35 in early 2015 to under $10 in Feb of this year. But now as new products ramp up, the news should be good going forward.
Similar to AMD, Micron is not only an earnings play but a "good news" play too. Earnings should go up steadily through 2017 with the chance of some upside surprises. But from this point on, the news about Micron's performance should be steadily positive and that is what will drive the price higher.
Micron remains a strong buy with a price target of $25 by 2018.
If you found this article to be of value, please scroll up and click the "Follow" button next to my name.
To see all of my Micron articles click here.
Disclosure: I am/we are long MU.
I wrote this article myself, and it expresses my own opinions. I am not receiving compensation for it (other than from Seeking Alpha). I have no business relationship with any company whose stock is mentioned in this article.