ISM and Markit's Manufacturing Surveys
After falling back into contraction last month, the Institute for Supply Management's manufacturing survey rebounded to 51.5 in September. Readings above 50 indicate expansion. This survey was led by new orders, which rose to 55.1, but we saw even higher readings in May, June and July of this year with no improvement in the production and employment surveys in the months that followed. Employment remained in contraction at 49.7 in September.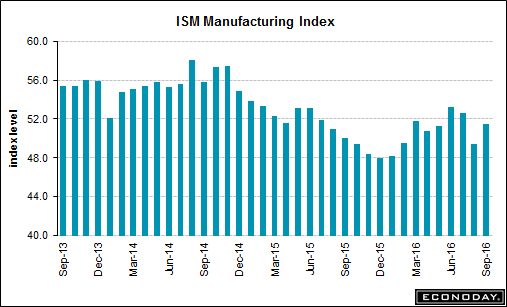 Markit's manufacturing survey fell modestly to 51.5 in September from 52.0 in August, but this survey saw new orders fall to the weakest reading of the year. Export orders contracted for the first time in four months, as a stronger dollar weighed on orders. The combination of these two reports suggest that the manufacturing sector is still in the process of bottoming, and while it may not be a drag on the rate of US economic growth, it is certainly not a contributing factor.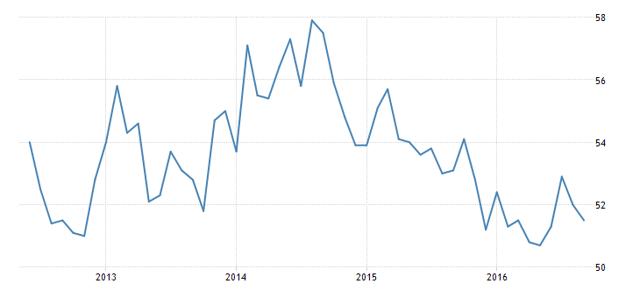 ISM and Markit's Services Survey
After plunging to the weakest reading in six years last month, the Institute for Supply Management's service sector survey surged to 57.1 in September, which was the highest reading since October of last year. The employment sub-index rebounded sharply to a reading of 57.2 from 50.7 last month, but this wasn't confirmed by the September payrolls report on Friday. The new orders sub-index also rallied to 60, after having fallen to 51.4 last month, which was the lowest reading since December 2013. This was a very strong report, but we would like to see two in a row, because it wasn't confirmed by what we saw in Markit's survey.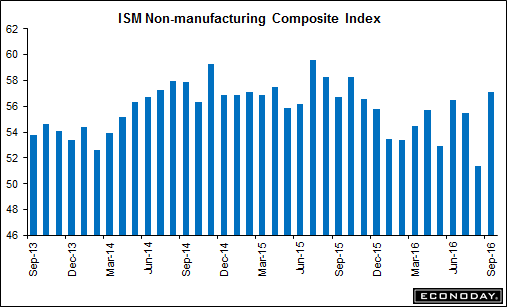 Markit's survey rose modestly from 51.9 to 52.3, but its new orders sub-index fell to its weakest reading in five months and the employment sub-index declined to its weakest reading in more than three years! Which one is the outlier? We don't know, but the September payroll report was more in line with Markit's survey than the ISM.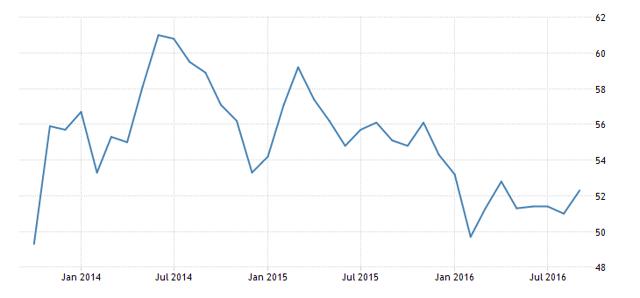 Construction Spending
The construction spending report includes the total value of all new construction activity for residential, non-residential and public projects. The news here is that total construction spending is now declining on a year-over-year basis for the first time since 2011, albeit by a modest 0.3%. Non-residential construction led the 0.7% decline in August with nearly every category weakening. This is largely the result of the steady decline in business investment.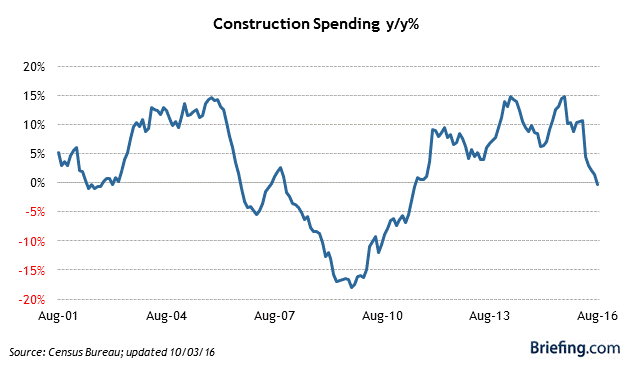 Factory Orders
Factory orders measure the change in dollar value for both durable and non-durable goods orders. It updates the durable goods report from two weeks ago with more information. Orders for durables increase 0.1% in August, while orders for non-durable increased 0.2%. Factory orders remain in a declining trend on a year-over-year basis, down 2.6%.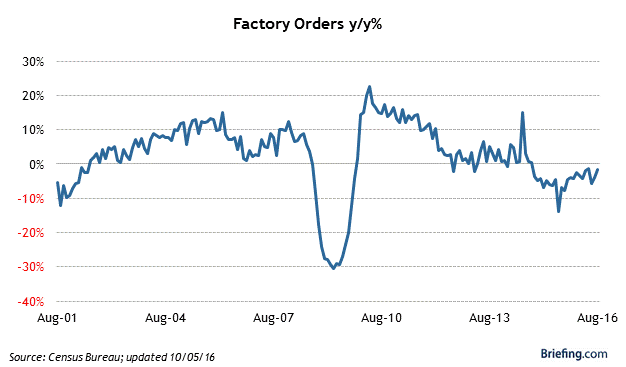 There is good news in this report. Business investment, as measured by new orders for non-defense capital goods excluding aircraft, has risen for three consecutive months. This means that capital spending could start contributing to the rate of economic growth in the fourth quarter of this year when the orders are shipped.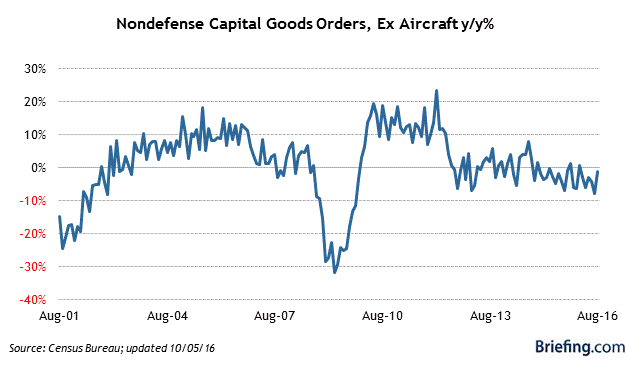 The Jobs Report
The payroll report for September fell modestly short of expectations with just 156,000 jobs estimated to have been created by the Bureau of Labor Statistics. The year-over-year pace of job growth has flat lined, as can be can be seen below, which is typical near the latter stages of an expansion. I have been focusing on the revisions to these initial estimates by the Bureau of Labor Statistics in separate reports, which are increasingly negative in terms of frequency and size. I think these downward revisions serve as a leading indicator that the labor market will continue to weaken. A positive in this report was the bounce back up in the length of the workweek to 34.4 hours, as well as an increase in average hourly earnings to 2.6% on a year-over-year basis. This reversed last month's decline.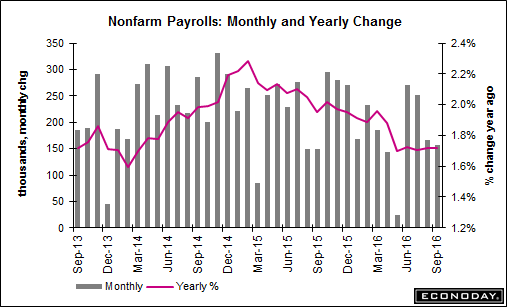 A positive in this report was the bounce back up in the length of the workweek to 34.4 hours, as well as an increase in average hourly earnings to 2.6% on a year-over-year basis. This reversed last month's decline, but we need to see how September's inflation report impacts this change in income in real terms. We focus on income in real terms, because the rate of economic growth is reported in real terms, as is consumer spending. Real income is our key leading indicator for real consumer spending growth. We will update real income when we receive the Consumer Price Index update for September on October 18. We need to see earnings growth outpace the rising rate of inflation in order to see a reacceleration in the rate of economic growth.
Conclusion
The green shoots in last week's reports include the increase in durable goods orders over the past three months, indicating a modest upturn in capital spending as we begin the fourth quarter. Additionally, we will be watching the upcoming service sector surveys of purchasing managers for confirmation that the strength seen in September's ISM report was not an outlier. Lastly, the promising year-over-year increase in average hourly earnings needs to keep pace with the overall rate of inflation, which is accelerating at a commensurate pace. We see no reason to change our forecast for a 1% rate of economic growth in 2016 at this juncture.
Disclosure: I/we have no positions in any stocks mentioned, and no plans to initiate any positions within the next 72 hours.
I wrote this article myself, and it expresses my own opinions. I am not receiving compensation for it (other than from Seeking Alpha). I have no business relationship with any company whose stock is mentioned in this article.
Additional disclosure: Lawrence Fuller is the Managing Director of Fuller Asset Management, a Registered Investment Adviser. This post is for informational purposes only. There are risks involved with investing including loss of principal. Lawrence Fuller makes no explicit or implicit guarantee with respect to performance or the outcome of any investment or projections made by him or Fuller Asset Management. There is no guarantee that the goals of the strategies discussed by will be met. Information or opinions expressed may change without notice, and should not be considered recommendations to buy or sell any particular security.