During a year that has been a rollercoaster ride for the S&P-500 (NYSEARCA:SPY), Apple (NASDAQ:AAPL) has fared no different. The stock started the year by plummeting over 12% in a month, and has spent the majority of the year stuck in a range between $90.00 and $110.00. Despite technology (NYSEARCA:XLK) being the 2nd strongest sector to date, Apple for the most part has not participated. Fortunately for investors in Apple, this lackluster performance could be about to change. The stock has recently made new 52-week highs, and continues to hold above its highs of the year. I believe the tide is turning for Apple and those holding shares will be rewarded in a big way over the coming year. The stock still has lots of room to move higher on a fundamental basis, as it trades at a P/E ratio which is below its 5-year average.
I employ a momentum investing approach to trading and am constantly looking for stocks that are making new highs. New highs are a very bullish omen to me, and a sign that more highs will likely follow. As Paul Tudor Jones once said:
"If there is a sudden range expansion in a market that is trading narrowly, human nature is to try and fade that price move. When you get a range expansion, the market is sending you a very loud, clear signal that the market is getting ready to move in the direction of that expansion".
In the case of Apple, the stock has clearly made a range expansion to the upside. After being locked in a 20% range between $90 and $110, the stock exploded out of that range on September 14th and has not looked back since. Despite this very bullish technical breakout, one blogger believes Apple to be looking tired and toppy. The writer suggests that Apple is overbought at these levels, in addition to being "overloved". It is news to me that a stock that is up 8% for the year and barely outperforming the S&P-500's annual return is "overloved", but the writer seems to be secure in his assessment. I could not disagree more with the writer's analysis and believe he is playing a very dangerous game betting against Apple. Not only is he betting against Apple while it trades above its 40-week moving average, he is also betting against it after it just recently made new 52-week highs.
Apple Vs. Its 40-Week Moving Average
Over the past 9 years, investors in Apple would have been wise to take cues from the stock's 40-week moving average. While buy and hold investors have seen an over 400% gain in their Apple investment since 2008, those trading a 40-week moving average strategy would have nearly doubled this performance. Over the past 9 years, there were 5 closed traders and one open trade based on a 40-week moving average strategy. Long positions would be taken if Apple closed above its 40-week moving average after closed the previous week below it. The long position would be entered at the open of the following week using a market order. Long positions would only be exited if the stock closed the week beneath its 40-week moving average. Similar to entries, long positions would be sold using a market order on the first trading day of the following week.
Looking at trades based on this system, investors would have seen an 80% win ratio with 4 winning trades, and 1 losing trade. The average winning trade would have an average gain of over 78%, while the average losing trade saw a loss of 3.21%. Below is a look at the 40-week moving average strategy in use and what the trades would have looked like.

Source: Microsoft Excel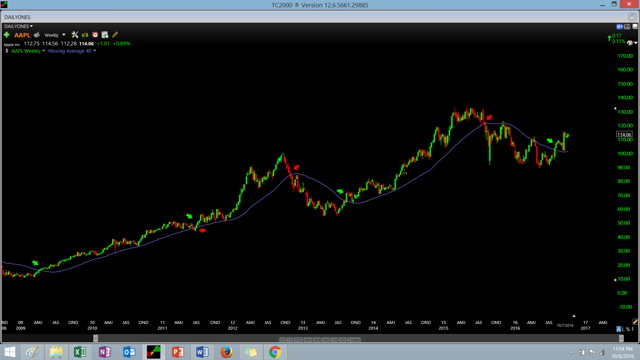 Source: Freestockcharts.com
The green arrows in the above chart so the entries to long positions, while the red arrows on the chart show the exits. As you can see from the chart, Apple's relationship with its 40-week moving average gives clues to future performance. If Apple is above its 40-week moving average, you will likely do very well long the stock. If Apple is below its 40-week moving average, it would make most sense to sit on cash until it regains this level and provides a new long entry.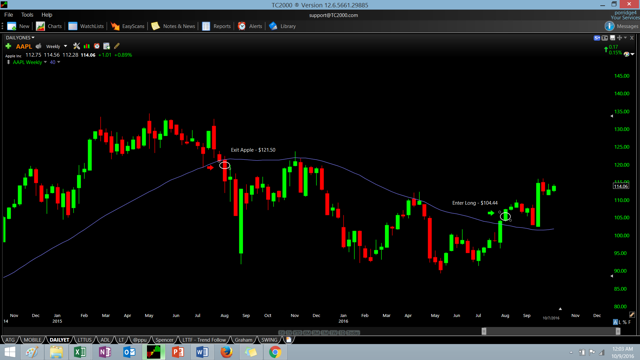 As you can see during this year, one could have avoided the drawdowns and rollercoaster this year by using this same approach. An investor paying attention to the 40-week moving average would have sold Apple last year at $121.50 and locked in nice gains, and sat in cash during the 20% drawdown over the ensuing 9 months. On July 29th Apple closed the week above its 40-week moving average, and investors would enter Apple long on August 1st at $104.44. The trade is since up nearly 10% from its entry, and the stop is nearly break-even on the trade.
This article is not intended to show a more relevant way to trade Apple stock vs. a simple buy and hold approach. I have chosen to show this data as the 40-week moving average is a very key level for Apple, and has been for the past 9 years. The fact that Apple has closed above its 40-week moving average with conviction for the first time in over a year is a very positive sign. I believe a new trend has begun in Apple, and expect the trend to continue throughout 2017. For this trend to be negated, Apple stock would have to close below the 40-week moving average at $101.94.
Apple Trading At P/E Ratio Below Its 5-Year Average
Despite a 20% rally off the lows, Apple is still trading at a P/E ratio below its 5 year average. The stock's current trailing twelve month P/E ratio is 13.31, compared to a 5 year average P/E ratio of 13.43. The stock's P/E ratio has traded in a range between 9 and 18 for the past 5 years, and still has lots of room to move higher on a fundamental basis. If the stock were to back to the top of the range at a P/E ratio of 18.5, the stock would sport a share price of over $158.00. I believe Apple to be undervalued on a fundamental basis, and poised for much higher prices from a technical standpoint. The current P/E ratio is in a sweet spot for to support a powerful technical move without the fundamentals getting ahead of themselves. I would not be surprised to see Apple trading at over $140 per share in 2017.
Technical Outlook & Summary
It is hard to find anything bearish about Apple when taking a look a chart of the stock. From a weekly standpoint the stock is back above the all-important 40-week moving average, and has made new weekly closing highs for the year. The stock made two attempts to break out of its downtrend earlier this year, but failed on both which sent the stock to new 52-week lows. The current breakout is clearly not a fake-out as the stock has broken above the downtrend line with conviction. In addition to breaking above the downtrend line, Apple back-tested the downtrend after the product launch correction. This backtest was met with a barrage of buyers and the stock closed the next week up over 11%.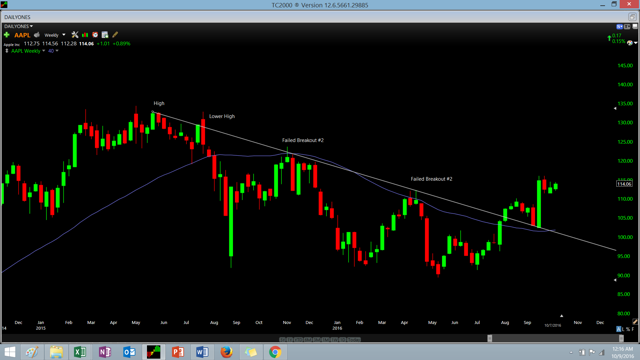 Zooming into a daily chart, the stock is also looking very bullish. The 200-day moving average has begun to turn positive, which tells us a new bull market is likely beginning. The 200-day moving average is my line in the sand for bull and bear markets, and I will enter new long positions above this level. As we can see the 200-day moving average acted as a ceiling for the stock over the past year, and is now acting as clear support. Often when a resistance level is broken on a stock, this resistance level transforms into support. This is exactly what we've seen on Apple stock as the 200-day moving average slopes higher and acted as perfect support during the September correction.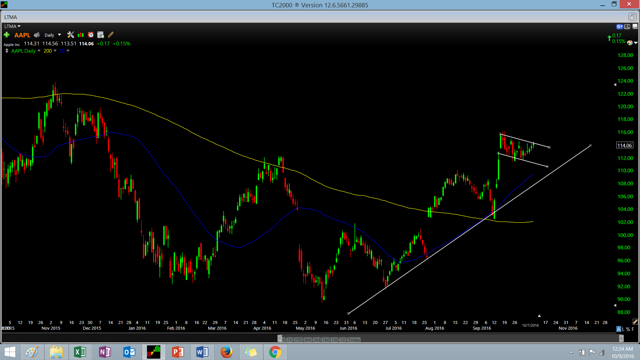 We can very clearly see the uptrend developing on Apple as the stock continues to make progressively higher lows and higher highs. The stock currently sits in a flag pattern, and I believe a break out to the upside of this flag is imminent. Finally, we can see a golden cross on the Apple chart as the 50-day moving average crosses up through the 200-day moving average. This is also a positive sign as it shows that the stock's moving averages are trending higher and attempting to support a new bull market in Apple shares.
If we do see a correction in Apple stock, I believe investors should look to buy the dip. The most logical place to do so would be the gap fill area which comes in at the $106 level. While gaps are not always filled on charts, gaps to the upside tend to see support if price comes back to test the level and fill it. I would expect to see Apple find bidders at this level as it is the gap fill area, and the logical place for Apple to make a higher low.
What if I am wrong? The 40-week moving average provides a clear stop level for the stock, and it currently sits at $101.95. Any close for the week below $101.95 would invalidate my thesis on Apple stock temporarily. I personally do not think we see a close below this level and expect this young bull market to continue into next year. I purchased Apple stock at $111.70 on the day of the gap-up, and continue to hold it with a stop at the $101.00 level. Any close below $101.00 would have me exiting the stock, and this represents a risk of roughly 10% on my trade. I am currently long Apple with 10% of my portfolio, therefore this 10% risk represents a total portfolio risk of approximately 1%.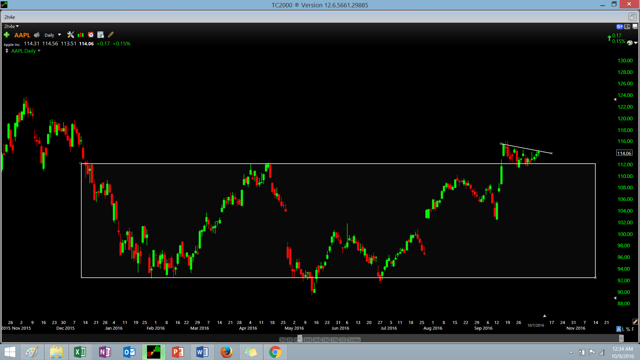 I am not interested in trying to guess the next 3-4% move for the stock, but am more interested in the next 10-15% move. Being a trend follower I am used to seeing slight drawdowns and have no interest in predicting tick for tick what Apple will do going forward. My investment strategy buys new 3-month highs and Apple has given a very clear signal based on my strategy that it wants to go higher. Given Apple's fairly priced P/E ratio and the current technical setup, I believe Apple is an exceptional long opportunity at current prices. The stock has broken out of its range for the year and is building a tight bull flag above past resistance. This shows commitment to the new trading level, and is likely a positive omen of what is to come in the future. Apple is my top pick for 2017 and I expect the stock to lead the rest of its tech counterparts going forward.
Disclosure: I am/we are long AAPL.
I wrote this article myself, and it expresses my own opinions. I am not receiving compensation for it (other than from Seeking Alpha). I have no business relationship with any company whose stock is mentioned in this article.
Additional disclosure: If you liked this article and found it useful, please feel free to follow me by clicking on my name next to my avatar at the top of this article. I also invite you to check my performance at TipRanks.com where I am ranked in the Top 100 Contributors for performance with an average return this year of 60% on new long positions.