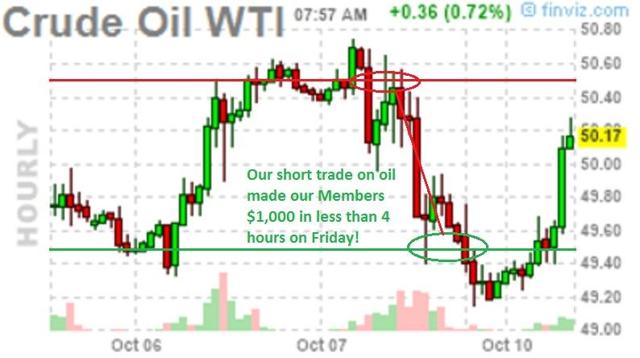 We had a great weekend, how was yours?
There's nothing like making $1,000 per contract trading Futures to get a weekend off to a good start so forgive us if we're still in vacation mode. As you can see on the chart, the trade we went over Friday morning, in the morning post, made a very quick $1,000 on each short contract and went on to add another $300 after hours for those who stuck with it.
We also called for shorts on the Indexes, saying:
The initial move by the market was a quick pop but it's a shortable pop at Dow 18,200 (/YM), S&P 2,155 (/ES), Nasdaq 4,875 (/NQ), Russell 1,250 (/TF) and Nikkei 16,900 (/NKD) which are the same lines we've been shorting all week because this is the kind of bad news that really is bad news as our economy is stalling while the Fed has their foot firmly on the gas and they've already warned us they are going to have to hit the brakes because the road (and yields) are about to curve ahead.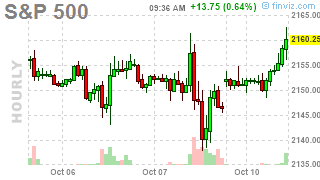 The Dow fell to 18,100 for gains of $500 per contract, the S&P hit 2,140 for gains of $750 per contract, the Nasdaq hit 4,840 for gains of $700 per contract, the Russell hit 1,230 for gains of $2,000 per contract and the Nikkei dropped to 16,800 for gains of $500 per contract and that is why we LOVE playing the Russell - so much more exciting!
All told, the 6 Futures trades we specified FOR FREE in last Friday's morning post, if you played just one contract each, made $5,450 and THAT is how we get our weekend off to a good start. As I'm sure you've noticed, both oil and the indexes are in the process of resetting themselves this morning and we are salivating over the chance to dive in and short them again because nothing has changed over the weekend - the market manipulators are just taking advantage of the slow Columbus Day trading - a bank holiday in the US.
Speaking of manipulation, OPEC is meeting in Instanbul this morning and is again announcing they intend to talk about cutting production at the end of November and again the bulls rush in and buy oil up to the $53 line on Brent (/BZ), which is $51 on US Oil (/CL). So welcome counterparties - we are so happy you came back with more long money for us to take!
Trading really is not that hard folks, it's a discipline where we establish fundamental levels through careful analysis of the markets and then we PATIENTLY (hardest thing to teach) for conditions to line up that gives us an opportunity to trade when other traders are getting the fundamentals wrong. Or, as Warren Buffet so aptly summarizes: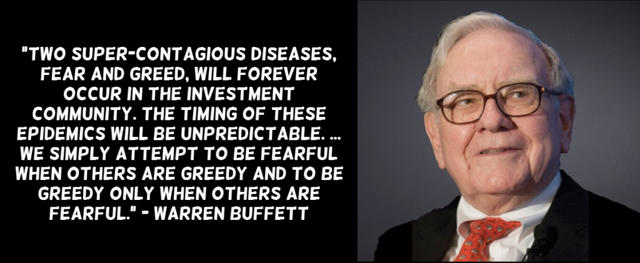 Saudi Arabia's Energy Minister, Khalid Al-Falih, is shaking his money-maker for the oil bulls this morning, saying he is, "optimistic" about reaching a deal by the end of November. "It is not unthinkable that we could see $60 by year-end," Al-Falih said at the World Energy Congress in Istanbul. Obviously, "optimistic" and "realistic" are two very, very different things!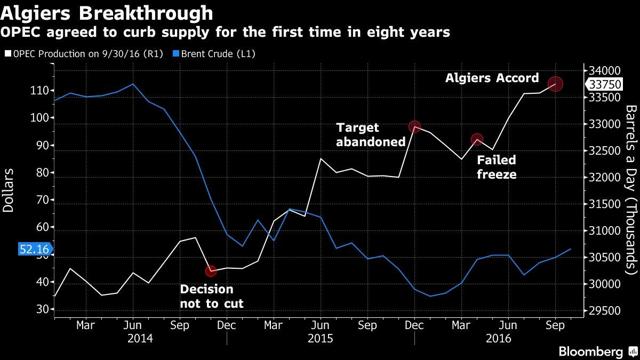 To be realistic about oil, let's consider what they are PROPOSING as a cap: 32.5 to 33 MILLION barrels per day of OPEC output. While that would be about a Million barrels per day less than they are currently producing - it would still be 2.5 Million (8%) barrels MORE than they were producing in 2014, when oil first crashed below $60.
This is where those nasty Fundamentals tend to kick in because global consumption of oil has been relatively flat and OPEC "only" controls 1/3 of the production and, even if Russia agrees to go along with them, it's hard to stop everyone from producing more oil.
That does not, however, stop people from trying. The US has an unofficial energy cartel and Harold Hamm, who is Donald Trump's Energy Advisor (and supposedly his future Energy Secretary and a hardcore supporter of destroying the environment) and CEO of Continental Resources, a company that sponsors Trump, has openly urged OPEC to freeze their output and OPEC has said they expect cooperation from the other energy producers. Hamm lost $9 BILLION (out of $20Bn) as oil fell from over $100 to under $50 so we can certainly trust him to make oil (prices) great(er) again if we give him a chance.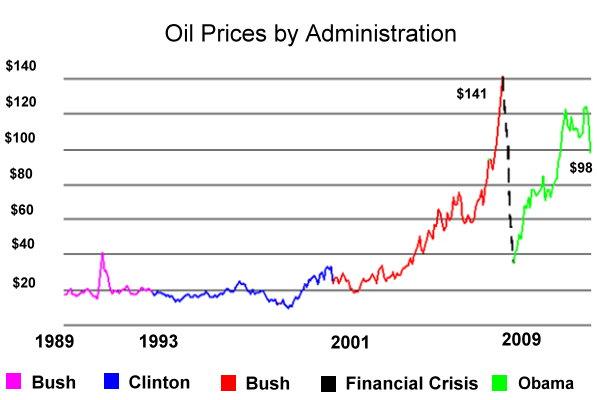 So do keep that in mind as an investing premise, the closer Donald Trump and Harold Hamm get to the White House, the more likely it is that we'll see $100 oil again in the very near future and that's almost a double from here. With a Trump victory, we can go long on the Oil ETF (NYSEARCA:USO) at $11.50 and target $22 and with Oil Futures (/CL) we can just keep on buying those longs because a $50 move up in oil would be $50,000 PER CONTRACT so just 20,000 contracts and we can join Mr. Hamm on the Forbes Billionaire list!
This is the really great thing about voting for corruption - you can clearly see what your vote is going to buy you! We knew what we were going to get when we made Bush II President - he was an oil executive, his VP was the CEO of Haliburton and look what they were able to accomplish in just their first 4 years in office - getting oil prices up from $20 per barrel to $60 and then, on re-election - to infinity and beyond at $140 per barrel - now THAT is the kind of politics you can bet on!
Of course, if you really want to get demand going - nothing beats a good war. Our troops in Iraq and Afghanistan were consuming 1.5M barrels of oil per day at the height of the war. Hillary refuses to put troops on the ground in Syria, or even Iraq, where war disrupted Millions of barrels of daily production by Saudi Arabia's rivals but all options are on the table with President Trump (wink, wink).

A return to the good old days is just what America needs to feel great again, right? As Trump noted in last Night's debate - Hillary's had her chance to prove she can destabilize energy prices and the Clinton's even had their chance in Iraq - and they won that war quickly and efficiently and left right away, squandering our chance at a lasting quagmire until Bush II came along and did it right. Do we want to return to the policies of failure to escalate tensions? Why build coalitions when we have all these perfectly good nukes ready to fly?
Speaking of the policies of failure: We have 6 Fed speakers this week and it's dove, DOVE, hawk, hawk, hawk, dove. Notice Yellen has been demoted from DOVE to dove due to her insistence that they will be raising rates this year. Fortunately, no one believes her. After all, what does she know about Fed policy compared to media pundits? Rosengren was a huge DOVE but went hawkish recently.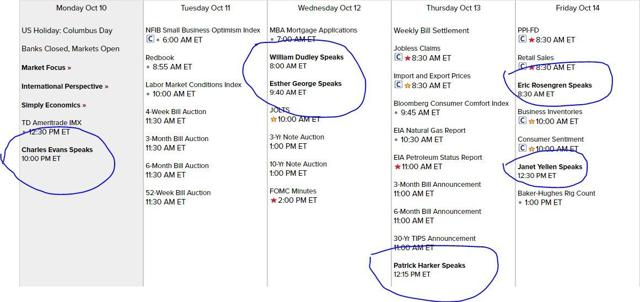 So a bit of an attempt to boost us up today at 10 but then, of course, a reliable hawk (George) gets the floor right before the 10-year note auction so she can panic people back into bonds so, the best way to play the market this week is likely to be shorting Wednesday's open ahead of George.
Meanwhile, it's going to be a meaningless Monday with very low volume so a good day to take the indexes higher and we'll be waiting for clear signals before diving in short again on the indexes as well as on oil. Hopefully, we'll see 18,350, 2,165, 4,900, 1,255 and 17,000 before they cross back under - that would be exciting!
Be careful out there.
Disclosure: I am/we are short USO, SPY, QQQ, DIA, IWM, NFLX, TSLA, AMZN.
I wrote this article myself, and it expresses my own opinions. I am not receiving compensation for it. I have no business relationship with any company whose stock is mentioned in this article.
Additional disclosure: ositions as indicated but subject to RAPIDLY change (currently mainly cash and an otherwise bearish mix of long and short positions - see previous posts for other trade ideas). Positions mentioned here have been previously discussed at www.Philstockworld.com - a Membership site teaching winning stock, options & futures trading, portfolio management skills and income-producing strategies to investors like you.