Introduction
This article sets an ambitious goal for itself of explaining GE's emerging skeletal modus operandi and its path towards reliable future growth to new heights of corporate achievement.
GE is an extremely promotional operation. It is also an organization of extraordinary scale. As a huge, highly promotional entity, its website tends towards excess, as do its corporate pronouncements. This promotional excess makes it challenging to sift the wheat from the chaff, or if you are truly cynical, to determine if there is much wheat on offer.
My evaluation is that the underlying enterprise is sound and offers one of today's most compelling investments. It offers the solidity of an industrial blue chip suffused with elements having the growth potential of a high tech start-up. One must never lose sight of the fact that these very growthy elements are intertwined with the solid mass of GE's industrial core.
GE currently has 7 principal industrial divisions earning quarterly revenues ~$25 billion per quarter.
GE has seven principal industrial divisions. It is easy to parse this much out of GE's website. However its web site offers no easy second level of understanding as to the particular specialties of these seven. One has to tour the individual division website pages to assemble the information listed in the square bracketed parentheticals below:
These seven divisions are GE's principal industrial divisions. They do not exhaust the extent of GE's girth as I will explore below.
GE simplified itself by offloading its finance businesses, nonetheless the remaining industrial powerhouse presents its own challenges and opportunities for the investor.
Slide 5 (below) from GE's Q2, 2016 Earning Slide Deck shows how each of these divisions fares from a revenue perspective.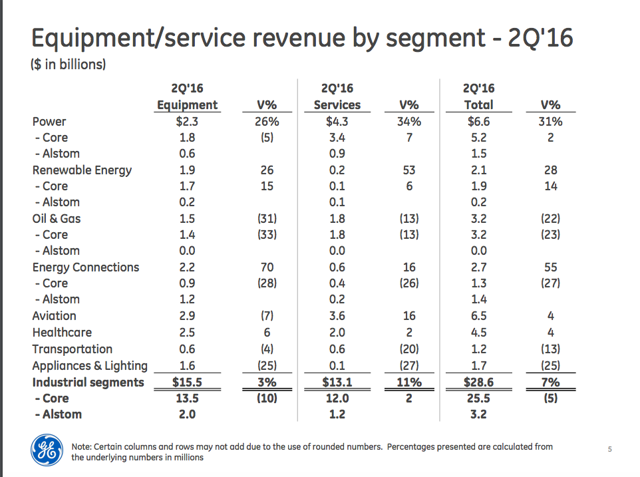 There are several wrinkles between my simple list of seven GE divisions and the revenue breakdown that appears on Slide 5.
The most notable has to do with the breakout of the of the four energy related divisions into two rows, "Core" and "Alstom". GE's acquisition of substantial chunks of the French energy powerhouse Alstom, which closed on 11/2/2015, has been a momentous one for GE from several standpoints.
The acquisition has significant direct impact on three of GE's core energy related divisions (power, renewable energy and energy connections). The deal has been exceptionally controversial and shareholders are rightfully concerned as to whether or not it will present ongoing drains to GE's operations.
Management is painfully aware of these concerns and has made significant efforts to allay them. One of management's techniques in this latter regard has been to communicate with shareholders exactly how Alstom contributes to the greater GE enterprise. Slide 5 does that by showing the divisions whose revenues include significant boosts from the Alstom acquisition.
Perhaps of equal importance, Slide 5 shows that the Alstom acquisition did not grow the Oil and Gas division. Management's seemingly inopportune acquisitions in this space have severely damaged management's credibility with a sector of its investment base. Slide 5 helps to insulate the Alstom acquisition from that controversy.
Another obvious wrinkle is that Slide 5 lists an eighth division, "Appliances and Lighting".
I address this eighth division separately for two reasons. It does not deal primarily in industrial products as do the other divisions. Secondly, this division is in great flux. On June 2, 2016, GE closed on the sale of its appliance assets to Haier. The remaining lighting assets present interesting opportunities. GE treats lighting in two categories, consumer and professional which it labels, "Current, powered by GE".
Current, powered by GE occupies a dynamic entrepreneurial space. It has large ambitions. GE launched Current as a startup in late 2015. Its initial goals are that Current constitute:
... a first-of-its kind energy company that integrates GE's LED, Solar, Energy Storage and Electric Vehicle businesses with its industrial strength Predix platform to identify and deliver the most cost effective, efficient energy solutions required by customers today and in the future. Maryrose Sylvester, who as President and CEO at GE Lighting has led the transformation of one of the company's most iconic businesses, will lead the new enterprise. Current is backed by GE's balance sheet and financing expertise, and committed to successfully advancing ecomagination-certified technology solutions, new business models and Predix solutions for the energy sector.
It is an open question as to whether or not GE will sell the consumer bit of its lighting business. By my thinking it should be a closed question. Current by GE is a dynamic enterprise that fits closely with GE's recent transformation. Consumer lighting is a commoditized business which fits GE's past. My view of the consumer lighting side...GET-RID-OF-IT, the sooner the better.
Yet another point of comment on Slide 5 relates to its 6 separate columns. These break out the equipment manufacturing component of GE's divisions from the servicing component. Interestingly, core GE has aggregate revenues of $13.5 billion from equipment, nearly matched by services revenue of $12 billion. Thus, services makes up slightly more than 47% of GE's overall core earnings.
Alstom's ratio of equipment to services revenue is a much more paltry ratio of 2/1.2. Alstom's ratio of services revenue to revenue from equipment sales is 37.5%. Assuming that services generally produce greater profit margins than do equipment sales, as I do, I expect over time GE will work to increase Alstom's percentage of services revenue. GE's IoT initiatives should help in this regard.
GE's V% column provides useful information under a cryptic heading.
The division between the service and the product sales columns does not fully exhaust the extra columns on Slide 5. Slide 5 also includes 3 columns with the heading "V%". It is not immediately obvious to what this refers. GE has disposed of the bulk of its GE Capital division. However it has retained those sections of it which help it to operate its industrial divisions.
CEO Immelt explained the thinking behind the sale of the bulk of GE Capital and the retention of the bits used directly by its industrial companies as follows:
We are also confident that creating a simpler GE will position us to deliver superior outcomes around our core capabilities. Every GE business - including the Capital aviation, healthcare and energy "vertical" financing businesses - will be part of the "GE Store" of technology, process tools and cultural strength. As we build the next industrial era, customer focus is more important than ever.
Initially I considered that the V% column reported the contribution that the retained financing vertical contributed to each of the represented operating industrial segments. This jives with the fact that none of the Alstom entries have any entries in the "V%" column insofar as Alstom would not have had any special access to GE Capital.
The foregoing is neat and tidy, however it does not work with the actual figures in the various "V%" columns. It seems unlikely that double digit increases represent GE's financing verticals. It is particularly true when the double digit percentage represents a negative amount as is true of nearly half the entries.
Long story short, this cryptically headed column provides a useful statement of the percentage of change for the relevant rows. GE's Q2, 2016 10Q uses this heading in a context which makes it easier to parse than does Slide 11. The 10Q sets out values beneath the V% heading which represent the percentage of change the entries on the proceeding 2 rows over time, as shown on the excerpt from p. 14 of GE's Q2, 2016 10Q below:

Using this as the measure it is apparent that V% represents the percentage by which particular division results changed for the relevant period. For the 10Q it is quarterly. Insofar as the V% figures in Slide 11 for the various divisions equal those on the 10Q, slide 11 must also be quarterly change percentage.
That being said the V% column provides a quick rundown of how particular divisions fared. It allows one to quickly see that three of GE's core divisions (oil and gas, energy connections and transportation) showed material quarterly downtrends. It also shows that Alstom picked up GE's overall energy connections total.
GE's 3 biggest divisions, Energy, Aviation and Healthcare all showed quarterly increases, albeit Aviation and Healthcare only by 4%.
As between Equipment and Services revenue, the V% for core GE was higher for services except in the case of Healthcare and Transportation.
Slide 13 offers a look at how GE's operating profits fared on a divisional basis.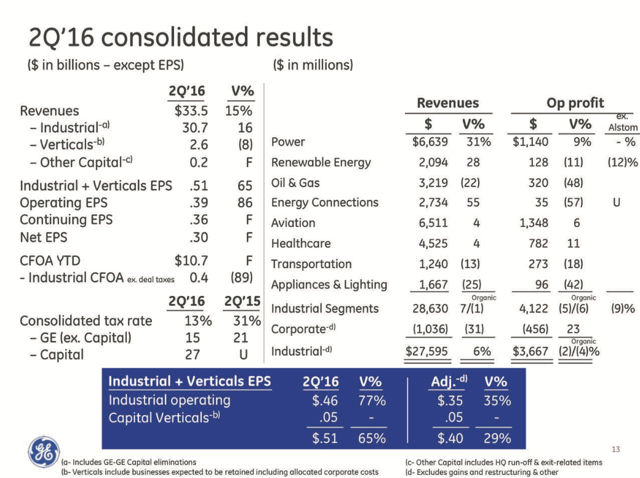 Power, Healthcare and Aviation continue to show positive variations; all other divisions show negative operating profit variations for the quarter.
Evolving GE is mixing and matching nascent strategies such as IoT, 3D Manufacturing, GE Store and Current by GE to turbocharge profits.
GE has grossed ~$200 million as it has spun off its mighty finance empire. It has also given up a huge profit driver. Its industrial businesses are an impressive group, but can they generate steady growth of the type GE boasted in its heyday? The jury is still out on that score.
If it just ran these 7+ industrial businesses as a plain vanilla industrial conglomerate, I expect the results would be hit or miss. The sun would shine when tailwinds from a vibrant world economy exceeded whatever inevitable aggregate tailwinds were nagging at particular divisions. Certainly Honeywell's recent downbeat forecast shows the perils of operating in the industrial space.
The net result would be a GE with a stock trajectory more reminiscent of the Immelt era, than of the Welch era...in other words an unacceptable trajectory. GE is bending every effort to assure that it transcends such a fate for the remaining balance of Immelt's chairmanship.
In particular, GE has formed a cocoon of interrelated strategies to move it to the very forefront of industrial companies. These interrelated strategies include one it has dubbed the GE Store. The GE Store is the crossroads where all GE's huge reservoir of competencies and initiatives make themselves available. GE describes it as:
The GE Store is our name for the company's competitive advantage. There is no other company that has the ability to transfer intellect and technology across industries and around the world as GE can, from advanced technology, materials, software, and analytics to commercialization, process, and business model best practices. The GE Store allows GE to leapfrog industries, to drive innovation, performance and outcomes regardless of business and geography. This value is captured by faster growth at higher margins; it makes the totality of GE more competitive and it affords our employees the opportunity to power the next generation of industry.
Another GE coined label includes Current, powered by GE as discussed earlier in connection with GE's Lighting and Appliances division. GE's other key strategies for bolstering its core industrial earnings include GE's IoT and 3D manufacturing initiatives as discussed in previous articles, re IoT here and here and 3D manufacturing here.
GE's inevitable ascent to $60 per share and beyond will take more than a year.
GE bulls were hoping that the promised land was nigh when they read the title to a recent SA article, "How General Electric Company Could Hit $60 A Share Within A Year". Certainly the very prospect cheered me mightily. With high hope I read the article carefully, but I fear the title is overly optimistic by some good measure. By my reckoning, it is absolutely correct as to GE's trajectory, the timing, not so much.
There are few who can lay claim to more bullish sentiments for GE than yours truly; yet I have to disavow this notion of any rapid runup in the offing for GE stock. Please, no one get any such notion in your catalog of possibilities. I am pleased to note that as I was working on this article, another SA article downplayed the notion of GE doing a quick 2fer.
GE is a mighty vessel. It is making all the correct moves to assure that it steams towards reliable growth, not least of all growth in its stock price. Its stock price is currently resting after an emphatic upward climb following its announcement of its dramatic restructuring now nearly complete.
GE's restructuring was essential. It was dramatic, well conceived and it is in the end stages of the process of being well-executed.
So, if the more sanguine among us agree that GE is not going to double in a year, that leaves open the question, when will it double?
That is a question that will have to, as lawyers are wont to say, "abide the event". GE's path to a prosperous future relies upon successful implementation of its strategies set out above which I have characterized as its nascent strategies. None of these strategies individually or in the aggregate is likely to hit pay dirt in any period of less than several years.
Conclusion
The world is in a parlous state. America's political fortunes are in great flux. Globalism is under attack near and far. GE has several hundreds of thousands of employees with operations in more than 100 countries. It is the very epitome of a global company. As such it is likely to face ongoing challenges, at home and abroad.
Pity the company that dares to rely exclusively upon traditional techniques to navigate this environment, particularly a company of GE's massive scale.
Yet scale is not all negative. GE's scale also presents special advantages. GE has resources. With proper strategies, vision and execution, the resource aspect of GE's great scale can outweigh its tendency towards inertia.
GE has a unique suite of assets that give its initiatives credibility. These assets include ample liquidity, management and engineering resources, reputation, customers, manufacturing operations and service contracts. In combination, these assets allow GE to energize its earnings growth in new and unexpected ways.
Those who like the story will accumulate GE on weakness. Those who regard it as rubbish will sell GE on strength. I am emphatically of the first camp.
Disclosure: I am/we are long GE.
I wrote this article myself, and it expresses my own opinions. I am not receiving compensation for it (other than from Seeking Alpha). I have no business relationship with any company whose stock is mentioned in this article.