Dana Incorporated (NYSE:DAN) has had a monster of a three-month run, with shares up more than 40% over that time. Sentiment has shifted, with continued historically strong light vehicle sales and what appears to be a turnaround in commercial/off-highway vehicle sales. Shareholders have likely celebrated the run, but many are likely still under water.
Unfortunately, in the grand context of the company's story after emerging from bankruptcy in 2008, it is just a small upward blip in an otherwise poor story of shareholder return when compared against peers and the broader markets. It has been clear that the company has been outclassed when it comes to total return by more specialized parts manufacturers, and that might be a situation that persists due to the parts it makes and what I feel to be a lack of a true competitive advantage.
The Weakness Of The Dana Business
Dana Incorporated is primarily a manufacturer of driveshafts and axles, competing with other manufacturers such as American Axle (NYSE:AXL) in its light vehicle segment and Meritor (NYSE:MTOR) in commercial vehicles. Driveshafts and axles are relatively simple products to make; call around your local area and you'll find that there are plenty of machine shops that could build these products to your specifications. While there are obvious differences between a local machine shop product and getting a part approved for use as a component on major OE manufacturers like Ford (NYSE:F) and Chevrolet (NYSE:GM), at the end of the day, we're dealing with relatively simple products.
By comparison, you'll have a much harder time (and will spend a significant amount of money), finding someone to make you more complicated one-off automotive products, such as transmissions or differentials. On the whole, manufacturers like Dana in what could be commoditized parts instead rely on economies of scale, both in mass-scale production and commodity-sourcing power, to drive profitability rather than by producing truly unique or innovative products in my opinion.
The market will always be tough. Dana is primarily selling to OE manufacturers who both have the capital and demand to produce in-house if they wanted to, and it will always compete with other large manufacturers who have decided on a similar business model. These factors will always be a looming shadow over the margins that Dana will be able to generate, and that shows in the earnings profile of the business today. It isn't a surprise that more specialized manufacturers like Alison Transmissions (NYSE:ALSN), Cummins (NYSE:CMI), and BorgWarner (NYSE:BWA) carry gross and operating margins well ahead of Dana (700bps or more higher for most of these names when it comes to gross margins).
This is not a new criticism of Dana, but nonetheless it is the primary reason the shares continue to trade so cheaply. New management has tried to shift discussion towards its Power Technologies business (which carries higher margins), but that business still generates less than 25% of EBITDA. This "end of the rope" situation with gross margins on key products is why investors have seen Dana focus so extensively on SG&A cuts or bolt-on M&A to expand in recent years. I think it is obvious that the core business is already well run, and the consolidated company already carries margins ahead of direct peers. It's a bit of a tough situation, and that is why Dana has been spinning its wheels for four years when it comes to revenues, margins, and EBITDA: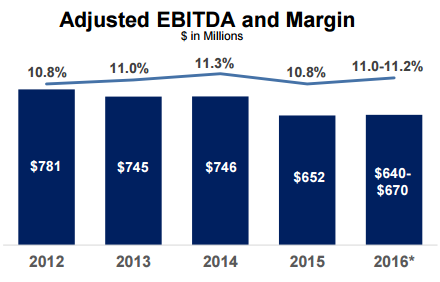 *Dana Holdings, Most Recent Conference Presentation
This runs counter to expectations. Analysts have been moving earnings estimates upwards, point towards a big turnaround in the business heading into 2017. Street consensus on earnings has moved up to $1.92/share, up 13% from the mid-point of 2016 guidance. To get there, I think the company needs a strong recovery in commercial vehicles, given likely contractions in light vehicle sales.
I've personally been harping on 2015 new auto sales being a tough comp heading into 2016, and that appears to be the case now. Once expected to be marginally up y/y, most forecasts have now shifted towards sales that are marginally down on the year. 2017 expectations will likely come down as well to flat to down, particularly given softness in used car prices that continue to make buying used extremely attractive. Any market share gains in some of the company's new business wins, particularly with what appears to be a very over-engineered Ford Super Duty, could prove fruitful, but I'd keep in mind these are very expensive trucks - one of the most expensive vehicles in the Ford lineup. If sales turn south for whatever reason, these trucks are likely one of the first to get purchases deferred.
Light vehicle margins have been stronger than commercial in recent years, so any weakness there will be tough to overcome. This is coupled with a terrible off-highway business that sees no signs of turnaround (see expectations for Deere (NYSE:DE) and Caterpillar (NYSE:CAT)), and continued flat demand within commercial. Globally, there are still region-specific issues to deal with. There is likely no reason to expect a turnaround in South America (particularly Brazil) anytime soon, and I expect foreign currency translation to continue to be a headwind. Current 2017 expectations currently seem untenable to me, and I'd expect another repeat of the $1.65-1.75/share in earnings that has been the standard for Dana for some time.
Looking Forward
Within this context, an adjusted free cash flow yield of 9% seems appropriate. That number is driven by 2016 operating cash flow guidance, excluding positive working capital improvement ($450 guidance - $30M in working capital) and $220M in maintenance capex (current capex guidance is for $320-340M in 2016 due to significant investment). While that seems like a big yield, it should be framed within the fact that this still marks one of the most expensive valuations for the company in the past four years. While the company certainly isn't troubled (the balance sheet is clean and it is solidly profitable), I think it is likely that Dana will be a victim of sentiment over the coming year. I believe expectations for earnings need to come down marginally, and I think there will be a renewed focus on the short-term outlook for the company's light vehicle business given current outlook. I don't deny that for investors with a long-term outlook the value might be there, but for investors like myself with no current position, I think it makes sense to wait it out or look for better value elsewhere in the automotive space.
For deep dive research on asymmetric risk/reward plays in the Industrial and Basic Materials sectors (particularly small and mid-caps), consider investing alongside me and other subscribers within Industrial Insights. Get cutting-edge information with proven results. Follow me (by clicking the "Follow" button at the top of this article next to my name) to receive general stock market research and commentary, especially on under-followed small/mid-caps across a wide variety of sectors and industries.
Disclosure: I/we have no positions in any stocks mentioned, and no plans to initiate any positions within the next 72 hours.
I wrote this article myself, and it expresses my own opinions. I am not receiving compensation for it (other than from Seeking Alpha). I have no business relationship with any company whose stock is mentioned in this article.