The Baltic Dry Index is a composite of the Baltic Capesize, Supramax, Panamax, and Handysize indices. It is useful in determining the cost to move materials/hard commodities by sea.
Companies with exposure to dry bulk include Diana Shipping, Inc. (NYSE:DSX), Eagle Bulk (NASDAQ:EGLE), Genco Shipping (NYSE:GNK), Golden Ocean Group Ltd. (NASDAQ:GOGL), Navios Maritime Holdings, Inc. (NYSE:NM), Navios Maritime Partners L.P. (NYSE:NMM), Scorpio Bulkers (NYSE:SALT), Safe Bulkers, Inc. (NYSE:SB), Star Bulk Carriers Corp. (NASDAQ:SBLK) and Ship Finance International Limited (NYSE:SFL).
Overview
In late August I wrote China's Changing Trade Patterns: A Benefit To Dry Bulk Once Again?. It examined the root cause behind the recent rise in the BDI (Baltic Dry Index) off the record lows set in February.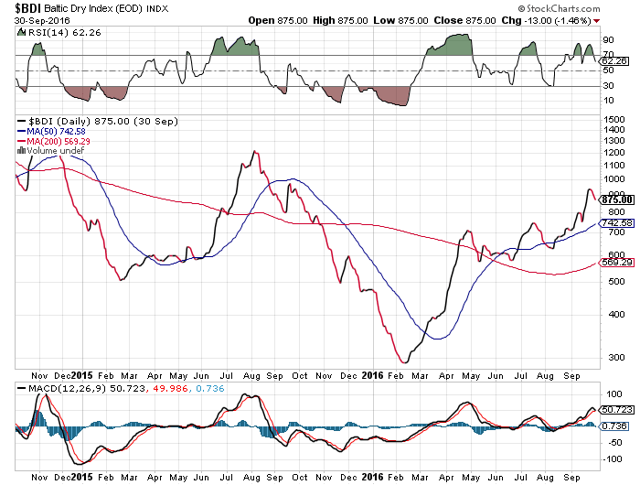 Source: stockcharts.com
If you haven't read that article I encourage you to look at that first as this update is predicated on many of the findings detailed in that piece.
For those of you that have read it you may remember I found that the recent rally was based on increasing Chinese demand for coal (both met and thermal) and iron ore. In short, the root cause for this demand surge was attributed to steel producers capitalizing on record margins which increased the demand for both iron ore and coking coal, decreasing Chinese domestic iron ore production, increasing Chinese steel exports, and finally reduced Chinese domestic coal output resulting in greater imports.
In the end I concluded that steel margins and Chinese macroeconomic policy, largely dictated by the government, would be the main factors regarding the strength and sustainability of this move.
Well, it appears those two key factors have now been called into question. First, with recent moves out of the Chinese government. Second, with high coking coal prices leading to decreased margins for steel producers which should in turn impact iron ore demand as well.
The Rise
China is responsible for around 47% of the world's coal production, the vast majority of which is consumed domestically. Following the initial mandated decrease in Chinese domestic production (see previous article), Chinese imports of Australian and Indonesian coal shot up, rising by 35% and 56% during August, year-over-year respectively.
This development was a key component in the recent BDI rise, and resulted in the Capesize segment of dry bulk shipping (the workhorse for coal and iron ore shipments into China) experiencing greater demand, which was reflected in a disproportionate share of the BDI gains. The nearly 10-fold increase in the Capesize index was the main reason behind the three-fold increase in the BDI as a whole.
But that trend is set to face some serious headwinds going forward.
Thermal Coal
The Xinhua news agency recently confirmed another shift, yet again, on the part of the Chinese Government with regard to its coal policies, specifically thermal coal.
On September 30th it was announced that China's top economic planner, The National Development and Reform Commission, said it has decided to relax a limit on the number of production days for "efficient" coal producers.
The former 276-day cap has now been increased to a maximum of 330 days. The 276-day cap, had it been followed, would have cut production by over 500 million tonnes in 2016.
Decreasing thermal coal production has had a direct correlation with prices. It is this area where Chinese planners appear to be concentrating the shift.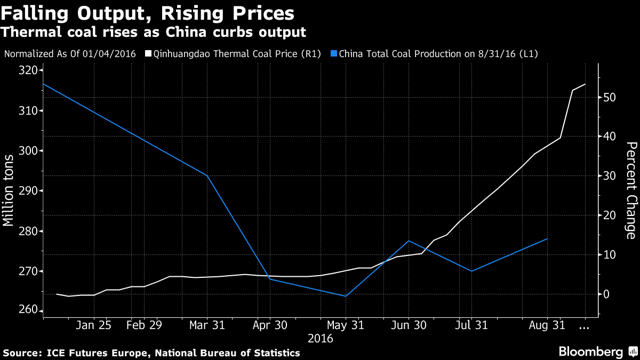 Source: Bloomberg
China's state planner has told 74 major coal mines to increase thermal coal output by another 500,000 tonnes per day, unleashing another 15-million tonnes of new supply each month onto the market, and Bloomberg reports that there has been discussion to further boost that to 1,000,000. If this move is sustained for a meaningful duration of time it would more make up for the recent cuts.
The NDRC stated that "the country's coal price will stabilize and shore up coal production."
This decisions comes after numerous analysts had cited concerns regarding the current trend of coal demand and pricing. On September 23rd, Bloomberg reported that Goldman Sachs analysts Christian Lelong and Callum Bruce reported that "we see upside risks if current policies remain unchanged going into next year and the resulting shortage overwhelms the ability of producers in Australia and the U.S. to respond."
It appears that Chinese authorities also shared these concerns which would explain the abrupt change in policy. I'm sure supply concerns played into the thinking, but price probably was the main consideration.
Met Coal And Iron Ore
China supplies approximately half of the world's steel. A recent rebound in steel prices from the lowest in more than 12 years led steel producers to capitalize on attractive margins ahead of government mandated closures of steel mill capacity. Of course, this not only led to increasing iron ore imports but also of coking coal.
A brief look at recent prices for coking coal is all one needs to understand the magnitude of this move and the subsequent concerns of Chinese authorities.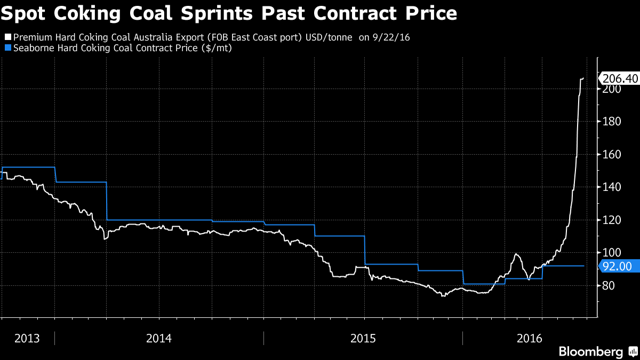 Source: Bloomberg
The 150% increase in coking coal prices since the start of the year has greatly impacted steel margins.
In May, Chinese rebar margins were estimated at $100 in May, however higher costs for the critical input have now taken a toll.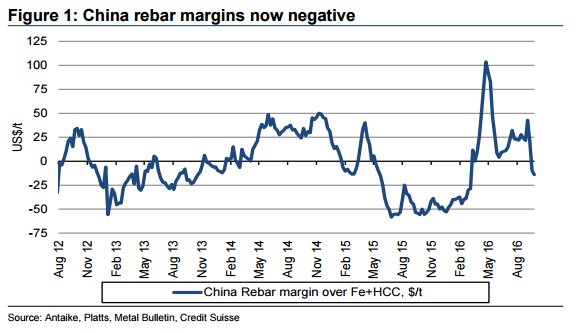 Source: Value Walk
Margins have taken a drastic hit and as a result we may see the surge in steel production begin to slow.
Metal Bulletin reports that demand for coking coal has slowed as a result. "Few fresh offers and enquiries were heard in the market, according to sources who spoke to Metal Bulletin on Monday October 3. "There are hardly any buyers with prices at such levels, and I believe many mills are likely to cut production due to coking coal being too expensive," an Indian mill source said."
Aside from the declining prospects for the Capesize market regarding imports into China as inputs for the steel market, if steel production begins to wane this could present another headwind in the form of declining exports of finished product.
Let's not forget that China has plans to curb steel capacity by about 10 percent or 150 million tons of steel in the next few years, with aims to reduce steel production by 45 million tons this year alone. As of July, China had achieved 47% of its stated annual target. This has led to declining exports of steel since hitting a high this past summer.
Conclusion
China is still the largest market for dry bulk carriers. Imports of thermal coal, met coal, and iron ore make up a substantial portion of overall demand for this segment, well over two-thirds. Steel exports had also been providing a bit of a tailwind.
As noted earlier, the recent rise in the BDI was largely confined to the Capesize segment and based on several factors: Decreasing domestic thermal coal production which led to greater imports, higher steel margins which led to increasing production and therefore increasing imports for key inputs, and finally an increased amount of steel available for export.
Now, with China reversing its stance on coal production, and with steel margins declining significantly (which would increase the likelihood of shutting them down), the main catalysts for this latest upswing in the BDI are no longer intact.
Thank you for reading and I welcome all questions/comments.
If you would like to stay up to date on my latest analysis I invite you to follow me on Seeking Alpha (click the "Follow" button next to my profile picture at the top) as I continue to cover all aspects of maritime trade.
Note: Value Investor's Edge subscribers receive a 72-hour advantage on all macro reports and trade ideas from James Catlin as well as exclusive research by J. Mintzmyer.
Disclosure: I/we have no positions in any stocks mentioned, and no plans to initiate any positions within the next 72 hours.
I wrote this article myself, and it expresses my own opinions. I am not receiving compensation for it (other than from Seeking Alpha). I have no business relationship with any company whose stock is mentioned in this article.
Editor's Note: This article covers one or more stocks trading at less than $1 per share and/or with less than a $100 million market cap. Please be aware of the risks associated with these stocks.