Starting With a Thank You
In the past few months that I've started once again writing articles on Seeking Alpha, I've been amazed at how presenting my latest ideas and detailing my buy thesis for readers has affected my thought process.
Celebrating successes with readers while remaining accountable for the occasional loser, I've found the journey to be both encouraging and exhilarating.
One thing I'm constantly reminded of is the value of the SA community, from editors' revisions to insights from other contributors, as well as feedback and constructive criticism from readers.
Why Start the Ceviche Portfolio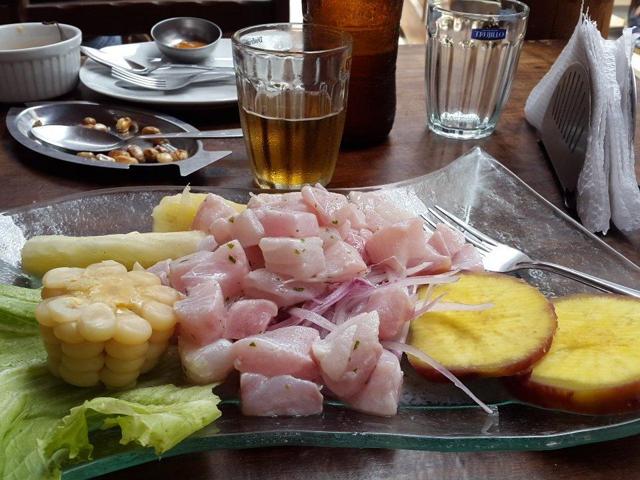 Since I started writing again in June, I've been tracking the performance of my highest conviction ideas. Readers have benefitted from some solid winners, including Zynerba Pharmaceuticals (up 80%), Stemline Therapeutics (up 46%), Retrophin (up 38%), and Apigee (bought out by Google).
However, I thought it would be interesting to construct a transparent portfolio based on my "omnivalue" strategy. Namely, I buy shares of growth and turnaround stocks that I believe are undervalued, no matter what sector they may belong to. Lately, that's been mainly biotechnology and other assorted tech stocks.
I prefer stocks with near term catalysts, but will still establish positions in companies that may require more long term patience. Also, I have a penchant for what I call "core-plus" stories, stocks where I feel the core business is worth more than the present market capitalization, and other catalysts are coming that provide multiple opportunities for shareholders to profit. Such companies offer limited downside compared to an enhanced upside potential that makes them so attractive to me.
One thing that motivates me with investing is rewarding myself after every significant win. Whether it means a few beers with the guys, a nice night out with my beautiful wife, a random roadtrip (just came back from 4 days at Zorritos Beach), it helps remind me that the numbers on my computer screen represent real money. I called the model portfolio the Ceviche Fund, because as I live in Peru one of my favorite activities is simply to go to a nice hole in the wall seafood restaurant with friends and order the best ceviche with a few Cusqueña negras (dark beer). The name itself just motivates me I guess, as the goal is to have more investing profits to enjoy.
Rules and guidelines for the portfolio include but are not limited to the following:
Minimum position size 2.5%, Maximum position size 10% of portfolio.
$100,000 cash position for portfolio start and $8 commissions included for each trade
Trades for this model portfolio will take place on the same day an article is published with the trade executed at the day's closing price (transparency)
Ideas for the model portfolio can come from any sector of the market, although lately they are consist of biotechnology companies and other random tech stocks.
Before addressing the starting buys for the portfolio, I imagine one question readers might have is why am I not more diversified. I very much respect investors who stick to 1-2% positions for each of their ideas- however, I believe many of them fail to beat the market or their chosen benchmark. In my experience if I have a high conviction for a particular company, I want to have enough skin in the game to enjoy it when I'm right. Sometimes that means suffering a decent loss, which I'm willing to accept. On the whole, the strategy has worked very well for me during the past 9 years.
Initial Buys For the Portfolio:
Novocure (NVCR)- See my most recent write up on the company. In a nutshell, I believe adoption of Optune will accelerate after recent disappointments, even if it takes time. The second generation Optune device has many advantages over the original, not to mention being much more convenient for patients. Updated NCCN guidelines, increased insurance coverage, and an increased sales force will also help. Lastly, year end data readouts for the PANOVA and INNOVATE in pancreatic and ovarian cancer are material catalysts that could add to upside. Action: Establishing a 5% position in this high conviction position.
Medgenics (MDGN)- See my most recent write up. The company recently initiated a phase 2/3 study evaluating the use of MDGN-001 in adolescent ADHD patients with +mGluR mutations. Additionally, a phase 1/2 study of MDGN-001 in children with 22q11.2 Deletion Syndrome and an exploratory study of MDGN-002 in pediatric IBD add to upside. Action: Establishing a 5% position.
Fibrogen (FGEN)- See my write up here. Roxadustat offers many benefits over conventional anemia treatments, and FG-3019 has shown very interesting data in pancreatic cancer. Upcoming catalysts include year end data from pivotal trials in China and data from FG-3019 in early 2017. Action: Establish a 5% position.
Corcept (CORT)- I should have an article appearing in the next day or two on the company. Even at 52 week highs, I believe the company is a great core plus idea where revenues from the core business in Cushing's syndrome are growing rapidly and accelerating, while upside exists in the pipeline addressing various oncology indications and fatty liver disease. Action: Establishing a 5% position.
Final Thoughts:
My favorite personal idea is Zynerba Pharmaceuticals (NASDAQ:ZYNE), for which my prior two articles were rewarding for readers and it's my single largest personal holding at the moment, yielding almost a double in just a few months. I plan on holding shares of the company for at least the next year and potentially longer, as I believe Wall Street is underestimating its prospects. However, I'm going to wait for a potential secondary offering before I establish a position for the Ceviche model portfolio, if at all.
As always, I welcome all bear thesis on my ideas, as well as constructive criticism and additional insights. That's one of the best features of being part of the Seeking Alpha community.
In the future on a weekly or bimonthly basis I plan to publish follow up articles and updates on the Ceviche Fund and its holdings, including portfolio snapshots making the model easy to follow.
I'm not a big fan of benchmarks, but I will illustrate how an investor would have faired if he or she had invested the $100k equally distributed in the Vanguard Small-Cap ETF (NYSEARCA:VB), Vanguard Information Technology ETF (NYSEARCA:VGT) and iShares Nasdaq Biotechnology Index (NASDAQ:IBB).
Thanks for reading.
Disclosure: I am/we are long ZYNE.
I wrote this article myself, and it expresses my own opinions. I am not receiving compensation for it (other than from Seeking Alpha). I have no business relationship with any company whose stock is mentioned in this article.