Compass Diversified (NYSE:CODI) owns and manages domestic middle market businesses. It acquired Tridien, a designer and manufacturer of powered and non-powered medical therapeutic support surfaces and patient positioning devices in August, 2006 for $31 million. In October of that year and in June 2007, it acquired add-on businesses for Tridien for approximately $7 million. But, it wasn't necessarily a surprise when Compass Diversified Holdings announced the divestiture of Tridien Medical on September 22, 2016.
Tridien Medical had been lagging in performance considering its tenure with Compass. For at least the past three years, Tridien represented less than 10% of total sales for Compass. In 2015, 77% of Tridien's sales were derived from three customers. Of the three, one had a contract set to expire at year-end. In January, 2015, that customer notified Tridien it would not be renewing its contract The customer represented 25% of the subsidiary's total revenue. This was the second major loss for the company in three years. In 2013, one of the three major customers lost a major contract program. Both losses resulted in goodwill impairment charges.
Tridien introduced two powered products in 2015. In the 2016 first quarter, revenue from the products helped offset the loss of the primary customer. The quarter's revenue decreased 11% year-over-year. But, the net loss was limited to just $577 thousand. In the second quarter, revenue was down 20% year-over-year. The segment did produce $47,000 in profit in the quarter. For the first half of 2016, the revenue decline was 15.6% while the loss improved over 1,300%.
Compass Diversified did not formally announce the sales price for the Tridien transaction.
"CODI does not expect to record a significant gain or loss as a result of the sale."
But, there are clues in its investor presentations. In June, Compass reported it had divested eight subsidiaries for $520 million.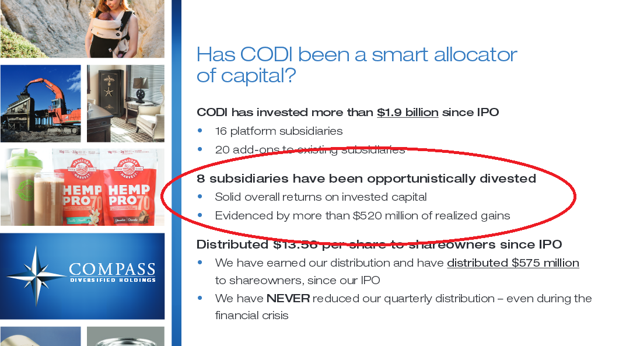 In October, it reported divestitures of nine subsidiaries for $575 million.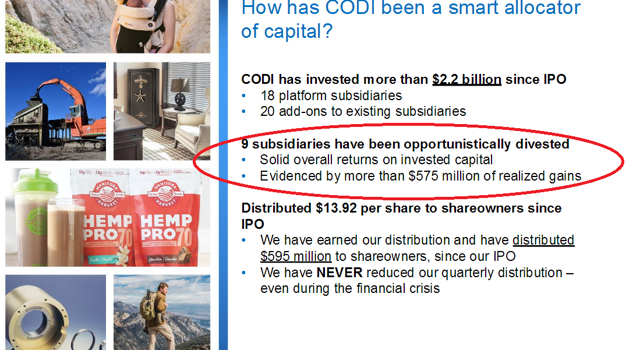 Thus, the sales price was approximately $55 million. Also, as of June 30, 2016, Tridien had an outstanding loan with Compass for $11.1 million.
Sales Price

$55 million

Less Outstanding Loan

$11.1 million

Subtotal

$43.9 million

Original Acquisition and Add-ons

$38 million

Identifiable Assets after impairment charges of

$12.9 million in 2013 and $9.1 million in 2015

$15.53 million

Adjusted EBITDA since acquisition in 2006 and through Q2 2016

$49 million
Though the gain (or possible loss) on the transaction is small, Compass will reap benefits in the long run. In two of the past six years, the segment operated at a loss due to impairment charges.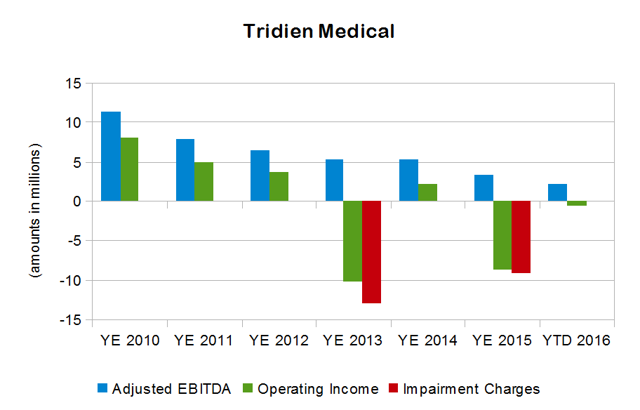 Source: Author-created from company data
Compass intends to use the proceeds to pay down outstanding debt. At the end of the second quarter, Compass Diversified had $385.8 million in long-term debt. Its long-term debt-to-equity ratio is higher than its six-year average.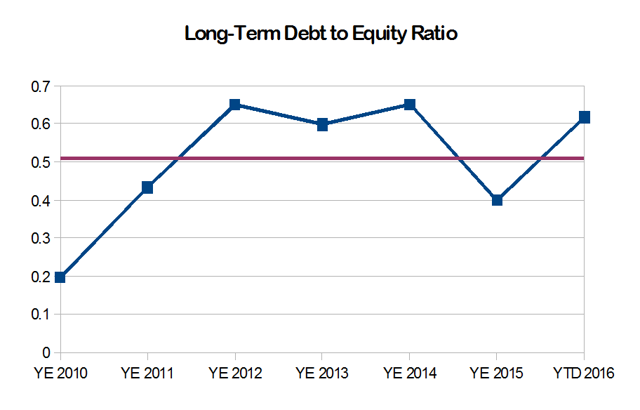 Source: Author-created from company data
Once again, this transaction solidifies Compass Diversified's ability to maintain its distribution. Since 2011, Compass has paid a quarterly distribution of $0.36 for an annual rate of $1.44. When 2016 began, there was question whether Compass would derive enough cash flow to cover its typical distribution. Despite having never reduced its distribution, the company is well aware of a perception the distribution is not sustainable.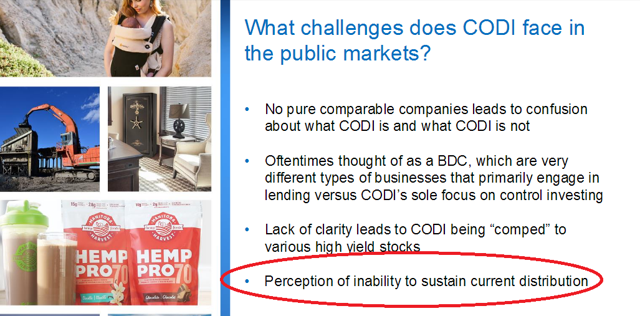 Sustainability remains a key strategy going forward.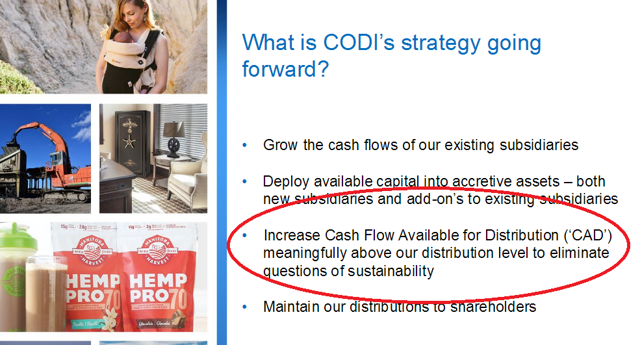 Compass management reassured on its second quarter earnings call.
"As a result of the cash flow accretive add-on acquisitions for Clean Earth and ERGObaby completed in the second quarter as well as the anticipated closing of 5.11 Tactical during the third quarter, we would anticipate that our CAD will meet or slightly exceed our distribution for the full-year 2016."
The sale of Tridien Medical should not change Compass' projection. There's no reason to even blink.
Disclosure: I am/we are long CODI.
I wrote this article myself, and it expresses my own opinions. I am not receiving compensation for it (other than from Seeking Alpha). I have no business relationship with any company whose stock is mentioned in this article.
Additional disclosure: I belong to an investment club that owns shares in CODI