As the third-quarter earnings season unofficially kicks off with results from aluminum powerhouse Alcoa (NYSE:AA) on the docket before the session begins Tuesday, many analysts are projecting that this may be the fifth straight quarter of declining earnings-and maybe the last.
Sam Stovall is among them. The chief equity strategist at CFRA Research sees the S&P 500 operating earnings-per-share estimate at $29.40, down 0.8% on a year-over-year basis from Q3 2015's at $29.64. If his projections pan out-or are worse, as some other research analysts are predicting-it will mark the longest period since 2009 that S&P 500 companies, as a collective, saw their earnings drop.
"Even though the forecast for Q3 S&P 500 EPS growth is negative, it looks to be substantially better than the nearly 7% decline experienced in the first quarter of this year, and may even turn positive when all is said and done," Stovall wrote in a research report. "Indeed, we see the projected Q3 shortfall shrinking as the quarter unfolds, as actual EPS results have outpaced initial estimates in the past 18 quarters by an average of 3.5 percentage points."
So, investors have that going for them. Maybe. FactSet's forecast is for a 2.1% EPS pullback while Thomson Reuters is looking at a 0.7% dip from the year ago results, and notes, like Stovall, that it's likely to turn to the upside for the quarter because so many companies tend to surpass Wall Street's average estimates.
At the same time, the Wall Street Journal reports, "investors have less insight than usual with regard to how the results might play out. That is because companies have been particularly tight-lipped ahead of the customary reporting period."
Only 21 companies in the S&P 500 offered guidance in September, the lowest number since 2000, according to Bank of America Merrill Lynch's calculations. Typically, about 63 companies come out in September and offer some guidance as to their quarterly results.
AA's Last Single Hurrah
Tuesday will be the last time AA turns in quarterly results as a single company before splitting off its troubled raw aluminum business from its fast-growing aerospace and automotive sector operations. The aluminum company will keep the Alcoa name while the new company will be called Arconic.
In the press release last month announcing the split, the company said it will be "launching two leading-edge companies, each with distinct and compelling opportunities, and each ready to seize the future." The split is planned to be in place Nov. 1.
Until then, analysts reporting to Thomson Reuters are pegging a per-share profit of $0.35 a share on revenues of $5.3 billion. The earnings are up roughly 67% from the year-ago profit on total sales that are projected to slip 5.4%. AA has outpaced analysts' profit expectations in all but three of the last 15 quarter, though its revenues have been choppy.
Short-term options traders have priced in a potential 5.5% share price move in either direction around the earnings release, according to the Market Maker Move™ indicator on the thinkorswim platform from TD Ameritrade.
Ahead of earnings, traders were buying the monthly 32.5-strike calls and the 30-strike puts on light volume. The implied volatility is at the 22nd percentile. (Please remember past performance is no guarantee of future results.)
Note: Call options represent the right, but not the obligation, to buy the underlying security at a predetermined price over a set period of time. Put options represent the right, but not the obligation, to sell the underlying security at a predetermined price over a set period of time.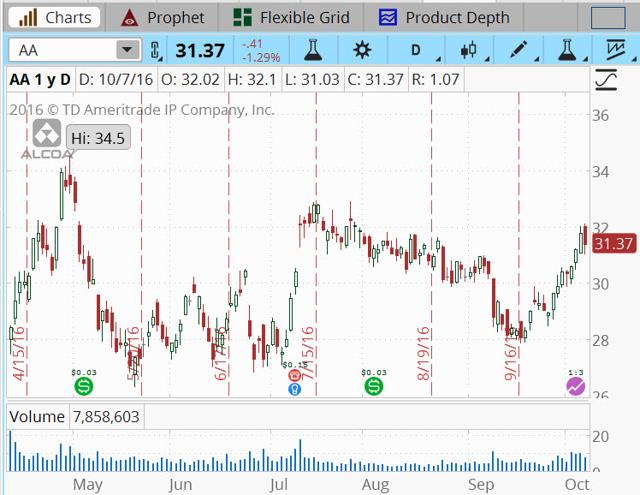 Figure 1: CLIMBING BACK. Alcoa kicks off earnings season Tuesday. The aluminum giant has seen its shares jump 19% since bottoming in May. This will be the last time AA reports earnings as a single company. Chart source: thinkorswim by TD Ameritrade. Data source: Standard & Poor's. Not a recommendation. For illustrative purposes only. Past performance does not guarantee future results.
Probability analysis results from the Market Maker Move indicator are theoretical in nature, not guaranteed, and do not reflect any degree of certainty of an event occurring.
TD Ameritrade commentary for educational purposes only. Member SIPC. Options involve risks and are not suitable for all investors. Please read Characteristics and Risks of Standardized Options
Disclosure: I/we have no positions in any stocks mentioned, and no plans to initiate any positions within the next 72 hours.
I wrote this article myself, and it expresses my own opinions. I am not receiving compensation for it. I have no business relationship with any company whose stock is mentioned in this article.