VanEck's Emerging Markets Equity Strategy seeks to identify persistent long-term structural growth opportunities. Structural growth can be stock-specific or thematic, and can be driven by a sustainable advantage, which is often company management. Through this bottom-up process, we have identified Banco Davivienda as a potential opportunity, and representative of Colombia's solid banking sector as described below (as of September 30, 2016, the holding represented 1.14% of VanEck Emerging Markets Fund's net assets). This is not a recommendation to buy or to sell any security; Fund securities and holdings may vary.
Colombia has experienced a historic economic boom over the past decade, and ranks as Latin America's fourth largest economy measured by gross domestic product ("GDP"), behind Brazil, Mexico, and Argentina. Although best known as an oil exporter, Colombia's economy offers other areas of notable strength, including its financial sector. We see exciting investment opportunities in Colombia's banking sector, with the mortgage and transport infrastructure segments representing two main areas of growth.
Colombia's banking sector has been revitalized since the late 1990s, when a financial/mortgage crisis forced the government to intervene to nationalize, recapitalize, or close major financial institutions. Since 2000, banking has staged a steady recovery and Colombia is viewed by us as having a more stable financial sector within a well-managed regulatory environment.
Colombia's Loan Penetration is Relatively Low
Although loan penetration remains relatively low in Colombia, it has increased steadily over the past few years as the banking sector has recovered (see Chart A below). Major restructuring of the country's financial system has taken place since the 1999 financial crisis, with privatization of state-owned institutions being one of the biggest changes. In the past decade, credit levels have rebounded substantially, but are still at levels below those in both developed countries and other countries in LATAM, including Brazil and Chile. "Informality" in Colombia is still high (defined as informal areas of Colombia's economy that are not taxed or monitored by the government), and the continuing increase in formalization, together with very favorable demographics, could create strong opportunities for credit growth.
Chart A: Colombia's Loan Penetration is Steadily Increasing
Yearly Loans-to-GDP

Source: J.P. Morgan and Superintendencia Financiera de Colombia.
The Housing Mortgage Opportunity
While one of the main areas of growth is the mortgage segment, loan penetration is still well below pre-crisis levels and registers as one of the lowest in the region (approximately 4-5%, as shown in Chart B below). But Colombia's mortgage potential is significant given that there is an estimated deficit of more than one million housing units and the government has assigned significant importance to housing development. A major driver of the growth for the housing market has been the implementation of a subsidy program for low income housing, which has helped grow mortgages faster than any other loan segment over the last few years. A steady increase in long-term mortgage lending will be essential in order for Colombia to catch up with its neighbors and to expand its financial services sector.
Chart B: Colombia's Mortgage Lending Penetration Remains Below Crisis Levels
Yearly Mortgage Loans-to-GDP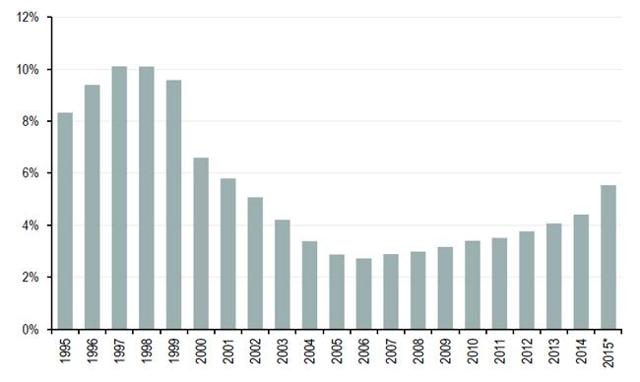 *Starting in 2015, mortgage credit includes housing leases, previously recognized as commercial loans under ColGAAP (Colombia Generally Accepted Accounting Principles).
Source: SFC, DANE, Credicorp Capital.
Transport Infrastructure Investment Expected to Grow
Another important area of growth is the government's transport infrastructure investment program, launched toward the end of 2015, called the Fourth Generation, or 4G. After five years of planning, the administration laid out a significant plan for investment over the next eight years to address the country's big transport infrastructure deficit. The program provides an opportunity for local banks to participate and increase their commercial loan portfolios.
Over the past several years, the Colombian economy has been resilient. Even with oil price declines, real GDP growth is expected to be close to 2.4% in 2016. The outlook for the country is constructive and expectations are that the housing program, the 4G infrastructure concessions, will provide very positive support for economic and credit growth going forward.
IMPORTANT DISCLOSURE
Any mention of an individual security is not a recommendation to buy or to sell the security. Fund securities and holdings may vary. An updated list of VanEck Emerging Markets Fund holdings can be found here.
This content is published in the United States for residents of specified countries. Investors are subject to securities and tax regulations within their applicable jurisdictions that are not addressed on this content. Nothing in this content should be considered a solicitation to buy or an offer to sell shares of any investment in any jurisdiction where the offer or solicitation would be unlawful under the securities laws of such jurisdiction, nor is it intended as investment, tax, financial, or legal advice. Investors should seek such professional advice for their particular situation and jurisdiction.
The views and opinions expressed are those of the speakers and are current as of the posting date. Videos and commentaries are general in nature and should not be construed as investment advice. Opinions are subject to change with market conditions. All performance information is historical and is not a guarantee of future results.
Please note that Van Eck Securities Corporation offers investment portfolios that invest in the asset class(es) mentioned in this commentary. The Emerging Markets Equity Strategy is subject to the risks associated with its investments in emerging markets securities, which tend to be more volatile and less liquid than securities traded in developed countries. The Emerging Markets Equity Strategy's investments in foreign securities involve risks related to adverse political and economic developments unique to a country or a region, currency fluctuations or controls, and the possibility of arbitrary action by foreign governments, including the takeover of property without adequate compensation or imposition of prohibitive taxation. The Emerging Markets Equity Strategy is subject to risks associated with investments in derivatives, illiquid securities, and small or mid-cap companies. The Emerging Markets Equity Strategy is also subject to inflation risk, market risk, non-diversification risk, and leverage risk. Please see the prospectus and summary prospectus for information on these and other risk considerations.
You can obtain more specific information on VanEck strategies by visiting Investment Strategies.
Investing involves risk, including possible loss of principal. An investor should consider investment objectives, risks, charges and expenses of any investment strategy carefully before investing. No part of this material may be reproduced in any form, or referred to in any other publication, without express written permission of Van Eck Securities Corporation.