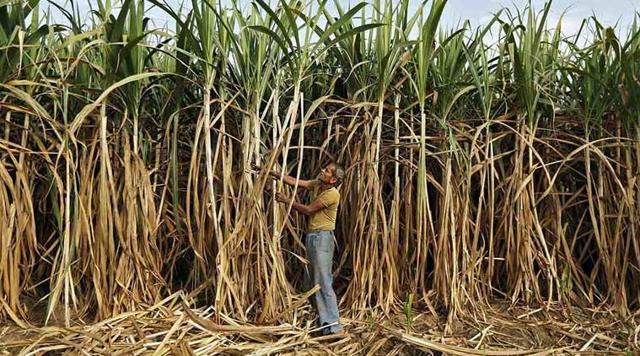 Source: Stock photo.
In February, we suggested that investors look at the iPath Dow Jones-UBS Sugar Total Return Sub-Index ETN (NYSEARCA:SGG) in order to gain exposure to the sweet white stuff. Back then we felt it was very likely that demand would outstrip production, causing the price of sugar to rise. Much to the dismay of the likes of Hershey Company (NYSE:HSY) and Mondelēz International, Inc. (NASDAQ:MDLZ), this has indeed been the case. The good news is that we do see some relief for these confectionery giants coming in the next few months, which should see the price of sugar drop back. As a result, we have closed out of our long sugar position and will look to reinvest elsewhere in the market.
As you can see below, sugar has been a great place to be this year. Since we invested in February the price has risen by a massive 83.5 percent. But these gains could now be at risk with output and exports likely to increase ahead of forecast from key producers.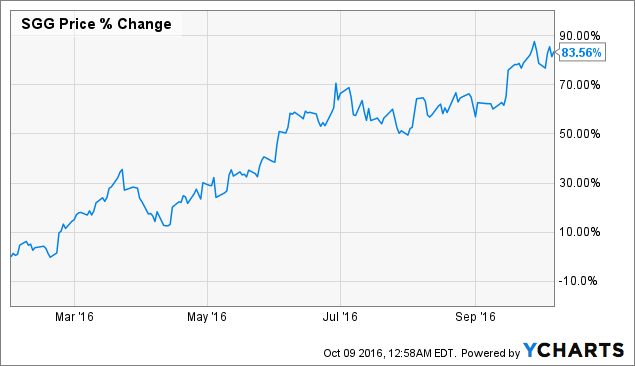 Brazilian sugar exports on the rise.
Despite a disappointing cane harvest in Brazil's Center South region, mills have been prioritizing sugar over ethanol due to the rise in its price to a four-year high. According to the US Department of Agriculture's Brazil bureau, mills will process 45 percent of their cane into sugar rather ethanol. This means that the world's largest sugar exporter is expected to export over 27 million tonnes this season. If this proves to be the case, it will be the second largest exported amount on record. The US Department of Agriculture stated that "this is a direct consequence of higher demand for sugar on the world market, due to an increased estimated deficit of world supply."
Australian sugar exports to hit decade-high levels.
The world's third-largest sugar exporter, Australia, is expected to export upwards of 4 million tonnes of sugar for the first time in over a decade in 2016-17. Thanks to a boost in production due to favorable seasonal conditions, the US Department of Agriculture's Sydney bureau has predicted exports will be greater than the 3.9 million tonnes which the main US Department of Agriculture office had separately forecast previously.
As you would expect when prices rise, cane farmers have been encouraged to increase production areas. Since the beginning of the year production areas have risen by a massive 40 percent to 400 hectares in Australia. Not only is this a huge increase during this time, it is also higher than the 10-year average of 380,000 hectares. As long as sugar prices remain high, we expect more and more Australian farmers will increase the amount of area dedicated to sugar production.
China isn't buying as much as the market hoped.
As well as above forecast exports, imports into China, the world's biggest importer of sugar, are expected to be below earlier forecasts. Both prices and an improvement in domestic production prospects has led the US Department of Agriculture's Beijing bureau to cut its import forecast down by 1.9 million tonnes to a total of 6 million tonnes in 2016-17. Previously a jump in imports had been expected, but this is looking very unlikely now according to the US Department of Agriculture.
Sugar to decline.
Whilst we don't expect sugar prices to drop sharply, we do feel a reasonable pull back is likely from the combination of increasing exports and lower-than-expected imports.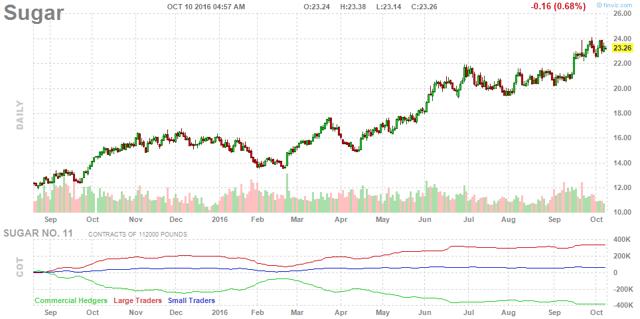 Source: Finviz.
We expect sugar futures to drop down toward the $20 support level, which equates to approximately $45 for the iPath Dow Jones-UBS Sugar Total Return Sub-Index ETN. From the last close price of $52.48 would be a decline of 14.2 percent. It is for this reason that we feel locking in those sugar gains is the best thing to do right now. We see limited upside from this point, but significant downside risk ahead.
It's been a great run, but we're calling time on it and recommend fellow traders do the same.
Disclosure: I/we have no positions in any stocks mentioned, and no plans to initiate any positions within the next 72 hours.
I wrote this article myself, and it expresses my own opinions. I am not receiving compensation for it (other than from Seeking Alpha). I have no business relationship with any company whose stock is mentioned in this article.