Oil (NYSE: USO) was on the move on Monday after Russian president Vladimir Putin announced that Russia was ready to join the OPEC production cut deal. He stated that "a freeze or even cut in oil production is probably the only proper decision to preserve stability in the global energy market."
This topic is not new. Russia has always been supporting measures to stabilize the market. Previously, Russia stated that it will agree to a cut only if all exporters agree to do the same.
It's hardly a surprise that Russia supports the OPEC deal and is ready to freeze production. However, the market acts as if Russia were to cut production right now, which is impossible because of a simple factor - winter is coming. If production is stopped at winter times, well fluid might freeze and cause a blowout.
Climate change is a hot topic nowadays. Active media coverage gives some people an impression that it's getting hotter and hotter everywhere each day. This is debatable. Meanwhile, it's a fact that winter has already arrived in some parts of Russia. For example, here's the current weather in Nizhnevartovsk, the oil capital of Russia, home to Russia' biggest oil field Samotlor: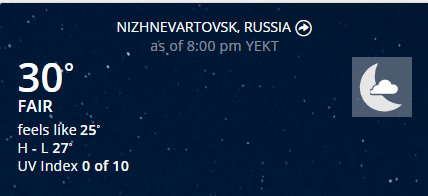 Source: Weather.com
Everything that Russia says now about production cuts is no more than verbal intervention. Russia is not suited to be a swing producer due to the location of its oil deposits. Russian Energy Minister Alexander Novak recently stated that 2017 production will be the same as in 2016 or a bit higher. Thus, there is no downside in agreeing to a production freeze - production would have had no growth anyway.
So far, the market was betting that production cuts will work and lead to sustainable upside in oil prices. Producers like BP (NYSE: BP) sound less optimistic, expecting $53 per barrel in the next year.
In my view, the current rally has some chances to turn into a significant short squeeze and test $60 per barrel. However, I am not so optimistic about the sustainability of the rally as you can expect massive hedging activity from troubled oil producers.
I am also a bit skeptical about OPEC's ability to execute production cuts when all the details of the deal are negotiated. OPEC members have a long history of cheating on each other. One might argue that today's times are unprecedented and that the threat will make OPEC members more honest. In my view, it's still not proven whether OPEC members can stick to their quotas in real life as hard times provide more incentives to cheat.
Meanwhile, oil rally may continue on verbal interventions, as we can certainly expect that multiple speakers from all oil producing countries will be delivering positive commentary about the deal in the upcoming weeks. In this light, I expect the following.
The fundamental buying will continue in the strongest names. Valuations have become very strange to say the least, but stocks like Exxon Mobil (NYSE: XOM), Chevron (NYSE: CVX), Pioneer Natural Resources (NYSE: PXD), EOG Resources (NYSE: EOG) will continue to attract buyers. Highs of 2014, when oil traded above $100 per barrel, are already in sight for these stocks.
Many bears have been burnt on their valuation-based bets in these names. Such poor bets come from failure to acknowledge a key market truth - stocks are moving up because there are more buyers than sellers, not because of valuation, long-term prospects or specific catalysts.
In this case, there is a big demand to bet on oil with safety, which pushes the highest-quality stocks into an overbought territory. If you want to short the best oil companies based on valuation, think twice - demand for safer bets on oil is not going anywhere.
The recent oil breakout past $50 may also fuel speculative activity in the weakest stocks. Theoretically, higher oil prices will help companies fighting for survival to hedge their production, negotiate with banks, sell equity and divest assets to improve their liquidity profiles. However, it looks like troubled companies won't trade as a group this time and will demand specific catalysts for upside.
I don't think that charts of many weaker names will look like Resolute Energy's (NYSE: REN) chart.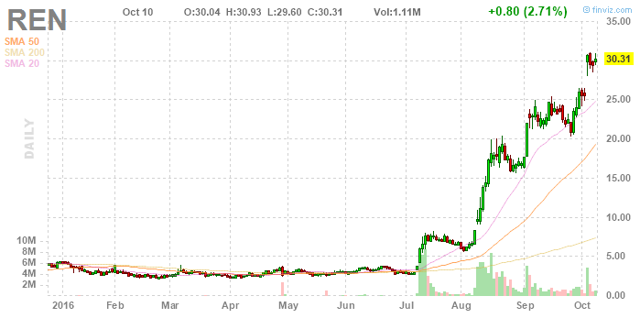 As we head into another year of the current oil price crisis, trading becomes company-specific rather than group-oriented, as we've seen, for example, in the beginning of March. I think that the reason for this is that too much damage has already been done by weak oil prices, and even an uptick in oil is not a universal cure for the problems of weaker companies.
Another group that I follow closely, offshore drillers, has seen a divergence based on companies' fundamental strength and weaknesses. Offshore drillers are a very specific group as upside in oil prices does not immediately translate into new contracts for the firms - thus, every short-term move of their stocks based on upside in oil prices is speculative by definition.
Most recently, the stock market paid much more attention to company-specific news rather than oil price environment. Ocean Rig (NYSE: ORIG) and Seadrill (NYSE: SDRL), which both previously announced that restructuring is ahead, are mostly ignorant to oil price dynamics. Strongest names like Rowan (NYSE: RDC) or Diamond Offshore Drilling (NYSE: DO) also do not mimic the latest changes in the oil market. I believe that this phenomenon is here to stay - in weaker shale players, offshore drillers and elsewhere in the oil industry, as trading stocks as a group makes increasingly less sense.
Here are my takeaways from Russia's move to join OPEC in the production cut/freeze deal:
First, Russia would have had no upside in production anyway, so the country's decision won't have any real impact on the market. You can certainly expect that various Russian officials will continue their verbal interventions going forward. Words cost nothing to produce but even one upside day in oil makes some difference for a huge producer like Russia.
Second, money will likely continue to flow into the best of breed stocks regardless of their valuation. Those initiating valuation-based shorts are playing with fire.
Third, the obvious idea to look at most troubled companies for whom the recent move in oil may mean a difference between survival or not may not be a good one. I don't expect action similar to what we have seen in early March when junk stocks flew to the sky. Some of them are already delisted from major exchanges and, most likely, both investors and traders will be much more selective this time.
Disclosure: I/we have no positions in any stocks mentioned, and no plans to initiate any positions within the next 72 hours.
I wrote this article myself, and it expresses my own opinions. I am not receiving compensation for it (other than from Seeking Alpha). I have no business relationship with any company whose stock is mentioned in this article.
Additional disclosure: I may trade any of the abovementioned stocks.
Editor's Note: This article covers one or more stocks trading at less than $1 per share and/or with less than a $100 million market cap. Please be aware of the risks associated with these stocks.