After a disappointing performance in 1H16, PNC Financial (NYSE:PNC) shares have delivered good returns in 3Q as the stock has been up 13% versus a financial sector ETF (NYSEARCA:XLF) roughly rising 6%. With several positive developments ahead including a rate hike in December, oil price rebound causing some relief on the asset quality front, and continued pace of loan growth, we think the outlook is now brighter for financials which have lagged other industries for a while. Among financial stocks, PNC is one of our favorite picks as we expect the bank should outperform its peers in the remainder of the year and in 2017. Despite the recent performance, we still believe that the bank has strong fundamentals yet to be priced in.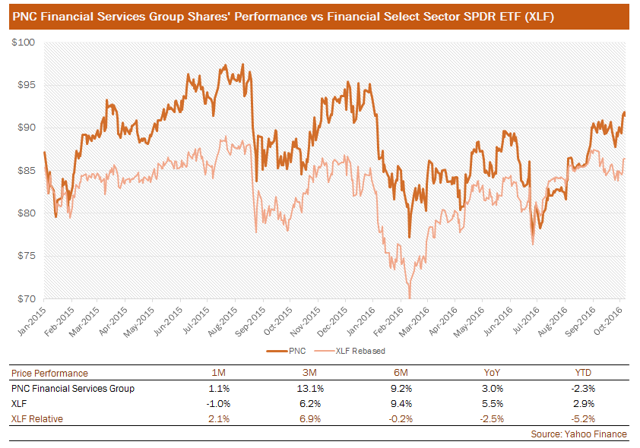 PNC Financial has felt the pressure of the low interest rate environment on its net interest margin this year. The margin declined by 5 bps y/y during the first half. Interestingly, the decline was driven by investment securities as the average yields on loans and other interest earning assets were slightly higher. PNC Financial's total investment securities book returned 2.7% in 1H16, down by 20 bps. On the liabilities side, the bank's total cost of funding increased by 11 bps y/y to 0.56%. This increase was a result of remarkably higher cost of borrowed funds (or non-deposit liabilities).
Rate hike expectations in December have shifted up, which would ease the pressure on margins to some extent but a modest NIM contraction in 3Q, in our view, is almost inevitable. As it was in the first half of the year, we will see PNC's securities portfolio yielding lower. That said, it is very likely that a lower margin will be offset by a stronger loan growth in 2H16. We project a slightly higher net interest income in 2016, and we remain optimistic on strong interest income growth in 2017-18 driven by an increased allocation to consumer loans.
PNC Financial's current commercial-to-consumer mix is not even favored by the management. Putting aside the challenges caused by the ultra-low interest rates, the bank's heavy commercial concentration prevented it from improving the average yield it earned on loans. To be more precise, nearly two-thirds of PNC's loans are to commercial accounts versus a peer average of 53%. So, the question is whether PNC can drive its loan mix into a level that is aligned with the rest of the sector. The part of our investment thesis in PNC is the excess liquidity the bank has that can get put to work over time. We project a slower growth in investment securities portfolio and a consumer lending growth gaining pace going forward. This, we believe, will also bring substantial pricing advantages in the upcoming period, should the Fed goes for rate hikes. Going into 2017 on the interest income front, some of the waiting is over and some of the worries should diminish, providing a clearer outlook for future growth.
Fee income is another front that we are very optimistic on. Motivated by an interest in growing its consumer lending, PNC will start building its credit-card business. Apart from being the highest yielding asset class among loans, credit cards are also able to deliver a high amount of fee income. At this point, we expect the results of the bank's strategy to accelerate business in consumer financial products will start to be reflected starting 2H17.
Many regional banks have lowered expenses in recent years to help withstand persistently low interest rates that dented interest income. PNC also have managed to lower its efficiency ratio from mid-60s, and now we foresee it to be slightly below 60% at the end of this year. The management runs the so-called Continuous Improvement Program for cost savings, which is expected to result in a decrease of $400 million in expenses this year. Since the saved amount will be used for new technology investment within the organization, total non-interest expenses will decline marginally this year. However, PNC will eventually benefit from the new investments in the long-run. We estimate an efficiency ratio moving towards 55% over the next two years.
Given the bright prospects for PNC's futures earnings, we think the bank could add another 160 bps to its long-term sustainable ROE (our average 2017E-18E estimation is 11.2%). Based on this assumption, our target P/BV is 1.25, corresponding to $110 per share on a 2017E BV of $87.5, which implies 20% upside potential from the current stock price. Regarding the valuation, we see the bank's stake in BlackRock (NYSE:BLK) as an ace in the hole. Ultimately, we believe that PNC can easily outperform its peers over the next two years.
Disclosure: I/we have no positions in any stocks mentioned, and no plans to initiate any positions within the next 72 hours.
I wrote this article myself, and it expresses my own opinions. I am not receiving compensation for it (other than from Seeking Alpha). I have no business relationship with any company whose stock is mentioned in this article.