Last week I read a very interesting article, which made it to the top 10 of SA. The author essentially advised investors to stop worrying when a stock of their portfolio plunges and instead focus on the increasing stream of dividends of their portfolio. He also advised them to view a plunge of the stock price as an opportunity instead of a threat. These guidelines are in line with those offered by other successful investors, such as Warren Buffett. While I found the article really interesting and very well written, I would like to warn investors that it is extremely hard to get free from stock price tyranny in reality. As a side note, I have great respect for the author of the article, as he has proved to be very competent. I just want to warn investors that it is really risky to ignore pronounced stock price dives.
First of all, many established investors compare the purchase of a stock to the purchase of merchandise. If the merchandise goes on a 50% discount on one day, then consumers should take advantage of the fire sale, as its value has remained constant while its price is half of what it was yesterday. However, it is extremely risky to parallel this kind of thinking to stocks. For while the value of the merchandise certainly remains the same on the day of the deep discount, the value of a stock may not be the same. For instance, if the Fed changes course and announces that it will start raising interest rates aggressively, then the discount rate of the stocks will have to violently adjust. Therefore, most stocks, particularly the non-growth dividend stalwarts, which are currently trading at remarkably high valuations, will have to adjust downwards to reflect the new expectations for rates. The move of their stock price will have to be violent even after just a single announcement of an abrupt change of course by the Fed. All in all, while the value of the merchandise that is on sale remains constant, the value of a stock may significantly change after a single event or announcement.
Many experienced investors also claim that every single bear market has been followed by an even greater bull market and hence investors should be buyers, not sellers, when there is blood in the streets. This has certainly proved correct for the US stock market as a whole. However, this view poses some risks if investors fully trust it. First of all, while the broad indices, such as S&P (NYSEARCA:SPY), have always recovered from a bear market, many individual stocks have never recovered. In addition, it took two decades even to the broad market indices to recover after the Great Depression.
Even worse, the Japanese stock market is still more than 50% off its all-time highs, which were recorded in 1990! Those who purchased stocks after a dip back then are still in deep red territory, 26 years later. Thus they incurred negative returns throughout their entire investment career. While US has not had such an unpleasant experience as that of Japan, no-one can exclude the possibility of a similar experience in the future, particularly if the US keeps growing its debt at the recent pace. For in the event of a recession, the recovery will probably not be swift if the US debt has grown above 150% of GDP.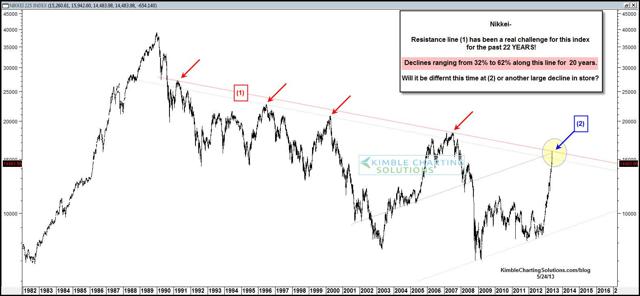 It is also worth noting that the market has become much smarter and more efficient in the last few years. To be sure, while Berkshire Hathaway (NYSE:BRK.B) had outperformed S&P for 18 consecutive years, from 1981 to 1998, it has outperformed the market in only 2 of the last 7 years. When Buffett has such a hard time outperforming the market nowadays, it is certain that the market does not offer great bargains that easily. This is particularly true in the current environment of record-low rates, in which all professional and individual investors are starving for yield and bargains. Even Buffett has proved wrong in International Business Machines (NYSE:IBM), which has decreased 18% in the last 5 years while S&P has rallied 76% over the same period. Therefore, when a stock plunges, it almost always has a good reason to justify the direction of its move while it is usually quite hard to determine whether the magnitude of the price move is well deserved. Before one rushes in to take advantage of the emerging "bargain", one needs to have exceptional investing skills to determine whether it is indeed a bargain or it is a value trap.
Some investors are very confident in their stocks because they follow them very closely. They read the earnings releases, annual reports, transcript calls and all the relevant pieces of news. Unfortunately, no matter how many hours they devote on their stocks they cannot know what lies in their future. In today's fast-changing business landscape, no-one can predict the next threat that will beat any company. Fossil (NASDAQ:FOSL) has been beaten to the extreme by Apple (NASDAQ:AAPL) even though its watch business seemed irrelevant to the business of Apple a few years ago. Wal-Mart (NYSE:WMT) has enjoyed continuous growth for decades but has stumbled in the last few years due to the increasing competition from other retailers, particularly Amazon (NASDAQ:AMZN).
Even if the unforeseeable external events are left aside, still shareholders cannot know their stocks well enough. To be sure, Buffett, who has an approximate 10% stake in Wells Fargo (NYSE:WFC), had absolutely no idea about the recently disclosed deceptive practices of the bank. If Buffett, who meets with the Board members on a regular basis, is caught off-guard in his largest investment, then investors can be caught off-guard in every single stock they hold.
Gurus also tend to advise investors that every decline of their stocks should be viewed as an opportunity if nothing has changed in their fundamentals. Unfortunately, it is very hard to determine the latter. Even the most successful investors cannot evaluate a stock with conviction, as illustrated by several examples. For instance, two of the most successful investors, Carl Icahn and Bill Ackman, took the exact opposite positions in Herbalife (NYSE:HLF), a company that has a relatively straightforward business model. This only proves how hard it is to determine whether a downward move of a stock is well deserved.
The only difference between the professional investors and the individuals is the impact of a wrong call. While a wrong call will not affect the living standards of a professional investor, it is likely to have a severe impact on the retirement plan of a retail investor. Therefore, individual investors should definitely take this into account when they hear the "gurus" boasting that they do not care about stock prices.
Another myth is that dividend-oriented investors should ignore stock price moves. After all, the dividend yield increases when the stock price falls and hence those investors may consider buying more of a stock during its decline. Unfortunately, as we learnt from Kinder Morgan (NYSE:KMI) and other oil stocks, a stock slump may strongly indicate that a dividend cut is just around the corner. Moreover, the capital losses may be worth decades of dividend payments. And while some companies refuse to land to reality and keep paying artificially high dividends for a while, the dividends always have to synchronize with the earnings in the end. Consequently, even dividend-oriented investors should pay attention to the stock price moves in order to avoid a very painful lesson afterwards.
All the above simply illustrate how risky it is to ignore a slump of a stock of one's portfolio. Of course it does not mean that investors should sell their stocks after a pronounced decline. If there is no change in their fundamentals and the plunge was just a result of a move of the broad market, then investors should probably hold their stocks. On the other hand, if a stock has dived due to company-specific news, then investors should reevaluate their thesis from scratch. They should certainly not try to escape from stock price tyranny without performing their due diligence.
To conclude, many "gurus" advise investors to escape from the stock price tyranny and even view a plunge of their stocks as an opportunity to buy more. However, these gurus know their stocks much better than most investors do. Moreover, even the professional investors do not know their stocks well enough. That's why the vast majority of investors, both professional and retail, markedly underperform the market. In addition, a wrong call has a much more severe impact on the retail investors compared to professional investors. Therefore, individual investors should not ignore a slump of their stock. Instead they should take the warning signal and reevaluate their investment thesis.
Disclosure: I/we have no positions in any stocks mentioned, and no plans to initiate any positions within the next 72 hours.
I wrote this article myself, and it expresses my own opinions. I am not receiving compensation for it (other than from Seeking Alpha). I have no business relationship with any company whose stock is mentioned in this article.