The Fed Funds futures are expecting a 63% chance for a rate hike in December. Market participants say a rate hike is on. Fed Chair Yellen said she expected a hike but she's known to change her mind. Friday's speech could reset December's rate hike expectations back down. Before that though Wednesday's FOMC minutes should confirm a hike. It should be a whipsaw week for the Fed Funds Futures.
Let's look at the Fed Funds Futures.
Source: CME Group
The above chart shows that Futures traders expect the Fed Funds rates to be .5% by December. The Future is calculated 100 - the expected rate. 99.50 is an expectation of a .50% Fed Funds Rate in December.
Currently Fed Funds are transacting at about .40%.
The lift shown in this chart is calculated to be a 63% chance for a hike by the CME Countdown tables.
That means a rate hike is on for December.
Not only is a rate hike on but it is priced into markets in some way.
Fed Funds Futures May Be Mispriced: We Don't Expect A Rate Hike
We think the above 63% chance for a rate hike is too high. We don't expect a hike.
After the non-farm payrolls the Wall Street Journal came out to say a hike "isn't a sure thing." They went on to say,
"If the jobless rate keeps rising, Fed officials might decide to forestall rate increases until next year."
That was a step back from Fed Chair Janet Yellen saying on September 21st: "Most participants do expect that one increase in the federal funds rate will be appropriate this year."
Let's compare.
On September 21st (the arrow in the chart below) Fed Chair Yellen led us to believe a rate hike was "on" this year.
After Friday's jobs numbers the WSJ, which is known to be the "Fed mouthpiece," said the Fed "might decide to forestall rate increases until next year."
Now it's time for the interactive part of this report. We ask you.
You have the facts. Which way should the Fed Funds Futures chart go? Should it expect more chance of a hike or less since September 21st?
Let's look.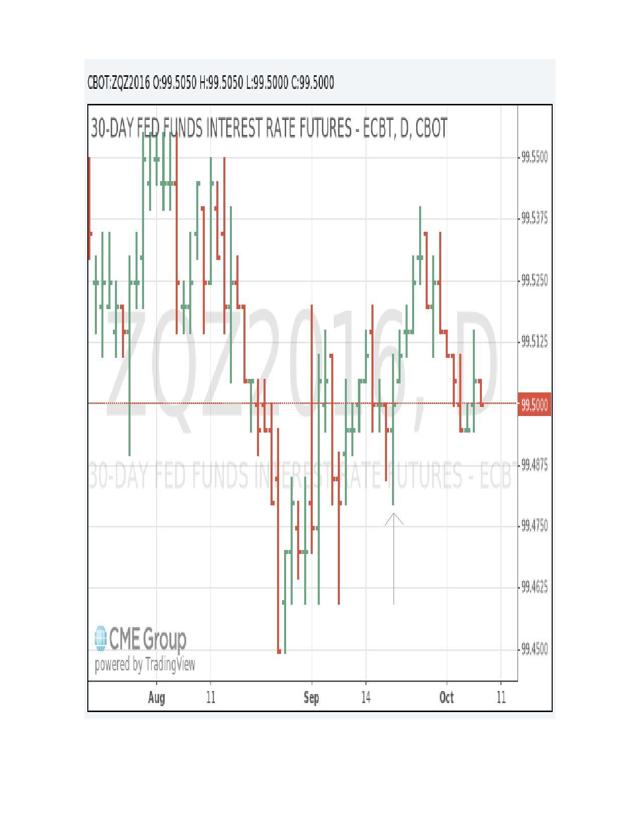 Source: CME Group
We added an arrow this time to show you September 21st when Fed Chair Yellen said a hike was on for "this year."
Now after the weak non-farm payrolls number the latest bar is almost exactly expecting the same chance as September 21st.
What did you say to our question above? Did you think there should be more or less chance of a rate hike? We say less.
The Futures market expects the same if not a drop more when we took a snapshot of the CME chart.
We think the market is over-expecting a rate hike.
The market needs to reprice for no hike. That is not small news if correct.
First Minutes Wednesday Then Fed Chair Yellen Friday
The FOMC minutes on Wednesday reflect Fed Chair Yellen's comments that a hike was expected "this year." The Fed Funds Futures could actually expect more chance of a hike after going through the FOMC minutes this Wednesday.
We'd guess Fed Chair Yellen's speech Friday can change all that. Her speech likely resembles the Fed Vice Chair's recent speech and the recent Fed research paper which both call for low rates on into the future.
We've seen that both the Fed Vice Chair and a Fed research paper can strongly influence the Fed Chair as they did ahead of her August 26th speech when she said,
"I believe the case for an increase in the federal funds rate has strengthened in recent months."
She cares about the Vice Chair and her research team and so it should influence her speech on Friday.
If correct, that speech Friday should be dovish while the FOMC minutes Wednesday will be hawkish. Fed Funds Futures that already have a hike for December at a 60%+ chance should further believe in a rate hike after reading Wednesday's FOMC minutes.
The Fed Vice Chair recently said however "the central bank should raise the interest rate if inflation is above target."
He is talking about raising only after they see 2%. He is not going to move ahead of 2% as Fed Chair Yellen said September 21st. That is a major dovish shift by the Fed after September 21st.
As for the Fed research paper, they expect slow growth for "decades." There are decades of reasons for the Fed Chair to be dovish on Friday.
We don't think the market (NYSEARCA:SPY)(NASDAQ:QQQ) as represented by the Fed Funds futures fully reflect that.
Conclusion
The Fed Funds Futures have been sold on a December hike. We've shown that the Fed turned dovish. Wednesday's FOMC minutes will help continue to entrench Fed Funds Futures traders to expect a hike. That helps markets expect a hike. We think Fed Chair Yellen on Friday will change all that hinting that a hike is less definite this year. That will be a more dovish call than her September 21st expectations for a hike "this year." That should calm markets to a hike and jump the Fed Funds Futures back up.
Follow Us Real-Time On Seeking Alpha
If you want Elazar's analysis on Seeking Alpha, scroll to the top of the article and hit "Follow." Elazar also writes real-time pieces as news is reported. If you want to be among the first updated check the box for "Real-time alerts on this author" under "Follow."
Catch Multi Week Moves
Your Trading Team is an Elazar premium service on Seeking Alpha that helps catch multi-week moves in SPY, GLD, Oil, TLT and more. We developed a simple trading game plan that instills discipline to trading. Working together also help avoid many trading pitfalls. We look forward for the chance to work together.
Share
We're excited about the feedback we get from readers. If you like our work please consider sharing it. There is a ton of noise out there on the internet and we think we offer something that slices through that noise. If you agree please consider sharing our work. Thank you.
Disclaimer: All investments have many risks and can lose principal in the short and long term. This article is for information purposes only. By reading this you agree, understand and accept that you take upon yourself all responsibility for all of your investment decisions and to do your own work and hold Elazar Advisors, LLC and their related parties harmless.
Disclosure: I/we have no positions in any stocks mentioned, and no plans to initiate any positions within the next 72 hours.
I wrote this article myself, and it expresses my own opinions. I am not receiving compensation for it (other than from Seeking Alpha). I have no business relationship with any company whose stock is mentioned in this article.