On Monday, 10/10, Facebook (NASDAQ:FB) launched Workplace, the company's reformed B2B cloud-based communication platform. Workplace was formerly known as Facebook at Work, a closed beta version that had attracted 1,000 organizations over the past year, including the likes of Starbucks (NASDAQ:SBUX) and Danone (OTCQX:DANOY). Workplace is the reformed, commercial version of Facebook at Work with worldwide availability. It represents Facebook's first plunge into the enterprise market, and although the social media giant will be met with stiff competition, we think size, ease-of-use, and price leverage will grow Workplace into the premiere B2B cloud-based communications platform.
Facebook is entering a crowded marketplace. The rapid adoption of cloud tech in the workplace has created strong demand for enterprise cloud solutions aimed at addressing intra-business communication needs. Some of the bigger players include Slack, Yammer (NASDAQ:MSFT), Chatter (NYSE:CRM) and Jive, with Slack being the growth leader. Slack claims it is the fastest growing business app ever, and the numbers seem to agree with that statement. Since early 2014, the app has grown from 16,000 daily active users to 3 million, while paid seats have gone from 40,000 in mid-2014 to 930,000 earlier this year. More impressively, growth actually seems to be accelerating as companies are realizing the value (and maybe even necessity) of these cloud hosted communication tools in a growingly digital and connected business world. At its current pace, Slack is adding around a million users every five months.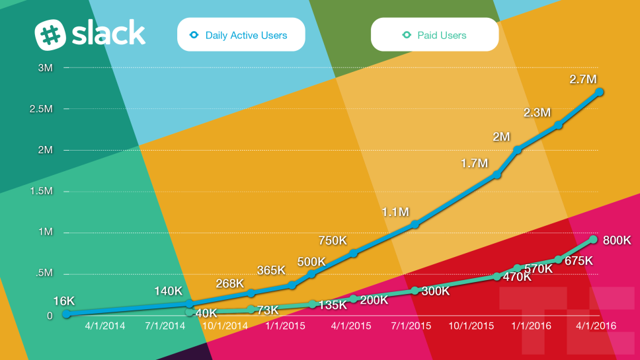 (Source: TechCrunch)
Facebook just entered into a hyper-growth, hyper-competitive industry, but we think that actually benefits the social media giant. The market is highly fragmented with corporations spread across several different apps, and a quick glance at the players in the market reveals that many of them have little, if any, name brand recognition.
In our opinion, highly fragmented tech markets are those most ripe for disruption and subsequent consolidation by a larger player with size leverage (just like e-commerce). Slack's 3 million daily active users pales in comparison to Facebook's 50 million-plus active business pages or 1 billion-plus daily active users. That means 3 million consumers know and interact with Slack's interface regularly, while over a billion consumers know and interact with Facebook's interface daily. Everyone already knows Facebook, and because of this, Workplace should be able to benefit from this size and ease-of-use leverage. Essentially, Workplace is a seamless transition to a growingly necessary cloud-hosted communications tool.
More specifically, Workplace is leveraged in this market given that Facebook already is embedded into the work environment. While there have been some concerns regarding Facebook's retention of the teen demographic, most signs point to Facebook becoming more heavily used by the non-teen demographic. Roughly 72% of the online adult population in the United States is on Facebook, relative to 28% for Instagram, 25% for LinkedIn, and 23% for Twitter. Moreover, the adults who are on Facebook use it quite often, with 70% saying they interact daily on the social media platform. Beyond adult-specific usage, Facebook also is the most-used social media platform for work-related purposes.
Facebook, then, already is the most-used social media platform for work-related purposes and also the most-used social media platform among the working-aged demographic. That means Facebook's features (such as messaging, News Feed, Groups, etc) are already well-understood and frequently used by many working Americans. Because of this, we expect Workplace to be the natural choice for companies looking to adopt an enterprise cloud communications tool.
We further believe Workplace's pricing structure ensures a significant number of buyers. At essentially $1 to $3 per month per user pending size of daily actives, Workplace significantly undercuts the priced options at Slack ($7-13 per month per active user), and yet they are greatly similar offerings. Although Slack does have a free channel, Workplace looks much more comparable to Slack's pay options as Workplace offers unlimited storage, unlimited groups, in-house video conferencing and SSO support. Moreover, at $1 to $3 per month per user, Workplace is priced in the "impulse" buy range for many SMBs, meaning the cost is so small that we believe several companies will test-drive it with some users under the pretense of "why not." For all these reasons, we think corporations have both a price and ease-of-use motivation to use Workplace.
From a TAM standpoint, we do think Workplace could add over $2 billion in ARR. Assuming this is an SMB-oriented product given its low price point and inherent ties with Facebook, then the domestic user TAM is the over 60 million Americans who are employed by small businesses. Roughly 60 million users signed up at an average cost of $3 per month implies an over $2 billion annual revenue opportunity for Facebook. This is smaller than the $5 billion annual revenue opportunity we identified for Marketplace, but we believe that the $2 billion TAM is conservative given it does not factor in major corporate adoption.
Between Marketplace and Workplace, we think Facebook is not so far away from adding more than $7 billion per year to the topline. That is in addition to Instagram, Messenger and WhatsApp monetization, as well as aggressive attempts to dethrone Snapchat and recapture the teen demographic. The big picture with Facebook is that the platform's size gives the company significant leverage to explore multiple consolidation routes and add significant dollars to both the top and bottom line.
Disclosure: I am/we are long FB, MSFT.
I wrote this article myself, and it expresses my own opinions. I am not receiving compensation for it (other than from Seeking Alpha). I have no business relationship with any company whose stock is mentioned in this article.