Ten days from now, Eastman Kodak (NYSE:KODK) will reportedly unveil a new smartphone. Kodak teased its new smartphone via its official Twitter account (the tweet was later deleted). There are no details about it. However, I bet it will be an upgrade to last year's Kodak IM5 mid-range Android phone.
A hit smartphone product could help Kodak offset declining revenue from its printing-related business segments. The company failed with the IM5 handset, but I like how it is ready again to try one more time. One of the reasons why the Kodak IM5 Android phone failed to attain commercial success was its sub-par cameras. The allegation that the Kodak IM5 has disappointing cameras is very ironic because Kodak and its partner, Bullitt Group, emphasized the photography-centric feature of the IM5 last year.
Below is a screenshot from the now-deleted Kodak tweet. The new phone appears to have a dedicated shutter button like the Samsung (OTC:SSNLF) Galaxy Camera 2 handset. Camera quality is now an important selling point for high-end phones. Come October 20, I expect Kodak to announce a new smartphone which could impress photography enthusiasts.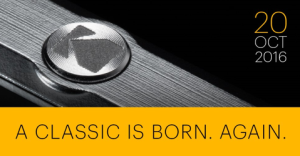 (Source: Kodak)
I also expect the new phone to come with a higher price tag and better hardware specs than the IM5. Kodak made a mistake in equipping the sub-$400 IM5 with only 1 GB of RAM and a mid-range MediaTek octa-core processor. Kodak needs a flagship processor like the Snapdragon 820 and 3 GB of RAM to do top-notch photography on a smartphone. Qualcomm (NASDAQ:QCOM) talked about better photography performance from the Snapdragon 820's new Spectra Image Signal Processor.
Why Kodak Needs Smartphones
Kodak remains synonymous with photography. Unfortunately, the company cannot rely on its action cameras alone to remain relevant in consumer photography. Kodak needs to get serious on selling smartphones with exemplary cameras. The ubiquity of smartphones made standalone compact digital cameras redundant.
I know JK Imaging has the exclusive license to market Kodak-branded imaging products. Unfortunately, the diminishing market for standalone digital cameras also affects JK Imaging-made Kodak cameras. The rising sales of smartphones has been largely responsible for the quick decline of standalone cameras.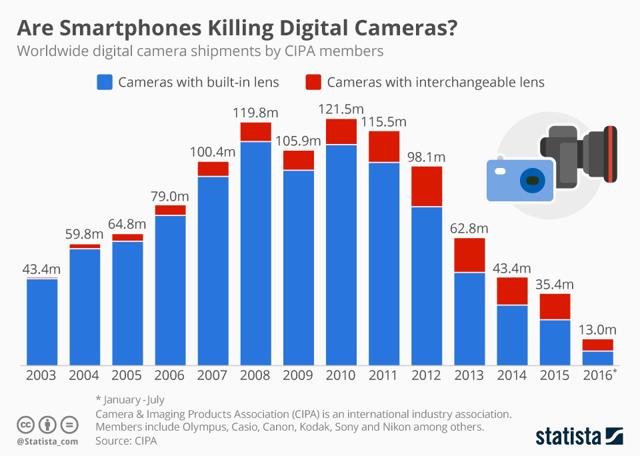 Kodak needs to succeed in smartphones to make up for the declining fees it gets from JK Imaging-made digital cameras and action cameras. It can also license its brand to other firms. Nokia (NYSE:NOK) and BlackBerry (BBRY) licensed their phone brands to other companies. The most important thing is for Kodak to try harder on how it could benefit from smartphone sales.
CIPA estimates that only 13 million compact and interchangeable-lens cameras will be shipped in 2016. On the other hand, IDC estimates that 1.24 billion Android phones will get shipped out this year. It makes sense, therefore, that legendary camera brands Leica and Hasselblad are getting involved with smartphone vendors Huawei and Lenovo (OTCPK:LNVGY). Samsung has largely quit its camera business to focus more on its core phone business. Kodak's old rival, Polaroid, also unveiled its latest phones, tablets, and drone products.
Kodak should, therefore, be more involved in smartphones. They offer a much greater opportunity than digital/action cameras.
A High-End Kodak Smartphone
Yes, it is true that Kodak has sold its patents on imaging. However, it doesn't mean the company can't make great camera phones anymore. Google (GOOG, GOOGL) and Apple (NASDAQ:AAPL) were part of the consortium that bought Kodak's patents in 2012. The two companies recently released pricey smartphones with excellent cameras. The 2016 flagship phones of Samsung, HTC (OTC:HTCKF), Sony (NYSE:SNE), Huawei, and LG Electronics (OTC:LGEAF) are also touting pro-level cameras.
The world's affinity for the Kodak brand could help Eastman Kodak also market $600+ flagship smartphones. The company only needs to come up with a handset equipped with cameras as good as those found in the Huawei P9, Google Pixel, or iPhone 7. It can buy the same Sony image sensors that the iPhone 7 has been equipped with. Add a Carl Zeiss or Leica lens to a Sony IMX260 image sensor, and Kodak can already have a great high-end phone.
Yes, I am in favor of Kodak focusing on high-end phones, because the entry-level and mid-range segments in Android phones are already saturated. The Kodak IM5 mid-range Android phone failed because it had to compete with sub-$400 flagship phones from Chinese firms like Xiaomi, Oppo, Vivo, and Huawei. The fierce competition from Chinese phone vendors is likely why Google also shifted to making $649 Pixel Android phones.
Kodak's smartphone strategy should aim for the high-end market. It should also market its next generation of smartphones as true replacements for standalone digital cameras.
I guesstimate that Kodak has the potential to sell 500k to 3 million smartphones. At an average selling price of $550, the company could generate at least $550 million in new revenue if it could sell one million smartphones every year.
Conclusion
I rate KODK as a Buy. The upcoming smartphone told me that company management is adjusting to the reality that phones are now the de facto cameras for most people. I'm also convinced that with enough advertising budget, a new Kodak Android phone could do better than last year's Bullitt Group-made Kodak IM5.
Kodak needs to imitate Apple and Google's recent focus on exulting the camera quality of their new flagship phones. Huawei sold 6 million units of its flagship $529 P9 and $659 P9 Plus Android phones because people like their excellent photography usability. It expects to sell 10 million of them before 2016 ends. The differentiating feature of the Huawei P9 and P9 Plus is that they both have Leica co-developed rear dual-camera systems.
Kodak should do its best to replicate the Huawei P9's success. Huawei's success definitely pushed Apple to also use a dual-camera system for its iPhone 7 Plus. The better photography capability of the iPhone 7 Plus is why it is outselling the smaller iPhone 7.
We will find out on October 20 if Kodak is ready to reap the long-term benefits of selling photography-friendly smartphones.
Disclosure: I am/we are long AAPL, NOK, GOOG, QCOM, SNE.
I wrote this article myself, and it expresses my own opinions. I am not receiving compensation for it (other than from Seeking Alpha). I have no business relationship with any company whose stock is mentioned in this article.
Editor's Note: This article discusses one or more securities that do not trade on a major U.S. exchange. Please be aware of the risks associated with these stocks.