EVs (electronic vehicles) and hybrids comprise less than 1% of the total number of cars sold in the world. They have been unaffordable for mass market adoption - until now. The upcoming Chevy Bolt EV will be first EV to market priced below $40,000 with more than a 200-mile range. This is expected to alleviate some of the range anxiety that consumers have about driving EVs.
With the Bolt due out before the end of the year, GM (NYSE:GM) announced last month that the Bolt has a range of 238 miles. This compares to the 215-mile range that Tesla (NASDAQ:TSLA) has announced for its upcoming Model 3. Tesla is expected to introduce the Model 3 sometime in late 2017. Separately, Nissan (OTCPK:NSANY) is also expected to introduce a longer range vehicle priced for mass market adoption, but it has not yet indicated when its next generation Leaf will be available.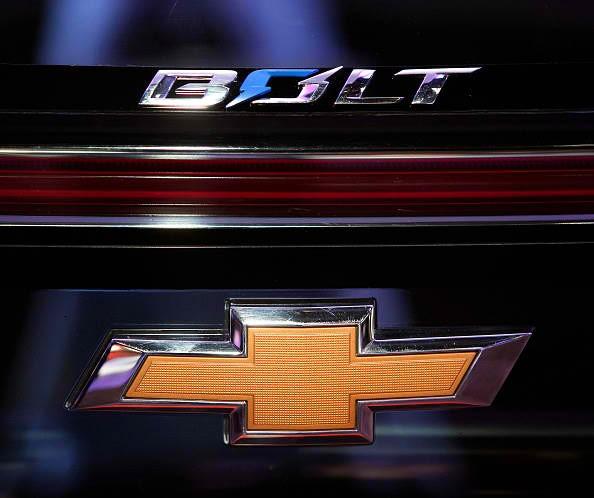 The greater than 200-mile range of the Bolt, Model 3 and next generation Leaf is important, as it is expected to give drivers greater confidence about driving an EV even though most will probably use the 200-mile range to its fullest capacity only infrequently. Even so, the Bolt's 238 miles of capacity is available if needed and will allay drivers' concerns about possibly getting stranded far from a recharging station.
According to a 2013 study by the California Center for Sustainable Energy, 70% of potential drivers said they'd be satisfied with an EV that can drive 200 miles on a single charge, up from only 9% who would be satisfied with a range of 100 miles. Even in cold weather, when battery range can be reduced significantly, Bolt drivers will have more than the standard sub-100 miles that most drivers need for local everyday use.
However, the 23-mile difference between the Bolt and the Tesla Model 3 is not really significant enough to impact consumer buying decisions. Business Insider notes, "It would be one thing if it were the difference between 300 miles and 215 miles, but that extra 23-mile bump by the Bolt won't have any meaningful impact on your everyday driving life." Moreover, as Fortune magazine writes, it's "likely that the Model 3, which isn't expected to be shipped until late 2017, will end up with a greater range than 215 miles."
As release of the Bolt gets closer, various publications have weighed in on its advantages and disadvantages compared to the Tesla Model 3. BI (Business Intelligence) prefers the Tesla, with its capability for software upgrades and certain autopilot features at an expected (according to BI) upgrade price of about $3,000. If the $3,000 price is accurate, it would bring the Model 3 to only $500 more than the list price of the Bolt.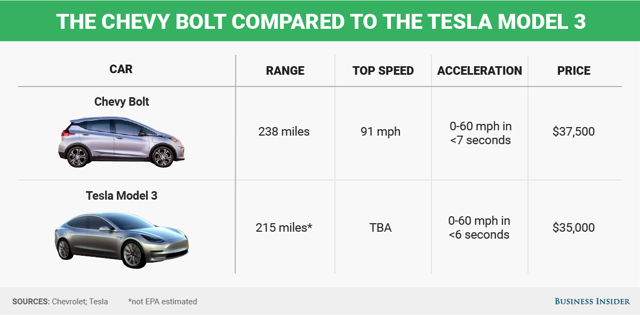 The Bolt has a more spacious interior than the outside design of the car would indicate. Road Show writes, "Most battery-powered machines feature interiors vastly compromised by the need to make room for big, bulky battery packs. Not here. The pack slots in beneath the front seats and runs beneath the rear, where it doubles up beneath the rear cushions. This does result in a higher seating position than in many cars of this sort, but it also provides a nice flat floor between the rear seats and crucially, a spacious trunk."
The Bolt will also have a number of other attractive EV features, including delayed charging so that owners can recharge during off-peak hours when electricity prices are lower and timed cooling and warming while the car is still plugged in. GM has said that the Bolt will make most features standard.
Recharging is Getting Easier
Now, beyond the vehicle itself, it is worth looking at the logistics of recharging it on the road. The Bolt supports Level 1 charging, which is at a rate of about 4 miles per hour of charge. Level 1 can be done from a standard 120 volt power outlet. The Bolt also supports 240-volt Level 2 charging, which is at a rate of 25 miles of range per hour of charge. Level 2 can be accomplished both at home and at public charging stations. The Bolt can also recharge using DC Fast Charging, which charges at the rate of up to 90 miles in 30 minutes or 160 miles in an hour at equipped public chargers.
The number of recharging locations continues to grow. Right now, the largest network of EV recharging stations is ChargePoint, which has more than 30,000 charging locations. Last month, ChargePoint, BMW (OTCPK:BMWYY), and VW (OTCPK:VLKAY) announced the completion of EV fast-charging station corridors on both US coasts. The West Coast corridor extends from Portland to San Diego. The East Coast corridor goes from Boston to Washington, D.C. ChargePoint also continues to add new stations.
Bolt is Not as Sleek as Tesla
There's one thing that most reviewers seem to agree on and we concur: The Tesla Model 3 is just a more stylish car than the Bolt. The University Herald says, "While the Model 3 is designed as a sleek sports sedan, the Chevy Bolt has a homely runabout design. On the other hand, the Chevy bolt is not trying to be a sports sedan."
We think that some consumers will prefer the Bolt and others will favor the Tesla. But the bottom line is that GM is first to market with an affordable EV with significant range. We believe this gives GM a strong position in the EV space, a niche that we believe will grow as auto manufacturers continue to improve the convenience, range and features of these cars.
Disclosure: I/we have no positions in any stocks mentioned, and no plans to initiate any positions within the next 72 hours.
I wrote this article myself, and it expresses my own opinions. I am not receiving compensation for it (other than from Seeking Alpha). I have no business relationship with any company whose stock is mentioned in this article.