I discussed last month Microsoft's (NASDAQ:MSFT) ascendance as the new king of Enterprise SaaS (Software-as-a-Service). Microsoft's leadership position in Collaboration software helped it unseat Salesforce (NYSE:CRM) in overall SaaS leadership in the last Q2 2016 period. In response, Salesforce bought word processing app Quip for $750 million last August to compete better with Microsoft's ubiquitous Office 365 product. However, Quip will have a hard time catching up with Office 365's big lead on enterprise adoption.
My fearless forecast is that Microsoft has a bigger long-term threat from Facebook (NASDAQ:FB). The company's online business collaboration/productivity tools (SharePoint and Office 365) could get affected by Facebook's latest product. Facebook has unveiled its Workplace enterprise Collaboration service. Facebook Workplace is the final name of the "Facebook At Work" product I discussed last year.
The dirt-cheap fees for Workplace could entice many customers away from SharePoint/Office 365. SharePoint has $5/$10/$20 per user subscription plans. Facebook Workplace can disrupt the online Collaboration software services industry with its $1/$2/$3 monthly plans. It offers unlimited file, photo, and video storage on a $1 monthly plan. Alphabet's (GOOG, GOOGL) equivalent plan with unlimited storage is $10/month per user.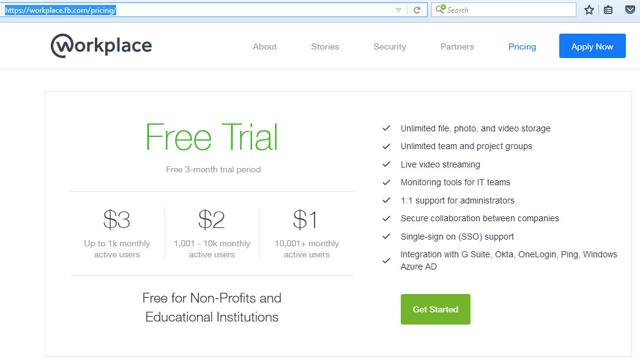 (Source: Facebook)
Facebook only needs to build equivalent apps to Office 365 to really make its Workplace cloud service become a potent rival to Microsoft's Enterprise SaaS services. As of now, Facebook Workplace integrates with Google's G Suite (the new name for integrated Google Apps and other cloud services) for productivity purposes.
Quip was founded by former CTO of Facebook, Brett Taylor. I'm sure Facebook still employs equally creative people who can also release an online document creation software product like Quip. I do not think the company will forever tie Workplace to Google's G Suite.
Back in 2011, Facebook told its app developer partners to stop using Google AdSense on their apps. I also foresee Workplace eventually getting rid of Google G Suite.
Collaboration Software Is Driving SaaS Growth
Microsoft has a lot riding on its SaaS future. Cloud-based services (Office 365, Azure, SharePoint, Dynamics CRM) are growing contributors to the company's annual revenue. Office 365 and SharePoint's tremendous success in enterprise adoption generated enough revenue that Microsoft could write off $7.6 billion over its phone hardware division.
MSFT shareholders, therefore, ought to take notice of Facebook's entry in Enterprise SaaS. Workplace is definitely a long-term threat to the $20/month SharePoint (with Office 365 Enterprise) plan of Microsoft.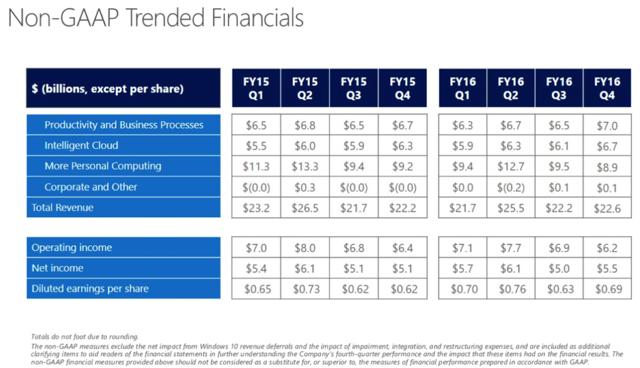 (Source: Microsoft)
As per the Q2 2016 report of Synergy Research, ERP (Enterprise Resource Planning) and Collaboration software are the fastest-growing segments in Enterprise SaaS. Collaboration is the biggest segment in SaaS, and it posted 37% year-over-year growth. ERP posted year-over-year growth of 49% in Q2. It is therefore shrewd of Facebook to have entered the Collaboration SaaS business.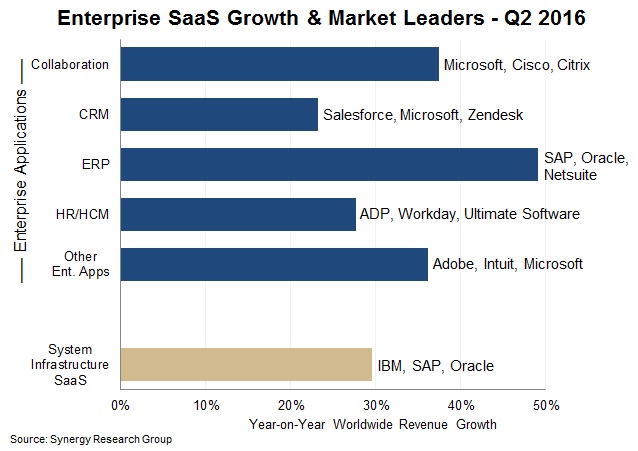 Microsoft may have a big lead on Collaboration SaaS now, but we can never discount Facebook's Workplace. The rise of ad-blocking software on desktop and mobile devices is compelling reason for Facebook to expand its ad-driven business model. The release of Workplace tells me that SaaS is one expansion area that the company is very interested in.
The Enterprise SaaS industry generated an estimated $11 in global revenue in Q2 2016, 33% higher than the year-ago period. Synergy Research expects the Enterprise SaaS market to triple in size within the next five years. Facebook's most recent quarterly revenue was only $6.44 billion. Competing with Microsoft and Salesforce is, therefore, an attractive diversification move for Facebook.
There is also nothing stopping Facebook from engaging in CRM (Customer Relationship Management). The company certainly has the global-wide network of data centers to service any SaaS requirement of big and small companies. The threat from Facebook is even more bothersome when you take into account that the company doesn't need to rent from Amazon Web Services (NASDAQ:AMZN) or Microsoft Azure for its Workplace service.
Like Amazon, Microsoft, and Alphabet, Facebook has already spent billions of dollars building its global network of data centers. It was estimated that the company spent $2.52 billion on capital expenditures on data centers, servers, network infrastructure, and office buildings.
In other words, it has the brand power and network structure to make Workplace a serious contender in Enterprise SaaS. Microsoft, as the current king of Enterprise SaaS, has vested interests in making sure Facebook Workplace doesn't get too successful.
Conclusion
Facebook was a featured customer of Office 365 and Microsoft Cloud last July 12, 2016. It now appears the company made itself a provider of a rival product to Microsoft Cloud. Microsoft was also an early investor in Facebook. It paid $240 million to get a 1.6% stake in Facebook in 2007. Microsoft reportedly sold 20% of its 1.6% stake in Facebook in 2012. It might still own 1.28% of Facebook.
Facebook also opted to integrate Workplace with Google G Suite and not Office 365. This could be a clue that Microsoft is not enthusiastic about Facebook's latest expansion move to SaaS. Yes, Microsoft is a shareholder in Facebook, but it could suffer more financially if Facebook starts taking market share in global Collaboration SaaS.
It is my fearless forecast that Facebook is fit and ready to make a big splash in Enterprise SaaS. Microsoft, Salesforce, and Alphabet will have to work harder to retain the loyalty of their SaaS customers. Facebook is the new kid on the block, but its dirt-cheap enterprise Collaboration/Communication service is very attractive.
I am long MSFT, FB, and GOOG. I still have Buy ratings for all of them.
Disclosure: I am/we are long MSFT, FB, AMZN, GOOG.
I wrote this article myself, and it expresses my own opinions. I am not receiving compensation for it (other than from Seeking Alpha). I have no business relationship with any company whose stock is mentioned in this article.