In what can only be described as good news for the retail investor, BlackRock (NYSE:BLK) has cut fees for 15 ETFs in its "Core" line-up. The changes in the net expense ratio for these 15 ETFs are shown in the table and chart below.
Category
Fund
Ticker
Previous net expense ratio
New net expense ratio
U.S. equity
iShares Core S&P 500 ETF
(NYSEARCA:IVV)
0.07%
0.04%
iShares Core S&P Mid-Cap ETF
(NYSEARCA:IJH)
0.12%
0.07%
iShares Core S&P Small-Cap ETF
(NYSEARCA:IJR)
0.12%
0.07%
iShares Core High Dividend ETF
(NYSEARCA:HDV)
0.12%
0.08%
iShares Core Dividend Growth ETF
(NYSEARCA:DGRO)
0.12%
0.08%
International equity
iShares Core MSCI Total International Stock ETF
(NYSEARCA:IXUS)
0.14%
0.11%
iShares Core MSCI EAFE ETF
(NYSEARCA:IEFA)
0.12%
0.08%
iShares Core MSCI Europe ETF
(NYSEARCA:IEUR)
0.12%
0.10%
iShares Core MSCI Pacific ETF
(NYSEARCA:IPAC)
0.12%
0.10%
iShares Core MSCI Emerging Markets ETF
(NYSEARCA:IEMG)
0.16%
0.14%
Fixed income
iShares Core Total USD Bond Market ETF
(NYSEARCA:IUSB)
0.12%
0.08%
iShares Core U.S. Aggregate Bond ETF
(NYSEARCA:AGG)
0.08%
0.05%
iShares Core Short-Term US Bond ETF
(NYSEARCA:ISTB)
0.12%
0.08%
iShares Core Long-Term US Bond ETF
(NYSEARCA:ILTB)
0.12%
0.08%
iShares Core International Aggregate Bond ETF
(NYSEARCA:IAGG)
0.15%
0.11%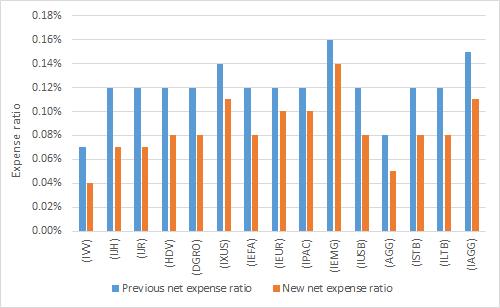 Ostensibly, BlackRock's move is in response to a ruling announced by the Labor Department earlier this year and effective next year, which requires financial brokers who sell retirement products to maintain a fiduciary standard. In other words, brokers have to put clients' best interests ahead of their own. The previous rule merely required brokers to ensure that the products are "suitable," hence, the new rule is considered to be tougher in its stance.
IVV now the cheapest S&P 500 on the market
The cut in the expense ratio of the iShares Core S&P 500 ETF [IVV] now makes this ETF the cheapest S&P 500 on the market. Two other larger S&P 500 ETFs, the SPDR S&P 500 ETF (NYSEARCA:SPY) and the Vanguard S&P 500 ETF (NYSEARCA:VOO), have expense ratios of 0.0945% and 0.05%, respectively.
The skeptic in me thinks that the reason that SPDR lists its expense ratio accurate to four decimal places is that were SPY's expense ratio merely 0.05 basis points higher, i.e. 0.095%, that this would get quoted as the psychologically larger 0.10% on sites such as Seeking Alpha or Morningstar that round expense ratios to two decimal places!
The following table shows summary statistics for the three funds (source: Morningstar).
| | | | |
| --- | --- | --- | --- |
| | IVV | SPY | VOO |
| Yield [ttm] | 2.25% | 2.06% | 1.98% |
| Expense ratio | 0.04% | 0.09% | 0.05% |
| Inception | May 2000 | Jan. 1993 | Sep. 2010 |
| Assets | $79bn | $195bn | $51bn |
| Avg Vol. | 4.1m | 111m | 2.4m |
| No. holdings | 505 | 508 | 505 |
| Annual turnover | 4% | 3% | 3% |
| Morningstar star rating | ***** | **** | ***** |
As we can see from the table above, SPY is the largest S&P 500 ETF on the market at $195bn, followed by IVV at $79bn and VOO at $51bn. With IVV's fee cut, I anticipate that the assets of IVV would increase at the expense of SPY, which charges over twice the fees of IVV.
However, the much higher liquidity of SPY compared to IVV and VOO may still make this ETF the favorite of active traders who value liquidity over anything else.
Will retail investors lead the move?
Make no mistake, a cut of IVV's fees from 0.07% to 0.04%, while "only" a 3 basis point drop in absolute terms, is actually a huge 43% decrease in percentage terms. At IVV's $79bn in assets, BlackRock's fees from IVV amounted to about $55m per year under the old fee regime, but this drops to only about $32m after the fee cut, good for a cool $23m decrease.
To put this in perspective, BlackRock earned $3.3bn in net income in 2015. Therefore, the decrease of $23m in fee income from IVV alone amounts to 0.70% of the total profit each year.
In order to maintain the same level of fees after the cut, IVV would have to expand from its current size of $79bn to $138bn, a $59bn increase. This is greater than the entire asset size of VOO, and about 40% of the size of SPY.
Using Nasdaq data, the percentage of institutional (including mutual fund) ownership of the three S&P 500 ETFs are shown in the chart below.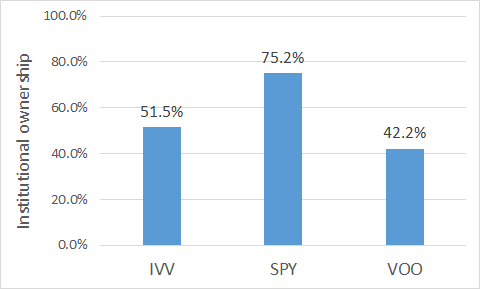 We find that of the three ETFs, SPY has the highest institutional ownership at 75.2%, followed by IVV at 51.5% and VOO at 42.2%. The lowest proportion of institutional ownership (and hence highest retail ownership) of VOO might be due to Vanguard's success in encouraging its clients in investing in its flagship ETF, which until last week was the lowest-cost S&P 500 ETF on the market.
The above chart suggests that there is significant room for movement of retail monies from SPY and VOO into IVV once the broker fiduciary standard ruling comes into force next year, although it is probably unlikely that BlackRock would be able to completely recoup its former fee income from IVV after the cut.
Long-term performance comparable, but SPY lags
Except for the difference in fees, there is essentially no significant difference in practical terms for the everyday investor considering investing into one of the three S&P 500 ETFs.
Over the past 5-year period, the S&P 500 has returned 106.6% (including dividends). VOO lags the index by 0.40%, and IVV by another 0.20% after that. However, SPY is clearly the weakest of the three, with a full 0.60% drag compared to IVV (1.2% drag compared to the index).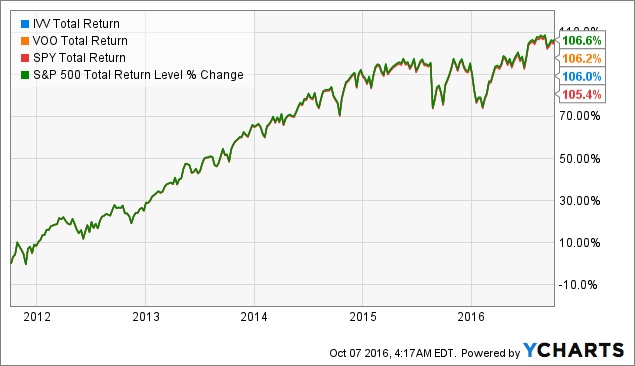 The bottom line
While the above performance differences are small numbers, there's no reason why the savvy investor shouldn't try to maximize his gains by switching* from SPY or VOO into the now-cheapest IVV if all it takes is a couple of clicks on the brokerage screen (*tax issues not considered), given that the ETFs hold essentially the same portfolio.
To put some hard numbers on this, a $100,000 investment in SPY would cost $94.50 in fees per year, compared to only $40 for IVV. All other things being equal, the long-term investor should always try to minimize his fees. I know I'd be happy with finding an extra $50 in my pocket!
IVV, like all other iShares ETFs, trade commission-free on a number of brokerage platforms such as Fidelity and TD Ameritrade.
Active traders might still prefer SPY due to its greater liquidity than the other two ETFs. Advanced, high net-worth investors might consider eschewing ETFs altogether and replicate the S&P 500 with direct stock ownership, as described in a recent article by Seeking Alpha author Tariq Dennison here.
If you have enjoyed my article, please consider clicking the "Follow" button next to my name to be alerted to new content! Also, subscribers to the Cambridge Income Laboratory receive my best trade ideas in advance, have access to my personal ETF/CEF income portfolio, and can request specific ETF/CEF analysis.
Disclosure: I/we have no positions in any stocks mentioned, and no plans to initiate any positions within the next 72 hours.
I wrote this article myself, and it expresses my own opinions. I am not receiving compensation for it (other than from Seeking Alpha). I have no business relationship with any company whose stock is mentioned in this article.