The third quarter earnings reporting season is set to get underway on Tuesday. While the downward earnings revisions are already rolling in and are likely to continue flowing in the coming weeks, the ultimate fate of whether stocks can finally break out of their two-year earnings funk rests on the shoulders of the energy sector. And fortunately, for the broader stock market, it appears ready to get some relief on the earnings front in this regard.
A Tough Two Years
Corporate earnings on the S&P 500 Index have been in chronic decline for nearly two years now. It was all the way back during the 2014 Q3 reporting season that annual as reported earnings on the S&P 500 Index peaked at $105.96 per share. This also included a historically high $27.47 quarterly earnings per share reading. Since that time, however, corporate earnings have fallen by -18% on an annualized as-reported basis through the 2016 Q2 reporting season.
Included in this difficult stretch has been six consecutive quarters of annual earnings declines on an as-reported basis and quarterly earnings that have fallen back to 2011 levels. Hardly the stuff to get investors excited about stocks that are now trading at 26.2 times trailing twelve-month as reported earnings and still remain so close to all-time highs.
Making matters worse, it is almost certain that corporate earnings will have declined on a year over year as-reported basis for the seventh consecutive quarter in 2016 Q3. The earnings reporting season has not even gotten underway, yet Q3 has already turned negative on an annual year-over-year basis barely just a few days into the new quarter. Moreover, with high quality industrial giants like Honeywell (NYSE:HON), PPG (NYSE:PPG) and Dover (NYSE:DOV) having already issued warnings about their future guidance over the last few days, one can be certain that these cyclical companies will not be the last to revise their sales and profit outlooks lower before the quarter is all said and done.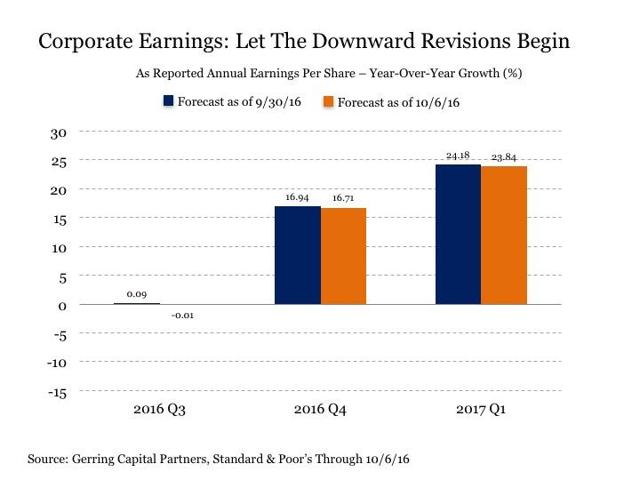 Getting Energized
But the key for stocks looking forward is not what comes in Q3 earnings results, but whether stocks can finally deliver the long anticipated earnings reversal starting in 2016 Q4 and continuing into 2017. And while investors should more than anticipate that earnings will be revised measurably lower from their currently lofty perches for 2016 Q4 and 2017 Q1 in the coming weeks, it appears about as likely as it has for a long time that stocks may finally be able to turn the corporate earnings trend around to the upside.
The key for improved corporate earnings performance in the coming months lies almost exclusively with the energy sector (NYSEARCA:XLE). For it was the sharp decline in the as-reported earnings from the energy sector in particular that is largely accountable for the chronic weakness in corporate earnings over the past two years.
To highlight this point, it is worthwhile to consider the as-reported earnings performance of various other sectors since 2014 Q3. For example, annual earnings in the consumer discretionary (NYSEARCA:XLY) sector have steadily increased each and every quarter by a cumulative 20% since the third quarter of 2014. A similar story can be told for the healthcare (NYSEARCA:XLV) sector, whose annual earnings are 16% higher today on an as-reported basis versus where they were in 2014 Q3.
Consumer staples (NYSEARCA:XLP), financials (NYSEARCA:XLF) and real estate (NYSEARCA:XLRE) have all also solidly improved over this time period, while technology (NYSEARCA:XLK) is effectively flat. As for industrials (NYSEARCA:XLI), while they are still marginally lower from 2014 Q3 levels thanks in part to the spillover effects from the energy sector, they have meaningfully improved from levels consistently seen throughout 2015.
This leaves us with just four sectors to explain the dismal performance of corporate earnings over the past seven quarters. Both utilities (NYSEARCA:XLU) and telecom services are notably lower, but both are relatively small contributors from an earnings perspective to the headline S&P 500 Index overall earnings per share number. And telecom earnings have improved notably from where they were a year ago. Materials (NYSEARCA:XLB) sector earnings also effectively ground to a halt, but they never actually turned negative and have improved markedly over the past two quarters.
Instead, the sector that largely explains the corporate earnings decline since 2014 Q3 is the energy sector. And when breaking apart the contributions by sector to the overall S&P 500 Index earnings number, the weakness in the energy sector has been by far the primary contributor to what would have otherwise been at minimum reasonably steady earnings for the broader market over the past two years.
So why exactly should we expect the earnings performance from the energy sector to improve in the coming quarters? After all, oil prices remain well below previous high levels and they have been volatile at best in recent months despite their solid recovery from the lows earlier this year.
The answer is not necessarily that earnings from the energy sector will get dramatically better going forward. In fact, they may very well stagnate if not get marginally worse in the quarters ahead.
Instead, the improvement in annual as-reported and operating earnings for the broader S&P 500 Index will come from the fact that the utterly dismal quarters for the energy sector, first in 2015 Q3 and much more so in 2015 Q4, will soon be rolling off of the rolling four-quarter annual number. Put more directly, the black hole on overall S&P 500 Index annual corporate earnings that was the results in 2015 Q4 from the energy sector will finally roll off starting with the 2016 Q4 reporting season.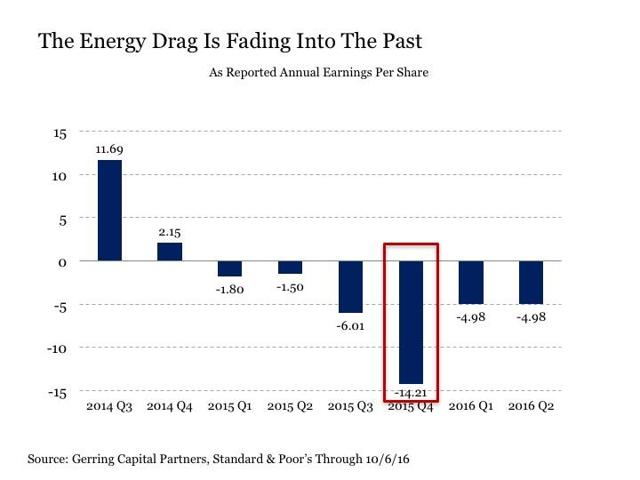 Thus, even if energy sector earnings manage to stabilize at their still generally poor levels, overall S&P 500 Index corporate earnings will start to see a tailwind starting next quarter. And if energy sector earnings can actually improve while the rest of the sectors can at least hold their ground, then all the better for overall corporate earnings results, particularly on a quarterly basis.
It's All About Perception
In this case, S&P 500 Index earnings are set to start looking meaningfully better starting in 2016 Q4. It's not that earnings in general will likely be getting any better in reality. Instead, it will be more a result of the fact that some really lousy quarters in a particular sector will be rolling off the back end of the reported number.
But regardless of the reason why the corporate earnings recession has ended and are once again on the rise, it will fuel the narrative in the mainstream financial media that profits are actually on the rise when in fact they most likely will not be in any meaningful way.
With all of this in mind, three additional key readings to watch in the upcoming earnings season is how well the 2016 Q3 quarterly as-reported earnings reading holds up for the overall S&P 500 Index, how much improvement we see if any in the energy sector, and how well the other ten sectors are able to hold their ground. If all three of these elements hold their ground, than an earnings improvement may actually be for real. Otherwise, any such talk about accelerating earnings will be nothing more than a façade.
Moreover, even if earnings do begin to improve measurably in the coming quarters, stocks are trading at such premium valuations that even if the almost laughable +40% increase in earnings currently projected between now and the end of next year were to actually come to pass and the stock market went absolutely nowhere over this coming 15-month time period, stocks would still be trading at a historically lofty 18 times earnings. Put simply, the stock market remains egregiously expensive no matter how one cuts it.
Bottom Line
After another tough earnings season is put to rest in Q3, corporate earnings may indeed be set to improve notably in the quarters that follow. But beware analysts touting accelerating corporate earnings, as any improvement will largely be a result of the energy sector putting a few particularly dreadful quarters further into the rear view mirror. And even if earnings were to improve by as much as the wildly optimistic analysts are currently projecting, stocks would still be very expensive.
With all of this in mind, continuing to proceed with caution when it comes to U.S. stocks, particularly large caps, remains warranted. Remain selective with stock allocations and continue to emphasize quality names in more defensive segments such as consumer staples, utilities and healthcare excluding the biotech sector, as a number of stocks in these sectors are now trading at more attractive valuations versus where they had been in the recent past.
Disclaimer: This article is for information purposes only. There are risks involved with investing including loss of principal. Gerring Capital Partners makes no explicit or implicit guarantee with respect to performance or the outcome of any investment or projections made. There is no guarantee that the goals of the strategies discussed by Gerring Capital Partners will be met.
Disclosure: I/we have no positions in any stocks mentioned, and no plans to initiate any positions within the next 72 hours.
I wrote this article myself, and it expresses my own opinions. I am not receiving compensation for it (other than from Seeking Alpha). I have no business relationship with any company whose stock is mentioned in this article.
Additional disclosure: I am long individual stocks emphasizing consumer staples, utilities, health care and regional banks. I also hold a meaningful allocation to cash at the present time.