By Parke Shall
In response to auto sales numbers that came out last month, we had to refute some skepticism regarding Ford (NYSE:F) earlier this month in our article "Ford: New Auto Data Doesn't Deter Us From Our Position". At least for the time being, we argued in our previous article about Ford that one month does not make a pattern and that sporadically less favorable looking data makes its way to the foreground on the domestic automakers occasionally due to the nature of a newly diversified business being cyclical. We wrote,
If we had panicked every single time that a set of metrics did not come in line on a month to month basis for the automobile sector, we would have sold out and re-bought our Ford shares many times over long ago.

Simply put, we have a long case and we are sticking to it unless something substantial changes from a fundamental standpoint. Our long case for the company remains intact. It is a case that relies on global diversification for the company to excel over the course of the long term. We expect the company's plans to set up shop in numerous international locations will help it ride out longer-term cycles not only in the automotive sector, but within the global economy.
We were sure that one month worth of negative data was not something to get up in arms about and today we see why. Both Ford and General Motors (NYSE:GM) have posted another extremely fantastic month in China. This goes to further our case that diversification globally is an immense positive for the company. When one geographic region pulls back, another one can step up and pick up the slack. Until the entire global economy enters recession together, we think that this type of diversification will continue to help both automakers, but particularly Ford, going forward.
Here are some of the updated September auto sales metrics, as reported by Seeking Alpha,
Ford reports sales in China increased 24% in September to 109,277 vehicles as the company's JVs continue on their hot streak in the nation.
The Changan Ford Automobiles JV generated sales of 84,335 vehicles, while the Jiangling Motor JV contributed sales of 23,416 vehicles.
The Ford Focus had a strong month with sales up 43% Y/Y to top 20K.
Sales have just started for the new Kuga SUV and the new flagship Lincoln Continental will hit dealer lots later in the quarter.
Ford China YTD sales +11% to 880,000 units.
We have long made the argument that diversification within US automakers, but particularly with Ford, is extraordinarily important. We believe the company's widened global footprint will be absolutely crucial to them being able to stabilize their business over the course of the long term and we believe that the company's cash rich earnings make it an attractive buy at these levels.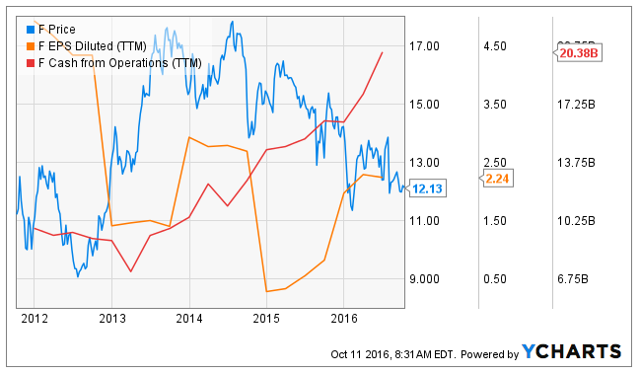 While there continue to be concerns domestically about a potential auto bubble, we believe we have presented a fair way to negate potential risk by shorting Credit Acceptance Corporation (NASDAQ:CACC) alongside of a long position with either domestic automaker. This company originates subprime loans and should be impacted first should an automobile bubble burst in the United States.
News also was reported by Bloomberg yesterday that Ford was shutting down production of the Mustang at its Michigan plant for a week as demand was waning. While lots of commentary that we read suggested this was a secular negative for the auto industry, reading the details of the article tells us otherwise. It's simply appears as though the Mustang had been bested by the Camaro for the first time in years and that this competition is what caused the necessary suspension of production. The Bloomberg article reported,
Ford Motor Co. is shutting its Mustang factory in Michigan for a week after the iconic sports car suffered a 32 percent sales decline in the U.S. last month and was outsold by the Chevrolet Camaro for the first time in almost two years.

The second-largest U.S. automaker idled the factory in Flat Rock, south of Detroit, to match production capacity with demand, Kelli Felker, a company spokeswoman, said in an e-mailed statement. The plant, which employs 3,702 workers and makes Mustangs and Lincoln Continentals, will resume production Oct. 17, Felker said. Under the automaker's labor agreement, workers will be paid during the shutdown.
The shut down seemed to have more to do with heavier domestic competition than a total lapse in US auto sales demand. As we have pointed out in numerous articles, the average age of the vehicle on the road is now approaching 12 years, which is a record, and we believe that demand for automobiles both in the United States and globally will continue to be extremely robust.
To circle back, Ford's metrics out of China continue to look extremely impressive. The company is working on becoming a profitable entity not just in the United States and Europe, but in other countries. The company trades at an extremely low price to earnings ratio and the earnings that it does post are cash heavy. We continue to think that taking a long position in Ford here while mitigating risk by having short exposure to an auto bubble is a prudent strategy and we continue to be long Ford.
Disclosure: I am/we are long F.
I wrote this article myself, and it expresses my own opinions. I am not receiving compensation for it (other than from Seeking Alpha). I have no business relationship with any company whose stock is mentioned in this article.