A long and illustrious history
ANZ (OTCPK:ANZBY) is a supra regional retail and wholesale bank covering Australia, New Zealand and most of the East Asian and Pacific countries.
The bank is the third in Australia by market capitalization and is the biggest lender in New Zealand with market quotas of around 30% in key commercial banking segments. ANZ serves 10 million clients across the region.
As well as in Australia and New Zealand, ANZ operates in 30 countries around the world, mainly in the Asia-Pacific region offering retail and wholesale banking services.
The history of the Australian lender is old and illustrious: An amalgamation of Bank of Australasia, created by Royal Charter on the 2nd of March 1835, the Union Bank of Australia established in 1837 and the English, Scottish and Australian Bank (ES&A) established in London in 1852.
In 1951, the Bank of Australasia merged with the Union Bank of Australia creating ANZ Bank. Later in the century, in October 1970, in what was the biggest merger in the history of Australia, ANZ merged with the English, Scottish and Australia Bank to create the current ANZ Banking Group Limited.
Once consolidated in Australia and New Zealand, its natural market, during the 80s and 90s, ANZ Bank expanded aggressively in East Asia and the Pacific region, particularly in China, Vietnam, Indonesia and the Pacific Islands.
In 2005, ANZ signed a strategic agreement with Sacombank, the top bank in Vietnam acquiring a 10% equity stake in exchange for risk management and technology assistance.
The Australian bank followed a similar strategy in China, acquiring 20% of Chinese bank Tianjin City Commercial Bank later on.
Finally, in 2009, and in the context of the Royal Bank of Scotland crisis, ANZ acquired RBS's retail units in Taiwan, Singapore, Indonesia and Hong Kong and RBS business banking units in Taiwan, the Philippines and Vietnam. Most of this business came from the failed acquisition of ABN Amro two years earlier.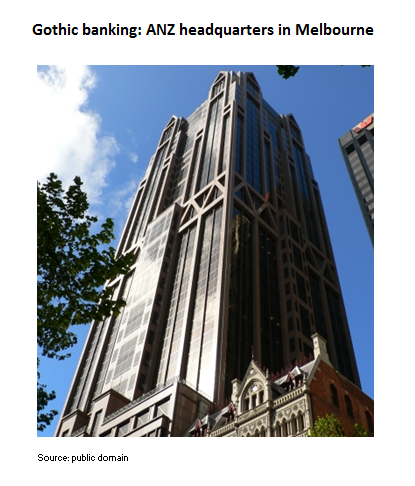 2016 and beyond: From Melbourne to the World
At the end of 2015, ANZ was a mixed Australian, New Zealand & Pan Asian retail and wholesale banking franchise. The lender was one of the four biggest banks in the Australian oligopoly, third by market capitalization, profits and assets, and fourth by revenues.
In Australia, its core market, ANZ had more than 6 million customers and circa 21,000 staff. Its New Zealand franchise served 2 million customers in retail, wholesale and asset management financial services. Finally, ANZ could boast to be the 4th corporate bank in Asia with deposits of $129bn and a loan book of $85bn.
At the end of that year, 66% of operative income profits came from Australia, 18% from New Zealand and 19% from the international activity of ANZ mainly in Asia-Pacific.
The distribution of the loan book risk (exposure to default) was similar: 67% of the $570bn loan book was exposed to Australia, 18% to New Zealand and 15% was dependent on the Asia-Pacific region's economic developments.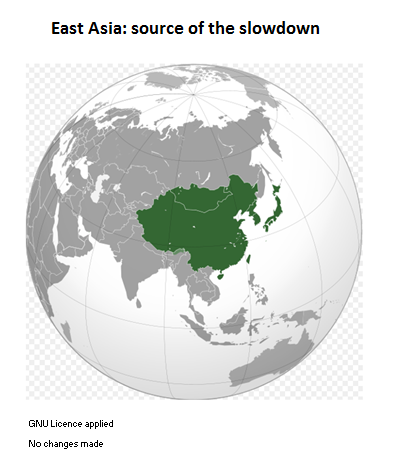 And this, the geographic distribution of risks, is the big problem for ANZ. The Melbourne bank is exposed to two negative economic dynamics in its geographic areas of coverage that are dangerously interlinked: The slowdown of China, now in full motion despite the temporary pickup of activity over the last two months, and the overleverage of the Australian economy, now in a phase of deceleration - particularly business investment - and only sustained by real estate bubble-based consumption, prelude of a deep and potentially punitive crisis for the local banking system.
Furthermore, both dynamics are interlinked, in the way that the cause of the Australian extraordinary growth over the last 20 years and the consequent extraordinary bubble has been the appetite for commodities from China to build its infrastructure on. Now this appetite has disappeared and the slowdown of the Chinese economy and the impact on commodities prices - particularly iron ore - will likely be the factor that punctures the Australian real estate and financial bubble. This is happening now.
Thus, against a combined $570bn loan book exposed to a declining economic area and an overleveraged economy with a real estate bubble in full swing, ANZ has $57.4bn equity capital. That means a movement of 5% in the value of the loan book - reasonable given the dynamics described - may have a devastating impact on the lender and its stock price.
On top of this, an extra risk lies in the balance sheet of ANZ: The bank is significantly leveraged with a loan to deposits ratio close to 128% and only 50% of total assets are financed by stable deposits, the rest being a mix of short-term paper and longer horizon funding, more unstable by definition.
Therefore, in case the negative dynamics in Australia and China intensifies, ANZ is likely to suffer a solvency crisis (loan book NPL) combined with a liquidity crisis (caused by the difficulties to fund assets with short-term paper and less stable mid-term funding compared with traditional banking deposits).
As a corollary, an important part of the short and mid-term funding is denominated in foreign currency, making the bank highly sensitive to a fall of the Australian dollar in the context of wider economic crisis.
Summing up, too many things may go wrong at the same time for Australia and New Zealand Bank.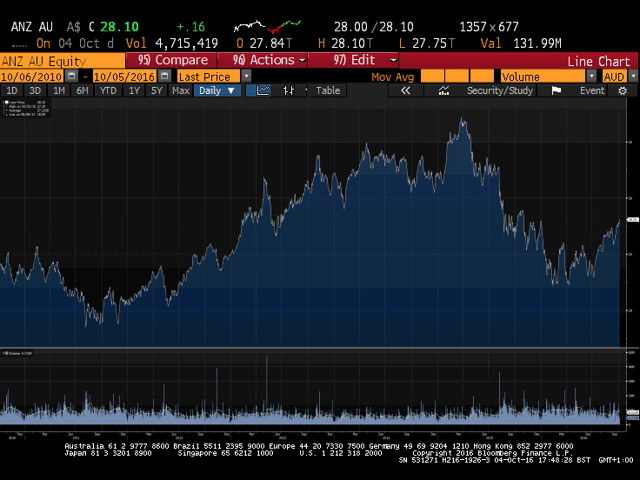 Stock prices and a rather sombre future
Stock price of ANZ has followed the general trend of Australian banks and general markets indexes in East Asia over the last five years: The lender experienced a steep recovery until 2015 and a constant decline for one reason or another from then to October 2016.
Thus, from a minimum of $16.54 in early 2012, the stock price increased to its current $33.46 per share at the start of 2015. From then, and following the trend of Australian banks Westpac, Commonwealth Bank of Australia and Western banks operating in Asia such as Standard Chartered or HSBC, the stock price started a sustained fall during 2015 based on a more negative assessment of the supra regional economy driven by the slowdown of China.
This trend, accentuated by the Banking Panic of early 2016 drove ANZ stock down to a minimum of $21.5 before executing a technical pullback backed by a more optimistic mood towards investors in Asian markets.
Last Friday, ANZ reached a price of $28.26 with a total market cap of $82bn for the Australian bank.
Compared with peers, and taking into account Australian banks are among the most pricey in the world right now, the bank does not look particularly expensive at a current P/E of 13.4 times and price book value of 1.45 (CBA is at P/E 13.7 times and 2.1 times price book value, while Westpac Banking Group is priced at 13.1 times expected 2016 P/E and 1.77 times price book value).
Nevertheless, we are not talking about pricing here. ANZ is the Australian bank with the most extensive exposure to East Asia ex-Australia. Thus, to some extent is the only bank sitting between a bubble that could blow up at any time at home and a dysfunctional Chinese economy that could drive East Asia significantly down over the next 3 years.
The degree of financial fragility the balance sheets of ANZ endures is higher because, as a difference with other Australian banks, is exposed to two sources of interlinked but different risks: Any of them going wrong would have a deep impact on stock price.
Therefore, in this kind of situation, and quoting Ben Graham on his advice of going or not to any IPO at any time, "any price is expensive."
For these reasons, ANZ is an optimal short for the next 3-5 years: The bank 1) is overexposed to two geographic areas going down the cycle from an historic high, 2) holds a risky funding profile in terms of deposits/loans ratio and funding sources and 3) stock price has clearly broken the secular 2012-2014 upside trend in 2016, a prelude for what might be bigger falls.
It is difficult to know up till what point ANZ shares will fall over the next three years. What is clear is that it will be a bumpy - and profitable - road for a prudent banks investor to short the Australian lender.
Disclosure: I/we have no positions in any stocks mentioned, and no plans to initiate any positions within the next 72 hours.
I wrote this article myself, and it expresses my own opinions. I am not receiving compensation for it (other than from Seeking Alpha). I have no business relationship with any company whose stock is mentioned in this article.
Editor's Note: This article discusses one or more securities that do not trade on a major U.S. exchange. Please be aware of the risks associated with these stocks.