Nationstar Mortgage (NYSE:NSM) is a beaten down mortgage servicer, originator and residential real estate transactional services provider. The stock has been on a downward trajectory ever since mortgage rates hit a recent peak in 2013. Here is a chart of the stock price (white line) overlaid with the Bankrate 30Y National Average Mortgage rate (green line). The two have more or less moved in tandem since mid-2013.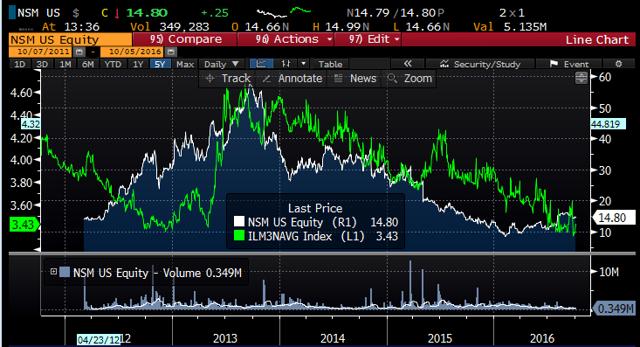 Servicing
About half of Nationstar's operating income comes from the servicing of mortgages. Nationstar acquires the rights to service pools of mortgages from third parties. It gets paid a fee to service each loan. Nationstar is the largest non-bank servicer and fourth largest residential mortgage servicer in the US. The company wants these mortgages to stay outstanding as long as possible. The longer they do, the more valuable and profitable they become. The problem Nationstar has faced since mid-2013 is one of declining rates. More people refinance their mortgages as rates go down. That means that many of the mortgages serviced by Nationstar are prepaid in full, and the company no longer earns any revenue from them. The company already amortizes a decline in the value of the portfolio, but when the portfolio of MSRs declines more than expected, it must mark its portfolio to market, and write-off the lost value. Nationstar has had to write off a lot of value in its servicing portfolio over the past few years as interest rates dropped. That means the company is not earning a good return on its investment. The decline in the stock price over the past several years is largely reflective of falling rates.
The story is not all bad, however. After multiple quarters of subpar profitability on MSRs, the company has turned a corner and raised its level of profitability.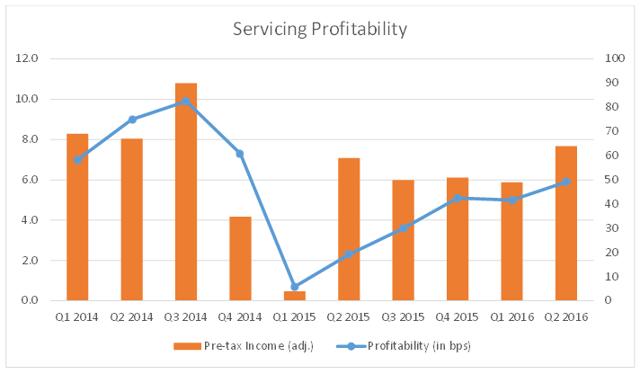 Source: quarterly earnings presentations
Note: adjusted pre-tax income is on the right axis and measured in millions of dollars.
2015 was particularly poor for Nationstar as high amortization expense and legal and compliance costs really ate into profitability. However, expenses are declining and the company is more efficiently servicing its book of business so far in 2016. The company is committed to an average servicing margin of at least 5bps this year. Q2 was better than Q1 in terms of profitability. I think they can continue to achieve profitability in excess of 5bps for the remainder of 2016.
As the servicing book burns off due to scheduled repayments and voluntary prepayments, Nationstar is replenishing its book. It expects to on board servicing for $130B in principal balance of mortgages in the second half of 2016.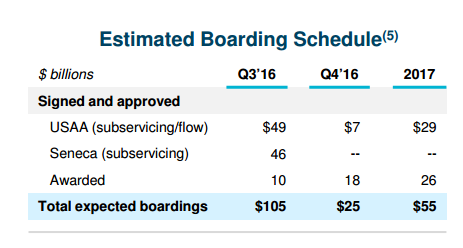 Source: quarterly earnings presentation
It is seeking to do so while limiting the amount of capital it needs put out the door. It is using partners such as Seneca Mortgage and USAA to accomplish this goal as well as increasing the amount of subservicing contracts it enters into. As of the Q2 earnings call it already had $55B of mortgage servicing rights (MSRs) slated to on board in 2017.
Originations
Nationstar also has a mortgage origination business. It is licenses in all 50 states but primarily markets to existing servicing customers and customers of homebuilders. The company has been seeking to recapture more business from its servicing clients that refinance their mortgages. Despite a competitive environment, it has been successful in increasing its recapture rate up to ~30% so far in 2016. This is the most efficient replacement of MSRs as it preserves their economic value.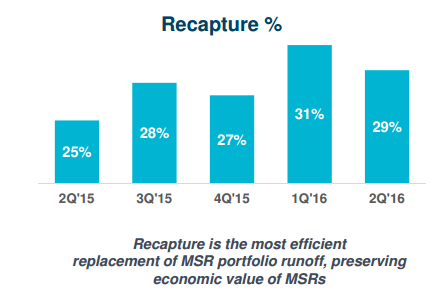 Source: quarterly earnings presentation
Originations have been a major source of profitability for the company. After several quarters of declining profitability, originations rebounded in Q2 as funding volume increased 23% quarter-over-quarter and the pretax margin increased by 16%.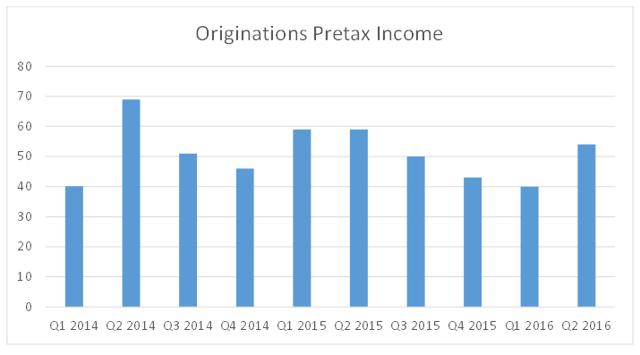 Source: quarterly earnings presentations. Note: dollars in millions.
Going forward, the company needs to continue to execute in this business as it is a sizable source of profits and liquidity.
Xome
Xome (pronounced ("Zome") is an interesting business. The company has changed its name and strategy for this business multiple times in the past couple of years. In 2014, Nationstar decided it wanted to create the country's first end-to-end digital home buying experience. It hired Kal Raman as CEO of the business, planned to raise capital and possibly IPO the business. Kal had extensive e-commerce experience at Drugstore.com, Amazon and Groupon. Xome had big plans to develop technology and apps to launch it as the first end-to-end digital residential real estate transaction platform. It was exciting to see and analysts quickly slapped big valuations on the business. However, something changed internally in 2015 and by the end of the year Kal was out and the company's ambitions for Xome were scaled back. Investors never got a satisfactory explanation. I suspect the company was unsuccessful with its capital raising efforts and decided to reign in its ambitious expansion plans. Xome (previously named Solutionstar) was born out of the need to sell foreclosed homes after the 2008 financial crisis. Nationstar cobbled together a bunch of transaction businesses, including agents, title, settlement and escrow services. To date it really has not developed into anything meaningful beyond that. Its business is seasonal but has remained an important source of profits. About two-thirds of the divisions' revenues come from the servicing business. Xome is still investing and attempting to grow 3 rd party revenue, however success to date has been elusive. Nevertheless, Xome will at a minimum produce a fairly steady stream of annual profits from its transactional business. Growth in third party business is a free call option for shareholders.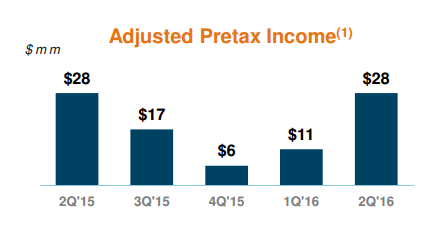 Source: quarterly earnings presentation
Liquidity
Nationstar has ample liquidity that has afforded it flexibility as it seeks to add to shareholder value despite low rates.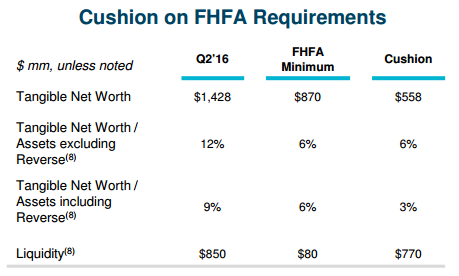 Source: quarterly earnings presentation
It raised $500M in equity early in 2015, which it has used to invest in both the servicing and originations business as well as to reduce high cost debt and repurchase shares.

Source: quarterly earnings presentation
At less than 1X book value, these opportunistic share repurchased are a good use of excess capital and should be nicely accretive in the longer-term. In addition to these buybacks, Nationstar repurchased $125M of multiple tranches of its senior notes at a discount to par in 2015 and 2016. Both these open market operations show that the Board and management are focused on enhancing shareholder return in this low rate environment.
Valuation/Conclusions
Despite heavy prepayments and large mark to market losses on the servicing book, Nationstar has been able to grow its book value over the past five years.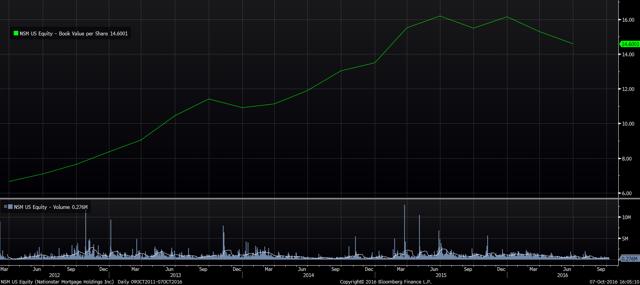 Yet the trading multiple has crashed. Here is a chart comparing the Bankrate.com US home mortgage 30-Year fixed national average mortgage rate to the price/tangible book value multiple for Nationstar.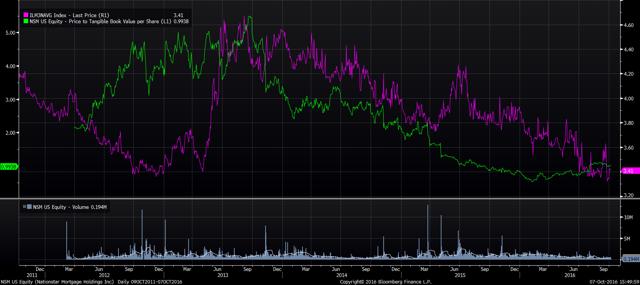 Each has moved markedly lower since mid-2013. The market has soured on mortgage servicers over the last few years, and rightly so. The level of refinancing activity was a big blow to their servicing books. However, if you believe, like I do, that rates have bottomed and will slowly move up from here (beginning with a 25bps Fed funds rate in December), servicers could come back into favor once again. While I do not expect a dramatic or sudden increase in rates, I do think rates move higher (50-100bps) over the next 12-18 months if the economic recovery continues. Both presidential candidates have talked about fiscal stimulus, particularly for rebuilding domestic infrastructure. I believe this could be a catalyst that can really kick start higher inflation, which will force the Fed to act. This activity should also steepen the yield curve as inflation expectations firm up, which will boost mortgage rates. If this scenario plays out, Nationstar's trading multiple of book value (and the stock price by definition) could easily double (or more) based on historical trading multiples.
If I am wrong and rates fail to move materially higher, I still think the downside is limited. Nationstar is nicely profitable, adjusting for non-cash, mark-to-market losses on the servicing portfolio.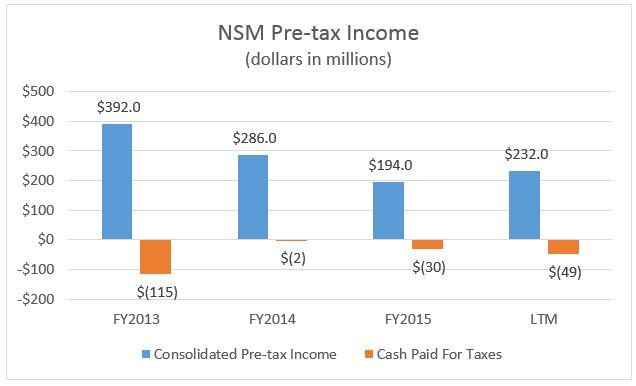 Source: company filings
I believe this level of core profitability can continue to support the shares at the current valuation based on Nationstar's $1.4B market cap despite low interest rates. Therefore, I believe the risk versus reward for the stock is skewed to the upside, and I would be a buyer at these levels.
Disclosure: I am/we are long NSM.
I wrote this article myself, and it expresses my own opinions. I am not receiving compensation for it (other than from Seeking Alpha). I have no business relationship with any company whose stock is mentioned in this article.