Welcome to the sixth installment of the Value Investing for Main Street series, exclusively on Seeking Alpha.
In 2009, the Value Investing for Main Street Model Portfolio [VIMS] initiated a position in the International Business Machines Corporation (NYSE:IBM) at an average price of $113.77 that was subsequently walloped by the return of the S&P 500 Index. Following burgeoning issues such as declining revenue growth, we contemplated exiting the position in the third quarter of 2011 to take advantage of a 60% jump in the stock price from our 2009 baseline.
Then in November 2011, Warren Buffett announced his Berkshire Hathaway (NYSE:BRK.B) conglomerate had accumulated 64 million shares of the company. His decision was curious as Buffett had famously avoided technology companies. We decided to stay with IBM figuring that Warren - the master of value investing - must know something we did not.
Today, despite its stagnant stock price from widely publicized issues since Buffett's buy-in and a narrow moat encircling hard to understand products and services, we now embrace IBM as a classic "buy low, hold high, sell when you die" investment. Here's why.
From Earnings to Dividends

IBM and the IBM logo are trademarks of International Business Machines Corp.
IBM is a large value stock in the IT consulting & services industry within the information technology sector. As of this writing, its market capitalization (current market price of one share of stock times total shares outstanding) was an approximate $150 billion. IBM's current price to earnings ratio, i.e., P/E or current stock price relative to earnings per share for the trailing twelve months [TTM] is in the low teens versus the low 20's for the Standard & Poor's 500 Index of the largest companies traded on U.S. stock exchanges.
Despite our skepticism in forecasting, the fiscal year forward price to earnings ratio (P/FE, or current stock price relative to one year forward forecasted earnings per share) is also in the low teens compared to just under 20 for the S&P 500. In either scenario, trailing or forward, the P/E ratios for IBM appear discounted to the market as a whole.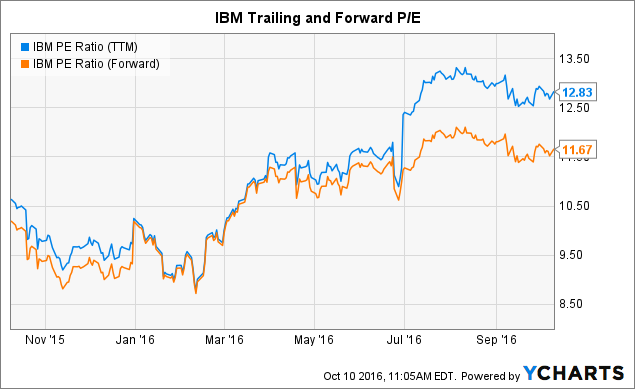 IBM PE Ratio [TTM] data by YCharts
IBM's most recent earnings per share, i.e., EPS or the portion of adjusted net income to each outstanding share of common stock, is a robust $12.36, due in part to recent share buybacks. As of this writing, IBM is paying a generous 45% of its EPS to shareholders in an annual dividend of $5.60, paid quarterly for a 3.60% dividend yield. These are significant numbers for a main street value investor committed to total return from a stock's capital appreciation and dividend payments.
As Long as the Clients Understand the Products...
IBM surrounds itself in a narrow moat or the subjective measurement of the competitive advantages of a company's goods or services in the overall marketplace. A wider moat creates a barrier to entry for potential competitors. Companies with narrow or no moats are typical in the crowded information technology space, although IBM's enduring legacy in the tech arena provides some degree of a competitive benefit.
Understanding a company's goods or services and competitive advantages are essential to the main street value investor. We want to own businesses whose products or services are easy to comprehend. On some levels, IBM's products and services are difficult to understand for the lay investor not in tune with the sophistication of the ever expanding global information technology infrastructure where IBM plays a significant role.
Warren Buffett has famously said that he recommends buying companies whose products or services are easily understood and he has mostly avoided technology companies as a result. He apparently made an exception with IBM or perhaps is tuned-in to the company's sophisticated offerings.
IBM is a broadly diversified international information technology consulting and services enterprise that from a marketing standpoint divides itself into two segments: products and services. However, in 2014, the company declared strategic imperatives around three main digital forces: big data and analytics, cloud, and engagement.
Since 2010, IBM has invested approximately $30 billion in these areas, built out the IBM Cloud on a global scale, established the Watson Group, announced 50 acquisitions and entered into major partnerships, including the landmark alliance with Apple to bring mobile to the enterprise. As IBM's clients transform, "digital" itself is not the destination, but a foundation to create a truly Cognitive Enterprise. This is resulting in new types of interactions between people, organizations, and machines. (Source: IBM 2015 Annual Report)
Key tenets of the company's highly differentiated strategy include:
Cognitive Solutions: Advanced analytics and key data led by Watson, IBM's foray into artificial intelligence. Watson is a supercomputer system capable of answering questions posed in natural language and was named after IBM's first CEO, the industrialist Thomas J. Watson.
Cloud Platform: New offerings are cloud-enabled with client solutions built on the IBM Cloud. The company claims to have the most secure hybrid cloud platform in the industry.
Industry Focus: Solutions built for the needs of individual industries and professions.
(Source: IBM's most recent Form 10K filed with Securities & Exchange Commission in February 2016)
As an individual investor, I find IBM's products and services as highly sophisticated to the point of confusing. This presents a challenge to the main street value investor's essential view of only buying companies whose goods or services are readily understood by the layperson. Mr. Buffett made an exception. Should we? The proof lies in the objective details of IBM's fundamentals, valuation, and risk, including any variant assessments of an ultimately subjective analysis.
Keep Sending Cash, Thank You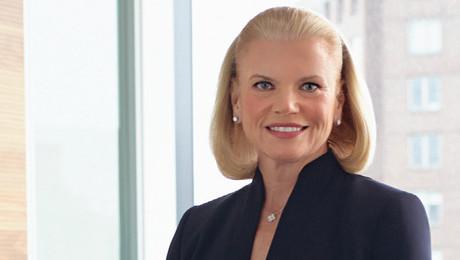 IBM CEO Ginni Rometty [Photo Courtesy of IBM]
When considering the worthiness of a company's inclusion in the Value Investing for Main Street Model Portfolio [VIMS], the emphasis is placed on recent actual growth metrics as opposed to speculative forecasts of what may or may not happen with revenue, earnings per share, free cash flow, or dividend growth. We look for positive, trailing five-year revenue and earnings growth, and ten years of positive increases in free cash flow and dividends. As defensive investors, we prefer companies that are already growing, not just promising to grow.
In the most recent five-year period, IBM's revenue and earnings per share growth are (3.93%) and 3.37%, demonstrating a flat long-term growth to the main street value investor. We are further discouraged by the company's negative 14.03% five-year growth in free cash flow, i.e., how much cash the business generates after accounting for capital investments such as buildings and equipment.
But IBM has a most recent ten-year compounded annual dividend growth rate of 20.4%, i.e., the year-over-year rate at which dividends would have grown on a yearly basis if they had appreciated at a steady rate over the ten-year period. To be sure, the company's overall growth is grudging along, but we like the upward trajectory of its dividend payout to shareholders.
Management and Staff are Delivering Cash to Investors
Led by Virginia M. (Ginni) Rometty, chairwoman, president, and chief executive officer, the senior executives and global employee base at International Business Machines are delivering a trailing twelve months operating margin (EBIT or earnings before interest and taxes) at a modest 16.73% of revenue. Nonetheless, IBM's recent cash flow margin or cash flow as a percentage of sales is 19.39%, almost doubling our minimum threshold of 10% TTM. Despite thin margins and slow growth, the company is generating cash, nonetheless.
For her part, Rometty has had the challenge of succeeding legendary CEO Sam Palmisano. As a shareholder, I have come to admire her efforts to reinvent the company. And she has been named to Fortune magazine's 50 Most Powerful Women for ten consecutive years, ranking #1 in 2012, 2013 and 2014.
As does Warren Buffett, we place a premium on the return on invested capital [ROIC] or how well a company is allocating its financial resources to generate returns for the business. In general terms, ROIC is net income - less dividends - as a percentage of working capital. As value investors on Main Street, we target companies producing 12% or higher in ROIC. IBM's ROIC at the time of writing was a respectable 14.81%.
Another excellent measure of management effectiveness is the return on equity [ROE] or how the company generates net income as a percentage of total equity in the stock. Since we look for a minimum of 15%, we view IBM's most recent ROE of 81.20% as a home run.
The conundrum for IBM investors is reconciling the company's slow growth in revenue, earnings, and free cash flow with otherwise notable performance in generating investor returns on cash flow, dividends, investment, and equity. Are its sophisticated and largely untested new product mix, slow growth, and low margins outweighed by its outstanding history of providing investor returns on equity and capital? Or by the company's twenty consecutive years of increasing dividends and 100 straight years of providing one?
As always, the answer lies in the stock's valuation details.
VIMS Research Time-out for a Fascinating IBM Tidbit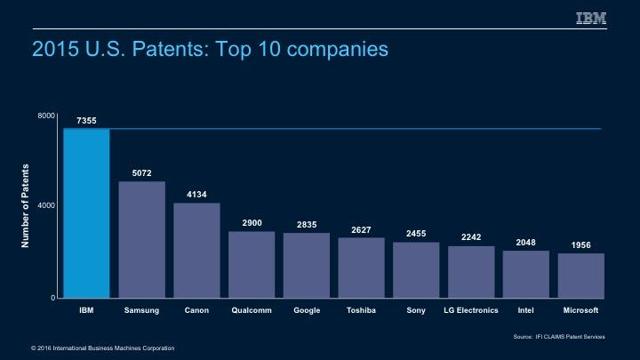 Top 10 U.S. Patent Companies in 2015 [Source: IBM]
According to the company, for the 23rd consecutive year, IBM led the U.S. in patents earned, once again breaking the 7,000 threshold. When the streak began more than two decades ago, 27 percent of IBM's patents were in hardware. Last year, 31 percent of the total earned were in cloud, analytics and cognitive.
In 2015, IBM invested more than 6 percent of its revenue in research and development and about $4 billion in capital expenditures. As long view buy-and-hold Main Street value investors, we like companies that strategically allocate capital to intellectual (patents) and structural (buildings & equipment) improvements.
"I'll Take 'Value Investing' for $1000, Alex"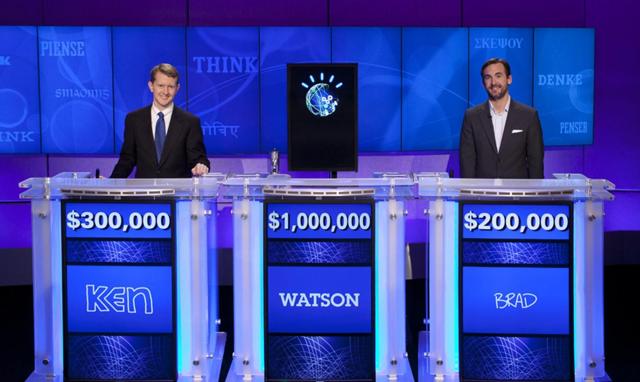 IBM's Watson Competing on Jeopardy! [The Washington Post]
Determining the attractiveness of a stock's price based on valuation metrics relative to a company's fundamentals is a primary tenet of the main street value investor's search for stock investing nirvana, or alpha.
As of this writing, IBM appears an attractively priced stock of a fundamentally incongruent company. Executing with investment intelligence - or perhaps sheer luck - we added an ownership slice of IBM in 2009 to the VIMS Model Portfolio at a 26% discount to its current price. We then watched the stock peak in 2013 at about $215 before settling back to its current $157 range at the time of this writing.
Hindsight being the proverbial truth serum, we had seriously contemplated selling some or all of the stock in 2011 to take profits (plus earned dividends) because we had become skeptical of the company. Then Warren Buffett started buying in the $160-70 price range. He apparently saw what we did not: that the stock was on its way to $200+ in just two short years. Subsequently, Wall Street's quarter to quarter nearsightedness sent the stock back down to Buffett's entry point. The market reacted to typical concerns regarding revenue growth and guidance as well as IBM's new strategic initiatives into cognitive solutions and cloud computing.
Nonetheless, current valuation indicators run the gamut from sell to hold to moderate buy depending on an investor's metric of choice.
IBM was recently trading at about 11 times enterprise value to operating margin (EV/EBIT), i.e., total market value plus debt - less cash - as it relates to earnings before interest and taxes. In general, 12 times or lower would reflect a reasonable stock price.
Price to sales ratio (P/S or the previous day's closing price, divided by the sum of sales per share over the trailing 12 months) was 1.90 times as of this writing. That is slightly below the 2.00 or lower that we interpret as a good value when measuring a stock's price relative to its revenue stream. To be sure, the information technology sector, where IBM resides, had a P/S of 2.91 and the S&P 500 was 1.88. Apparently, on a sales basis, IBM is a better value than its tech peers yet fairly priced to the market.
Price to earnings growth ratio, i.e., PEG or P/E ratio divided by the consensus longer-term EPS growth rate forecast provided by brokerage firm analysts, is a favorite among growth investors. But main street value investors are more cautious based on the projection nature of PEG as opposed to actual trailing results. Nonetheless, PEG can provide a substantive peek into a stock's price worthiness. We prefer below 2.00, and IBM was recently trading at an alarming 4.46 times PEG based on a five-year growth projection.
IBM also appears expensive in its price to book or P/B ratio (book value is a measurement of the stock price relative to stockholders' equity and net asset value on a trailing quarter basis.) As of this writing, the stock is trading at 9.55 times its book value. We focus on excellent companies selling at a P/B ratio of less than 2.00 or at least below the industry average. But IBM's book is further elevated when compared to the information technology sector's recent collective P/B of 4.23 versus 2.89 for S&P 500.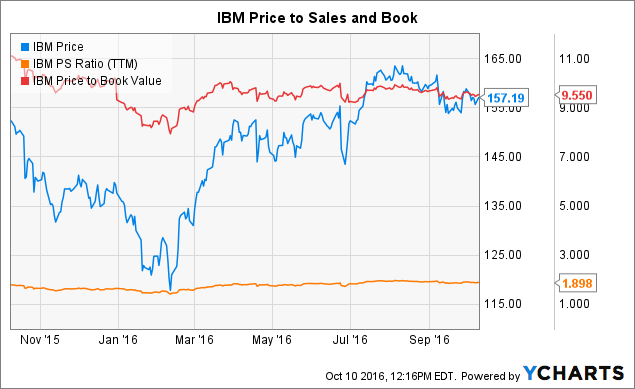 Arguably, tech stocks are collectively expensive at the moment with IBM perhaps on the high end relative to its peers. Nonetheless, notable exceptions appear when measuring IBM's sales and cash flow valuations, two critical indicators of a company's worthiness.
We measure cash flow as a reliable predictor of determining the intrinsic value of a stock price. IBM's price to cash flow ratio, or P/CF, i.e., current price divided by cash flow per share for the most recent fiscal year, was an attractive 7.84 compared to 17.31 for the information technology sector on the whole. At VIMS, we look for stocks trading at less than 10.00 P/CF, or at least significantly below the sector or industry averages.
Despite a lack of growth, IBM's prolific generation of free cash flow relative to its sales and stock price has our undivided attention. And apparently Mr. Buffett's as well.
A Boring Risk Profile
IBM is notably less volatile than the current market. For example, the stock's beta or the measure of its volatility in comparison to the market as a whole was a sub-market 0.91 at the time of writing. We typically look for beta below 1.25 or no more than 25% riskier than the market.
Another important measure of risk is a company's liquidity, e.g., long-term debt as a percentage of current assets. Less than 1.00 is ideal as we want to own businesses that theoretically can pay down debt with liquid assets. Our most recent measure of IBM's liquidity was a minimally acceptable 0.91.
Current ratio [CR] is another simple but telling measure of a company's financial stability. CR is current assets divided by current liabilities, the higher above 1.00, the better. IBM had a recent CR of 1.30 telling us the company is safely liquid in its present financial state.
A stock's "margin of safety" is an estimate of the difference between the intrinsic value of the stock and its market price. One measurement allegedly used by Benjamin Graham and Warren Buffett, contemplates net profit margin in relation to dividend yield and book value. Dividing the sum of IBM's recently reported net profit margin of 14.94% and its dividend yield of 3.60% by its book value of 9.55 produces a margin of safety of 1.94. Above 2.00 is considered hold territory and above 10.00 is a buy signal. Because of its high book value, IBM is flirting with sell territory in the value investor's vacuum.
In the company's most recent 10K filing with the SEC - documents main street value investors should be reading for all current and potential future investments - no significant risk levers such as legal matters or financial discrepancies were evident.
Nevertheless, the VIMS Model Portfolio ranks IBM's overall market risk profile as average. We like profitable, dividend paying, wide moat companies that are less volatile than the market, and have the free cash flow and liquidity to pay its bills, both short and long term. IBM entices us with its cash flow margin, beta, and dividend yield, but gives us pause when analyzing its book value, narrow moat, and negative five-year revenue growth. At its worst, IBM is a boring, low-risk cash cow.
The Financial Blogger's Dividend Aristocrat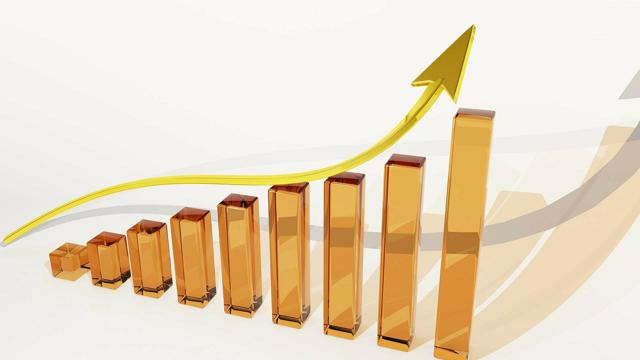 As value investors on Main Street, we do not interpret market consensus as a definitive buy or sell signal but more a suggestion to perhaps run the other way. But evaluating the Wall Street consensus on a stock is an entertaining if not serious dive into a contrarian's treasure trove.
According to Morningstar, the Wall Street analyst consensus on IBM is hold based on the models of nine analysts. The financial blogger consensus, including contributors from Seeking Alpha, is bullish according to data miner, TipRanks.
At VIMS, we put most weight on the blogger consensus as it tends to be more of a Main Street view. Although we are mindful that many bloggers focus on fundamentals, growth, and dividends, not necessarily value. In our opinion, the bullish consensus is more a reflection of IBM's legendary status as a dividend paying technology innovator. Until recently, IBM's generous history of payouts was an oxymoron in the historically growth-oriented, no dividend tech sector.
Technical analysis sits literally at the bottom of the VIMS research basket as we prefer the more reflective data of fundamentals analysis than the Ouija Boards of technical trading. That written, on September 16, 2016, the technical research team at Market Edge Second Opinion® had rated IBM avoid (but not a short sale candidate) based on moving averages and other comprehensive technical charts that I will leave to the whims of Wall Street traders for attempts at interpretation.
Short interest, or the percentage of shares that are traded based on a bet the stock price is poised to drop, was bullish for IBM at just 2.4% of shares outstanding as of this writing. We refer to short interest as the hedge fund consensus since a significant shorting of stocks is executed by the Wall Street money manager elite. According to TipRanks, hedge fund holdings on IBM had increased in the most recent quarter.
As of this writing, it appears that insiders at IBM, i.e., its senior management and directors, are selling. At VIMS we more often take insider activity with a grain of salt. For example, it is college tuition time and the size of Ivy League bills may call for the exercising of stock options by senior corporate management across America. Nonetheless, a stock will get our attention when insiders start buying company shares on account as that demonstrates a sincere interest in owning the business that employs him or her.
None of Us Are Getting Out of Here Alive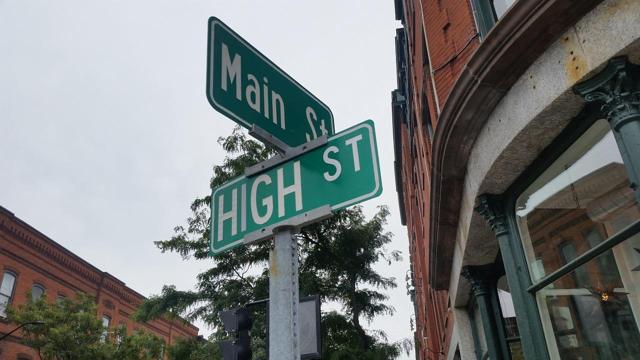 Since adding IBM to the Value Investing for Main Street Model Portfolio [VIMS] following the market collapse of the Great Recession, we continually monitor the valuation metrics for a potential re-entry point, i.e., a somewhat steeper discount to its current perceived intrinsic value. There is no guarantee that Mr. Market will offer a more attractive entry point anytime soon. But the VIMS radar is patiently echoing our preferred valuation measures to determine a potential buy of additional shares.
Nonetheless, International Business Machines has been a modest seven-year holding for VIMS. We believe the company - despite concerns expressed throughout this article - will provide its customers with technological innovation, and its shareholders with increasing dividends and returns on capital and equity, for years to come.
Warren Buffett famously refers to his favorite holding period as "buy and forever." We liken such commitment to companies and the stocks that represent each as "buy low, hold high, sell when you die." The stocks of great companies are meant to be held for generations, enjoying the magic of compounding growth in capital and dividends. Of course, "sell when you die" literally translates to passing the asset on to your estate or heirs.
Frankly, none of us are getting out of here alive. Or, as darkly written by Chuck Palahniuk in his cult novel, Fight Club (New York: W.W. Norton & Co., 1996):
On a long enough timeline, the survival rate for everyone drops to zero.
Hence, we probably won't be trading stocks in heaven.
Investment Vehicle Alternatives
Readers who are long IBM but prefer dollar cost averaging [DCA], i.e., buying a fixed dollar amount of the equity on a regular basis, or participating in a dividend reinvestment plan [DRIP] that converts dividend yields into additional shares at zero commissions are to be commended for disciplined approaches to investing. Nevertheless, as value investors on Main Street, we prefer to buy shares at cheap prices based on our perception of intrinsic value as opposed to Mr. Market's price in the context of what the stock is trading at the moment of automatic DCA or DRIP purchases.
Conversely, at VIMS we let dividend payments go to "cash" and eventually use those accumulated funds to buy shares that are trading at a discount based on our valuation analysis. Yes, we pay a commission each time as a result, but in our view, the one-time $8.95, more or less, is a bargain compared to overpaying for the stock.
Exchange traded fund (ETF) investors may consider alternatives to IBM that also boast low fees and commissions, but only if the price is right. We screen for ETFs that are indexed; pay a dividend; have a gross expense ratio below 0.50%; turns over less than 50% of its portfolio annually; and is neither leveraged or inverse, thus limiting risk and volatility. We also screen for a Morningstar historic risk of average, below average, or low and a beta under 1.25. Yes, we are defensive investors.
Based on the above criteria, the IBM alternative ETF screen yielded the following suggestion: Vanguard Information Technology Index Fund ETF Shares (NYSEARCA: VGT). According to The Vanguard Group:
The fund employs an indexing investment approach designed to track the performance of the MSCI US Investable Market Index [IMI]/Information Technology 25/50, an index made up of stocks of large, mid-size, and small U.S. companies within the information technology sector, as classified under the Global Industry Classification Standard [GICS]. The Advisor attempts to replicate the target index by investing all, or substantially all, of its assets in the stocks that make up the index, holding each stock in approximately the same proportion as its weighting in the index. It is non-diversified.
Your discount broker likely charges the same sub $10.00 stock purchase commission to buy an ETF. And the underlying expense ratio for VGT is a nearly invisible 0.10%, the only premium investment cost above the zero annual fee for a stock purchase such as IBM. But there lies the nominal cost of safety when diversifying with an ETF alternative. Main street value investors may also consider owning VGT as a hedge to his or her IBM holding. Notably, as of August 31, 2016, International Business Machines was the eighth largest holding in VGT representing 3.10% of net assets.
Tread carefully, be patient, and always do your research, or hire a reputable professional money manager to do the work for you at a reasonable fee level. Whatever path you choose, give your portfolio a K.I.S.S, i.e., Keep Investing Super Simple.
As far as IBM, I wonder what Watson would say if asked about its opinion of the stock?
Thank You for Reading the Value Investing for Main Street Series Exclusively on Seeking Alpha
I am excited and humbled by the number of readers and new followers from the first five articles in the Value Investing for Main Street series, including the two inaugural submissions: Introducing: Value Investing for Main Street and Buy When The Black Swan Flies; Sell When It Comes Home To Roost. I encourage reading - or revisiting - each at your convenience. (Click bait disclaimer: I own the exclusive copyrights to both articles as each is an excerpt from my upcoming book, Value Investing for Main Street, and therefore I receive no compensation from Seeking Alpha.)
I also invite readers to "Follow" me by clicking the orange or gray buttons and choosing to receive alerts for the subsequent build-up of the Value Investing for Main Street Model Portfolio [VIMS] presented exclusively on Seeking Alpha. Comments are strongly encouraged and always welcomed. Then join me, one primary ticker at a time, in literally seeking alpha with limited capital, yet lower costs and less risk than the titans of Wall Street.
Please read the important accompanying disclosures.
Value Investing for Main Street and the VIMS Model Portfolio are trademarks of David J. Waldron, LLC.
IBM brands and proprietary content covered throughout this article are trademarks or copyrighted material of International Business Machines Corporation.
Data Sources: YCharts, The Vanguard Group, Seeking Alpha, and Charles Schwab & Co. (Morningstar, Thomson Reuters, and S&P Capital IQ.)
Disclosure: I am/we are long IBM.
I wrote this article myself, and it expresses my own opinions. I am not receiving compensation for it (other than from Seeking Alpha). I have no business relationship with any company whose stock is mentioned in this article.
Additional disclosure: Data is for illustrative purposes only. The accuracy of the data cannot be guaranteed. Narrative and analytics are not intended for portfolio construction beyond the contributor's model portfolio which is solely for educational purposes. David J. Waldron is an individual investor and author, not an investment adviser. This article is neither intended as investment advice or as a recommendation to buy/hold/sell/short or avoid any securities. Readers should always engage in further research and consider (if appropriate) consulting a fee-only certified financial planner, discount licensed broker/dealer, flat fee registered investment adviser, certified public accountant, or reputable attorney before making any investment, income tax, or estate planning decisions.