If you still believe in this gold bull market, as I think you should, then right now is the ideal moment to buy gold mining stocks, add to your positions, or go shopping for stocks on your watchlist that you missed out on earlier this year that had gotten rather expensive by this summer.
Here is a little stock to add to your watchlist and snap up right now while it's temporarily available at a bargain price again: Kesselrun Resources (OTCPK:KSSRF on the U.S. OTC market, KES on the Canadian TSX Venture Exchange).
Kesselrun is a gold mine exploration company with three properties in Northwestern Ontario. The management team has particular experience and expertise in this region: They are also the founders of the mining consulting company Fladgate Exploration, whose clients include Newmont Mining Corp. (NYSE:NEM), Cliffs Natural Resources (NYSE:CLF), Osisko Mining Corp. (OSKFF), Kaminak Gold Corp. (OTCPK:KMKGF), Lake Shore Gold (NYSEMKT:LSG), PC Gold (OTC:PCGLF), and many more.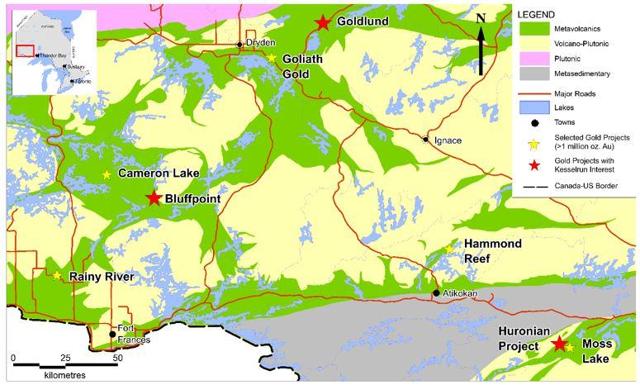 Kesselrun stock had an extraordinary run in the first leg up of the new gold bull market in 2016, booming from a low of C$0.02/share late last December to as high as C$0.425/share this July. That is a 2000% gain!
But since then, in the gold market's correction and recent sharp pullback, the stock price has come down to earth again and now offers a very attractive entry point for investors: C$0.17/share. This is a 60% pullback from the July high.
If you still believe that gold is in a bull market, and that gold miners will go on to make higher highs when the next leg up arrives, Kesselrun is a stock with a demonstrated potential to make spectacular gains. You probably missed the gains the first time, but now you have a second chance thanks to the current correction.
Kesselrun appears to be very highly regarded within the Canadian gold mining industry, especially for such a small company. For example, another small exploration company Pele Mountain Resources (OTCPK:GOLDF) recently secured a funding agreement in which the Lender accepted a 50% interest in the Kesselrun shares that Pele owns as a major portion of the payment for the deal!
When a company's stock is so highly sought after that an investor will accept it as payment for a financing agreement with another company, I consider that a very good sign. The other company, Pele Mountain, also made a point to assure investors that they are still "retaining significant upside to Kesselrun." It seems like everyone wants to make sure they have a piece of Kesselrun! Perhaps you should too.
As another example, Strategic Metals (OTCPK:SMDZF) is a project generator in Yukon that is widely considered a best of breed company in the industry. A significant part of their company is a portfolio of other mining companies' stock shares, and Kesselrun is one of the stocks whose shares they own. Everyone wants a piece of Kesselrun.
Kesselrun's management team has also proven that they can make a good deal in this market: Just last month they sold Red Metal Resources (OTCPK:RMES), an explorer of copper-gold assets in Chile, to TomaGold (OTC:TOGOF) for more than a 100% premium over its stock price at the time. Now this is a smaller, less significant asset than Kesselrun, but it shows that this management team knows how to negotiate and close a good deal for its shareholders.
Naturally there are risks involved with investing in Kesselrun. Its properties are still in the exploration stage. Its market cap is only about $5 million. But that's precisely why the valuation of the stock is attractive at this price! The balance sheet is quite solid for such a small company, with no long-term debt, few liabilities, and C$330,000 in cash on hand. And the company has shown the ability to raise financing in private placements already this year. Everyone wants a piece of Kesselrun. I recommend you look into getting yours while it's still available at a bargain price.
Disclosure: I am/we are long KSSRF.
I wrote this article myself, and it expresses my own opinions. I am not receiving compensation for it (other than from Seeking Alpha). I have no business relationship with any company whose stock is mentioned in this article.
Editor's Note: This article covers one or more stocks trading at less than $1 per share and/or with less than a $100 million market cap. Please be aware of the risks associated with these stocks.