If you exclude the energy sector that got crushed by plunging oil prices, the worst performing sector over the past three years has been the financials. That's what tends to happen when you operate in one of the lowest interest rate environments in history. Given the limited prospects for improved profitability and the uncertain nature of the path of future interest rates, financials are priced at bargain levels. And now that the fund has spun off its real estate holdings, it looks like an even better deal.
To provide a little background, the Global Industry Classification Standard (GICS) decided to promote real estate to headline-level sector status making it the 11th such sector overall. As a result, the Financial Select Sector SPDR ETF (NYSEARCA:XLF) spun off $3 billion in REIT holdings over to the Real Estate Select Sector SPDR (NYSEARCA:XLRE).
Unfortunately, for Financial Sector ETF shareholders, the fund's real estate holdings have helped mask some of the weakness in the banks and financial service companies. Strip out the gains attributable to real estate and the poor performance of the financial sector looks even worse. Over the past two years, the Financial Sector ETF, including both financials and real estate, returned a total of 8%. During the same time frame, the iShares Dow Jones U.S. Real Estate ETF (NYSEARCA:IYR) (the Real Estate Select Sector SPDR has only been around one year) returned 26%.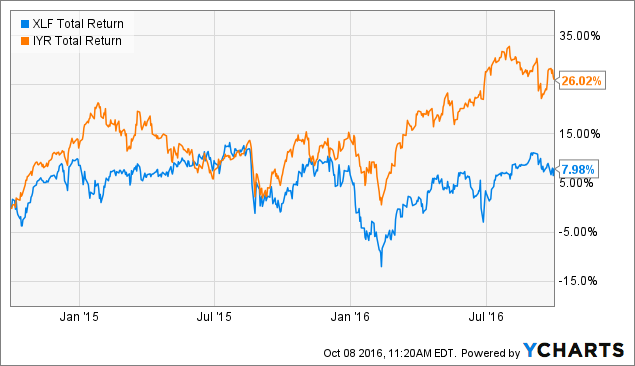 XLF Total Return Price data by YCharts
Considering that real estate accounted for about 20% of the fund prior to its boot, that would put the total return of the financials around 3-4% over the past two years. The big banks have been a major drag on the fund - Wells Fargo (NYSE:WFC), Bank of America (NYSE:BAC) and Citigroup (NYSE:C) all posted 4-8% losses during that period - with capital adequacy concerns, low interest rates and Wells' deposit account scandal all continuing to weigh.
Fund Valuation Changes
But the risk/return tradeoff for the "new" Financial Sector ETF is starting to look more and more attractive. The "old" fund had a P/E ratio of around 14.2. That's somewhat overvalued compared the 13 multiple of diversified financials and the 10 multiple of banks and clearly inflated by its allocation to real estate.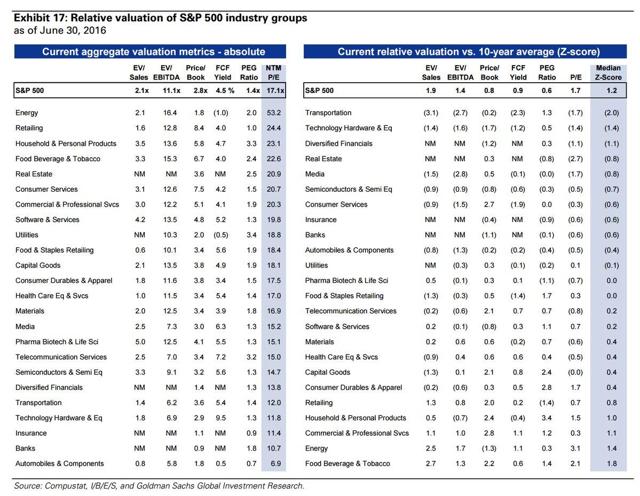 With its pricey real estate holdings now gone - the Real Estate Sector has a forward P/E ratio of around 30 - the Financials Sector ETF now has a more modest 13.1 P/E ratio. The fund's P/B ratio is also down from 1.22 with real estate to about 1.10 without. The 30-day dividend yield is around 2.2% today but once the presence of real estate is removed from that 30 day window, the new dividend yield of the fund could easily drop below 2%.
Fund Allocation Changes
The fund stripped about 30 names from its portfolio in the split. Simon Property Group and its 2.3% allocation is the only top 10 holding to get removed.
The fund also becomes a little more heavily concentrated with nearly half of the fund's assets belonging to bank stocks.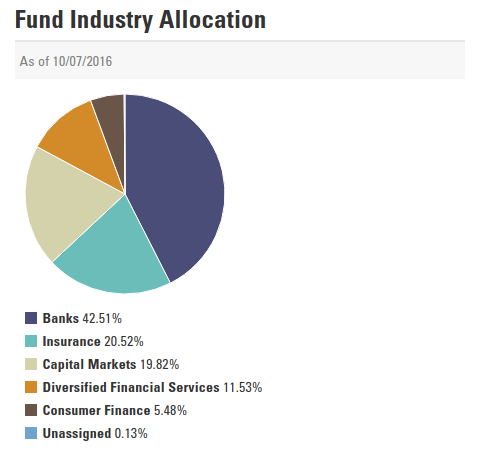 As mentioned earlier, banks and insurance are two of the cheapest sectors in today's market. That is true looking at valuations relative to the broader market and comparing to their own historical norms.
The top five holdings of the fund remain unchanged. These stocks represent more than 40% of the fund and read like a who's who in the financial industry.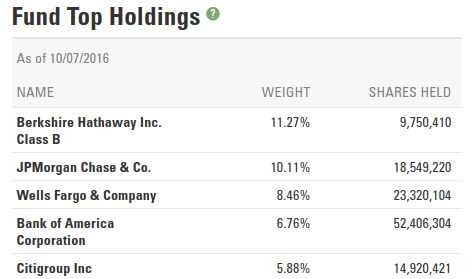 Berkshire Hathaway (NYSE:BRK.B) has done fairly well for itself in 2016 but the rest have struggled. Of the five holdings, I'm particularly interested in Citigroup here as both a dividend and a growth play. They passed the Fed stress tests for the second straight year and tripled their annual dividend while authorizing nearly $9 billion in share buybacks over the subsequent year. Further, if Citigroup is able to hit its shareholder capital return plans by 2018, that could end up equating to a 4% dividend yield based on today's share price.
Conclusion
I'm a fan of adding growth at a discount names to my portfolio. While this may or may not be the floor for financial stocks, I believe that longer term shareholders of this sector will find current prices an attractive entry point if they're willing to ride out the near term low rate environment.
The jettisoning of real estate not only makes the fund cheaper but also makes it a more pure play. The Fed's path to higher rates that could inhibit the returns of real estate going forward should act as a tailwind for the big banks but could take some time to play out. Citigroup is my favorite stock in the area with Bank of America and JPMorgan Chase (NYSE:JPM) also demonstrating favorable risk/return profiles. I'm a bit of a contrarian in thinking that Wells Fargo could be a tempting value play here but I'm waiting to see what comes out of their Q3 earnings report first.
The safer choice here might be playing the entire sector through the Financial Sector ETF. Given its reorganization as a pure financial services investment and its appealing risk/return profile, I think it's a particularly attractive entry point right now.
----------
If you're interested in more dividend strategies and ETF analysis, please consider following me by clicking on the "Follow" button at the top of this article next to my name. Even if you don't, thanks for taking the time to read!
----------
Disclosure: I/we have no positions in any stocks mentioned, but may initiate a long position in C over the next 72 hours.
I wrote this article myself, and it expresses my own opinions. I am not receiving compensation for it (other than from Seeking Alpha). I have no business relationship with any company whose stock is mentioned in this article.